Top Sail Hill Destin, St George Island State Park, Beaches of South Walton,
St Andrews State Park Panama City Beach & Apalachicola
Places Visited:
Florida: Top Sail Hill (FL State RV-Park/Resort) east of Destin, St George Island State Park, Beaches of South Walton, St Andrews State Park Panama City Beach & Apalachicola
Saturday, October 26, 2002 Topsail Hill Preserve state park & RV-Resort 9-miles east of Destin on highway 30A. Site #78 50amp back in, concrete pad with paved interior roads $31.68 a ½ mile walk or trolley ride through the SP to the world's most beautiful beaches.
We awoke to rain a powerful portent of things to come. Florida State University was playing Notre Dame at FSU on National Television. While it rained wet stuff here it rained footballs in Tallahassee. FSU didn't just lose this game they were beat like a drum. This was one BAD day.
Topsail Hill is an enigma combining a state park and an RV-Resort. The RV-Resort is located in the Topsail Hill nature preserve. There are 3-fishing lakes complete with 'gators. Several are good size. Interior roads are paved and RV-pads are level concrete complete with full hook-up and cable. Landscaping is incredible. The grounds remind us of a cross between a formal garden and a golf course. Most of the vegetation is composed of native plants. The beach is a ½ mile walk or trolley ride along a nature trail replete with wildlife and native flora & fauna. Actually most park visitors ride bicycles to the beach. A walkover takes you across the dune system and deposits you on a deserted snow-white beach. Condos are nearly two miles away in either direction. This is one strip of beachfront property that has remained native. The pure quartz sand squeaks when you walk on it. The emerald green water beckons. Sandpipers trot back and forth along the shore like miniature wind-up toys. Although the three tropical depressions/hurricanes that came ashore in the upper gulf this October did some damage to the dune system it was minimal and just part of the cycle of life along the coast.
Between Destin and the west end of Panama City Beach U.S. Highway 98 moves inland. County road 30A takes a southern loop from U.S. 98 to run along the beach before connecting back up with highway 98 again about 20-miles later. It is along 30A that the "nouveau riche" are overwhelming "Old Florida". A few heart-pine bungalows are scattered among the pines but more overpowering are the spectacular planned communities dotting the corridor. County road 30A is unique from other areas in Florida in that they are free from billboards, golden arches, no T-shirt shops, no amusement parks, and no chain motels. However, you can shop in places like Modica Market, a gourmet market-deli laden with everything from olive oils and fine wines to goat cheese and baklava. This once "Redneck Riviera" has been overwhelmed by the Rolex & Porsche set.
New construction is limited to four stories or 50 feet. Boardwalks provide access to the beach across protected dunes.
Grayton Beach has managed to preserve a small piece of "Redneck" heritage. My guess is that it has become a Bohemian enclave consisting of an eclectic group of artists and other free spirits homesteading the vintage homes in this small community.
All of the planned communities have done special things to make them unique. Most do not permit "lawns" preferring to keep things natural. Many use native vegetation. Others allow "tropical" vegetation that looks native. In these some individuals have planted the majestic and EXPENSIVE Canary Island Date palm to distinguish their "cottage". Joyce and I checked with a local nursery that was doing a landmark business selling palm trees. The nice sales lady walked us around and gave us prices. I wanted to know what the big Canary Island Date palms were costing. The big ones ranged from $10,000 to $30,000. She said that they were all the rage. Planned communities HAD to have a pair of these at their entrance. Restaurants HAD to have these palms to bring attention to their establishment. Now individuals are into the act and planting a pair of these magnificent palms in their front yards showcasing the formal entrance.
In Watercolors (one of the planned communities) their niche is the natural tones of individual residences. Colors like Spanish moss, pecan, terra cotta, moss olive, sage and dune gray distinguish their domiciles from the next enclave. A common theme amongst all of these communities is their emphasis on walking paths and having common things in a central place. Parking is generally restricted to alleyways behind homes. Communities seem to be laid out so that everything is within a five-minute walk. It also appears that developers control architectural styles. It is hard for me to determine what is and is not acceptable but overhanging roofs and surrounding screen porches are all the rage. Most of the houses look like they could easily have come from colonial cities like Charleston, St. Augustine, New Orleans that were all greatly influence by West Indies architecture.
Sunday, October 27, 2002 We drove 37-miles today. St. Andrews SP site # 112 on the water facing the World Famous Bay Pointe Resort
It was raining again this morning. I can't help but wonder if Notre Dame spent the night in Tallahassee in order to show FSU some more of the finer points of college football that perhaps our players and coaches missed yesterday?
The rain subsided 15-minutes east of Topsail Hill, a little farther the sun popped out and the remainder of the day was beautiful.
St. Andrews SP was hosting a fall festival showcasing turn of the century skills and activities. Common place activities like rendering fat into lard, making soap out of lard and potash, cooking on an open fire with Dutch ovens, basket weaving, pottery making from raw clay to firing it in a pit of coals, broom making and others were being performed by talented individuals that were keeping the art/skill alive. Between 1850 and 1900 most individuals were scratching hard to survive. Just the process of producing corn bread or whatever from corn is hard labor. Hard kernels of corn are not rendered into flour or corn meal without a LOT of energy being expended. The task of turning raw cotton into something individuals can wear is another TIME consuming activity. Not necessarily physically hard but the process of extracting raw cotton from the seed, carding it, spinning it into thread then weaving into fabric, then cutting out the pieces and sewing it together took a LOT of time. Quilts are another necessary item that took unbelievable amounts of time to complete.
A group of individuals decked out in period regalia were reenacting life during the civil war. When a tourist pirate ship passed by in the channel with a load of tourist a "war" would break out between the pirate ship and the confederate solders. The pirate ship had cannons and the confederate troops had several cannons plus all the troops ran to the water's edge to fire their muskets at the ship. Very loud! The troops operating those cannons are probably deaf after spending 3-days with it. I guarantee the folks on the pirate ship got their moneys worth, especially if they did not know what was about to happen.
An afternoon of watching these demonstrations gives newfound appreciation to the easy life we now have.
Monday, October 28, 2002 St. Andrews SP site # 112 on the water facing the World Famous Bay Pointe Resort
It threatened rain all day but it never materialized. Joyce wanted to tour the Carillon Beach complex located on the far western end of Panama City Beach so off we went. It is one of those "gated communities" where you do not want to know what a lot cost much less one of the elegant named cottages. Lots are small as in 50' X 100' or smaller with virtually no yard remaining after placing a 3,000sq. ft. bungalow on it. Most if not all of these places are 3-story and sit almost on top of each other. Carillon is like the other planned communities in that everything is designed around walking. Everyone has a front porch and there are no formal yards. Grass and sprinkler systems were obviously verboten except for the common areas near the commercial section. Carillon has a "downtown" area about 2 blocks long with quaint upscale specialty shops and several dining establishments advertising nouvelle cuisine to discriminating epicureans. The thing that struck me about Carillon's "downtown" was the businesses. It was like an "upscale" flea market. The difference was the prices on the junk. Here they call it art, throw a $1,000 price tag on it and display the junk in an air-conditioned store. Now don't get me wrong the downtown area is beautiful and made for walking between stores and down the street. Parking is away from the 2-blocks of downtown. Residences and or apartments are located above all of the businesses. This seems to be all the rage as we have seen this arrangement in other planned communities like Disney's Celebration in Orlando.
We found another good place to eat. It is Mike's Diner. It was the name that attracted us plus the parking lot was full. That is always the sign of a good place. Mike's offers 3 Old-Fashioned Meals a Day plus Steaks and Seafood. I think that 1-meat & 3-Veggies for $6.95 is the main attraction plus the food was excellent. Mike's is a place we will return to. If you are in the Panama City Beach area look for Mikes on the front Beach Road 1-mile west of highway 79.
Tuesday, October 29, 2002 St. Andrews SP site # 112 on the water facing the World Famous Bay Pointe Resort
The weather report was predicting 30% chance of scattered showers. Shower it did 3.5 inches by the time it subsided well into the evening. We ate at the Captain's Table in St. Andrews for lunch. Most of you already know about their awesome seafood lunch with three shrimp, three oysters and three pieces of grouper plus all the trimmings for $7.95. We are always happy with this place. While we were there a large group of local businessmen arrived for a "lunch-feast" get together. It seems several of them had gone freshwater fishing and had "lucked" into a big mess of bluegill brim. It is obvious that they had cleaned and delivered them to the crew at the Captain's Table for "frying-up". The Captain's Table delivered one heaping platter after the other of these fried morsels to their table. Our table remarked that the group was very noisy as only a table of 20-gregarious businessmen can be, until the first platter of brim was delivered. At that point a veil of silence fell over the table as they attacked the platter of brim.
Wednesday, October 30, 2002 St. Andrews SP site # 112 on the water facing the World Famous Bay Pointe Resort
The National Weather Service was predicting 60% chance of rain yet I do not recall seeing a cloud all day. Someone needs to give them a "cheat-sheet".
We met my Sister Jennifer and her husband Mark around 3:30 in the afternoon to join them on their 28' pontoon boat for an afternoon ride. We got way more than we bargained for. A cold front moved through after yesterdays rain and with it the temperature has dropped and with it the humidity. That combination of cool dry air made for absolutely wonderful boating weather. With Mark at the helm we headed across St. Andrews bay toward the Cove area of Panama City where he slowly cruised the nooks and crannies of Watson Bayou. One side of the bayou showcases beautiful waterfront homes while the other shore is home to shipyards and other commercial enterprises. As we exited Watson Bayou and entered St. Andrews Bay the setting sun had the sky ablaze with oranges and pinks. The simply awesome sunset was casting vivid colors from the sky onto the slick surface of the bay. We slowed to let a shrimp boat pass. Joyce had one picture left on the roll of film in her camera. If that picture captures anything close to the ocular manifestation we were enjoying she will have captured a winner. All congratulated Mark for guiding us to this magical spot at just the right time.
A few minutes later Mark pulled the boat up to "Dock at JR's Eat @ Joe's" dockside restaurant in Massalina Bayou where we dined. They had good food but the fried green bean appetizer was in my sister's vernacular "to die for". Jennifer went through those green beans like Sherman through Georgia. None of us had ever heard of much less consumed "fried green beans". By the way they were served with ranch sauce as a dip. Jeff this is a must for us to add to our fish fry parties.
The ride back across the bay then down the length of Grand Lagoon to their boat slip near Captain Anderson's Restaurant was picture perfect. Shrimp boats were working the bay, while a large sailboat passed silently by as a west wind started to gently rock us. The slow quiet ride across the bay was so enjoyable as we talked and picked out familiar landmarks in the darkness. This night ride on the water brought back memories for Joyce and I. It has been about 10 years since we used to do this on our boat.
Thursday, October 31, 2002 We drove 98-miles today. St. George SP site # 1, $10.60, hard sand pad, 30-amps and water. Nothing special except for mosquitoes and dog flies. The virtually deserted beach is a short walk.
A stiff northwest wind has been blowing all night. It is bringing more cool dry air. The normal placid water of Grand Lagoon, out the front window of our motorhome at St. Andrews State Park, was angry and covered with whitecaps.
Stiff northerly winds buffet our motorhome all the way to St. George Island. The weather is distinctly not Florida. Cool dry air is welcome but not normal. Any mosquito that takes flight in the Florida Panhandle today will end up in South America in short order.
Joyce and I have a special spot between Mexico Beach and Port St. Joe on highway-98 where we often stop to view the beach out our windows. We have lunched there on several occasions and today was to be another. The location for users of GPS is N30 02 15 W85 27 11. It is on a long sweeping curve and has obviously been used as a pullout by locals for years. We always enjoy sitting in our motorhome and watching the water and beach activity for a few minutes when passing this way. Today we even enjoyed a microwave-induced picnic. Life is too short to not take advantage of these opportunities?
St. George Island has dense patches of pink muhly grass growing wild in the State Park and along the road just outside the park. Pink muhly is one of the native grasses many communities along highway 30A between Destin and Panama City use in their common area plantings. Pink muhly is a coarse grass 12" to 18" tall with a wispy pink flower/seed stalk. Dense plantings create delicate pale pink or mauve areas this time of year.
Joyce decided we were going to Harry A's for dinner. When we arrived it was evident they were having a Halloween party complete with band and costume judging. Virtually everyone but us was decked out in elaborate costumes. Harry A's was doing a booming business especially for a Thursday night.
Friday, November 1, 2002 St. George SP site # 1, $10.60, hard sand pad, 30-amps and water. Nothing special except for mosquitoes and dog flies. The virtually deserted beach is a short walk.
It was cool but quickly become hot as the northerly gale subsided and was replaced by a warm southerly breeze. Joyce led us on a walk down the beach in search of the eastern most tip of St. George Island. We didn't make it. After three miles we turned around. A park ranger told us we were almost half way to the end. Even though we did not achieve our objective we had a good time. Joyce collected shells while I watched the myriad shore birds each working their particular ecological niche. Ruddy turnstones were pillaging dry seaweed high on the beach while sandpipers; sanderlings, willets and plovers worked the area where waves meet the shore. Pelicans, turns, ospreys and gulls worked schools of fish near the shore. What a wonderful diversity of life all existing in such close proximity. We long for the day when Jeff, Kathryn, and Stephen can join us for a day of hiking along the shores of St George Island.
The nearby town of Apalachicola is sponsoring a 3-day Seafood Festival that began today. Music was scheduled to begin around 4pm so Joyce had us scheduled to arrive around 4:00. They had some good seafood. It was a unique experience to just walk among the food booths savoring the aroma of fried seafood. I had an oyster plate with 30 or so fresh succulent Apalachicola fried oysters. Half that many oysters would have been gracious plenty but who am I to complain. I was sated by 20 but somehow managed to get them all down.
They had some good entertainment and some not so good entertainment. Thank goodness the "not so good" band was the last one to perform so we just headed home earlier than planned.
Saturday, November 2, 2002 St. George SP site # 1, $10.60, hard sand pad, 30-amps and water. Nothing special except for mosquitoes and dog flies. The virtually deserted beach is a short walk.
A dome of high-pressure has blanketed us with crisp dry air. The high temperature only reached the mid-70s today, perfect for Joyce to take me to Apalachicola for a day of shopping in the multitude of gewgaw shops. This was the Seafood Festival's big day. The town was jam-packed. Local radio was reporting that over 24,000 were in attendance and I believe we saw all of them even though we did not actually go into the Seafood Festival grounds. The Gibson Inn had a band with a large crowd enjoying free entertainment.
We watched the FSU vs. Wake Forest football game on big screen TV at Harry A's. FSU broke in a new quarterback that looked good, even if it was Wake Forest. Georgia Tech did us a favor by knocking off North Carolina State who was undefeated.
Sunday, November 3, 2002 St. George SP site # 1, $10.60, hard sand pad, 30-amps and water. Nothing special except for mosquitoes and dog flies. The virtually deserted beach is a short walk.
We spent the day relaxing and enjoying our surroundings. We searched in vain for the great horned owls and bald eagles we normally see on St. George Island. Rangers told us that bald eagles have returned to the area to nest but we did not see any on the nests we visited. The great horned owls stayed camouflaged.
Monday, November 4, 2002 Trek beginning mileage: 38,140, Ending mileage: 38,319. We drove 179-miles today. Back at home in Pensacola
The trip back was uneventful. We plan to be here around a week then we are heading to Louisiana Cajun Country for about 6-weeks.
Until then.
Until next time remember how good life is.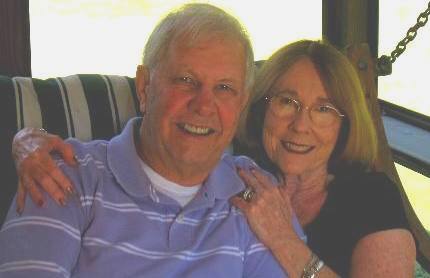 Mike & Joyce Hendrix who we are
We hope you liked this page. If you do you might be interested in some of our other Travel Adventures:
Mike & Joyce Hendrix's home page
Travel Adventures by Year ** Travel Adventures by State ** Plants ** Marine-Boats ** Geology ** Exciting Drives ** Cute Signs ** RV Subjects ** Miscellaneous Subjects
We would love to hear from you......just put "info" in the place of "FAKE" in this address: FAKE@travellogs.us
Until next time remember how good life is.