Torreya SP, Bristol, Eastpoint, Port St Joe, Apalachicola,
St Andrews State Park Panama City Beach
Places Visited:
Florida: Torreya SP, Bristol, Eastpoint, Port St Joe, Apalachicola, St Andrews Sp Panama City Beach
Wednesday, October 9, 2002 We drove 143 miles from Marianna, Florida to Port St. Joe, Florida. It is only 77 miles from Marianna if you go the most direct route. We didn't, plus we visited Torreya State Park that further added to the mileage. We camped at Presnell's Campground and marina, Port St. Joe Florida site #8 with our front wheels & picture windows less than 10 feet from St. Joe Bay and the most awesome view imaginable.
Together, we have planned a full schedule for today. We are moving the motorhome from Marianna to Port St. Joe and in the process will visit Torreya State Park and drive down the east side of the Apalachicola River, something we have never done. This route is not the quickest or shortest but it does take us through a part of Florida most natives have never seen. If you are interested in following our route take SR 71 south from Marianna through Sink Creek and Altha to state road 20 in Blountstown. In Blountstown take SR 20 east across the Apalachicola River to Bristol. In Bristol take SR 12 north approximately 10 miles then turn west on CR 1641 and follow it to Torreya State Park located on a bluff overlooking the Apalachicola River. From Torreya State Park take CR 1641 east back to SR 12 and turn south through Bristol continuing south to Wilma. In Wilma turn south on SR 65 through Sumatra to Eastpoint and turn west on US 98 through Apalachicola to Port St. Joe. Why did we choose this route? Like the individuals that climb Mount Everest say, "Because it's there".
As we head south from Marianna on SR 71 we pass through cotton and peanut fields. Most of the peanuts have been harvested while most of the cotton is yet to be harvested. Joyce really liked the white fields of cotton. I agree, miles and miles of white cotton fields are something to behold. Cotton has been grown here since the 1800s when large plantations with many slaves cultivated the crop. The only industry other than agriculture we saw along SR 71 was two dolomite mines and one power/telephone pole company. As we enter Blountstown we are reminded of friends, Rob and Linda, who's son recently married a girl from Blountstown.
As we head north on SR 12 out of Bristol we are in pine tree/pulp wood country. The land is much higher on the eastern bank of the Apalachicola River. On the west side of the river cotton was growing in dark brown clay like soil, on the east side pine trees are surviving in sand. As we turn off SR 12 and take CR1641 west toward the river things remain the same until we get within a mile of the river. Here rugged bluffs and ravines are forested by flowers and hardwoods common in the North Georgia Appalachian Mountains. This is NOT your typical Florida topography. Torreya State Park is noted for the display of fall color. Torreya is an anomaly with its ravines and diverse plant life. Ravines are just the start of Torreya's mystery. Many trees and plants live in this small area protected by the State Park that are not found in other places anywhere near Torreya.
The Park is named for the Torreya tree an extremely rare conifer that only grows in four places in the world, China, Japan, California and here in this park. The Torreya tree is the gopher wood that Noah's ark was constructed from. Could this be the elusive "Garden of Eden"? Someone put forth this theory a number of years ago because of the variety of plants in this small area. A fungal disease currently endangers the remaining Torreya trees. Those that have survived the fungus are small and scraggly. At the turn of the century they were common enough in this area to be used as Christmas trees. The State Park was established to preserve the Torreya and Florida Yew another endangered conifer. The range of both the Torreya and Florida Yew is a 20-mile strip along the eastern bank of the Apalachicola River. In addition to these two extremely rare and unique trees the park has several stands of Ashe Magnolias. This is another rare species with a very local distribution. The leaves are much larger than the common Southern magnolia and the bloom is larger and more fragrant as well. There were more trees and plants unique to this park but my pea-brain could not retain their identities. It is believed that some of the plant and tree species here are remnants of the last ice age. They managed to survive after the climate changed. Such species are called relic species. We are indebted to Park ranger, Tommy Davis, for taking time to personally point out each of these rare trees to us in addition to sharing the other interesting information concerning them with us.
A mile or so of the roadside near the entrance to the State Park is clothed in dicerandra a delicate lavender flower on a stalk about 18" tall. It is a natural wildflower of the Florida pinelands. This display is so dense they appear to be part of a roadside wildflower planting, they aren't.
Park rangers told us that the park is popular in the winter with individuals training for hiking the Appalachian Trail. Hikers camp in the campground and spend the day hiking up and down the trails building up stamina.
In addition to everything else the park features the Gregory Mansion built in 1849 and home to an affluent cotton planter. I have already told you that they do not grow cotton on the east side of the Apalachicola so what is this house doing here? It seems that the house was originally located across the river. It was donated to the State of Florida. The CCC dismantled the house in 1935, floated it across the river, constructed a road down to the river a few miles south of the park hauled it to this high bluff overlooking the river and put it back together. Beautiful hand crafted furniture in the house was made by Jason Gregory's slaves. I can't say enough about the house and the furniture. It is a great exhibit. Although the mansion is not in it's original place the view from the front porch overlooking the river and the hardwood forest flood plain on the other bank is absolutely stunning. Like other homes of that era still standing it was constructed exclusively of heart yellow pine. The wood is so hard termites do not eat it.
Leaving Torreya we headed south on SR 12 then SR 65 to the coast. The pine forest follows us to the coast. As we make our way to the coast the elevation falls imperceptibly from several hundred feet in Torreya to sea level in Eastpoint. The closer we get to the coast the wetter the terrain becomes. Water stands on both sides of SR 65 as we get within 10-miles of the coast. Pine forest gives way to cypress, sweet bay, and gum trees with thickets of titi (Swamp Cyrilla) and wax myrtle. About a 5-mile stretch transitioning between sandy uplands and swamp had beautiful wildflowers growing on the roadside. The flowers, resembling black-eye Susan's, were so prolific it reminded us of the Hill Country of Texas during spring.
The swamp area full of titi, yaupon holey, wax myrtle thickets cypress and gum trees is known as Tait's Hell Swamp. Legend has the name coming from an 1800's farmer that had been losing cattle to a panther that came out of the swamp to feed on his livestock. The very upset farmer tracked the panther into the swamp, got lost and wandered around for over a week before he stumbled out. The first person he came into contact with was shocked at the sight of him and asked where he had been? "Hell" he replied. Now you know the rest of the story.
As SR 65 ends we turn west on US 98 and immediately the unpretentious Eastpoint waterfront lined with seafood houses and oyster boats comes into view. Area residents continue to make a hard-earned living harvesting oyster and other bounty from the local watershed. Eighty percent of Florida's oyster supply is generated by these oystermen. This represents 20% of the nation's supply.
As you know it does not take much to entertain us. Today was no exception. We laugh as we see one bait store after another, then one of us comments that there are more bait stores around here than Baptist Churches. That should tell you something. A sign that caught our attention was advertising "John Deer, fish-scalers and pea-shuckers". Another was selling "chickens & quail". Somewhere around Altha we passed "Mini Lee's Restaurant". Then south of Bristol on SR 12 was this official State of Florida road sign "reduce speed senior citizens entering highway". In Sumatra a honky-tonk was named "Uncle Joe's Bee Hive". Ain't life in the good old USA great?
We ended the day in Presnell's fish camp and RV-Park with the front tires of our motorhome less than 10' from St. Joe Bay. It just doesn't get any better. All the money in the world could not get a better view.
Thursday, October 10, 2002 Presnell's Campground and marina, Port St. Joe Florida site #8 with our front wheels & picture windows less than 10 feet from St. Joe Bay overlooking the most awesome view imaginable.
Like I said yesterday the view out our front window is truly awesome. This morning as we sipped coffee and looked out over the mirror smooth bay so much was happening. A pair of amorous horseshoe crabs was in less than an inch of water directly in front of the motorhome trying their best to assure another generation of horseshoe crabs carried their genes. Thousands of fiddler crabs were moving in the tidal flat. Three different types of wading birds were feeding on schools of small fish in the shallow water. There was a Great Egret, a Little Blue Heron and finally a Tricolored Heron. Pelicans and gulls fly by but don't stop. Buckeye butterflies were feeding on the nearly invisible flower stalk of marsh reeds at the edge of the bay. Monarch and Gulf Fritary butterflies were feeding on tiny flowers in the grass as they momentarily stop on their way to winter refuges.
Joyce wanted to go to Apalachicola today so she could browse in the gift shops. While she was doing the gift shop thing I headed for the waterfront to see what the individuals that make a living on the water are doing.
Apalachicola is a city in transition. One foot is solidly entrenched in bygone days while the other is reaching out to the 21st century. Apalachicola was established in the 1830's as a port city for sailing ships transporting cotton to England and the New England states. At one time Apalachicola was the third most significant port on the entire Gulf of Mexico. It still features a working waterfront complete with shrimp boats, oyster boats and seafood houses. I found a seafood dealer that was processing sacks of oysters. As independent oystermen arrived in pickup trucks with burlap sacks of oysters the dealer weighed each sack giving the oystermen a receipt. When 10 of these 100-pound sacks were piled on a pallet the forklift driver delivered the fresh oysters to a processing plant in the next building. There a worker emptied each sack onto a conveyor belt that transported the oysters to a washing tube where high-pressure water is sprayed on the oysters as they are tumbled over and over assuring that all lose shell and mud is removed. From the washer oysters are deposited on another conveyer belt with workers on both sides removing everything that is not a good oyster. That conveyer belt dumps the now washed and inspected oysters into wax coated cardboard boxes until they weigh either 25 or 35 pounds depending on the size box being loaded. Another worker scoops ice on top of the oysters in the box, puts a lid on the box and stacks it on a pallet. Full pallets are whisked to the cooler building for delivery to restaurants. The man in charge told me that they were processing 1,000 sacks of oysters today but generally average 800 sacks per-day. Some days they also shuck the oysters.
Back in Port St. Joe we had one more thing to accomplish. Joyce has recently completed reading The Great Tide a story about this area in the 1830's & 1840's. Port St. Joe in 1839 hosted the Constitution Convention for the State of Florida. A state had to have a constitution before it could apply for statehood. It was here that Florida's first constitution was written (for the express purpose of applying for statehood). At about the same time a sailing ship arrived in Port St. Joe with yellow fever (a virus spread by mosquitoes). An epidemic struck the town and hundreds perished. Many individuals fled the area. Several years later a terrible hurricane struck the city drowning everyone except for a few that made it to the local cemetery (the highest point in town) where they climbed trees until the water receded. We wanted to see this cemetery. We wanted to see the high ground where these few individuals survived the great wall of water we now call a storm surge. The cemetery is a half-mile inland from the bay and is only a few feet higher than any of the other land. We are completely amazed that a hurricane could push a wall of water this far inland. It did! The town vanished after this 1844 hurricane. The 1844 hurricane had to be along the order of a magnitude 5 or greater. Those of us who have witnessed hurricanes all our lives find it all but impossible to imagine a storm surge of this magnitude. After thinking about not being able to imagine a wall of water like that I suppose the survivors of Andrew, Camille and Hugo could. Thankfully, most of us never experience a storm of that magnitude.
We finished the day back at the motorhome watching the sun set across the bay.
Friday, October 11, 2002 We drove 74-miles from Port St. Joe to Panama City Beach. Pineglen RV-Park, Site # 7 facing a small lake in the shade of tall pines. 850-230-8535
Our view of St. Joe Bay, from Presnell's fish camp and RV-Park, is absolutely awesome. We spent the morning watching a menagerie of wildlife parade before our picture window. The sun was to our back creating a reflection of herons and egrets in the still shallow water. Joyce slipped outside to get pictures. She wants to get a good one that she can blow-up and frame for our family room. The Buckeye butterflies are still feeding on the reeds. I would never have made the connection between the Buckeye and their pollinating relationship with these reed grasses. An osprey flies casually by then dives and misses his breakfast not 100 yards from us. Presnell's is a special place. It will not come close to qualifying for a 10,10,10 park but it does have 30-amps with a view & ambience rating of 20-20!
A small boat headed out with two commercial fishermen after mullet. The name of the boat was Payment Due.
Finally, we pack up and head to Panama City Beach. We arrived at St. Andrews State Park on Panama City Beach only to find out they were full for the weekend. Ouch! That is the price we pay for not making reservations. Within 5-minutes we had located Pineglen Motor coach & RV Park just down the road. Although it is not on the waterfront like the State Park it is actually closer to the Seafood Festival that we will be spending every night at while we are in Panama City.
Pineglen actually is a really good RV-Park and is almost full of quality RV's. It appears that the majority of the RV'ers in this park are "regulars" meaning they are from within several hundred miles and come down on a regular basis. This park has a large storage lot full of travel trailers and 5th wheels. It is obvious that most of these folks just call the park in advance and the park moves their rig from the storage lot to a shady spot and hooks them up. The Magnolia beach campground just down the road operates like this also. The savvy owners of these travel trailers have a CHEAP condo on Panama City Beach at a small fraction of what others pay in the high-rise condos.
We ate lunch at the Captain's Table in St. Andrews, our #1 favorite seafood place. They have a lunch special with fresh fried shrimp, oysters, scallops and grouper (slaw & baked beans) beverage for $7.95. After 2:00 pm that meal is $14.95 plus drink and still a bargain. As always the place is packed with locals on their lunch hour. If you ever stop and try the Captain's Table tell Mitch, the owner, where you heard about it. If you are lucky he may even share a fish tale with you. He was a commercial grouper and snapper fisherman for years and can share REAL fish stories with you. Check out some of his pictures.
We are visiting Panama City Beach this weekend because of their annual Indian Summer Seafood Festival. They have 3 good acts we are interested in: Colin Raye, John Michael Montgomery and the Swinging Medallions.
Tonight was the Colin Raye Concert. It was an outdoors concert with bring your own seating. The place was packed. Colin is a well-established Country Music artist with 16 number one hits and 10 others in the top 10. See if you recognize any of his hits, "One Boy One Girl", "My Kind of Girl" hint (Cosmopolitan and Hot Rod Magazine), "She drove off with my heart --- chasing that Little Red Rodeo", "That's my Story & I'm Stickin to it" "In this life I've been loved by you", I'm on a role here in Little Rock" and "Brown Sugar". It was a great concert, especially for $10.
Does it get any better?
Saturday, October 12, 2002 Pineglen RV-Park, Site # 7 facing a small lake in the shade of tall pines. 850-230-8535 Panama City Beach
What a day! FSU played Miami. That is college football for individuals not from the South. Miami was #1 and FSU was #12. Miami was the big favorite plus the game was being played in Miami and it was their Home Coming. Traditionally this is a BIG game and has often led the to National Championship of college football. Florida State led much of the game BUT Miami came back in the final minutes and won!
Life will continue, won't it?
Joyce and I headed to the Indian Summer Festival on Panama City Beach where we were going to watch the George Michael Montgomery concert like we watched the Colin Raye concert last night. It was not to be! We got tied up in traffic several miles from the Festival. U.S. highway 98 a divided 4-lane was creeping along, 30-minutes of this and we get to a sign on the side of the highway "Festival Parking Full/ park at Arnold school 4-miles east/ride shuttle". We were headed WEST and the parking the sign was directing the crowd to was 4-miles behind us. It was another 10-minutes before we could find a cut in the median to turn around and head east. By that time we realized several things: no one in the traffic jam knew where Arnold school was since all the tags around us were from Alabama and Georgia, and if anyone did find the school how would a shuttle get you to the Festival since traffic on highway 98 (the only road to the festival) was at a standstill. It was an impossible situation things were going from bad to worse. Not happy! Not happy! Not happy! There was absolutely no way we were going to see the John Michael Montgomery Concert. Did I mention that this was 2-hours before the concert was supposed to start?
Not only did FSU lose by a missed field goal with 1-second left, Joyce and I did not get to see the concert. This has been one BAD day!
Things can certainly get better!!!! I am in a BAD mood.
I suppose I can find consolation in the fact that several thousand others are in the same foul mood. You can rest assured that the local Chamber of Commerce would not want me to have access to tomorrows editorial page.
Sunday, October 13, 2002 Pineglen RV-Park, Site # 7 facing a small lake in the shade of tall pines. 850-230-8535 Panama City Beach
I am still miffed today. The local newspaper "mullet-wrapper" ran an article about the Festival and how many attended. It seems that they had a large crowd in fact so many that the seating for the food booths had to be closed for lack of seats. One sentence at the end of the article mentioned something about traffic 45-minutes prior to the concert. Oblivious is the term that comes to mind. The festival organizers, the police, the newspaper it appears none had a clue what was going on out on the highway and how many could not get in.
We had intended to attend the Swinging Medallion's concert this afternoon but after yesterday we changed plans and went on a boat ride to Lands End on Shell Island out of Panama City. My Sister and her husband took us on their 28' pontoon boat. It was an enjoyable ride and Joyce got to do some shelling at Lands End. In a short time she was able to get a cup full of silver-dollar size sand dollars and a container of perfect olive shells. Joyce was excited there were so many shells and of such good quality. Joyce only saves perfect shells, no bleached out or broken ones.
The day turned out just fine sans the concert that we had come for.
Monday, October 14, 2002 We drove 98-miles from Panama City Beach to our home in Pensacola.
When I started the motorhome this morning the inverter tripped. That means I am not getting 120-volts unless connected to and electrical source or have the generator running. It seems I have a GFI (Ground Fault Interrupter) circuit that is popping indicating that I have a wiring problem. I spent 30-minutes or so troubleshooting the problem then just decided to return to Pensacola. In Pensacola I may think of something or I just might take it to a repair facility. None-the-less we decided to head home until this problem has been solved and while there I can let my mechanic have another shot at getting cold air to come out of my dash air conditioner. Possibly the third try will be his/my lucky number. Hopefully, we can get these problems fixed and return to the road before the weekend.
Until next time remember how good life is.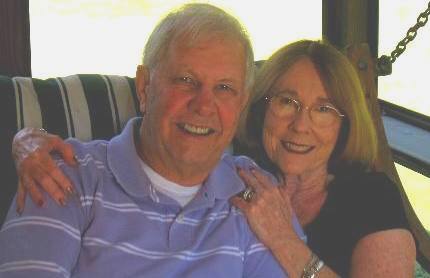 Mike & Joyce Hendrix who we are
We hope you liked this page. If you do you might be interested in some of our other Travel Adventures:
Mike & Joyce Hendrix's home page
Travel Adventures by Year ** Travel Adventures by State ** Plants ** Marine-Boats ** Geology ** Exciting Drives ** Cute Signs ** RV Subjects ** Miscellaneous Subjects
We would love to hear from you......just put "info" in the place of "FAKE" in this address: FAKE@travellogs.us
Until next time remember how good life is.