Henderson Beach State Park & Destin, Florida
Places Visited:
Florida: Henderson Beach SP & Destin
Wednesday, September 11, 2002 we drove 50 miles today Henderson Beach State Park, Destin, Florida. Campsite #33 (a great gravel pull-through with 50 amps, $18 within walking distance of one of the most spectacular beaches anywhere)
After a few weeks at home we are on the road again. This time electing to stop in Destin, Florida 50 miles east of Pensacola. Thirty years ago Destin was a tiny undiscovered fishing village, self-described as "the world's luckiest fishing village". That moniker won't cut it any longer. They remain a world-class fishing destination, but village it ain't. The sugar white beaches and emerald water have attracted enormous-condos that have replaced the mom and pop motels of yesteryear. A gigantic charter fishing fleet still makes daily trips into the Gulf loaded with excited passengers that return with limits of red snapper, grouper and amberjack. Other charter boats target tuna and marlin with equal success.
Joyce made the decision to explore Destin since we have been driving through it all of our adult life yet had never stopped to spend time experiencing what the area had to offer. Some of the things she has on her list for us to enjoy include; watching the fishing fleet unload their catch, enjoying the sunset from the beach, visiting the Air Force Armament Museum at Eglin Air Force Base, exploring the Indian Temple Mound Museum on highway-98 in downtown Fort Walton Beach, taking in Eden Gardens State Park, daily long walks on the beach and finally---she is going to spend one day (sans me) shopping at Silver Sands Factory Outlet Mall (self-proclaimed as the nations largest designer factory store center).
Henderson Beach State Park, where we are staying, is one reason the Florida State Park system is rated as the number one State Park system in the country. Smack in the middle of gigantic vacation condominiums is over a mile of undeveloped sugar white sand and emerald green water that has NOT been developed. The vast majority of tourists enjoying Destin's beaches are paying way over $150 per-day for their lodging alone. To say the State Park is a bargain at $18 per-night would be a major understatement.
Several hundred yards and several dunes away from the beach is the brand new RV-park with over 60 sites many of which are pull through with 50 amp connections. This is NOT your normal campground in a State Park. It is our experience that most of Florida's State Park campgrounds while nice were designed for RV's less than 34'. Not this place, it has been designed to accommodate the largest Class "A" motorhomes and 5th wheels produced today. They even have washing machines and dryers, something I have not seen at other state parks.
A local told us that they liked to dine at Dewy Destin's restaurant and seafood market. They relayed that it was a quaint mom & pop place locals frequented, not one of the multitude of tourist restaurants featuring cardboard cuisine. They weren't lying about the quaint part. The place is a small shack on the water several hundred feet north of the Destin Bridge. Dining was outside on the dock where we ate our seafood while watching a steady stream of boats parade by as the sun set across Choctawhatchee Bay. Nearby, thousands of haute tourists are savoring their epicurean experience in the dozen or so large restaurants overlooking the harbor or Gulf with elegant menus of frozen seafood starting at $25 and rapidly heading to the stratosphere. Dewey Destin's place prepares "fresh-local" seafood where the most expensive entrée approaches $10, complete with dining on the dock and entertainment compliments of pelicans, herons and blue crabs. As you can tell we enjoyed this place, with its "real-ambience" reflecting a bygone age. To find Dewy Destin's restaurant take the first road to the north on the east side of the bridge. About 2-blocks down that road you will see a sign for Dewy Destin's seafood and restaurant. The restaurant is located on pilings over the water at the end of the washboard road.
The gregarious lady waiting on us was the great, great granddaughter of the eponymous founder of Destin. She shared with us that during the Civil War the confederates imprisoned him because he had come from "up-north". She related how he had moved from Connecticut and settled in the area in 1845 taking up fishing.
As we approached the restaurant we almost entered the wrong door. Just as I put my hand on the doorknob we noticed a sign stating, "Use the other door unless you want to cook or wash dishes". I quickly backed off but Joyce bolted like she had seen a snake. I caught up with her as she patiently waited at the "proper entrance". That was one scary sign! VBG
Thursday, September 12, 2002 Henderson Beach State Park, Destin, Florida. Campsite #33 (a great gravel pull-through with 50 amps, $18 within walking distance of one of the most spectacular beaches anywhere)
Did I mention that Joyce wanted to walk on the beach? She may have that activity out of her system after our extended walk this morning. Offshore storms have created an angry surf. Waves were breaking in rhythmic yet mighty bursts of energy. So ferocious was the wave action that it was creating a fog like haze along the beach. The haze fairly sparkled like a new brides diamond as the morning sun penetrated that salty spray. Have I mentioned how good life is? I don't know how it could get any better better-----well that $85-million dollar lottery last week may have been a start. VBG
Next on our list of things to experience was Eden Gardens State Park a few miles east of Henderson Beach State Park. Eden Gardens is really a treat for history buffs and antiquarians. The name "Eden Gardens" is a bit misleading. The actual attraction is a 6,000 square foot restored old Southern home featuring a collection of some of the finest antique furnishings from around the world on display anywhere. The "gardens" consist of around 12 acres of manicured grass under a canopy of beautiful Virginia live oaks replete with Spanish moss and resurrection fern. The home's original owner was an early 1900s entrepreneur that set up a sawmill on the property making lumber out of the virgin long leaf pine trees. He built the house to accommodate his family consisting of wife and nine children. During his day there was no "garden". The area that now is a lush verdant lawn stretching to the water was where mill workers lived around the sawmill. As the virgin forest was cleared and a fire destroyed the sawmill everyone moved away even the owners children. A developer purchased the property and moved the company houses to Grayton Beach selling them as beach cottages where some of them remain to this day. Then in the 1960s a wealthy northern spinster (Lois Maxon), residing in the area, purchased the house and "restored" it to look like one of the plantation homes common throughout the antebellum South. She needed the house to display her eclectic collection of heirlooms and antiques. For a number of years Lois resided in the mansion and made friends with the locals. In her "music-room" she had a baby grand piano and would invite the area children, on special occasions, to listen to a recital by some noted guest. To this day elegant straight-backed chairs line the room where the formal performances were held. In addition to Lois Maxon's collection of antiques the State of Florida is using the residence to store other significant period pieces awaiting placement in other museums and places of public display around the state. An excellent docent gives tours every couple of hours. Don't miss this if you are in the area. Note that Eden Gardens SP does NOT have accommodations for RVs. In fact I would not venture into Eden Gardens with an RV over 25 feet in length because there is no parking for anything larger and turning around could present a problem. To find Eden Gardens from highway 98 turn north on SR-395 and follow the signs (less than 5-miles).
Next we spent a few hours touring the marina, eating and shopping at the village of Baytowne Wharf inside the San Destin complex. Mercy, Mercy, San Destin was not made for government workers much less government retirees if you get my drift. The theme of Baytowne Wharf is along the lines of a downscaled Celebration, the Disney community, near Disney World. There is an upscale conference center complete with what appears to be multiple 18-hole golf courses. Eighteen or more holes of golf are a necessity for a conference center isn't it? We dined at Acme Oyster House in the Baytowne village complex. Joyce will be introducing her Pensacola shopping buddies to this place when the girls make their next foray to Silver Sands.
Speaking of sand I was reading something about the unique sand along this stretch of beach. One thing is obvious to even a casual observer, the sand here is possibly the whitest, cleanest and softest in the world. Many think the sand along Destin's beach washed down the Apalachicola River from the Appalachian Mountains. The Apalachicola River empties into the Gulf of Mexico 140 miles to the east. Their theory involves currents carrying the quarts to Panama City Beach, Destin and finally Pensacola. Others believe that the Gulf Stream dumps the pure quartz sand on the beach in this area. The Gulf Stream does change directions in the Gulf South of Pensacola so that theory is credible as well.
No matter the source, each of these quarts crystals are smooth like a river rock or ball bearing. When you walk on them it makes a squeaking sound as your foot sinks down to the ankle. The smooth round sides of each grain make it feel like you are walking on ball bearings. For this reason beach sand can't be used as foundations for roads and buildings.
Normally, quartz has a rosy pink tint compliments of iron oxide. However, the white quartz along the coast does not have this tint. Those espousing the theory that the quarts originated in the Appalachian Mountains can't explain how or why the quarts crystals along the coast do not contain the iron oxide tint.
Most of us from along this area of coast have an anachronistic view of Destin's East Pass thinking that it has been there forever. However, that is not the case. In 1927 four fishermen with shovels attempting to relieve Choctawhatchee Bay that was at flood level cut a drainage ditch two feet wide across Okaloosa Island. Within two hours, the ditch was 100 yards wide. That ditch is now Destin's East Pass.
Our son called around 5:00 this afternoon to ask us if we knew about the tropical depression in the Gulf 250-miles south of us? No! We have been having too much fun to listen to the news. We have paid for our RV-site through Sunday and tropical depression number 9 is headed right at us and expected to come ashore around 4am Saturday morning. The surf was angry this morning I wonder what it will be like tomorrow?
There was a beautiful red sunset tonight. The old adage "red sky at night sailors delight, red sky in the morning sailors take warning" won't be heeded in the morning. Charter boats have already cancelled trips for tomorrow, as today was too rough to fish with things getting worse.
We got another of Joyce's agenda items behind us when we watched the sunset. A slight variation to another old adage comes to mind "When Momma's happy all of us are happy". Joyce is happy!
Friday, September 13, 2002 drove 52 miles back to Pensacola & home.
Heavy rain pounds the motorhome portending of things to come. It does not last but returns shortly with another torrent. By mid-morning the cycle is firmly established.
Waking to one deluge after another must have triggered one of the few remaining "domestic genes" in Joyce. She announced she was cooking breakfast then proceeded to do just that. That reminds me of the bible verse covering events such as this; "all things are possible for those that love the Lord". I knew if I ever saw flames emanating from that cook top it would be reason to rejoice. The event has been properly recorded.
Local radio just announced that the tropical depression had been upgraded to tropical storm Hanna. Having lived on the Gulf Coast my entire life I know that once they assign a name to those tropical things it is best to "pay-attention". Tropical storm Hanna was better defined and slowly moving north expected to make landfall in Pensacola 50 miles west of here by 7am Saturday morning. Around noon rangers informed us that if things got worse we would be forced to evacuate. The eye of Tropical Storm Hanna is now expected to make landfall in Mobile, Alabama with 60 mph winds. That is 110 miles west of here so we feel good that we will NOT be evacuated.
As we exited the park on this wet and blustery day, heading to the Indian Mound Museum in Fort Walton, we gave the Park Ranger our business card (retirement card) with our cell-phone number on it in case they needed to contact us for an evacuation notice. Before we got to the museum our phone rang and they were evacuating the park.
Our first inclination was to go east to St. Andrews State Park on Panama City Beach but they were already evacuating because of flooding. The only other thing we could think of was to return to Pensacola and weather this nuisance out in our brick& stick home.
Saturday, September 14, 2002 At home in Pensacola
Back in Pensacola we awake to gusty winds and intermittent rain. The power went out before 9am. At that time local radio was reporting that Hanna made landfall just west of Dauphin Island, Alabama and was heading to the northeast. Our morning and early afternoon consisted of winds gusting to 65-mph and rain.
We will head out again sometime next week. See ya then.
Until next time remember how good life is.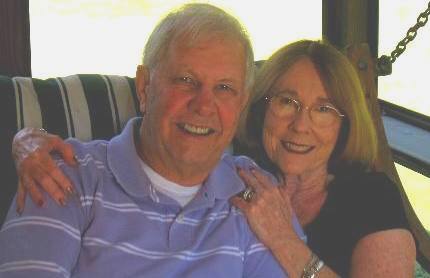 Mike & Joyce Hendrix who we are
We hope you liked this page. If you do you might be interested in some of our other Travel Adventures:
Mike & Joyce Hendrix's home page
Travel Adventures by Year ** Travel Adventures by State ** Plants ** Marine-Boats ** Geology ** Exciting Drives ** Cute Signs ** RV Subjects ** Miscellaneous Subjects
We would love to hear from you......just put "info" in the place of "FAKE" in this address: FAKE@travellogs.us
Until next time remember how good life is.