Our 2008 Cute Signs
NO Peein' off the Porch
This sign caught my fancy since we have several grand children, both boys. I really think their parents would find this funny.
We saw this sign posted on a wall outside a knickknack shop in Lynchburg, Tennessee home of the Jack Daniels Distillery.
After reading this sign you can view those bats in the picture below. Enjoy.
When you look up the chimney these are the "rare" white bats.
Top Ten Things Men Know about Women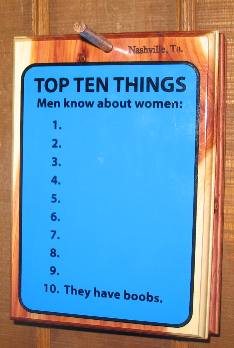 I just though this was funny.
Mike & Joyce Hendrix
Mike & Joyce Hendrix who we are
We hope you liked this page. If you do you might be interested in some of our other Travel Adventures:
Mike & Joyce Hendrix's home page
Travel Adventures by Year ** Travel Adventures by State ** Plants ** Marine-Boats ** Geology ** Exciting Drives ** Cute Signs ** RV Subjects ** Miscellaneous Subjects
We would love to hear from you......just put "info" in the place of "FAKE" in this address: FAKE@travellogs.us
Until next time remember how good life is.