Spanish bayonet or Yucca
Spanish bayonet grows wild in the sandy dune areas along Florida's northern Gulf coast.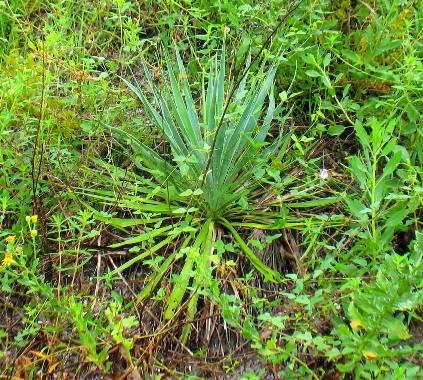 This Spanish bayonet was growing in the dunes at Fort Pickens National Seashore near Pensacola, Florida.
These are flower spikes of the Spanish bayonet a few days before they burst into bloom.
Spanish bayonet's spikes of white flowers command attention.
Spanish bayonet reproduces by both offshoots and seeds.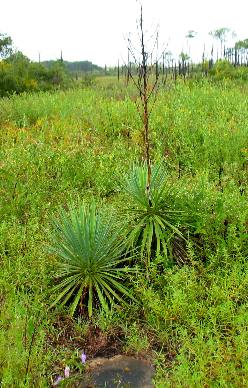 Spanish bayonet thrives in the hostile environs of Florida's Gulf Coast. These survived hurricane Ivan that destroyed this area in September of 2004. Note all the dead pine trees in the background. the dead pine trees look like telephone poles. This particular area was under over 5' of salt water for over 12-hours. I am surprised anything survived.
Spanish bayonet flourishes in full sun and sandy soil typical along beach dune areas.

Spanish bayonet produces offshoots, near the base of the trunk, forming a thicket. They are also prolific seed producers.
This is a good example of how Spanish bayonet propagates by producing offshoots, near the base of the trunk, forming a thicket.
Spanish bayonet bloom in the spring and early summer along the Gulf Coast.
Mike & Joyce Hendrix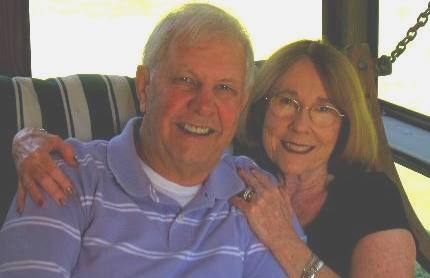 Mike & Joyce Hendrix who we are
We hope you liked this page. If you do you might be interested in some of our other Travel Adventures:
Mike & Joyce Hendrix's home page
Travel Adventures by Year ** Travel Adventures by State ** Plants ** Marine-Boats ** Geology ** Exciting Drives ** Cute Signs ** RV Subjects ** Miscellaneous Subjects
We would love to hear from you......just put "info" in the place of "FAKE" in this address: FAKE@travellogs.us
Until next time remember how good life is.