Home
Jeff took these pics of us in the spring of 2003 before we headed to Texas and New Mexico.
These are pics from October 2003 where we spent a week in Kathryn's Family Beach house on St George Island, FL. St George Island is located in the Florida Panhandle east of Apalachicola. That is Mike with a nice flounder and Mike & Jeff with some keeper speckled trout.
Mike with a 40# Cobia caught on Chris Campus' boat "Commotion" in early April 2004 on a fishing trip with Jeff & Chris Campus.
Mike & Joyce standing on an overlook in Trail of Tears State Park near Cape Girardeau, Missouri. That is the Mississippi River and floodplain in the background.
Joyce in snow at over 8,500' at top of Palm Springs, California Tram the last day of June 2005.
Joyce in front of the house made famous in the movie Top Gun as the house Tom Cruise lived in while he was in Top Gun School. The house is located about two blocks south of the pier in Oceanside, California. and across the street from the Pacific Ocean.
Joyce and Katharine Keranen in Katharine's kitchen in Carlsbad, California in May of 2005.
Joyce on rocks with La Jolla, California in background.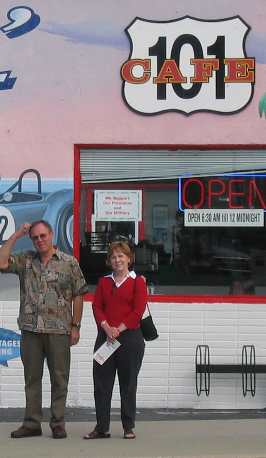 Joyce and our friend Ken Keranen in front of the famous Cafe 101 in Oceanside, California. We spent about a week boondocking in an RV space near Ken & Katharine's house in Carlsbad, California.