We took this picture in Yahk, British Columbia at at goat milk soap manufacturing company. What made it unusual is this goat was on the roof of the manufacturing building.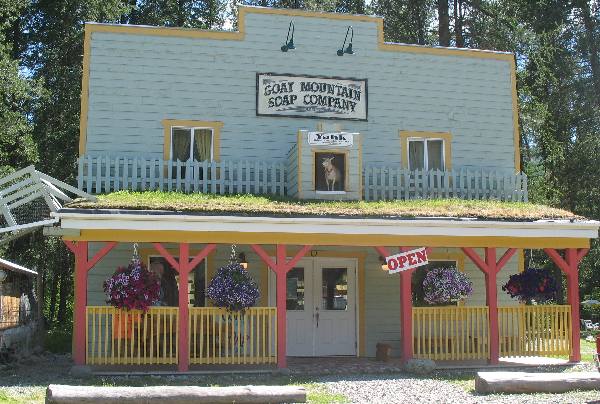 This is a better picture of the goat on the roof of the Goat Mountain Soap Company. At one time several goats were on the roof. Access to the roof was made possible by the ramp you see on the left side of this picture.
This pink flamingo on a power pole near Hill Spring, Alberta in Canada was so out of place we could not help but take a picture of it. Later locals told us that a pair of osprey were building a nest on this pole and the nest was shorting out electricity to the area. The local power company attached this plastic flamingo to the pole in an effort to discourage the osprey's nest building endeavors.
The osprey ignored this flamingo and reconstructed their nest around it. Finally the power company constructed a nest platform about 50-feet away and moved the nest to that platform. While we were there we watched the osprey parents feeding a pair of young on that nest.
Bottom line the power company left the pink flamingo on the power pole.
Also near Hill Spring, Alberta we saw this fence adorned with a variety of hats.
Not far from Hill Spring, Alberta was this fence adorned with deer antlers.
This is another section of the antler fence.
This penguin was spotted on the east side of Cut Bank, Montana.