Blue Heaven Key West
Blue Heaven Serving heaven on a fork and sin in a glass in Key West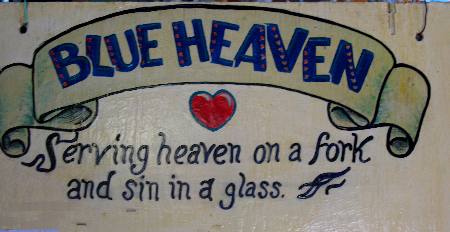 This sign pretty much sums up Blue Heaven from the culinary perspective. But there is sooooooo much more to Blue Heaven than the culinary aspect.
Where else are you going to dine with genuine Key West roosters and chickens pecking the ground at your feet? The chickens are not trained beggars like dogs are but they do know that food is often dropped on the ground around tables.
Showers $1.00 but $2.00 to watch at Blue Heaven in Key West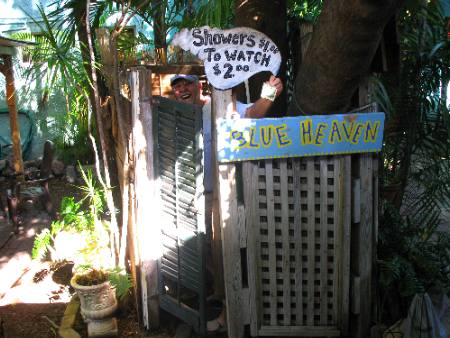 Now, I like to hang around this shower. VBG
As you can see I am providing the entertainment at this moment.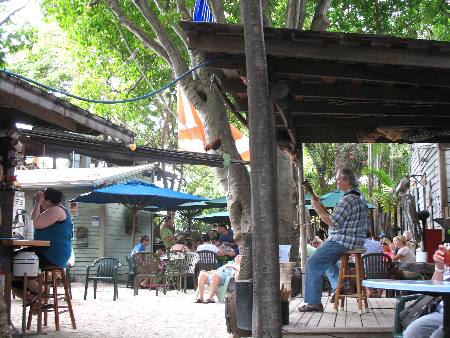 Some folks visit Blue Heaven for the Bar while others enjoy the acoustic music. It is pretty much guaranteed you are going to have to wait to be seated at Blue Heaven so you are going to get to soak up some of the ambiance while waiting to be seated.
Country music super star, Kenny Chesney, flew his grandmother to Key West and Blue Heaven on his private jet just to eat some key lime pie. A video of Kenny told this story to Oprah and you can watch a video of it here:
http://www.oprah.com/oprahshow/Kenny-Chesney-and-His-Grandmother-Take-Flight-Video/topic/oprahshow
View from the al fresco dining area at Blue Heaven in Key West
I have been told there is dining other than al fresco but I have never seen it. We have always dined outside under the trees with the chickens.
This is where a boxing ring was set up in years long gone. Earnest Hemingway used to referee boxing matches here when he lived in Key West.
I wrote a story about Shine Forbes, a young boxer that had a run in with Earnest Hemingway when he was refereeing a boxing match here at Blue Heaven.
Dining guest roaming the al fresco dining area of Blue Heaven Restaurant in Key West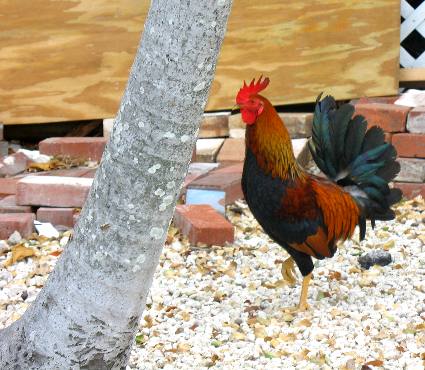 This is one of the roosters that patrol Blue Heaven. These feral chickens are protected in Key West. The feral chickens and roosters are ancestors of fighting chickens that Cubans brought over here years and years ago. The fighting chickens were just turned lose and have become icons of Key West.
Friends Brenda and Richard Roselli with us at Blue Heaven in Key West, Florida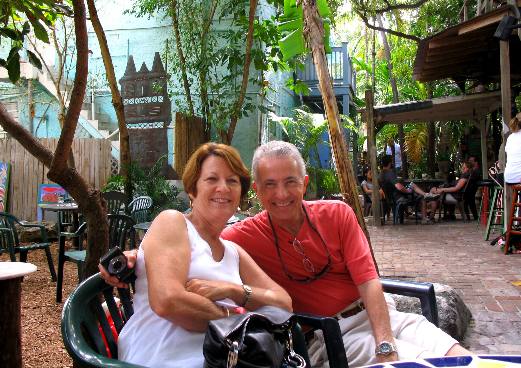 These are good friends that were visiting with us in Key West.
What can be better than good times with good friends?
Life is good.
Until next time remember how good life is.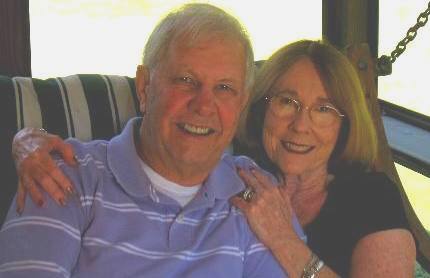 Mike & Joyce Hendrix who we are
We hope you liked this page. If you do you might be interested in some of our other Travel Adventures:
Mike & Joyce Hendrix's home page
Travel Adventures by Year ** Travel Adventures by State ** Plants ** Marine-Boats ** Geology ** Exciting Drives ** Cute Signs ** RV Subjects ** Miscellaneous Subjects
We would love to hear from you......just put "info" in the place of "FAKE" in this address: FAKE@travellogs.us
Until next time remember how good life is.