White Ibis
Flock of white ibis feeding in an open grassy area in Key West
White Ibis are highly sociable birds, roosting and feeding in flocks, and nesting in large colonies.
They have a red/pink/orange face, long curved red bill, and black wingtips that are extremely difficult to see unless the ibis is flying.
White Ibis in a Key West City Park
Immature white ibis are dark brownish with a white belly, white rump, and curved red bill.
So that makes the brown ibis in this picture a juvenile. That bird will be white next year.
White Ibis moving through the grass in search of grubs
We see them foraging for food in a variety of places including shallow water and grassy fields. We always see them in flocks. Spotting singles or pairs is not the norm. In Florida, foraging sites may include marshes, mudflats, pastures, shallow mangrove lagoons, and grassy fields.
Ibis feeding deep in the soil with their long bill
Until next time remember how good life is.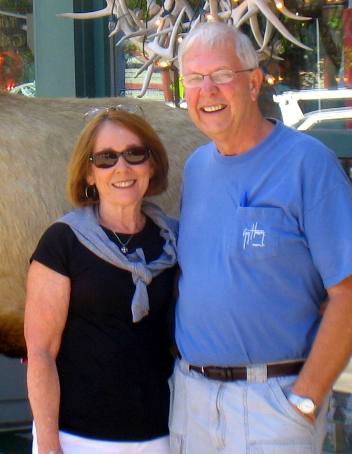 Mike & Joyce Hendrix who we are
We hope you liked this page. If you do you might be interested in some of our other Travel Adventures:
Mike & Joyce Hendrix's home page
Travel Adventures by Year ** Travel Adventures by State ** Plants ** Marine-Boats ** Geology ** Exciting Drives ** Cute Signs ** RV Subjects ** Miscellaneous Subjects
We would love to hear from you......just put "info" in the place of "FAKE" in this address: FAKE@travellogs.us
Until next time remember how good life is.