Lovers oak Brunswick, Georgia
Large limbs of Lovers Oak in Brunswick, Georgia
Lovers Oak on Albany Street in Brunswick, Georgia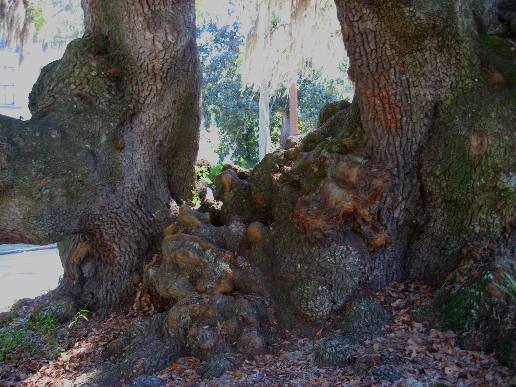 The tree trunk is 13 feet in diameter, and 3 feet from the ground it branches into 10 limbs measuring 12 to 30 inches in diameter.
According to legend, Native American braves and their maidens would meet under the majestic spreading limbs of this enormous oak. This 900-year-old oak has served as a meeting place for lovers since Indian times. They would meet and kiss their true love under the branches of the tree, hence earning its moniker. It is thought to date from the 12th century.
Lovers Oak in Brunswick, Georgia on the corner of Albany and Prince streets
The region of Southern Coastal Georgia has long been rich in trees, notably the mighty live oak tree. Many trees from this area were used in the building of famous battleships.
Live oak trees in the Brunswick and the Golden Isles area were used in the construction of Revolutionary era warships such as the USS Constitution (nicknamed Old Ironsides). Many were clad in St. Simons Island oak planks.
Lovers Oak in trolley car days
This picture from trolley car days gives you an idea of how this oak may have been shaped to allow cars and trolley cars to pass.
Lovers Oak was here at the signing of our constitution
Lovers Oak in the 900 block of Albany Street Brunswick, Georgia
Lovers oak is not hard to find. Just drive south on Albany Street until you get to the 900 block (at the intersection of Albany and Prince Streets) and look for the tree and this sign.
Pretty home across from Lovers Oak on Albany street in Brunswick, Georgia
Joyce just liked this picture she took of a beautiful home on Albany Street that was overlooking Lovers Oak.
Lovers Oak is located at the intersection of Prince and Albany Streets in Brunswick, Georgia
These street signs are included to help you locate Lovers Oak.
Until next time remember how good life is.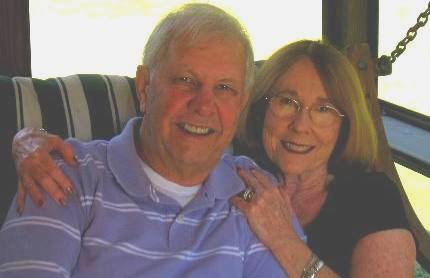 Mike & Joyce Hendrix who we are
We hope you liked this page. If you do you might be interested in some of our other Travel Adventures:
Mike & Joyce Hendrix's home page
Travel Adventures by Year ** Travel Adventures by State ** Plants ** Marine-Boats ** Geology ** Exciting Drives ** Cute Signs ** RV Subjects ** Miscellaneous Subjects
We would love to hear from you......just put "info" in the place of "FAKE" in this address: FAKE@travellogs.us
Until next time remember how good life is.