Key West Sights
January 21st and 22nd, 2009
This travellog covers part of our stay in Key West.
We are dry camping on the Navy Base at Trumbo Point in Key West. I am a retired DOD civilian and the Navy allows retired DOD civilians to camp in the Navy facilities as long as there is space available. We are paying $12 a night to dry camp on a grass field along with over 600 other RV's. All I can say is: It is wonderful.
Travelers palms are just one of the lush foliage plants here in the Keys. This one is putting on a special show.
This was in Jimmy Buffet's gift shop and we both thought it was cute. I am sure there are a LOT of women to blame. VBG

We have been visiting Margaritaville almost nightly. It is OK, as in better than Sloppy Joe's Bar but not the quality of music we have become accustomed. Nashville and Tootsies on Panama City Beach has spoiled us.
Coconut palms are so beautiful and full of coconuts.
This was a small coconut palm but simply loaded with coconuts.
Mother of Thousands blooming in Key West, Florida
This is another brilliant succulent and not a native plant. Disregard the green leaves you see in the background they are from another plant. After spending some time Googling I think I have found some of the more common names for this plant: Mother of Thousands, Mexican Hat Plant, Jaws of Life and the scientific name: Kalanchoe Diagremontiana. They are a stunningly beautiful plant but state park employees rip them out when they see them. They do not like evasive plants and I think they classify this as an evasive. However, it is widely used in home landscapes where it does not have to be watered.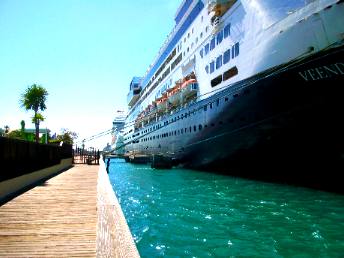 Joyce took this picture one afternoon when two large cruise ships were tied up at the docks. The town was overflowing with cruise ship tourist. Thankfully, these ships leave before sunset because this is where people gather to celebrate and watch the sunset each afternoon.
Until next time remember how good life is.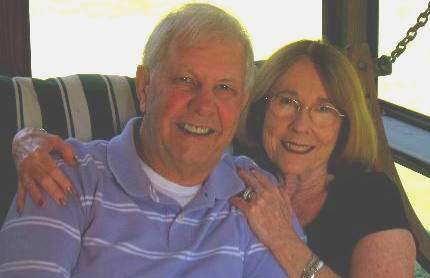 Mike & Joyce Hendrix who we are
We hope you liked this page. If you do you might be interested in some of our other Travel Adventures:
Mike & Joyce Hendrix's home page
Travel Adventures by Year ** Travel Adventures by State ** Plants ** Marine-Boats ** Geology ** Exciting Drives ** Cute Signs ** RV Subjects ** Miscellaneous Subjects
We would love to hear from you......just put "info" in the place of "FAKE" in this address: FAKE@travellogs.us
Until next time remember how good life is.