Temple Square in Salt Lake City
May 30, 2007.
We spent the night with Cabela's I-15 exit 287 Lehi, UT about 25-miles south of Salt Lake City last night.
Today we got up early and moved the motorhome about 25-miles north, on I-15, to a parking space, on a city street, near Wal Mart in Salt Lake city about a mile from Temple Square. We dropped the motorhome and headed off to see things in the Saturn.
After touring the Temple Square area in Salt Lake City we returned to the motorhome and headed south to another Wal Mart where we dropped the motorhome while we headed out to Antelope Island in our Saturn.
When we returned we moved the motorhome to a strip mall parking area adjacent to Wal Mart because there was more parking space available for overnighting motorhomes and other RV's.
Temple Square in Salt Lake City
But first we unhooked our Saturn from the motorhome and headed off to Temple Square not knowing what we were going to see or do. As it turned out Mormon Square is a very large city block probably the equivalent of 4-normal city blocks filled with various buildings and courtyards associated with the Mormon Church. In addition to that city block other large Mormon buildings were outside the square.
Conference Center across street from Temple Square in Salt Lake City
This large Conference Center is one of the Mormon buildings that are located outside Temple Square.
Temple Square in Salt Lake City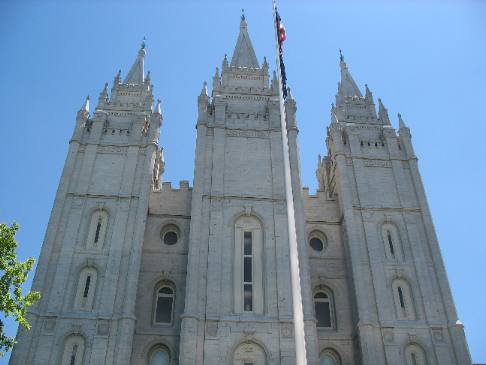 It was difficult to get a good picture of the Temple from inside Temple Square. We took this picture from in front of the building that the famous Mormon Temple Choir performs in. For some reason we had assumed that the Choir performed in the Temple. We were wrong. It seems the Temple is reserved for weddings and personal worship ------- not congregational worship services.
Tabernacle Choir performance room Temple Square in Salt Lake City
This is the building where the Mormon Tabernacle Choir performs and where organized services are conducted.
The Great Salt Lake Valley was a place no one wanted. Yet in 1846, thousands of Mormon settlers in the Midwest began a westward migration in an effort to escape the religious persecution they had experienced in Illinois, Ohio, New York and Missouri. Their migration ended in Utah. Here, they thought their settlements would be free from interference from opposing non-Mormons, or "Gentiles." The early mountaineer Jim Bridger wagered that Brigham Young would fail to grow even a bushel of corn. This is how Brigham Young hoped the world would see the Great Salt Lake Valley: a place no one else would want. Many of the first Mormon pioneers saw the Utah territory in this negative light.
A pragmatist, Brigham Young also realized that the strategic location of Salt Lake City would not remain an isolated fortress. Situated in the crossroads of the Oregon Trail and the old Spanish Trail, the Utah territory came as spoils of the recent Mexican War. Brigham Young saw that the freshest addition to the United States territory would not go unclaimed by others. Against this Gentile competition, he said, "If the people of the United States will let us alone for ten years, we will ask no odds of them."
Ironically, today the place no one wanted is one of the fastest growing areas in the country. The challenge of the future will be to manage the area's growth and popularity to maintain the quality of life for northern Utah residents.
Shortly after arrival in the Great Salt Lake Valley, San Brannan, leader of a Mormon congregation in California, rode urgently to attempt to change Brigham Young's mind. Brannan warned Young "You'r making a mistake, California is the promised Land, not this forsaken place." Brigham Young would not be swayed, he had already decided this would be the Mormon sanctuary.
Utah Capitol Building
A few blocks north of Temple Square the State of Utah is constructing this new State Capitol Building. Under other circumstances we would have toured this building but it did not appear to be open for business. It does however, look like it will be completed in the near future. We could see where grounds work was being accomplished in one area -- a sure sign that a project is nearing completion.
It was time for us to continue our journey north. We want to tour Antelope Island 25-miles north of here this afternoon. It did not take long for us to connect the Saturn to our Motorhome and return to I-15. Next stop Antelope Island State Park.
Until next time remember how good life is.
Until next time remember how good life is.
Mike & Joyce Hendrix who we are
We hope you liked this page. If you do you might be interested in some of our other Travel Adventures:
Mike & Joyce Hendrix's home page
Travel Adventures by Year ** Travel Adventures by State ** Plants ** Marine-Boats ** Geology ** Exciting Drives ** Cute Signs ** RV Subjects ** Miscellaneous Subjects
We would love to hear from you......just put "info" in the place of "FAKE" in this address: FAKE@travellogs.us
Until next time remember how good life is.