Surfside, Texas
Surfside, Texas
April 8 and 9, 2007
We spent two nights, April 8 & 9, 2007 at the Brazora County Campground located on the water at San Luis Pass. The southwest end of Galveston Island is across San Luis Pass from our campground. The bridge in this picture connects the community of San Luis Pass to Galveston Island. Coordinates for this County Campground are: N29 4.849 W85 7.948
Amaryllis
We have been seeing amaryllis growing wild in many places but especially in highway rights of way. Joyce took this picture of some wild amaryllis near Surfside.
Bluebonnets and primrose
In the small town of Surfside, south of Freeport, Joyce spotted this bunch of bluebonnets and primrose. This is the first big clump of bluebonnets we have spotted on this trip. In a few days we are going to be visiting some of the better known bluebonnet trails in Texas.
Indian Paintbrush
This is a good stand of Indian Paintbrush. We have been seeing scattered patches of paintbrush since we entered Texas but have not taken the time to get a picture until now. These were in the highway right of way near the small town of Surfside.
Coral bean
This pretty bush is a coral bean. It seems to be popular in humming bird gardens along with lantana. We are seeing a lot of ruby throated hummingbirds along the coast feeding on Indian Paintbrush and lantana.
Jackup Rig
This derelict jackup rig was situated in the Dow Barge Canal between Surfside and Quintana. If you are having difficulty locating Surfside and Quintana they are located south of Freeport. The Dow Barge Canal connects the Gulf of Mexico to a giant Dow Chemical Company Refinery that stretches from almost the coast into Freeport which is a few miles inland. While I stated that this was a derelict jackup rig it very well may be operational and just in need of a paint job. I say that since it has a crane on it. It also could be being used as a training platform. Whatever, it needed some cosmetic work performed on the obvious rust.
Intercoastal waterway between Freeport & Surfside, Texas
Joyce took this picture looking east down the intercoastal waterway from the high-rise bridge connecting Freeport and Surfside.
Mike & Joyce Hendrix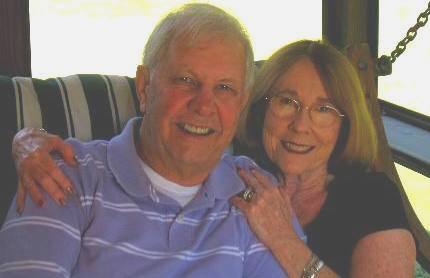 Mike & Joyce Hendrix who we are
We hope you liked this page. If you do you might be interested in some of our other Travel Adventures:
Mike & Joyce Hendrix's home page
Travel Adventures by Year ** Travel Adventures by State ** Plants ** Marine-Boats ** Geology ** Exciting Drives ** Cute Signs ** RV Subjects ** Miscellaneous Subjects
We would love to hear from you......just put "info" in the place of "FAKE" in this address: FAKE@travellogs.us
Until next time remember how good life is.