San Luis Pass, Texas
San Luis Pass, Texas
April 8 and 9, 2007
We spent two nights, April 8 & 9, 2007 at the Brazora County Campground located on the water at San Luis Pass. The southwest end of Galveston Island is across San Luis Pass from our campground. The bridge in this picture connects the community of San Luis Pass to Galveston Island. Coordinates for this County Campground are: N29 4.849 W85 7.948
Toll bridge that connects San Luis Pass to Galveston Island
I took this picture of the sun rising over the toll bridge that connects San Luis Pass to the Southwestern tip of Galveston Island. Red sky in the morning sailors take warning is the old adage. A fierce wind was blowing and thunder storms flowed out of the Gulf taking rain and turbulent weather with them so I guess the the old sailors ditty has a ring of truth.
San Luis Pass
The wind blew a Gale the whole time we were in the campground at San Luis Pass. Joyce took this picture to show what this stiff wind has done to the flags. Notice how, what is left of these once proud flags, is standing straight as a result of this relentless wind.
Black neck stilt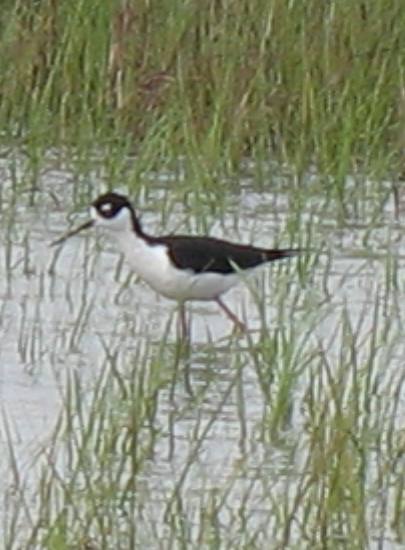 Black neck stilts such as this one were abundant around the campground.
Greater yellow legs
This is a greater yellow legs I think. I say I think because it could be a lesser yellow legs. Someone will certainly let me know which it is.
Killdeer was sitting on eggs
This killdeer was sitting on eggs and did not think we could see her. She is well camouflaged wouldn't you say.
American Oystercatcher
This American Oystercatcher was patrolling the beach near our campground.
Mike & Joyce Hendrix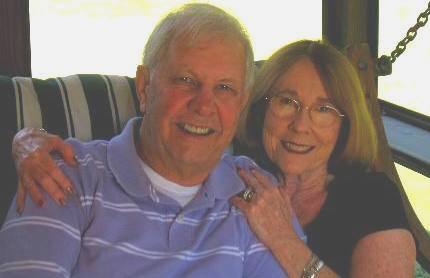 Mike & Joyce Hendrix who we are
We hope you liked this page. If you do you might be interested in some of our other Travel Adventures:
Mike & Joyce Hendrix's home page
Travel Adventures by Year ** Travel Adventures by State ** Plants ** Marine-Boats ** Geology ** Exciting Drives ** Cute Signs ** RV Subjects ** Miscellaneous Subjects
We would love to hear from you......just put "info" in the place of "FAKE" in this address: FAKE@travellogs.us
Until next time remember how good life is.