Galveston, Texas
Galveston, Texas
April 8, 2007
Port Bolivar ferry terminal
We are going to start this travelogue at the Port Bolivar ferry terminal where we are in our motorhome, in line to board one of the fleet of ferries transporting vehicles across the mouth of Galveston Bay. We are on the east side of Galveston Bay and the ferry is going to take us west across the mouth of Galveston Bay to Galveston Island.
This picture was taken out the front windshield of our motorhome as we waited to board one of the ferries. The yellow structure you see in the top right corner of this picture is the pilot house of one ferry, but not the one that we boarded. The ferry with the yellow pilothouse pulled out with a load of vehicles several minutes before we left the dock in our ferry.
View of Gulf from Port Bolivar ferry terminal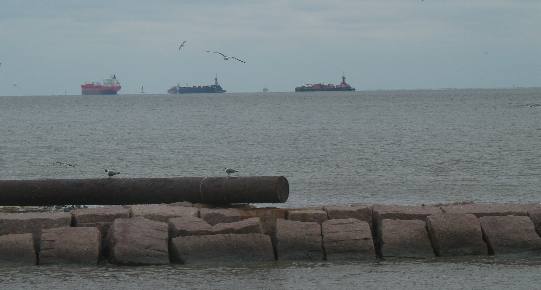 I snapped this picture out a side window of the motorhome as our ferry was pulling away from the dock. You can see three large ships either entering or leaving the port of Galveston. The dot you see between the two dark ships is a large oil platform many miles offshore.
Large container ship heading into Galveston Bay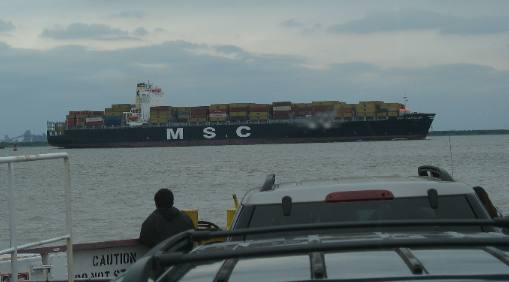 This large container ship passed in front of our ferry as we were crossing Galveston Bay. This inbound container ship will be unloaded within 24-hours and be on its way to another port with yet another load of cargo.
Vehicles on Free Galveston Bay Ferry
Several outbound tanker ships come into view as we continue our journey across Galveston Bay.
Container ship at Galveston port
As we pulled into the ferry port in Galveston Joyce snapped this picture out the windshield of our motorhome. This terminal was located not far from our ferry dock.
Galveston, Texas
This the the first sign to greet us as our motorhome exited the ferry.
Sewall Boulevard and Galveston Beach
You are looking at Galveston Beach, what there is of it, as seen from Seawall Boulevard.
Galviston's Hotel in the Gulf
We were amazed at this hotel that appeared to be constructed in the Gulf. I guess Galveston hasn't experienced a good hurricane recently.
Pier at Galveston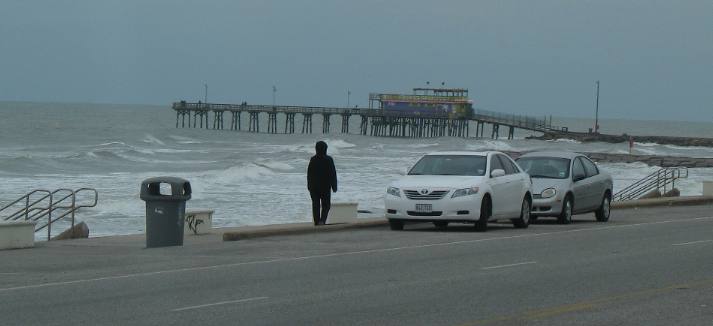 One of the piers extending into the Gulf of Mexico from Galveston Island.
Galveston, Texas
A large pier extending into the Gulf of Mexico with what appears to be a restaurant at the end.
Galveston, Texas
While Galveston is an old city plenty of new construction is evident.
Mike & Joyce Hendrix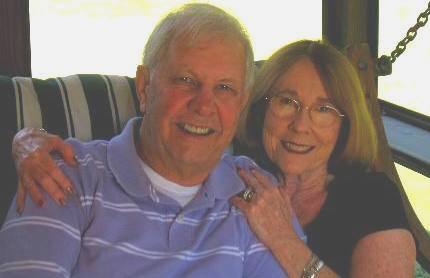 Mike & Joyce Hendrix who we are
We hope you liked this page. If you do you might be interested in some of our other Travel Adventures:
Mike & Joyce Hendrix's home page
Travel Adventures by Year ** Travel Adventures by State ** Plants ** Marine-Boats ** Geology ** Exciting Drives ** Cute Signs ** RV Subjects ** Miscellaneous Subjects
We would love to hear from you......just put "info" in the place of "FAKE" in this address: FAKE@travellogs.us
Until next time remember how good life is.