Cerrillos or Los Cerrillos on SR-14
May 9, 2007.
We got up this morning and moved the motorhome from the extreme western side of Albuquerque to the extreme eastern side. Thirty something miles later we exited 1-40 at exit 178 where we entered Hidden Valley Resort, a PPA park $11.88 FHU 30-amps nice level pull-thru sites with gravel interior roads and sites. Level sites in New Mexico are a bonus. VBG
For those of you that are not familiar with PPA (Pass Port America) it is an organization you can join for less than $50 per-year. Campgrounds that belong to PPA offer 1/2 price discounts. That kind of savings can quickly add up. While participating PPA parks generally have some restrictions on dates the PPA offer is valid, or possibly days of the week the discount is valid, or perhaps the number of days that the PPA discount will be honored the discount is genuine. Many times PPA campgrounds are new campgrounds that need help in getting established. Other times PPA campgrounds may be on the outskirts of town instead of in the "prime" location thus they need to provide an incentive for campers to stay with them. Whatever the reason PPA campgrounds generally provide a much cheaper option. PPA is the only campground organization that I think is worth the cost. PPA does not have a gimic. What you see is what you get. Once you join they send you a directory listing all participating campgrounds. The PPA directory is the FIRST directory we check when trying to locate a place to spend the night. You can join PPA by calling 228-452-9972. If you decide to join PPA, it would be nice if you gave them my number "R-0156251" as the PPA member that told you about PPA. In return PPA will give me a years membership free. I will thank you in advance for that kindness. Thank you.
We made this move to be closer to the dealer that we are purchasing our new motorhome from and to be closer to things we have yet to do around Albuquerque.
We are scheduled to switch motorhomes on Saturday. Until then we are free to continue our exploring.
Last night Joyce contacted old friends from Pensacola who have moved to New Mexico. Most people would say they live near Santa Fe and that would be accurate enough for Government Work. But the truth of the matter is they live off SR-14 between the historic old communities of Madrid and Los Cerrillos. That is only 36-miles north of the Hidden Valley Resort we are staying in.
Cerrillos, New Mexico
Cerrillos, New Mexico
This is Frank and Sandy in downtown Cerrillos. It looks like it hasn't changed much since the 1800's.
Cerrillos, New Mexico
This is another of the famous buildings in down town Cerrillos. You may recognize this building from western movies that have been shot here. Young Guns, was an 80's western shot in Cerrillos while Vampires by John Carpenter was shot in the mid-90's.
Joyce and I are going to have to find these movies and watch them now that we have visited Cerrillos.
For Sale Needs Work sign
Frank stopped to let us take a picture of what remains of this old car that obviously plunged off the road years ago.
The plywood sign had blown over so Frank bounded down the ravine and placed the sign in its rightful place, where it has been for years.
Thanks Frank. The "For Sale Needs Work" sign absolutely needed to be put back in its proper place.
For Sale Needs Work sign
Mountains west of Cerellos, New Mexico
Frank drove us to this spot a few miles west of Cerrillos where we could look back at the town.
Up here we are in the midst of the rock formations where turquoise can be found. Turquoise forms as rounded or bumpy nodules or thin crusts deposited by underground water circulating through certain kinds of volcanic rock. Oddly, its occurrence is limited to arid regions. Sky-blue varieties such as that found in the Cerrillos Hills are the most valuable; their color comes from minute amounts of copper compounds.
Cerrillos, New Mexico Doc Richard's Drug Store
Clear Light Opera House Cerrillos, New Mexico
This old building in Cerrillos has seen its better days. With some imagination this building could be restored to its former glory. Any takers?
Clear Light Opera House Cerrillos, New Mexico
And this is the history of the above building.
Casa Grande Trading Post Cerrillos, New Mexico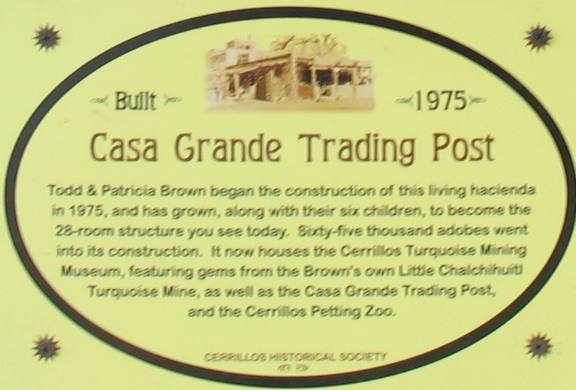 Frank and Sandy took us by the Casa Grande Trading Post for a visit with Mr. Brown, one of their friends. For some reason we did not end up with a good picture of the Casa Grande Trading Post. We must have been concentrating on socializing. Sorry, it just happens from time to time.
From Cerrillos Frank drove us to the old coal mining town of Madrid about 5-miles south on SR-14. They were telling us about the movie "Wild Hogs" being filmed there not long ago. Joyce was quick to remember that our son had told us about going to a movie recently that was about a town in New Mexico---that movie was Wild Hogs and the town was Madrid.
Mike & Joyce Hendrix
Mike & Joyce Hendrix who we are
We hope you liked this page. If you do you might be interested in some of our other Travel Adventures:
Mike & Joyce Hendrix's home page
Travel Adventures by Year ** Travel Adventures by State ** Plants ** Marine-Boats ** Geology ** Exciting Drives ** Cute Signs ** RV Subjects ** Miscellaneous Subjects
We would love to hear from you......just put "info" in the place of "FAKE" in this address: FAKE@travellogs.us
Until next time remember how good life is.