Uranium Mining near Grants, New Mexico
May 6, 2007.
We are staying in the Blue Spruce RV Park $13.50 for 50-amps, water & Cable TV with central dump. Blue Spruce is located on the south west corner of the I-40 exit 81 intersection.
This was our last day in Grants and we took the opportunity to drive up and into the Mt. Taylor area. Mt. Taylor is one of the highest points in New Mexico. I will show you another picture of Mt. Taylor from Sandia Peak in Albuquerque over 60-miles east of Mt. Taylor in a later travelogue. The Mt. Taylor footprint and awesome height make it visible from a large portion of New Mexico.
Uranium-vanadium mine at base of Mt Taylor
We finally reached the small town of San Mateo and drove out to the closed uranium mine. This is one of the derricks situated above one of the mine shafts.
Mount Taylor is very rich in a uranium-vanadium bearing mineral, and was mined extensively for it from 1979 to 1990.
Uuranium mines in this area have produced over thirteen million tons of uranium ore since 1945.
Tailings from a uranium-vanadium mine at base of Mt Taylor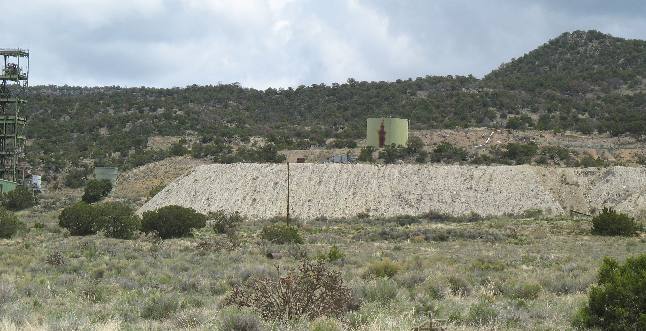 The light colored material is mine tailings consisting of mined rock remaining after the uranium has been removed.
Uranium-vanadium mine at base of Mt Taylor
I think this is the mine that used the large drilling bit you saw a picture when we visited the mining museum in downtown Grants a few days ago.
Main Street San Mateo, New Mexico
This is a scene on main street in San Mateo. It is a very small community with only a few very old adobe homes remaining after experiencing better times.
San Mateo Catholic church in San Mateo, New Mexico
This is the San Mateo Catholic church, by far the best looking building in town.
On the plain southwest of Mt Taylor where old and new meet
New and old technology meet. The old reliable windmill with a modern steel holding tank.
Mike & Joyce Hendrix
Mike & Joyce Hendrix who we are
We hope you liked this page. If you do you might be interested in some of our other Travel Adventures:
Mike & Joyce Hendrix's home page
Travel Adventures by Year ** Travel Adventures by State ** Plants ** Marine-Boats ** Geology ** Exciting Drives ** Cute Signs ** RV Subjects ** Miscellaneous Subjects
We would love to hear from you......just put "info" in the place of "FAKE" in this address: FAKE@travellogs.us
Until next time remember how good life is.