Fire Fighting Helicopters
Meriwether Fire
As we get closer to the fire helicopters swoop in beside our boat to scoop up a load of water used to fight the fire. This particular helicopter has a long "stinger" that it drops into the water as it flies at 30-MPH or so helping to force water into that snout connected to a very powerful pump that pumps water into an internal bladder. When the bladder is full the helicopter rises across the mountains and dumps its load of water on the latest hot spot. Only to be back at the river within a few minutes for another fill.
It is difficult to keep my attention on the history and geology when this helicopter is swooping down on our boat to scoop up water then deliver that water to the hot spots you see in this picture.
It is difficult for locals to explain "fire fighting" efforts since it is policy to let forest fires in Wilderness Areas burn unless they present danger to structures. There must be much more to this policy that isn't spoken or understood to the general public since this fire is located in a "wilderness area" and resources are obviously being expended in fighting the fire. Some obvious (at least to me) reasons we are seeing these resources fighting this fire is that they are trying to keep the fire from jumping the river where it will be on PRIVATE property. So this helicopter may just be putting down "hot spots" that could start the canopy ablaze. That would result in a HOT fire that could send embers across the river. The vast majority of what we are able to see from the river on this trip is fire in the understory which is a cool fire and generally considered to be beneficial.
I am totally mesmerized by the way this pilot drops his helicopter down to the river then runs along the river scooping up water only to ascend and dump his load of water on the fire.
I wonder who is directing where the water is deployed. Fires stretch for 5-miles along the river and there are only so many helicopters.
On occasion the helicopter would fly through clear sky.
Even though this picture has a helicopter in it I want to direct you attention to the layers of limestone in this formation. The layers of sediment are vertical for all practical purposes. Not only are they vertical you can see the tremendous forces exerted on this formation that would cause it to have the curvature it does near the summit.
From geological formations our attention is quickly diverted to the fire beside our boat.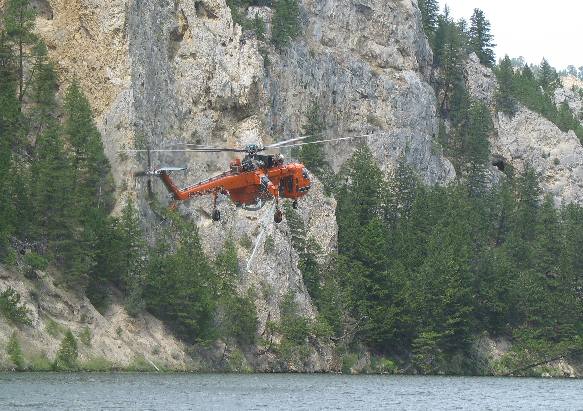 Johnny on the spot --- the helicopter arrives. This picture is being taken as the helicopter is descending to the river to begin his "replenishment" run.
I took this shot as the helicopter was dropping to the river for a "replenishment" run. I think you could say we were in the thick of the action.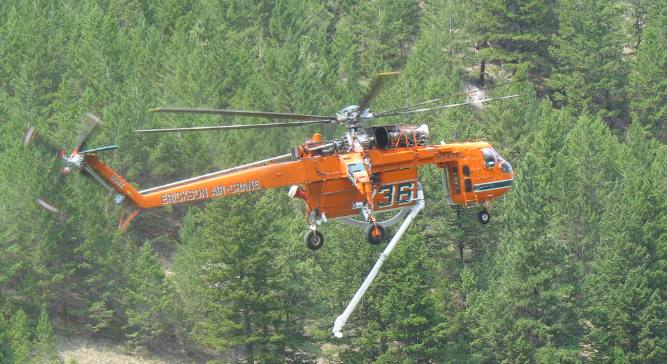 Meanwhile this bad boy is relentlessly attacking hot spots.
Ask me how close this thing gets to the water when it is making its "replenishment" run! I was wondering if I could capture how close to the water they were during this "low-level" run. Actually, the spray you see may be the spray that happens when the internal bladder is full ----- thus the water spray may be overflow from the internal bladder. There has to be a relief valve in the system to handle overflow and that extremely powerful pump can't possibly stop on a --------- dime. Thus, while he IS flying low my guess is that the impressive spray is from overflow. Anyone, knowledgeable about these fire fighting helicopters feel free to provide me with correct information. I will be glad to include it in a revision/update to this travelogue.
While our captain is talking and pointing out geologic features the helicopter is zooming past us on the river busily scooping up water to dump on that fire.
There is that helicopter again and he is close as he makes his "replenishment" run. It is just plain exciting for that monster to swoop down and scoop up water so close to us.
The entire side of this mountain is on fire but it is mostly ground fire that is creeping along rather than one of those super hot fires in the canopy.
Easterners that can not understand why these fires are so difficult to put out should get a better understanding of WHY by studying this picture.
It is exciting to watch and hear these helicopters as they conduct their operations near our boat.
I know you can't tell it from these pictures but our boat is hugging the bank and is in no way interfering with this helicopters activities.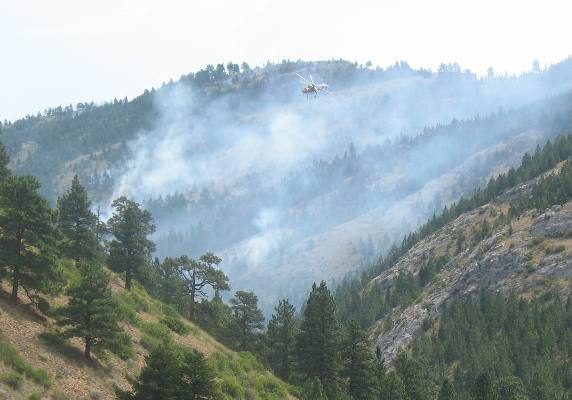 It only takes a precious few minutes for this helicopter to scoop up a load of water and deliver it. I would have had to be in that chopper to get a better seat.
Joyce caught this helicopter as it was rapidly descending to the river to start another "replenishment" run.
You may realize that this is a completely different helicopter and water delivery system.
It is currently heading off across the mountain with a full load of water.
One afternoon the wind started blowing about 35-mph and that fire quickly esculated. With the wind supplying fresh oxygen flames quickly moved from the understory to the canopy this is the way things looked from our RV-park located on the north side of Helena. The fire is located around 15-miles northeast of the RV-Park. Forest officials are predicting that this fire will burn until it is extinguished by snow this winter.
Now, back to the Missouri River and what things look like up close and personal.
This is a nice picture of the helicopter as it descends over our boat on the way to making the replenishment run.
This helicopter has just joined the effort as it picks up a container of water to drop on the fire.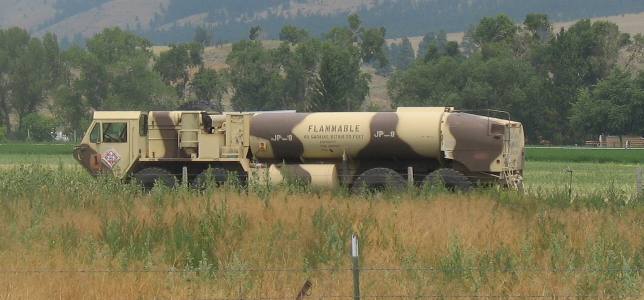 Back on land Joyce took this picture of the truck furnishing fuel to these helicopters.
This helicopter is preparing to join the effort. Note the orange water container that will be used to transport water to the fire.
Until next time remember how good life is.
Mike & Joyce Hendrix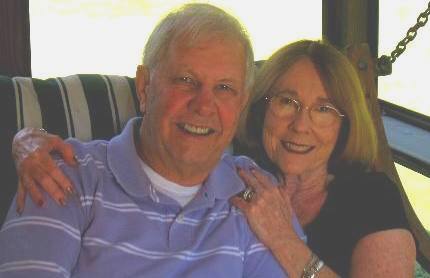 Mike & Joyce Hendrix who we are
We hope you liked this page. If you do you might be interested in some of our other Travel Adventures:
Mike & Joyce Hendrix's home page
Travel Adventures by Year ** Travel Adventures by State ** Plants ** Marine-Boats ** Geology ** Exciting Drives ** Cute Signs ** RV Subjects ** Miscellaneous Subjects
We would love to hear from you......just put "info" in the place of "FAKE" in this address: FAKE@travellogs.us
Until next time remember how good life is.