Anhinga of Wakulla Springs State Park
Friends, Det & Judy Abel, visited Wakulla Springs State Park recently and shared the following pictures from that visit. Wakulla Springs State Park preserves the spring that is the life blood of the Wakulla River. Myriad varieties of birds winter in the warm waters welling from deep within the Florida aquifer. Wakulla Springs is one of the world's largest & deepest fresh water springs. The spring has been measured at 14,325 gallons per-second or 1.2 billion gallons per-day.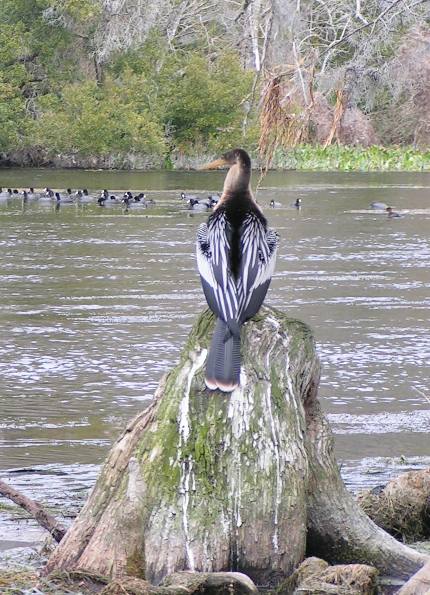 Anhinga are just one of the fish eating birds that winter here. Anhinga are birds they are more suited to the water than the air. Their feathers get waterlogged when they are in the water so they spend time drying off in preparation for flight.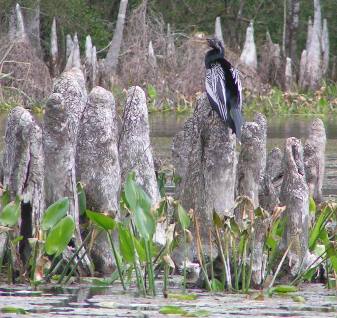 This anhinga is sunning on a cypress knee along the banks of the spring run at Wakulla Springs State Park.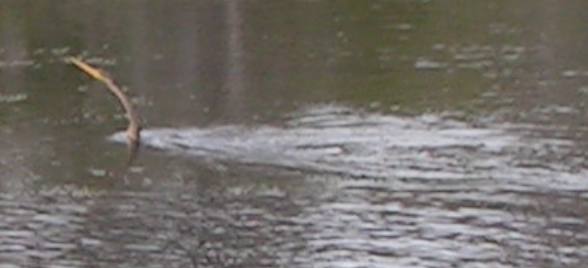 Anhinga are called snake birds because they look ------------- like snakes when in the water. Notice how only the anhingas neck and head are exposed when they are in the water unlike ducks that float like corks.
The anhingas long sharp bill is used to spear fish.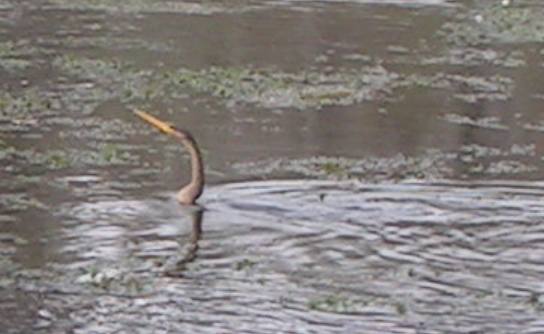 At a distance this anhinga looks like a snake in the water. Notice how low in the water this anhinga is when it swims. The entire body is under water.
For more information about Wakulla Springs State Park you can check this site:
http://www.funandsun.com/parks/Wakulla/wakulla.html
Mike & Joyce Hendrix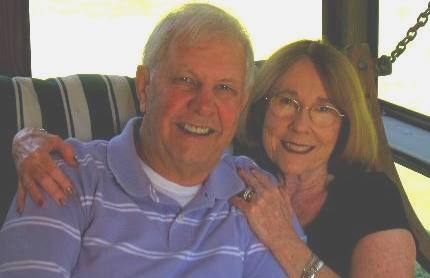 Mike & Joyce Hendrix who we are
We hope you liked this page. If you do you might be interested in some of our other Travel Adventures:
Mike & Joyce Hendrix's home page
Travel Adventures by Year ** Travel Adventures by State ** Plants ** Marine-Boats ** Geology ** Exciting Drives ** Cute Signs ** RV Subjects ** Miscellaneous Subjects
We would love to hear from you......just put "info" in the place of "FAKE" in this address: FAKE@travellogs.us
Until next time remember how good life is.