Gulf Crossing Destin to Anna Maria Island on 60' Yacht Smilin Time
Gulf Crossing on 60' Yacht Smilin Time
December 12 through 14, 2007.
While this was not an adventure based around our motorhome it was an adventure just the same. We have been back in Pensacola since late August and I was in need of some excitement when a super opportunity presented itself. My daughter in law's parents were moving their yacht from the Florida Panhandle to south Florida and eventually the Keys then the Bahamas for the winter. A weather window presented itself and they decided to move the boat to Anna Maria, a fashionable community on the northern tip of Long Boat Key, at the southern entrance to Tampa Bay. They needed someone knowledgeable of the marine environment and running boats to accompany them as they made the 270-mile Gulf crossing between Destin, Florida in the western Panhandle to the entrance to Tampa Bay midway down the Florida Peninsula. That is how I got to hitch a ride on the Smilin Time a 59' Carver Marquis for this Gulf crossing.
Wednesday afternoon found us traveling, by automobile, from Pensacola to Destin where the boat was located while it was having some work done. We unloaded everything from the automobile and left it in the parking lot at the marina. It took us an hour or so to get the boat ready then we had to move to a fuel dock to assure that we were topped off for the upcoming 26-hour run across the Gulf.
Finally, we were underway and making our way out of Destin Harbor and out into the Gulf of Mexico. It was later than we had wanted to leave. The original plan was to run the intercoastal waterway from Destin to Port St Joe where we would top off our fuel and get a bite to eat at a fancy restaurant. The owner of the restaurant was prepared to pick us up at the dock and transport us to the restaurant then return us to the marina. Once back at the marina our plan was to slip back into the Gulf and continue our journey.
60' yacht Smilin Time with Steve at the helm on our Gulf crossing
We scuttled the plan to run the intercoastal waterway from Destin to Port St Joe because fog was predicted to form around dark and that would make navigation difficult and a bit dangerous. The weather was so good, with almost no wind, that a run east in the Gulf along the coast would be the shortest and safest even if fog did envelop us on the way.
Temperature was in the mid-70's when we got underway. We had four of the plastic windows open to let a cool breeze flow through the bridge. In this picture Steve, the owner of the 60' yacht Smilin Time, is at the helm.
Gulf sunset behind fog bank off Panama City Beach from the 60' yacht Smilin Time on our Gulf crossing
Not long after we got underway the sun set in the southwestern sky behind a thick fog bank.
As we slogged through the early night and listened to repeated marine weather forecasts it became apparent that ducking into Port St Joe for fuel and a short respite at that fancy restaurant could be a bit treacherous due to reports of fog enshrouding the coastal area. Adding to that concern was the fact that at our cruising speed we could make landfall in Tampa Bay around 4 PM Friday afternoon. If we were to detour in to Port St Joe it would take 4 to 5 additional hours and that would have us entering Tampa Bay after 8 PM on Friday night.
As appealing as dinner in Port St Joe was, the thought of being socked in with fog was unsettling plus setting back our arrival time in Tampa Bay until after dark was another unnerving consideration. With much reluctance we decided to stay on our course and forgo dinner in Port St Joe. Steve reluctantly made the requisite phone calls to let his restaurateur friend and the marina know that we would be bypassing them on this trip.
Once that decision was made we started concentrating on navigating across the shoal at Cape San Blas. Our course from Destin to the mouth of Tampa Bay took us inshore of the buoy marking the shoal at Cape San Blas. Charts indicated that while the depth rose from 70 something feet to 30' along our plotted route so we would not need to alter course to make it across the bar. We watched as a Gulf shrimper pulled his nets along the eastern break of that bar. We passed about 500 yards inshore of where he was working.
After crossing the bar things got lonely. We would only see about one boat per-hour. By midnight I was on watch by myself. Only once during the night did I have to alter course to avoid another vessel. That vessel was anchored right on our course.
At 11 knots you have a lot of time to make course adjustments. I first spotted that boat with the radar when it was 24 miles out. At 11 knots that is over 2-hours before a course adjustment is necessary. When we were about a mile away from that boat I put a -1 degree adjustment in the auto pilot then put a +1 degree adjustment back in the auto pilot when we were abeam the anchored boat. That was as much excitement as there was all night.
Beautiful sunrise over the Gulf of Mexico as viewed from the 60' yacht Smilin Time on our Gulf crossing
During the night we moved from the central time zone to the eastern time zone. The sun finally appeared around 7:30. Sunrise and sunset are special times when on the water. This morning was no exception.
Sunrise from the bridge of the 60' yacht Smilin Time on our Gulf crossing
The owners of the yacht Smilin Time are enjoying this sunrise as much as I am.
Calm seas and beautiful sunrise over the Gulf of Mexico as viewed from the 60' yacht Smilin Time
As you can see the sea is calm and the sunrise is not as full of color but spectacular never the less. I have been up all night and it was finally time for me to "crash".
Sunshine Skyway bridge over Tampa Bay as the 60' yacht Smilin Time gets close to Anna Maria Island
We continued our slog across the Gulf until around 4 PM when we intercepted the buoy line leading into Tampa Bay. Our intercept point was about 10-miles offshore of Tampa Bay. From there we headed up the ship channel into Tampa Bay.
The Sunshine Skyway bridge is a magnificent feat of engineering that connects the Florida towns of St Petersburg on the north to Bradenton on the south. This is as close to the bridge as we get since we exited the channel and turned south on a heading to take us into the marina at Anna Maria.
60' yacht Smilin Time at the Galati Docks Anna Maria Island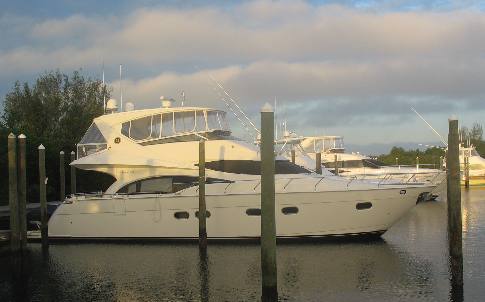 Friday morning I got up and took a few pictures before the sun got too high. This is the Smilin Time that had brought us across the Gulf in fine style yesterday. It is resting in its slip at Galati awaiting the next leg of the trip planned for the week after Christmas.
Smilin Time at Galati marina Anna Maria Island
This is another picture of the Smilin Time snugly docked at Galati Yacht sales marina Anna Maria Island.
Great Blue heron on roost at Galati Yacht on Anna Maria Island
A colony of great blue herons were building nests in the mangroves behind the Smilin Time's slip at Galati Yacht docks on Anna Maria Island.
Great blue heron on spoil island at Galati Docks Anna Maria Island
This great blue heron was feeding in the mangroves. I took this picture from the dock behind where the Smilin Time was moored at Galati Yacht Sales on Anna Maria Island.
Smilin time and owners Steve & Lucy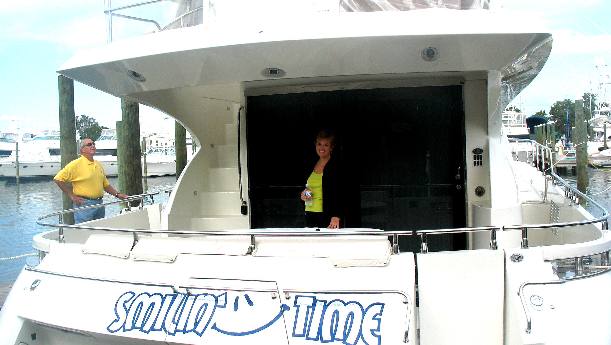 After cleaning the salt off Smilin Time and doing a bit of maintenance it was time for us to get a rental car and return to Pensacola. The owners are making sure we have not left anything.
The fun is about to end and the long ride (9-hours) back to Destin then Pensacola is about to begin.
My thanks to Steve & Lucy for allowing me to enjoy the gulf crossing on their 60' yacht Smilin Time.
Mike & Joyce Hendrix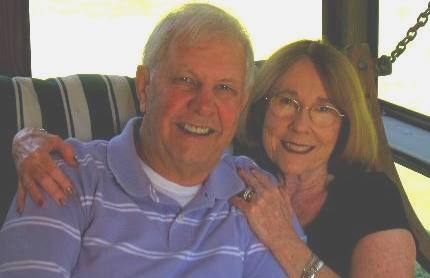 Mike & Joyce Hendrix who we are
We hope you liked this page. If you do you might be interested in some of our other Travel Adventures:
Mike & Joyce Hendrix's home page
Travel Adventures by Year ** Travel Adventures by State ** Plants ** Marine-Boats ** Geology ** Exciting Drives ** Cute Signs ** RV Subjects ** Miscellaneous Subjects
We would love to hear from you......just put "info" in the place of "FAKE" in this address: FAKE@travellogs.us
Until next time remember how good life is.