Independence Rock, Devil's Gate & Martin's Cove Mormon Handcart Historic Site
Places Visited: Wyoming: Casper, Bessemer Bend & the BLM Bessemer Interpretive Site on Oregon Trail, Red Buttes, Gray Reef Dam and Reservoir, Alcova Reservoir, Pathfinder Dam and Pathfinder reservoir, Independence Rock, Devil's Gate & Martin's Cove Mormon Handcart Historic Site.
July 14, 2006: Casper East RV-Park Casper, Wyoming. Casper East RV-Park is a mom and pop operation without a mom & pop! N42° 51.357' W106° 17.338' $28 for full hookup $4 cheaper for water & 30-amps central sewage. They feature gravel interior roads & pads: This is NOT a destination campground by any means however, it certainly looks much better than the Fort Casper RV-Park which is nothing but a crowded dusty dirt parking lot.
We are still in Casper, Wyoming, a crossroads of sorts. Over the years Casper was a natural travel corridor for Native Americans. Then as the "white-man" came to the area as explorers, trappers and emigrants that same natural corridor funneled travelers through Casper. Pioneers traveling the Oregon-California-Mormon Trail corridor followed the North Platte and Sweetwater rivers west. Then came those that followed the Bridger Trail to reach the Big Horn Basin or Montana.
Joyce had a day planned that would have us following the Oregon Trail west of Casper.
Red Bluffs as seen from Bessemer Bend
Our first stop was on the west side of Casper at a place called Bessemer Bend. Today it is a BLM (Bureau of Land Management) Interpretive Site commemorating several historical events associated with the Oregon Trail, Pony Express the fur trade and early explorers, the Goose Egg Ranch, and Bessemer City. This site, also known as Red Buttes for the nearby rock formations.
But before we discuss this site as an emigrant crossing we have to reach further back in history. Robert Stuart and his party built a cabin near this spot in November of 1812 on their return trip from Astoria (at the mouth of the Columbia River in present day Oregon). That is another story in itself since Robert Stuart and his party are credited by some as being the first "white-men" to use this path over the Continental Divide (South Pass). They were told about this route by Native Americans. Robert Stuart and his party of men were operating a fur trading outpost near Astoria when the fort and the ship that took them there was destroyed. The only way these men could get back to civilization was to walk across the continent. That is how they got to this spot where they decided to wait out the winter before continuing east.
Last crossing of the North Platte River for emigrants
This site was the last crossing of the North Platte River for emigrants on the south bank.
Of course, you now know that emigrants on the Oregon and California Trails passed this way because of the the good grazing in the valley and the spot where they could ford the North Platte River that they had been following for so long.
Beautiful Valley near Bessemer Bend on the North Platte River
Pay close attention to this valley because I will be telling you about a tragic incident that unfolded here in 1855 later in this travelogue. Note that it is a lush valley full of game like these antelope munching on alfalfa and mule deer doing the same.
The Red Buttes Pony Express station was located on the hill nearby and that station was also used by the Overland Stage in the 1860's.
The Goose Egg Ranch was established near here by the Searight Cattle company in the days of open range cattle ranching. A stone ranch house was built in 1881 that became famous as a setting for a famous scene in The Virginia. Bessemer Bend and Bessemer City at one time (1888-1891) was a promising community that faded when the railroad built through nearby Casper.
This family of turkeys were enjoying the shade of a willow tree near the river. While this bridge piling was playing home to a colony of Cliff swallows.
For the next 40-miles there were no Overland Trail sites for us to visit so we toured some man-made features in the area. Those man-made features happen to be dams and reservoirs on the North Platte River. The first one was Gray Reef Dam and Reservoir. The feature that intrigued me most about this dam & reservoir was the awesome geology on the south side of the dam site. The tilt on that giant strata of sandstone was nothing short of awesome. Gray Reef Reservoir is smallish compared to the next two we are going to visit.
But for us it seems to be one spectacular thing after the other. While I was taking in the geology Joyce spotted a white pelican lazily paddling across the reservoir. We see white pelicans in south Florida during the winter but are not accustomed to seeing them in the summer. Canada geese seem to make themselves at home anywhere there is water.
The second Dam and Reservoir was Alcova. Alcova is a bit more impressive than Gray Reef.
This is the spillway at Alcova. All the release now is via the electrical generation unit.
This osprey was raising a family within 200 yards of the dam and generating facility at Alcova.
As we drove around the south side of Alcova Reservoir this rift area sprang into view. In this spot one can see the approximate 45 degree tilt of sedimentary rocks as they face the uplift that cracked open that part of the earth. Geology books tell about and explain these things but seldom do you get to see where it has actually happened.
This is looking across Alcova Reservoir to the north and what appears to be an area of exposed volcanic ash.
Alcova appears to be the playground for Casper. Marinas abound on the north side of the reservoir as do campgrounds and vacation homes.
The cut you see in the picture to the right is where the dam is located.
This lone tree perched on a cliff overlooking the reservoir was probably here when the emigrants passed over 100 years ago.
The next Dam and Reservoir was Pathfinder. It appears to be the largest impoundment but more remote and less developed.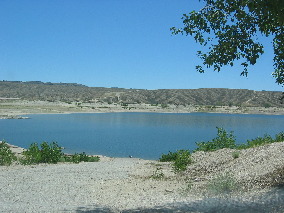 There is a small campground at the top of this boat ramp with no utilities that we could see. If you want remote this is the place.
Thirty to forty miles southwest of Casper the Overland Trail stops following the North Platte River and starts following the Sweetwater river. It is in this area that the North Platte River abruptly turns south into northern Colorado around the area of Craig and Steamboat Springs. The Sweetwater river flows into the North Platte in this area but it comes from the north west in the direction of South Pass. South Pass just happens to be the easiest way over the Rocky Mountains and that is exactly what the emigrants are looking for. The Sweetwater River flows less than 2,000' south of Independence Rock on its way to join the North Platte River on its way to the Gulf of Mexico via the Missouri River and finally the Mississippi River.
On the south side of SR-220 about 55 miles SW of Casper we arrive at Independence Rock. Independence Rock has been preserved as a state historic site with interpretive signs, hiking trails and a rest area. This was the most noted landmark on the Oregon Trail west of Fort Laramie. It was a traditional camping spot, and hundreds of pioneers carved their names on the large turtle-shaped rock. Independence Rock was a landmark for explorers, fur trappers, emigrants, Forty-niners, cavalry, stage coaches, and Pony Express riders. It is oft referred to as the "Great Register of the Desert" because of the many names carved in its granite surface.
Passers by wrote in their logs about this intriguing rock. One talks of names, dates and messages, written in buffalo grease and powder. At one time it was a "Trappers post office" said one. Of course those notes written in buffalo grease and powder are long gone. However, those that were chiseled in the hard granite survive to this day.
Theories about how this rock became know as Independence Rock abound. Was it because General Ashley camped here on July 4th, 1825 and he may have named it? Or perhaps it was Mountain Man "Broken-Hand" Fitzpatrick who named it when his buffalo hide "bull-boat" capsized near this rock on July 4, 1824? Others attribute it to Captain Bonneville in 1832 when he named it because it stands alone and "independent" on the prairie. Still others attribute the name because pioneers on the Oregon Trail needed to make it to Independence Rock by July 4th to complete their journey west before winter. Whatever, floats your boat this batholith has been named Independence Rock for some time.
Independence Rock on the Overland Trail in Wyoming
Independence Rock was formed deep underground when a magma plume slowly cooled. Over hundreds of millions of years surface strata has eroded away exposing this large batholith that is much harder than the surrounding soils.
Devil's Gate an important spot along America's Overland Trail
While enjoying Independence Rock and contemplating all the emigrants that passed by the rock in the 1850's and 1860's we are able to look west and catch a glimpse of another geological landmark, Devil's Gate that was important in the history of America's Overland Trail. The Sweetwater River that flows south of Independence Rock has cut a chasm 330' deep through a granite ridge. The gorge is 400' wide at the top but only 30' wide at the bottom. Wagon trains did not go through that chasm but around the south side of that granite ridge only a mile or so away.
While Devil's Gate is a geographic marker other events happen nearby that are worthy of mention. While the event that I am about to relate to you isn't covered in public school history books it is nonetheless a story that begs to be told. The story is about a Mormon Hand Cart Company and what happened to them in this spot.
To begin with one must understand what a "Mormon Hand Cart Company" was. Unlike others on the emigrant trail Mormons were not heading to Oregon for the prospect of rich land to homestead and farm nor were they headed to California to seek riches in the gold fields. Mormons were heeding the call of their prophet leaders to "gather in Zion". Mormon's were seeking a place where they could live an not be persecuted.
Between 1847 and the completion of the transcontinental railroad in 1869, more than 70,000 members of The Church of Latter-Day Saints traveled to the valley of the Great Salt Lake in wagon and handcart companies. They were a devout and visionary people seeking refuge from religious persecution. A place where they could worship God and live in peace. Assembling from throughout North America and Europe they left behind homes, properties and possessions in pursuit of their faith. Their prophet leader Brigham Young led the vanguard company into the Salt Lake Valley in 1847.
In the Fall of 1855 (8-years after the first group of Mormons made the trek to the Salt Lake Valley) following a season of large emigration from Europe, the Church's Emigration Fund was deeply in debt. Harsh economic conditions in Utah made additional donations and timely repayments to the fund virtually impossible. A less expensive means of transportation was desperately needed to meet the pleas of the needy Saints still awaiting an opportunity to gather in Zion. The handcart plan was implemented to meet those needs.
The handcart plan was received with rejoicing by the needy Saints in Great Britain and throughout Europe. It was an answer to fervent prayers.
Mormon Hand Cart being pulled by visitors at Martin's Cove Mormon Historic Site & Visitor Center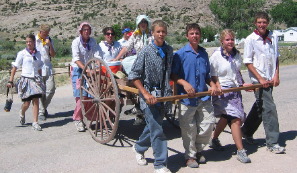 Handcarts were pushed and pulled. The shallow box was mounted on large diameter wagon wheels. It carried supplies, personal belongings, and sometimes young children. Most carts carried 200 to 300 pounds, although some were heavier. Each traveler was allowed 17-pounds of personal belongings including bedding and clothing. About 5-people traveled with each cart. A company "supply wagon" pulled by oxen carried tents flour and other provisions. In times of need those too sick to walk were allowed to ride in the supply wagon. One supply wagon was assigned to each group of 100-emigrants.
Mormon Hand Cart being pulled by visitors at Martin's Cove Mormon Historic Site & Visitor Center
While well thought out and planned the handcart companies faced many challenges. Handcart repairs were frequent, time consuming and frustrating. As green wood in the wheel cured it began to shrink and pull away from the joints. Axles broke while crossing rough terrain and wallowing through deep sand. Thunderstorms were known to scatter oxen & cattle used to pull the supply wagons. Sometimes these animals were never found. Delays taxed provisions. Rations were inevitably reduced thus reducing the speed and stamina of the handcart pullers.
Thus the stage was set when on October 18, and early snow storm descended on both the Willie and Martin Companies with a combined 1,076 emigrants. Both of these Companies had hundreds of miles to go to reach safety (Salt Lake Valley). The Martin Company was behind and just crossing the North Platte River for the last time (somewhere near Casper) when the storm struck. The Willie Company was probably 100 miles ahead of the Martin Company and that put them about 40-miles east of South Pass.
Just so you understand the plight of those in the Martin Handcart Company they had to cross the river during this raging storm. They got wet and were very cold as you can imagine. They had no way to dry themselves. Many could not go on. In addition to the bitter cold the emigrants were pulling/pushing these handcarts up the Continental Divide---not on level ground but up a steep incline that would continue until they reached South Pass over 100-miles to the west. The Martin Company spent the next 4-days in this severe snow storm making only 10-miles. Some froze to death while others died of exhaustion. On October 23, they made camp near the Red Buttes where we were earlier in the day. Too exhausted to go on they remained snowbound until October 29. Fifty Six members of the Company died between the 19th and 28th. In addition to having to bury their dead they watched as their cattle starved to death.
The Willie Company as you will recall was 40-miles east of South Pass (the Continental Divide) on October 19 when the storm hit. A rescue party sent from Salt Lake reached them with supplies and wagons on October the 24th and accompanied them to safety in the Salt Lake Valley.
Back to the Martin Company. They managed against all odds to make it to Devil's Gate and the valley around it where they found an old trading post where the ones that could huddled. Others camped in the terrible cold in a cove not far away. Rescuers did not reach them until November. Many died at Martins Cove and before the rescuers could get them to Salt Lake Valley.
Brigham Young sent 200 wagons and rescuers east from the Salt Lake Valley when he learned that these handcart companies were on the trail when the early storm stuck. The heroic rescue efforts saved 855 people in the two handcart companies. Still, more than 200 pioneers perished on the high plains of south-central Wyoming.
Journals of the rescued and the rescuers represent the strength of spirit exemplified by people of faith. To memorialize those pioneers, the LDS Church acquired an easement across the historic Sun Ranch at Devil's Gate and Martin's Cove.
To say that Devil's Gate and Martin's Cove holds a special place in Mormon history would be an understatement. We stopped by Martin's Cove and toured the Visitor's Center and Museum that the Mormons operate there. In addition to operating the Visitor's Center and Museum the entire facility is set up as an educational experience. Groups of Mormons arrive to experience first hand what the handcart means to the Church.
Devil's Gate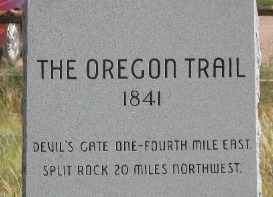 From Devil's Gate we can look to the west and see a gap in the mountains that looks like a rifle sight. This was the next geological sight that emigrants used in their trek west.
This marker is located near the Martin's Cove Visitor Center.
Devil's Gate
This is a close-up of split rock 20-miles away and the geological sight emigrants looked for when leaving Devil's Gate.
On our way back to Casper we stopped at this lake that was drying up. That is caliche along the edges. While this looks like a large lake the more we studied it we began to see birds. With binoculars we were able to tell that there were thousands of shore birds wading in the shallow water. The lake was only one to two inches deep. A kiosk at the site said this was an important breeding area and stop over for migrating birds. Nesting platforms were constructed around the lake for geese and ducks to use out of reach of coyotes and other predators.
When in Wyoming one thing you can count on is a hay truck. Hay is serious business out here.
This was an awesome drive for us. We have learned more about life on the Overland Trail than we ever believed possible. That era and their accomplishments is truly amazing.
Until next time remember how good life is.
Mike & Joyce Hendrix who we are
We hope you liked this page. If you do you might be interested in some of our other Travel Adventures:
Mike & Joyce Hendrix's home page
Travel Adventures by Year ** Travel Adventures by State ** Plants ** Marine-Boats ** Geology ** Exciting Drives ** Cute Signs ** RV Subjects ** Miscellaneous Subjects
We would love to hear from you......just put "info" in the place of "FAKE" in this address: FAKE@travellogs.us
Until next time remember how good life is.