Cedar Key
Cedar Key is a quaint fishing village on the Gulf of Mexico located on what I call the southern end of the Big Bend area of Florida where Peninsular Florida bends to the west to form the Panhandle. I am not sure but I think locals consider themselves to be on the northern edge of the Nature Coast which drops down the Gulf side of Florida to somewhere around Tampa. Anyway, Cedar Key was an old fishing village much like Key West was. Things never stay the same. The area still has some of the characters that give a fishing village its charm but outside money has invaded the area forcing many of the "locals" out. Snowbird money brought much needed outside income but it has become too much of a good thing. Condo's are appearing where old marinas once flourished. The waterfront is being transformed into luxury homes transplanting the old fishing economy into a service economy catering to the upkeep of the luxury homes, condos and lifestyles of the new money. It is ironic, the quaint fishing village has been completely transformed by this new influx of money. What attracted the new money here in the first place is history replaced by expensive restaurants and do-dad shops. Even the small artist colony is being priced out. One can only wonder what Cedar Key will be like in a few years, should we look to Key West for a peak into this places future?
Cedar Key waterfront restaurants in the distance

This is a picture of Key West's waterfront. I call it restaurant row. The structure over the water in the foreground is all that remains of a proud structure that fell to one of Florida's famous hurricanes. How many hurricanes have battered it since it was destroyed is unknown, but each hurricane destroys more and more.
Small oyster tonging boat complete with oyster tongs
Joyce took this picture at a local boat ramp. A local was preparing to take his small boat out to gather some oysters for his family.
Oyster tongs

This is an oyster boat used by locals in the shallow water surrounding Cedar Key. Note the oyster tongs laying across the culling board. While standing in the boat over a bed of oysters the oysterman will use the tongs to rake up everything on the bottom. He will dump that load on the culling table then sort through everything and pick out the good oysters. Tongs work much like a post hole digger.
Willets in flight
Willets like this flight to the left winter in Florida
Snowy egret on shallow tidal flat near Cedar Key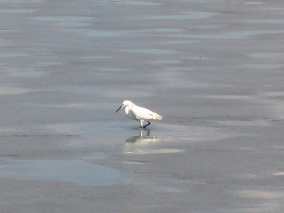 . The snowy egret on the right was wading on a tidal flat near Cedar Key.
Marsh around Cedar Key
The marshes around Cedar Key remind us of Joyce's home town of Brunswick, Georgia.
Marsh around Cedar Key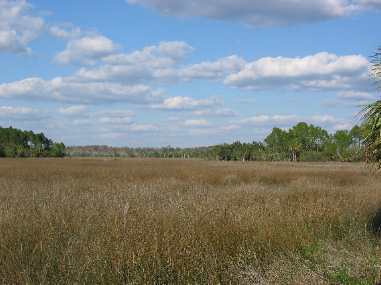 The marsh grass around Cedar Key not only has a beautiful golden hew to it but also provides nourishment to the estuary that provides the bounty for this area.
Until next week just remember how good life is.
Until next time remember how good life is.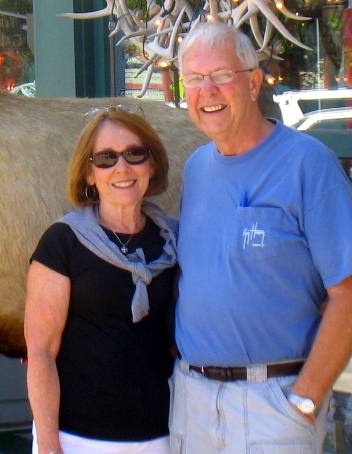 Mike & Joyce Hendrix who we are
We hope you liked this page. If you do you might be interested in some of our other Travel Adventures:
Mike & Joyce Hendrix's home page
Travel Adventures by Year ** Travel Adventures by State ** Plants ** Marine-Boats ** Geology ** Exciting Drives ** Cute Signs ** RV Subjects ** Miscellaneous Subjects
We would love to hear from you......just put "info" in the place of "FAKE" in this address: FAKE@travellogs.us
Until next time remember how good life is.