Lake Apopka
This was a day trip sightseeing in Central Florida around Lake Apopka, while camping at Lake Louisa State Park in Clermont
Joyce and I are camped in Lake Louisa State Park on US-27 south of Clermont. The campground is fairly new and includes 50-amps, water with central dump station, paved interior roads and several lakes, $23.31 per-night: N28° 24.194 W81° 33.386'. We would have stayed in a PPA Campground but there was not a Pass Port America Campground nearby. Lake Louisa State Park turned out to be a great place and we highly recommend it.
Lake Louisa State Park is fairly close to Disney World as in around 25-miles. It is a nice clean campground with no shade trees in the campground area. It has a lot of hiking trails and equestrian trails, several lakes and preserves several thousand acres of the sand hills forming the northwestern edge of the Lake Wales Ridge. The Lake Wales Ridge is what makes the backbone of Peninsular Florida. It contains the high ground on the peninsular although high ground around here is only 300' above sea level. The high ground is sand hills, remnants of ancient sand dunes. When these sand dunes were being created the ocean covered most of Peninsular Florida. Corals flourished in this shallow tropical sea for thousands if not millions of years. Today the remains of that coral shelf underlies most of Penisular Florida in the form of limestone. Vegetation, in the sand hills area of the Lake Wales Ridge varies from tropical rainforest plants in the moist low lying areas to arid desert plants on the tops of those sand hills. We are constantly amazed at the rich variety of plant life thriving down here.
Anhinga drying its feathers along the bank of Lake Apopka in Central Florida
This anhinga was drying its feathers. It looks so much bigger than it really is because the bird has its feathers ruffled. Anhingas are diving ducks that feed on fish. However, they have no oil on their feathers to make them waterproof. In order to fly they must dry off otherwise they are waterlogged.
Two men cast netting for wild talapia in Lake Apopka
On our way back to the campground south of Clermont we stopped by Magnolia Park, a county park on the eastern shore of Lake Apopka, we stopped to watch this husband and wife commercial fishing team. They were cast netting for talapia. She was operating an electric trolling motor as they slowly moved along the grass line. He was operating off a platform in the front of the small boat. As soon as he threw his cast net she would back down on the trolling motor. He would pull in the net full of talapia and empty them in the bottom of the aluminum boat. As soon as the net was cleaned of fish she returned to the trolling motor to get the boat in position for husband to mak another cast with his net. By the time he had the net readied for a cast she had him in position. They were a well oiled team. Very impressive.
Wild talapia netted in Lake Apopka
These are talapia a tropical panfish that feeds on vegetation. You may be eating talapia when eating out since it has become a staple on restaurant menus. They are also available in the seafood area of many grocery stores. These aren't large talapia. In fact I would say they are small as talapia go.
A boat load of wild talapia from Lake Apopka
This is what the bottom of a talapia boat looks like after a few casts. I can only imagine how many fish will be in that boat in a few hours.
Joyce captured this view of the sunset across Lake Apopka from a city park in Winter Garden
By the time we reached Winter Garden on the south eastern edge of Lake Apopka it was time to watch the sunset from their city park. The sunset did not disappoint and Joyce captured it all.
Until next week just remember how good life is.
Until next time remember how good life is.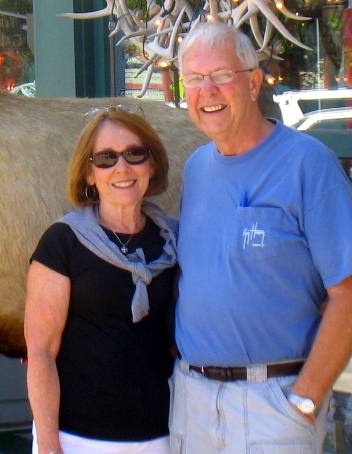 Mike & Joyce Hendrix who we are
We hope you liked this page. If you do you might be interested in some of our other Travel Adventures:
Mike & Joyce Hendrix's home page
Travel Adventures by Year ** Travel Adventures by State ** Plants ** Marine-Boats ** Geology ** Exciting Drives ** Cute Signs ** RV Subjects ** Miscellaneous Subjects
We would love to hear from you......just put "info" in the place of "FAKE" in this address: FAKE@travellogs.us
Until next time remember how good life is.