Central Florida Citrus
A glimpse into the citrus industry in Central Florida as seen in day trips from our campsite in Lake Louisa State Park near Clermont, Florida.
Joyce and I are camped in Lake Louisa State Park on US-27 south of Clermont. The campground is fairly new and includes 50-amps, water with central dump station, paved interior roads and several lakes, $23.31 per-night: N28° 24.194 W81° 33.386'. We would have stayed in a cheaper PPA Campground but there wasn't a Pass Port America Campground in the area.
Lake Louisa State Park is fairly close to Disney World as in around 25-miles. It is a nice clean campground with no shade trees in the campground area. It has a lot of hiking trails and equestrian trails, several lakes and preserves several thousand acres of the sand hills forming the northwestern edge of the Lake Wales Ridge. The Lake Wales Ridge is what makes the backbone of Peninsular Florida. It contains the high ground on the peninsular although high ground around here is only 300' above sea level. The high ground is sand hills, remnants of ancient sand dunes. When these sand dunes were being created the ocean covered most of Peninsular Florida. Corals flourished in this shallow tropical sea for thousands if not millions of years. Today the remains of that coral shelf underlies most of Penisular Florida in the form of limestone. Vegetation, in the sand hills area of the Lake Wales Ridge varies from tropical rainforest plants in the moist low lying areas to arid desert plants on the tops of those sand hills. We are constantly amazed at the rich variety of plant life thriving down here.
Typical Central Florida citrus grove
Central and South Florida is citrus country. Everywhere you turn you see citrus groves. People grow citrus in their yards, citrus grows wild in abandoned fields, workers are in the groves, citrus trucks are on the highways, small towns have juicing plants. In short you can see citrus activity at every turn. This is a citrus grove as seen from Lake Louisa State Park.
Wild orange tree in Lake Louisa State Park
Joyce took this picture of oranges on a tree in Lake Louisa State Park where we are staying in our motorhome. This may be a "wild" orange -- wild meaning it grew from a seed. Or it may have been an old orange tree from an old orange grove or possibly an old homestead. All of those options are certainly possible.
Tangerine tree with ripe fruit
Joyce took this picture of a tangerine tree only a short distance from that orange tree so I suspect that this was an old homestead and these were fruit trees in the yard.
Workers on ladders have already harvested the citrus off these trees
Your breakfast fruit juice requires a LOT of manual labor. First off all oranges are "hand picked" by individuals on ladders. Yes each orange has to be pulled from the tree one fruit at a time.
Workers with bags on their shoulders climb ladders like the ones you see in this picture to hand pick the fruit. When the bag is full they empty the oranges into one of those large plastic tubs you see. Machinery picks up and empties thes large-heavy plastic tubs of oranges.
Specialized equipment used to aid in the citrus harvest
This equipment is used to enter the grove and unload those plastic tubs of citrus. Note that this piece of equipment has lifted a plastic tub of fruit to the special dump bin. Note that this bin is full of oranges. These rigs enter the groves to get the citrus from the plastic tubs then head to the edge of the grove to dump their payload into to a large 18-wheeler trailer.
If you are interested in the actual process of harvesting citrus there is more about citrus harvesting in this travellog.
Central Florida Citrus Harvesting
Until next week just remember how good life is.
Until next time remember how good life is.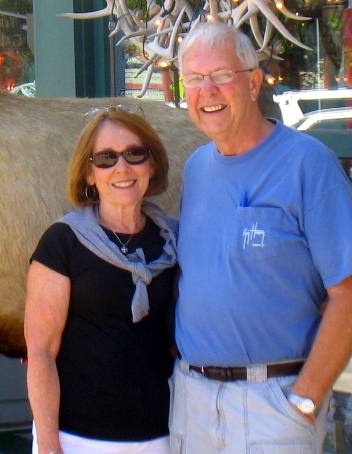 Mike & Joyce Hendrix who we are
We hope you liked this page. If you do you might be interested in some of our other Travel Adventures:
Mike & Joyce Hendrix's home page
Travel Adventures by Year ** Travel Adventures by State ** Plants ** Marine-Boats ** Geology ** Exciting Drives ** Cute Signs ** RV Subjects ** Miscellaneous Subjects
We would love to hear from you......just put "info" in the place of "FAKE" in this address: FAKE@travellogs.us
Until next time remember how good life is.