Places Visited:
Texas, Brenham, Round Top, Burton, La Grange, Independence

Tuesday, March 22 Artesian RV-Park Brenham, Texas $14 (with veteran's discount) 50-amp FHU gravel interior streets and pads N30° 11.359' W96° 31.712'.
La Bahia Road (FM 390) between Independence and Burton, Texas
This was a simply beautiful spring day complete with clear blue sky and warm dry air. We spent the day enjoying wildflower drives around Brenham. Starting in the old Cotton town of Burton and following Farm to Market Road 390 we headed to the historic old community of Independence. FM-390 follows one of the first overland routes used by European explorers of Texas. This route became known as La Bahia Road. It was an east-west Indian trail in southeastern Texas and Louisiana. Most likely it was an animal trail (buffalo) prior to that.
The La Bahia Road was important as it funneled explorers, settlers, soldiers and traders across Texas. La Bahia was the western most settlement on the La Bahia road. La Bahia is now the historic town of Goliad.
We took this information placque picture on Farm to Market Road 390 that runs east & west above Brenham from the small towns of Independence to Burton. Of course the La Bahia Road stretched much farther than that small section.
Original Baylor University in Independence, Texas
Near Independence we stopped at the old Baylor University. It is now a small park and memorial to the oldest University in Texas operating under its original name. Baylor was chartered by the Republic of Texas on February 1, 1845. The university moved to its present campus in Waco Texas in 1886. Don't skip over the date Baylor became a chartered university. That was 1845. It was before Texas was a state! It was before the Civil War. Texas was a country just like the United States back then. Talk about history.
Just north of Brenham, Texas is the crossroads hamlet of Independence. There isn't much left in Independence these days just an old country church and the remnants of the original buildings and the old campus of Baylor University.
Original Baylor University Female College in Independence, Texas
Baylor University must have been an impressive structure back in 1846.
Magnificent old live oak trees on the La Bahia Road (FM 390) between Independence and Burton, Texas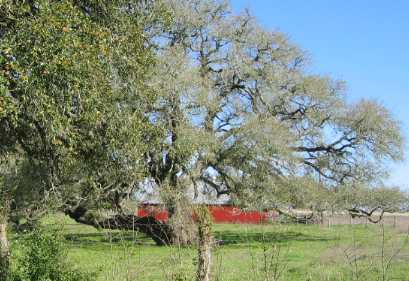 We were impressed by the huge limb on this live oak. That big limb just kept going and going. We could not get a better pic because of another tree in the way that was closer to us. The live oak tree on the right is one BIG oak tree. The trunk of this magnificent oak was only a fraction of the size of those "champion" live oak trees in Parks, Louisiana. Of course the crown on this tree is much more impressive.
Magnificent old live oak trees on the La Bahia Road (FM 390) between Independence and Burton, Texas
Note how the limb on the right dips to the ground 60' or more from the trunk. The tree to the right has a big limb that bends to the ground and is coming at us.
Texas Longhorns on the La Bahia Road (FM 390) between Independence and Burton, Texas
We stopped to admire these Texas Longhorns. They have some impressive "clown stabbers" as they say in the rodeo circuit.
Texas Longhorn on the La Bahia Road (FM 390) between Independence and Burton, Texas
Gourd farm along the La Bahia Road (FM 390) between Independence and Burton, Texas
This is a gourd farm. Those round brown things you see on drying racks are gourds. The sign says they are open on Saturday mornings.
One lane tunnel on the famed La Bahia Road (FM 390) between Independence and Burton, Texas
We came upon this small one lane tunnel on Farm to Market 390 the famed La Bahia Road. Not only was it one lane but it was only 10' 10" high. We could not get under this if we were in our motorhome. The Saturn fit just fine.
Texas fence art
Texans like to have big showy gates leading from the main road to their ranches. Some like to add decorations to these gates like some genteel city ladies decorate their door with wreaths, or a splash of color with a seasonal planting near the street or their mail box. Joyce and I studied this one but never did understand it. That is a roll of hay with 1/2 of a maniquin sticking up and a beagle with his head down in a hole. It must be a local thing.
Beautiful flower on railing at the Antique Rose Emporium
While in Independence we stopped by the Antique Rose Emporium something we do every time we are in the area. While some things were blooming March is early for the major bloom.
Green Tree Frog at the Antique Rose Emporium
I saw this green tree frog when we were around in the Antique Rose Emporium Independence, Texas. He thought he was camouflaged.
Independence had its beginning in 1824 on land granted by Mexico to Judge John P. Coles. Coles came to Texas in 1821 as one of Austin's original 300 colonists. Back in those days the town was known as "Coles Settlement." Then in 1836 the community was renamed Independence in honor of Texas' declaration of freedom from Mexico. Note that this early community is on the La Bahia Road.
In 1839, a Baptist church was established and its congregation still meets today. The Independence Baptist Church is now the oldest continuously operating Baptist church in Texas. This is where Sam Houston attended church and was baptized. Legend has it that following his baptism in the creek, Sam Houston said, "I pity the fish downstream." Houston's mother-in-law was so thrilled with the transformation that she had a large iron bell created and presented it to the church with gratitude. The Texas Baptist Historical Center-Museum features this bell along with many other early Texas history exhibits there in a part of the church.
Blue Bell Creameries in Brenham, Texas
We lunched in Brenham at "It Must Be Heaven" a neat little sandwich shop. For Joyce it a "must-do" when we are in Brenham. After lunch we dropped by the Blue Bell Creamery for our "Blue Bell" fix.
We always stop by and take the Blue Bell Ice Cream Factory tour in Brenham. There is free ice cream upon completion of the tour.
The Blue Bell Creamery tour (Ice Cream plant) was on our agenda another day as well. This is always a great tour. You get to walk around on a 2nd floor mezzanine and look down on the factory floor where machines and workers are filling gallon tubs of specialty ice cream. From another viewing station we watch as pint containers are filled and boxed at lightening speed. Another station was manufacturing ice cream sandwiches. A little black wafer comes down the line and bingo a 3oz block of frozen vanilla ice cream is dropped on the wafer then quick as a wink another black wafer drops on the exposed ice cream. A wrapping machine does its thing with blinding speed while a conveyor belt whisk the wrapped ice cream sandwiches to the end where a mechanical arm gathers two rows of 6 and drops them into a box then it is off to the blast freezer.
From fresh milk to ice cream in just a matter of minutes, it is a totally amazing process. Cherries, nuts, and all kinds of fruit and goodies are blended with the ice cream to create the different varieties.
Joyce with antique car outside Blue Bell Creameries in Brenham, Texas
Then the grand finale came as we were treated to free Blue Bell ice cream. Pralines & Cream, does it get any better? Joyce thinks strawberry yogurt is better. I don't think so! Everyone was getting a different flavor.
You remember the old diddy about "two birds with one stone"?
How about two antiques with one click? Running and ducking.
We see and experience so many different things on our wildflower drives. Of course there are the beautiful ranches and pastures. We like to view the variety of "gates" ranchers install to mark the entrance to their spread. Occasionally we run across a herd of Texas longhorns. They have really large "clown-hooks" as the rodeo announcers like to call them. Grand old live oak trees can be seen from time to time as well as one old gourd farm. We had never seen a gourd farm until this one. Then there was the old country store and a unique one lane tunnel under a rail road trestle.

Wednesday, March 23 Artesian RV-Park Brenham, Texas $14 (with veteran's discount) 50-amp FHU gravel interior streets and pads N30° 11.359' W96° 31.712'.
Joyce had a full day planned for us. The first thing on our agenda was stopping by Burton to see the Cotton Gin. Burton was the center of a huge cotton industry long ago. The old Co Op Cotton Gin is still in town and operational although it only operates one weekend a year during the annual Cotton Gin Festival that generally takes place the third weekend in April. The Burton Cotton Gin was built in 1914 and originally powered by a steam engine then in 1925 it was repowered by a twin-type IV oil engine. The one engine is connected by belts to a series of shafts that span both stories of this huge old gin. From the shafts spanning the length of the gin myriad other belts are attached to drive the ginning operations that cover the entire top floor. Although we have not been in town for the annual Cotton Gin Festival we have it on our list of things to do. We did get a personal tour of the gin four years ago when we passed through town and expressed interest in the place.
Next on our agenda was a dairy tour. We have known about Frerich's dairy tour for some time but just never been able to put it together. This morning we made it a priority by putting it second on our list of things to do. This dairy tour was located on a family spread just north of La Grange on SR-159. Those of you that follow our travelogues know that we enjoyed a large dairy tour in Okeechobee, Florida a few years ago. That operation in Okeechobee was a BIG operation with several thousand head of dairy cows. In comparison this family operation was only milking 200 Guernsey cows.
Much of the operation was identical to the giant operation in Okeechobee. This small operation had much less concrete and cows spent much of their day in pastures. However, the cows get very little of their milk producing nourishment from the pasture. In order for cows to produce commercial amounts of milk they have to be fed a special diet of enriched feed. About all the pasture provides is a larger area to spread the poop over.
In addition to the dairy tour the facility had a menagerie of farm animals on display. Part of the animal display was a milking demonstration where Joyce and I hand milked a cow. This was a first for both of us. Milking was much as we expected it would be. I am glad that machines do that chore now. It is not something I would want to do twice a day as the old time farmers had to do.
In another exhibit we enjoyed a large enclosure with ring necked doves. At least 4 of the doves were sitting on eggs. They make a cooing sound that can be either soothing or nerve wracking depending on your temperament. The place had some red chickens that produced green eggs that they sold in their little store. Donkeys, pigs, goats, ducks, chickens, rabbits, guinea foul and ponies rounded out the critters scampering around the grounds.
Next on Joyce's schedule was strolling through the antique booths being set up in Warrington. This antique thing is something big. Antique vendors from around the country have set up booths for this 10-day event that starts Saturday. We were perusing the available wares as the vendors were setting up their booths. There are so many booths that an individual that worked at seeing what is available for offering would find it difficult to see it all if they are worked at it for the entire 10-days. We walked until we dropped. Both of us called "Uncle" about the same time.
Thursday, March 24 Artesian RV-Park Brenham, Texas $21- (No discount this is Antique days and campsites are at a premium) 50-amp FHU gravel interior streets and pads N30° 11.359' W96° 31.712'.
Just down the street from the Blue Bell factory was Ellison's Greenhouses. They advertised tours but when we got there we found the guided tours were for special groups like tour busses so we took a self-guided tour. It was just as well. The greenhouses are a commercial operation growing all types of bedding plants. All the plants were on waist high platforms in looooooong rows with automatic watering systems. Workers were applying insecticide, fertilizer, and other things to the thousands of plants. Thousands of poinsettias were being rooted in small individual containers. They will be ready for Christmas. Tomato, squash and pepper plants were available in every size imaginable. You could even get tomato plants with ripe tomatoes. The place was selling vine ripe tomatoes for $3 per-pound. They looked great but $3 per-pound sounds more like the price of beef. Lilies were the hot thing with Easter being this Sunday. It was a fun place to visit even if we didn't purchase anything.
Joyce had a wildflower loop planned for us so we headed to Chappell Hill then took FM 1155 north where we connected to some other FM type roads and local roads. We tired of this in a few hours so Joyce plotted us a route to Royer's Café in Round Top. Royer's is one of the places on our list of things to do when we visit Texas. Royer's for the most part, at least visually, looks like a dump. It probably personifies the owner who is an outspoken man who does things his way. He was an executive Chef in his earlier life. When he had enough of that bump and grind he moved his family, 5-children I think, to the tiny town of Round Top and opened his own café. The family is a close family. Many of his children work in the restaurant now. His wife has a PHD in psychology and is working on a Masters degree in social work. Anyway, back to the restaurant. The place will seat no more than 45 people and is generally packed. The food is great as you might expect out of a great chef that is doing things his way. The prices are NOT in line with normal café fare but neither are his dishes. I guess the most outstanding thing about the restaurant is the pies. They bake them by the hundreds and they are simply wonderful. People drive from Houston to dine at Royer's. It is a dining experience. The place is always packed with a waiting line outside. Outside the front door of the café is an old time (NEHI beverages) cold drink box that Royer's stocks with cold drinks and wine. Prominent hand painted signs on the cooler state "Beer & Wine on the Honor System 'Cept Bankers & Attorneys which are cash only! Bud the pie man." You just gotta love it! Bud the pie man is "Royer-senior" the owner and chef. Like I said, he is a brassy man that has a mind of his own. He does things his own way no matter if does insult probably 50% of his customer base. In fact they drive all the way from Houston to be insulted. Another of his hand painted signs says "If you are in a hurry ----- go to Houston".
Framed magazine and newspaper articles adorn the walls inside of Royer's. There are so many they seem trite. Few restaurants achieve this level of distinction. Even fewer achieve it in Royer's setting. If you are ever in the area it is one of the things you should do just to say you have done it. Even if you only stop in the afternoon for a piece of pie with BBHV (Blue Bell Homemade Vanilla) you need to do it.
You would think we had done enough today but Joyce wanted to "walk-off-lunch" and wanted to do that at the giant antique extravaganza going on down the road where literally miles of tents and booths are set up in fields for a 10 or 11 day event (it actually last longer than that but who is counting). We are about the only one in these parts that doesn't really know what is going on with this antique event. It seems it is an annual event and is one of the largest antique gatherings in the country. Antique people probably know about it but we aren't antique people. In any event vendors are set up and hawking everything. There are a lot of antiques but there are a lot of vendors peddling stuff that looks like ordinary garage sale junk or flea market stuff. One thing we read about this event said that dealers from around the U.S. arrive to display antiques, collectibles and eclectic decorating and craft items in a show that stretches well beyond Warrington's boundaries. From the vendors we talk to they seem to come year after year. Most indicate they come for the comradery. They have made friends with other vendors and enjoy getting together with them each year. Most of the vendors have RV's and stay next to their tents of wares. Many vendors share big tents with other vendors. That way they not only save on expenses they also watch each others items in a cooperative manner. These loose associations continue for years and years.
Friday, March 25 Artesian RV-Park Brenham, Texas $21- (No discount this is Antique days and campsites are at a premium) 50-amp FHU gravel interior streets and pads N30° 11.359' W96° 31.712'.
We stopped by the Nueces Canyon Ranch Arena a few miles west of our RV-Park to see what all the activity was about. As it turned out Peter Campbell was in town giving a Horsemanship Clinic and the arena is full of cowboys and cowgirls on horses learning how to control them. Peter is in the center of the arena on a horse and he is wired with a microphone. He is giving instructions; trot to the left, stop! Stop NOW ---------- not when the horse wants to stop! Who is giving the orders -------------------, you or the horse? Now, back your horses up and let's do a 180 and head out in that direction. Have you for forgot how to tell your horse to back up? You gotta be smarter than the horse. Now let's try that again. OK, let's break into a gallop. Now stop! Back your horse making a 360 and start walking in that direction. I don't think some of you understand a 360. Did you folks graduate from high school or is the horse deciding what to do?
You gotta love it. It was funny. These were adults paying good money to learn horsemanship from a world renowned trainer and these individuals are acting like someone on Saturday Night Live. We watched this for a while. It was just like the shows you can see on RFD TV when they aren't auctioning cattle. Peter is one of the guys hawking the training videos and obviously very successfully.
While at the Nueces Canyon Ranch Arena we learned there was a cutting horse competition at the Washington County Fair Grounds in Brenham with competitors from near and far. With nothing better on today's schedule we meandered into Brenham to the Fair Grounds. This is the first time we have ever seen a cutting horse competition other than on TV. The action isn't as exciting as bull riding but watching those horses in action is exciting in its own way. A good working horse in action is a thing of beauty. A good cutting horse is as graceful as a ballerina and quick as rattle snake. The concentration level of these horses is as high as any level of sports competitor.
Men as well as women ride these cutting horses. The competitors come dressed to the nines in all the cowboy regalia. Every man has a long sleeve cotton shirt with so much starch the shirt would stand on its own. One cowboy had on a white long sleeve cotton dress shirt. All he needed was a tie. One cowgirl rode in with full chaps. She looked like she was headed on a trail drive through west Texas mesquite and cactus. Come to think of it cowboys are no different than people in other sports. Golfers have their get up, fishermen have theirs and runners have theirs.
We tired of watching the cutting horses and headed for a local nursery where Joyce roamed the grounds admiring all the plants.
The remainder of the day was uneventful except for the stop by Blue Bell for our daily fix. I had peach and home made vanilla today. VBG
Post Oaks
North of Victoria, Texas post oaks become the predominant oak tree with the live oaks thinning out. This is a pic of post oaks with several live oaks on the left side. Note that the post oaks do not have leaves yet (this is March 21) while the live oaks are bright green.
Bluebonets in fields around Brenham, Texas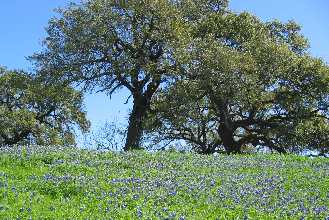 Blue Bonets and Indian Paintbrush are beginning to put on the show that this area is noted for. It is a few weeks early but there are some good splashes of color on the farm roads around Brenham. Blue bonets are blue while the Indian paintbrush is the reddish. When mixed the colors are really something.
Bluebonets & Indian Paintbrush in fields around Brenham, Texas
Bluebonets & Indian Paintbrush in fields around Brenham, Texas
Bluebonets & Indian Paintbrush at this old home near Brenham, Texas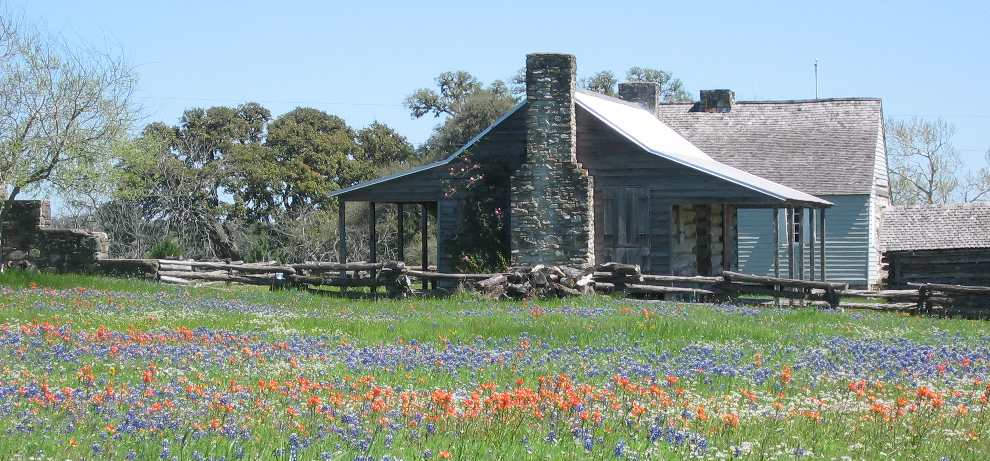 Bluebonets & Indian Paintbrush in fields around Brenham, Texas
Bluebonets & Indian Paintbrush in field around Brenham, Texas
Indian Paintbrush with a few bluebonnets in fields around Brenham, Texas
Indian Paintbrush with a few bluebonnets in fields around Brenham, Texas
Impressive live oak along with a field of Indian Paintbrush and bluebonnets
We took some pics of old and impressive live oak trees today:
Old Store