Bastrop, Canyon Lake, Gruene Hall & Wimberley, Texas
Places Visited:
Texas, Bastrop, Canyon Lake, Gruene Hall & Wimberley
Saturday, March 26 Artesian RV-Park Brenham, Texas $21- (No discount this is Antique days and campsites are at a premium) 50-amp FHU gravel interior streets and pads N30° 11.359' W96° 31.712'.
A severe thunderstorm rolled through here about 11PM last night. The weather radio was going crazy with warnings of high winds, tornadoes and quarter size hail with torrential rain supposedly at the rate of 1" in less than 30-minutes. I moved the Saturn under a big live oak tree here at the campground and prepared for the worst. I even put all the small awnings up because I did not want the hail to damage those expensive items. The storm moved from the Hill Country heading east toward us. As it got closer to us it turned a bit to the NE and just did miss us. Thank goodness, there were a number of pop ups in the campground. They would not have fared well with that kind of weather.
Joyce decided we were going to wander around in the giant antique thing going on near here. We are not antiquers but we are people watchers. The crowds were unbelievable as were the totally awesome number of vendors hawking everything imaginable. We walked until we dropped but only spent $6.00.
By then it was time to return to Brenham and watch more of the cutting horse activity at the fair grounds. It is fun to watch especially the horses ---- but the silence is deafening. This could be a great rodeo event if they could just find a way to add some noise and put the cows on activity enhancer. It is kind of like watching base ball ----- there is a lot of stuff going on but it is very subtle and very little noticeable action. It is easy to be asleep by the time a hit is finally made. That is the way it is with these cutting horse shows.
It wasn't long before we called it a day and headed back to the motorhome.
Sunday, March 27 RV Valley Resort, Canyon Lake, Texas (River Road at 4th crossing) on the Guadalupe, River $21-50-amp FHU gravel interior streets and pads N29° 50.651' W29° 10.082'.
We transitioned the motorhome from Brenham to Canyon Lake today a distance of 120 miles. Believe it or not we got 120-miles closer to California. Do remember that we are headed to California with this short Texas stopover. We have a busy time planned for this area of the Hill Country. We have friends here that we want to visit with. Bob & Peggy Woodall are in Potter's Creek COE Park on the northwest edge of Canyon Lake. They are leaving the area for points east in the morning. We just had to get by here today to spend time with them. As many of you know Bob & Peggy write travelogues that are posted on this web site. Bob & Peggy are good writers and have provided a wealth of information on many places in Texas, Arizona, New Mexico and Missouri as well as a smattering of other destinations. We always have a good time when we visit with Bob and Peggy. We have so much in common. Every time we get together one couple starts laughing when one member of the other couple mentions something they do or like. More often it is something that one member of the other couple does or likes. It is just so uncanny. Anyway, we had a good visit with Bob & Peggy.
We have a scheduled "lunch-date" with Bob Giddings and others at the Hobo Café in Liberty Hill, TX on Tuesday. Bob is a personality on the RV-Newsgroup that we both hang out on. It is always good to get together with Bob when we are in the Georgetown area. Originally, we had planned to transition the MH to Georgetown then head down to Canyon Lake and visit with Bob but realized Bob & Peggy's last day in the area was Sunday. Now we are going to just drive the 80-miles up to the lunch-date with Bob Giddings from our RV-Park here in Canyon Lake.
The wind was howling out of the north when we pulled out of the RV-Park in Brenham. We were headed west on US-290 a big 4-lane divided highway with limited access and large median area. In short it is everything but an interstate. Thank goodness it was a big wide road with plenty of shoulder space because the wind was giving me fits. The wind was hitting my MH broadside and really moving us around. I limited my speed to around 50 MPH to keep things safe. Mercifully, we turned off US-290 on to SR-21 in about 30-miles. SR-21 angled to the southwest so the wind wasn't striking the MH broadside thus the driving became much easier. It is amazing how that angle allowed the MH to shed the majority of that wind power. The topography along this route is in constant flux. Along US-290 there are few trees and what few trees there are consist of post oaks, live oaks and mesquites. Open range land is predominant with a smattering of post oaks. When we turned on SR-21 in Paige we started seeing a mixture of row crops. Then as we entered Bastrop things changed dramatically. Pine trees emerged and the oak trees disappeared. Bastrop is in its own ecosystem, completely different than the surrounding area. An oasis of pine trees if you will.
Pine trees in Bastrop, Texas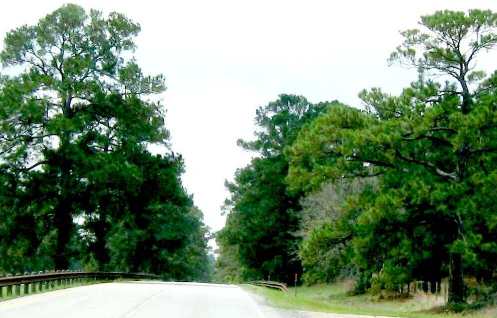 These are some of the pines in Bastrop. They are totally out of place from the surrounding countryside comprised of post oaks and mesquite.
As we emerge on the southwest side of Bastrop row crops are evident once again with mixed ranching operations. The further we travel on SR-21 row crops become even more predominant. In one small town we saw a peanut Co Op. By the time we get to San Marcus row crops and farming are dominant. West of San Marcus the topography takes another dramatic change.
I-35 is a north/south trending ribbon of asphalt connecting San Antonio, Austin, Georgetown, Waco, & Dallas-Ft. Worth. It separates the agricultural area from the Hill Country. I-35 follows the eastern edge of what is known as the Llano Uplift. West of I-35 geological forces deep within the earth have created a bulge. This bulge or uplift has resulted in the "Hill Country". The Hill Country gets less rain the farther west one goes. You really notice the change in elevation if you are driving a MH there is a constant climb in elevation until you get to Canyon Lake. The topography changes exposing limestone outcroppings in road cuts and river banks. Bright green cedar trees festoon the landscape in a hideous way as soon as you get west of I-35.
In San Marcos we took I-35 south to Gruene before turning west again to Canyon Lake. We are in the Hill Country and the roads are a constant up and down with each new hill higher than the one left behind as we are heading west. It will be that way until we reach the other end of the Hill Country over a hundred miles west of here.
As soon as we got the motorhome settled in our RV-Park we gave Bob & Peggy a call. They were just arriving back at their MH after having been off visiting family for the day. Arrangements were quickly made and we drove out to their RV-Park and spent the remainder of the afternoon and into the night with them. There is nothing like spending time with good friends. Tomorrow they break camp and point their MH east. They are folks that would make good neighbors. I still don't understand how Bob lucked up and talked Peggy into marrying him. VBG. Bob is a lucky man.
Monday, March 28 RV Valley Resort, Canyon Lake, Texas (River Road at 4th crossing) on the Guadalupe, River $21-50-amp FHU gravel interior streets and pads N29° 50.651' W29° 10.082'.
We had a full day in front of us. We are meeting virtual friends Mike & Susan Keel for dinner tonight at Jamie's Table in Gruene, TX. Jamie's is the little restaurant on the corner down from the famous Gruene Hall where the likes of George Strait, Lyle Lovett and Hal Ketchum got their start. The venerable old Texas dance hall has hosted Bo Diddley, The Dixie Chicks, Jerry Lee Lewis, Garth Brooks, Willie Nelson and a host of others. Talk about walking on sacred ground --- at least to country music fans. After dining with Mike & Susan, Joyce and I strolled down to Gruene Hall and wandered around admiring all the signed photographs on the wall. The place is a virtual who's who of country music. It was Monday night in March and the place was dead. It will probably be hopping this weekend.
Artist at the Wimberly Glass Works in Wimberly, Texas
But we didn't meet Mike & Susan until 5PM. Joyce wanted to drive up to Wimberley a small town southwest of Austin that has become an affluent bedroom community of Austin. Joyce likes to stop at the Wimberley Glass works and watch artisans create hand blown glass masterpieces. They have seating where visitors can watch artisans create these glass pieces.
This is a pic with one of the artisans creating a red piece that will be used as a trophy in a sail boat regatta to be held this summer. It was an intricate piece that took around an hour to complete.
Joyce usually watches the artisans at work then wanders in to the gallery to select her piece du jour. I got lucky today. We are not carrying another piece of glass art work back to Pensacola.
Banco River crossing in Wimberly, Texas
When in Wimberley we have to take a leisurely drive down River Road along the Blanco River that wends its way through town. The river gets its name from the Spanish word for "white". In this case the river is flowing through white limestone the bottom of the river is white as are the sand/gravel bars. Outcroppings of white limestone are also visible in places. River Road takes you along a beautiful stretch of river lined with giant cypress trees and wonderfully manicured lawns. In one place there is a "dam/bridge" across the normally shallow river. Today there was a foot of water flowing over that bridge/dam and the road was blocked off. When Mother was with us a few years ago we drove her across this little dam. She would be shocked to see the torrent of water racing over our previous path.
This is the bridge that we drove over the last time we were here. There is at least a foot of water flowing over it now. Many dams/bridges are constructed like this in the Hill Country. During times of high water they just can't drive over them.
We were in Wimberley and had a dinner date in Gruene with friends at 5PM and Gruene is 50-miles from Wimberley. In addition Joyce wants to take the scenic River Road along the Guadalupe River from the small community of Sattler near the Canyon Lake Dam into Gruene. I didn't argue since the Guadalupe River Road drive is one of the most scenic drives in the Hill Country. Generally we see deer and turkey but didn't spot any today. Blooming fruit trees, adorn the landscape along River Road. Empty Campgrounds and River Rafting operations await the onslaught summer will bring. This stretch of the Guadalupe is noted for having one of the most exciting float trips in the state.
Cypress trees adorn the banks of the Guadalupe River along River Road
A single line of venerable old cypress trees line both sides of the river acting like sentinels guiding the river to its destination with the Gulf of Mexico. Behind that single row of cypress trees is an upland area where wild pecan trees flourish. Unlike the single row of cypress that only inhabit the waters edge pecans seem to flourish along a 50' ribbon of topography slightly more elevated than the cypress. It is like they are in the river's flood plain where they get inundated several times during the year.
River Road makes four crossings of the Guadalupe between Sattler and Gruene. Our Motorhome is in a campground in Sattler at the 4th crossing.
Mike & Susan are long time RV-Talk personalities that we have conducted virtual conversations with often on the myriad subjects revolving around RV'ing. They were just as interesting in person. Mike is an FSU Football fan so that immediately made him a "good-guy".
Susan had to get back home to finish some college work for a class she is taking and Joyce wanted to see what was going on at Gruene Hall. We said our good bys and parted ways. Only this time we can put faces with the virtual signatures.
Gruene Hall in New Braunfels, Texas
Gruene Hall was all set up to host the next up and coming Country Music Star but they were not playing this Monday night. We joined a handful of other people leisurely strolling around the place looking at all the signed photographs and memorabilia on the on the wall.
Until next time remember how good life is.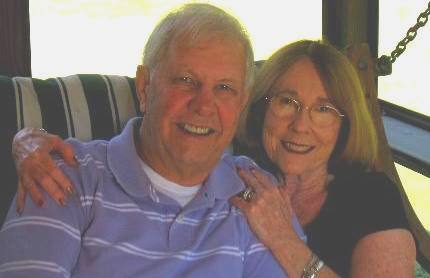 Mike & Joyce Hendrix who we are
We hope you liked this page. If you do you might be interested in some of our other Travel Adventures:
Mike & Joyce Hendrix's home page
Travel Adventures by Year ** Travel Adventures by State ** Plants ** Marine-Boats ** Geology ** Exciting Drives ** Cute Signs ** RV Subjects ** Miscellaneous Subjects
We would love to hear from you......just put "info" in the place of "FAKE" in this address: FAKE@travellogs.us
Until next time remember how good life is.