Bok Tower Lake Wales, Florida
Places Visited:
Florida: Bok Tower Lake Wales, Florida
Saturday, December 10 through Wednesday December 14: Lake Kissimmee State Park 15-miles east of Lake Wales-- $17 water & 30-amps with central dump station, paved interior roads with dirt sites N27° 56.924' W81° 21.018'
Bok Tower in Lake Wales, Florida
We drove into Lake Wales on Monday to visit Bok Tower and Sanctuary. For those of you not familiar with Bok Tower it is a beautiful carillon tower constructed in the late1920's on the highest spot of land on the Florida Peninsula at 290' above sea level. The apex of the Lake Wales Ridge is the site of Bok Tower.
We have Edward Bok to thank for leaving Bok Tower and sanctuary for us to enjoy. Bok was born in the Netherlands but moved to the United States when he was only 6-years old. As he embarked on his journey to the United States his grandmother told him, "Make you the world a bit better or more beautiful because you have lived in it." It was those words that stuck with Bok and eventually resulted in Bok Tower and Sanctuary.
This area was where Bok wintered. He would walk to the top of this ridge to sit in solitude and watch breath taking sunsets. It was on one of these visits that he was inspired to purchase the property atop this ridge and hired America's most famous landscape architect to transform the area into a sanctuary that would "touch the soul with its beauty and quiet."
As the sanctuary started to take shape, Bok decided to add a carillon tower to be a visual and aural centerpiece for the garden. In 1929, the sanctuary (garden) and bell tower was dedicated by President Calvin Coolidge as Edward Bok's gift for the visitation of the American people.
What a story, this magnificent bell tower located on the highest spot on the peninsula of Florida. The tower was constructed of local coquina rock and pink marble from Georgia.
Bells being delivered to Bok Tower in Lake Wales, Florida
Bells were imported from England. These bells aren't your ordinary hand bells, far from it there are 60 bells weighing over 61.5 tons. The smallest weighs only 12 pounds while the largest bell, called the bourdon, weighs 22,300 pounds (over 11 tons). Bok tower is one of the most perfectly designed and situated carillon towers in the world. It complements the natural setting that surrounds it, and enhances the sound of the carillon within. In addition to hearing bells on the hour special concerts are held where professional carillonneurs bring the bells to life --- I suppose the socially correct thing to say is they "perform a recital?" The melodies played each hour & half hour were enough for my redneck taste. VBG
Entrance to Bok Tower includes a tour of the 20-room manor home of Austin Buck of Pennsylvania. This house typifies the winter retreat lifestyle wealthy snowbirds enjoyed back in the 1930's. Mr. Buck attended the dedication of Bok Tower in 1929 and fell in love with the gardens and property. Mr. Buck purchased property adjacent to Bok Tower and sanctuary and created his own "sanctuary" and garden complete with a winter retreat. Like Bok's formal gardens Buck's estate was designed by the same landscape architect that created the Bok gardens. This magnificent home showcases a 1930's Mediterranean Revival mansion complete with original furnishings and accent pieces from Europe. Italian tile is featured extensively throughout the mansion but principally in the downstairs areas. Downstairs floors are unique Cuban clay tiles. Massive ornate doors decorate every room.
If you get a chance visit Bok Tower the gardens and this manor home, you will be glad you did. For more information try www.boksanctuary.org
Orange grove on the Lake Wales Ridge - Lake Wales, Florida
Lake Wales is located on a ridge that runs down the backbone of Florida's peninsula. East or west of that ridge the land gently slopes back to sea level on the east and west coasts. Polk County bills itself as having more acreage in citrus than any other Florida county. The citrus is located on the rolling hills of that ridge. Citrus groves quickly give way to prairies and cattle ranches east and west of the ridge. Western ranchers would envy these lush spreads that are able to graze large herds of cattle on much smaller ranches. The highest point on that ridge, the Lake Wales Ridge, is only around 290' above sea level so it is nothing spectacular.
Until next time remember how good life is.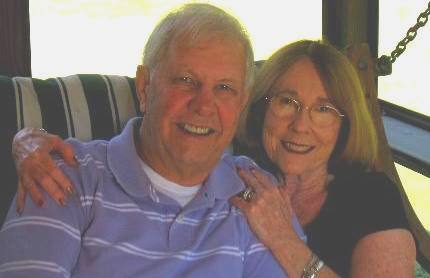 Mike & Joyce Hendrix who we are
We hope you liked this page. If you do you might be interested in some of our other Travel Adventures:
Mike & Joyce Hendrix's home page
Travel Adventures by Year ** Travel Adventures by State ** Plants ** Marine-Boats ** Geology ** Exciting Drives ** Cute Signs ** RV Subjects ** Miscellaneous Subjects
We would love to hear from you......just put "info" in the place of "FAKE" in this address: FAKE@travellogs.us
Until next time remember how good life is.