Places Visited:
California: Mariposa Grove of Giant Sequoia in Yosemite National Park
Wednesday, June 8: High Sierra RV-Park Oakhurst, California: $25.20 FHU-50amp. Paved interior roads with grass/gravel sites. Free WIFI N37? 19.887' W119? 38.810' 559-683-7662
We headed back to Yosemite today with two goals on our mind. We wanted to visit the Mariposa Grove of giant sequoias located near Wawona and the south Entrance on CA-41 then drive to Glacier Point and look down into Yosemite Valley. We only got one of them accomplished.
Joyce and large pine tree
Because of limited parking in Mariposa Grove we drove to Wawona and parked the Saturn intending to take the parks shuttle bus into Mariposa Grove.
The pic is of Joyce and a very large pine tree near Wawona.
The park has two buses servicing Mariposa Grove with a 30-minute interval in between pick-ups. We waited in line with a hoard of people for about 20-minutes. When the bus arrived it filled up before we were able to get on. All the seats were taken and 25 or more adults were standing in the aisles. It was jammed like sardines. The nice driver told us another bus would be here in 30-minutes.
Well I had waited all I was going to wait. We drove to Mariposa Grove in the Saturn adding to the parking problem. When we got there Joyce went to purchase tram tickets for the tram that takes you for a one and one-half hour ride through the giant Sequoias. Joyce purchased the tickets even though it was 11:30 and the tram we were scheduled to go on didn't leave the loading dock until 12:30. There were two idle trams within my view. Why were we waiting for an hour? Of course there is NO management to speak with. There are 5-bus loads of tourist---- none speaking English ---- plus the parking lot is overflowing and they have two trams sitting idle.
I just don't have patience with poor management. It isn't the fault of any of the uniformed workers we can see, the problems are created by management decisions made by individuals insulated from the problems their decisions create. I would gladly have given up my tram ride through the sequoias if I could have spent 10-minutes with the park superintendent. That didn't happen and we went on the tram ride.
Tram ride through grove of Giant Sequoia trees in Yosemite National Park
The tram ride was a great experience. Giant Sequoia trees are an awesome sight.
Mariposa grove of Giant Sequoia trees in Yosemite National Park
The oldest and largest of these ancient sequoias all have fire scars and these are no exception.
Mariposa grove of Giant Sequoia trees in Yosemite National Park
In addition to fire damage these older trees also are missing their tops. Some where along the line wind or lightening has "topped" most of these giants.
Topped giants in the Mariposa grove of Giant Sequoia trees Yosemite National Park
This is just some more pictures of those topped giants.
Camoflauged deer in the Mariposa grove of Giant Sequoia trees in Yosemite National Park
I snapped this pic of two deer that were well camaflauged but within view of the tram.
It was after 2PM when we returned from tram ride and we had not eaten lunch. It was a good hour drive to Glacier Point plus another hour back then 40-minutes or so to get back to the motorhome. We decided it just wasn't worth it.
I would feel a lot better if I could spend a few minutes with the park superintendent.
Back at the motorhome we took care of household duties that have to be taken care of even if we are living a life of leisure.
Tomorrow we are heading north following the 49'er trail of gold.
Until next time remember how good life is.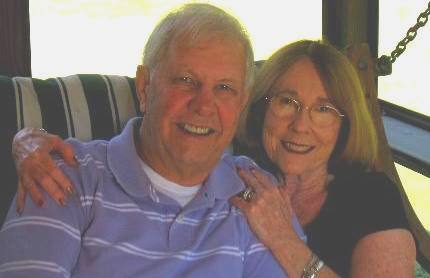 Mike & Joyce Hendrix who we are
We hope you liked this page. If you do you might be interested in some of our other Travel Adventures:
Mike & Joyce Hendrix's home page
Travel Adventures by Year ** Travel Adventures by State ** Plants ** Marine-Boats ** Geology ** Exciting Drives ** Cute Signs ** RV Subjects ** Miscellaneous Subjects
We would love to hear from you......just put "info" in the place of "FAKE" in this address: FAKE@travellogs.us
Until next time remember how good life is.