Lompoc, California
Places Visited:
California: Lompoc

Wednesday, May 25: Cypress Bay RV Park Morro Bay, California: $31 FHU-30amp. Paved interior roads & sites. N35° 72.165' W120° 51.044'
We started today in Oxnard, California and are heading to Morrow Bay, California along CA-1.
It is time to move on. We are heading to Morro Bay today. Morro Bay is about 150-miles north of Oxnard with several interesting towns locate in between where we intend to stop and look around. Santa Barbara is only 25 miles or so up the coast and it was the first place we wanted to stop but it didn't happen. We were on US-101 a highway that emulates an interstate in that it has limited access and is in terrible shape. We don't dare get off US-101 at just any exit and California doesn't give any info on what to expect in the way of services. We kept looking ------- but alas we were through Santa Barbara and never saw a place we could exit in our motorhome and have a chance at finding a place we would park the motorhome while we explored town in our Saturn. That was the first disappointment. We really wanted to spend time in Santa Barbara.
Thirty miles north of Santa Barbara we are still on US-101 all the while thinking California had imported this, horrible stretch of highway, from Louisiana. Did I mention that it is in terrible shape? Anyway, in Gaviota US-101 abruptly turns from the coast and heads inland through Gaviota Pass. The mountains have become real mountains along here. Tectonic forces deep within the earth have pushed sandstone strata almost vertical on the northern side of the Gaviota Pass. We stopped in one of California's rare rest stops (this amazing rest stop was fairly typical in that it held two 18-wheelers and my motorhome with tow car). What gives with California, don't they think truck drivers need a potty break? OK, enough of that we stopped to absorb the geography across the pass. As soon as I got a few pictures we jumped back in the motorhome and headed out to make room for an 18-wheeler.
Within a mile or two of the coast we exited US-101 and took CA-1 across a steep unexpected mountain pass on our way to Lompoc. More than half the world's flower seeds are grown in the fields around Lompoc. For much of the summer thousands of acres of fields are in bloom. Once arriving in Lompoc we located a Home Depot where we dropped the motorhome and headed out to the flower fields in our Saturn.
Lompoc, California flower field
Unfortunately, many of the flower fields were not in bloom. These are pics of some that were in bloom.
Lompoc, California flower field
Lompoc, California cabbage and vegetable fields
We did see some flower fields but enjoyed seeing many more acres of tomatoes, cauliflower, cabbage and artichokes.
Lompoc, California walnut grove
We even spotted several groves of trees that we didn't recognize. These trees looked like they had been grafted late in life. Hopefully, someone will look at these pictures and help us identify these trees and possibly tell us what is going on with these funky looking trunks. Someone did reply and told us they were walnut trees.
After connecting the Saturn to the motorhome we continued north on CA-1. The next place we intended to stop was Guadalupe a community known for produce stands. For some reason, there weren't any produce stands today. All along CA-1 from Las Cruces to Halcyon through Lompoc and Guadalupe are thousands of acres of produce fields. Unlike grain fields of the mid-west ------- produce fields rely on manpower. This manpower is evidenced in the fields.
Pismo Beach appeared to be one large conglomerate of RV-Parks and campgrounds. They just went on and on and most looked pretty full.
Then we breezed through San Luis Obispo past all the signs for the famous Madonna Hotel and into Morro Bay and our RV-Park.
Until next time remember how good life is.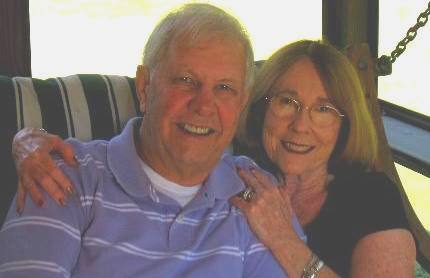 Mike & Joyce Hendrix who we are
We hope you liked this page. If you do you might be interested in some of our other Travel Adventures:
Mike & Joyce Hendrix's home page
Travel Adventures by Year ** Travel Adventures by State ** Plants ** Marine-Boats ** Geology ** Exciting Drives ** Cute Signs ** RV Subjects ** Miscellaneous Subjects
We would love to hear from you......just put "info" in the place of "FAKE" in this address: FAKE@travellogs.us
Until next time remember how good life is.