Long Beach, California
Places Visited:
California: Long Beach
We started our day in San Mateo Campground (state park) San Clemente, California but ended up in Long Beach, California.
We had discussed our journey from San Clemente up to Long Beach with Stan during our lunch yesterday. Stan advised that we take the interstate system otherwise there would be too much stop and go traffic. We thought long and hard about that advice. In the end we decided to take the Pacific Coast Highway CA-1 because we wanted to see that section of the coast and because we had to get out of the State Park we were in yet the Campground in Long Beach did not want us to arrive before 2PM. We had a dilemma on our hands. The solution was to spend as much time in between San Clemente and Long Beach as practical. We did that by driving up the Pacific Coast Highway. It was as slow as Stan had said it would be but we were able to see the coast including Huntington Beach State Park, Huntington Beach, Bolsa Chica Beach State Park, Sunset Beach, Surfside, Seal Beach and finally Naples before getting to Long Beach. The drive through downtown Long Beach and all the skyscrapers was exciting to say the least. We knew the GPS would lose lock when we were surrounded by those skyscrapers but it didn't. Thank goodness since we had to make a crucial turn to the campground in the midst of that jungle of concrete and steel.
Wednesday, May 18, Golden Shore RV Resort-- Long Beach, California: $45.90 with GS discount FHU-50amp. Paved interior roads gravel sites. N33° 45.919' W118° 12.210'
After getting set up we headed to Uncle Al's Seafood a special little restaurant on the corner of first and Elm in downtown Long Beach. Uncle Al's has long been a favorite of locals. Most of the customers order without a menu and the favorite item is Al's Salmon burger with Al's special sauce. Joyce and I did what the crowds do and ordered the Salmon burger. We even got some hush puppies and caramel plantains. Al's isn't a 5-star destination restaurant but it does have great seafood. If you are in the area give it a try.
Queen Mary in the harbor at Long Beach, California
Then we drove to the Queen Mary and walked around the harbor area watching container ships being loaded and offloaded. Long Beach is one of the busiest container ship harbors in the US. We could see one container ship being offloaded from where we were sitting and 5 of those large gantry cranes were offloading the huge containers.
Gantry cranes unloading cargo at the Port of Long Beach
We timed the operation and each crane was able to connect to a container in the ship lift the container clear of the ship and deposit the container on a waiting 18-wheel tractor trailer rig in 60-seconds. In other words each of those 5-cranes was able to offload one container per-minute.
Gantry cranes unloading cargo at the Port of Long Beach
In order for that to take place the 18-wheeler with the newly deposited container must exit the loading spot only to be replaced by another 18-wheeler. And there were 5 of these operations per-ship. The level of activity is mind numbing. There is no telling how many container ships in port…… does anyone know the size of the Long Beach Shipping Terminal? The flow of 18-wheel tractor trailer rigs into and out of the port is staggering. For every 18-wheeler hauling a container out of the port one is arriving with a container to be loaded on to one of the waiting vessels. This level of operation continues 24/7. The organization and coordination that has to take place to make all this work has to be enormously complex. Containers are arriving and departing the port in ships, tractor trailers and rail road.
Until next time remember how good life is.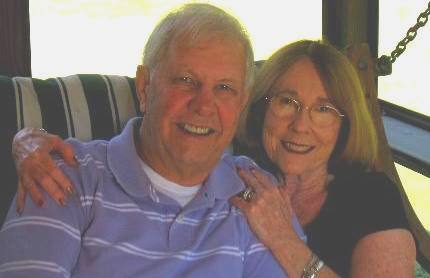 Mike & Joyce Hendrix who we are
We hope you liked this page. If you do you might be interested in some of our other Travel Adventures:
Mike & Joyce Hendrix's home page
Travel Adventures by Year ** Travel Adventures by State ** Plants ** Marine-Boats ** Geology ** Exciting Drives ** Cute Signs ** RV Subjects ** Miscellaneous Subjects
We would love to hear from you......just put "info" in the place of "FAKE" in this address: FAKE@travellogs.us
Until next time remember how good life is.