San Diego County's Coaster Commuter Train
Places Visited:
California: San Diego County's Coaster Commuter Train

Tuesday, May 3, Carlsbad, California.-- $Free. Boondocking in friends driveway N33° 9.960' W117° 21.015'.
This was a day of high adventure----at least high adventure for us. We rode the COASTER into San Diego and back to Carlsbad today. This commuter train is "old-hat" to residents of northern San Diego communities dotting the coast up to 40-miles north of down town San Diego. For around $5-each anyone can ride the COASTER from places like Carlsbad and Oceanside to Old Town or San Diego proper down near the harbor.
Any time we take one of these commuter trains we have to test our "reading comprehension" and determine if we are "functionally-literate". Sometimes when trying to make all the decisions necessary to obtain a ticket from one of these machines I think that I may need to return to college and get an advanced degree. With help we completed the purchase for one way tickets, in our age group, into downtown San Diego along the waterfront.
View of the Pacific Ocean from the COASTER as we head south to San Diego from Carlsbad, California
With tickets on the COASTER in hand we settled into our seats on the second deck, ocean side so we could take in all the scenery on the hour long ride down the coast to San Diego.
View of the Pacific Ocean from the COASTER as we head south to San Diego from Carlsbad, California
Actually, the COASTER is a good way to see the sprawling communities that line the coast north of San Diego plus get great views of the ocean as the commuter train makes its way along the coast.
View of Mission Bay from the COASTER as we head south to San Diego from Carlsbad, California
This is a glimpse of Mission Bay taken from the COASTER.
On the waterfront in San Diego, California
Mike wandering around the harbor in San Diego.
Old Town San Diego, California
We concluded our day in San Diego when we got off the trolley in Old Town and walked around the old shops, business and Museums that were there in the mid-1800's when California was becoming a state and winning independence from Mexico.
Then we ambled down to the train tracks where we have to locate the loading area for the COASTER train that hopefully will transport us back to Carlsbad. Don't laugh, several tracks run together with several different trains/trolleys running either on the same tracks or adjoining tracks. We asked several of San Diego's finest where the loading area the COASTER was. Mind you we were already at the station we just couldn't locate the exact set of tracks the COASTER ran on. Besides we had to purchase tickets from that machine again. The "officers" in uniform led us in various directions none of which were correct. I suppose I wasn't speaking Spanish or they didn't understand English. In any event we finally located the COASTER loading area and ticket machine. This time, with no help, we were able to negotiate the entire sequence of selections and get our tickets. We even got our tickets validated, an important step when riding the COASTER. Before long we are seated on the COASTER for our hour long journey back to Carlsbad.
Once again we got to view the coastal towns that stretch north of San Diego. This is Padre's country and the Padre's are playing in town this week. Padre shirts and hats seem to be the uniform of the day. I guess they are winning this year.
The weather is so nice. daytime highs hover in the low 70's while overnight lows make for divine sleeping with the windows cracked. I could get used to this weather, in fact I already have.
Life is good. There is nothing like good friends.
Until next time remember how good life is.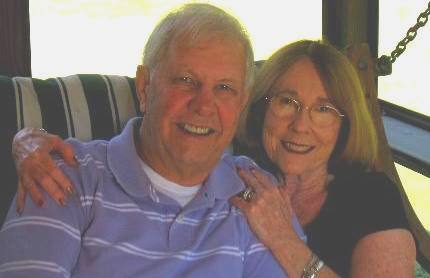 Mike & Joyce Hendrix who we are
We hope you liked this page. If you do you might be interested in some of our other Travel Adventures:
Mike & Joyce Hendrix's home page
Travel Adventures by Year ** Travel Adventures by State ** Plants ** Marine-Boats ** Geology ** Exciting Drives ** Cute Signs ** RV Subjects ** Miscellaneous Subjects
We would love to hear from you......just put "info" in the place of "FAKE" in this address: FAKE@travellogs.us
Until next time remember how good life is.