Carlsbad and Oceanside, California
Places Visited:
California: Carlsbad and Oceanside
Saturday, April 30 Carlsbad, California.-- $Free. Boondocking in friends driveway N33° 9.960' W117° 21.015'.
We moved the motorhome to Carlsbad this morning. The winds through the valley have been so bad the last few days I wanted to get the motorhome through this venture before the winds started howling again. We didn't manage to get through the pass before the winds started but we did get through before they started howling. The wind generators were all turning when we transited the valley indicating at least 15-mph.
Carlsbad is located on the coast 35-miles north of San Diego. In fact Carlsbad is one of the northern cities in San Diego County. The drive over was uneventful with most of it on the interstate system. In California interstates are known as "freeways". Our friends Ken & Katharine live in a new home on a cul-de-sac several blocks from the ocean. The cul-de-sac has one paved RV site tucked away for the use of homeowners. We are staying in that RV site. That is so nice since RV Parks would be costing $40 or more.
Our friends that are taking us on a guided tour of Carlsbad and Oceanside, California
After visiting with our friends they took us for a walk through the town and down to the ocean where we walked along the beach for five miles or so stopping to eat in a fish place with a great view.
Joyce and Kathlyeen posing on the Oceanside Pier
Later Ken & Katharine took us for a long drive where we got a first hand view of the Oceanside marina then the Famous Oceanside Pier (the longest pier along the Pacific).
Blue house on the corner where Tom Cruise lived in the Movie Top Gun
Then two blocks south of the Oceanside Pier they pointed out the little blue house on the corner made famous as the house that Tom Cruise lived in. At least the little house his character in the movie Top Gun lived in. I can still see him jumping on his motor cycle and speeding off down the street.

Sunday, May 1, Carlsbad, California.-- $Free. Boondocking in friends driveway N33° 9.960' W117° 21.015'.
Our friends have told us about the annual Carlsbad Village Fair held in the streets near their home every year. Carlsbad closes down city streets and 900 plus vendors set up booths selling everything from Animals to Xylophones. We walked over early enjoying breakfast in a quaint corner café then proceeded to take in each and every one of the 900 booths. We weren't buying but people-watching was fun.
It was a beautiful day with temperatures in the low 70's. A natural air conditioning was fluttering in from the ocean only a few short blocks away.
Later in the day our friends put us in their fancy jeep and took us for a ride to see the area.
Brilliant colors of ranunculus flowers at Flower Farm east of Carlsbad, California
There was a flower farm west of town that was simply indescribable. We wandered around in the retail area and resisted walking through the fields where were charging a fee to walk amongst the flowers. Instead I found an opening in the hedge and took this pic. The fields are ranunculus flowers in brilliant golden yellow, bright orange, soft rose, pastel salmon, intense pink, flaming red and pure glistening white. These fields have been compared to the famous tulip fields of Holland. Walking through the fields used to be free until someone said they should charge to walk in the fields.
Brilliant colors of ranunculus flowers at Flower Farm east of Carlsbad, California
This is what the ranunculus flowers look like up close. The colors were just as bold up close as in the field.
California coast around Carlsbad and Oceanside
After enjoying the flowers we wandered south down the coast since we had gone north the other day.
Beach at Oceanside, California
They took us into several State Parks right on the ocean. Both of these State Parks had RV-sites for around $28 per-night with no utilities. The Harbor at Oceanside has overnight spaces for $10 after 6PM. I suspect some people park on the streets during the day then move to the Harbor at night.
Ken and Joyce at Café 101 in Oceanside, California a national icon featured on the Travel Channel
We ate breakfast with Ken at Café 101 in Oceanside a national icon featured more than once on the Travel Channel. Outside Café 101 sports a beach mural while inside the walls are adorned with classic pictures from the 1960's. This place is truly a holdover from the "good-old-days".
Until next time remember how good life is.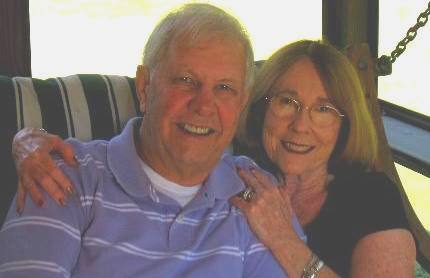 Mike & Joyce Hendrix who we are
We hope you liked this page. If you do you might be interested in some of our other Travel Adventures:
Mike & Joyce Hendrix's home page
Travel Adventures by Year ** Travel Adventures by State ** Plants ** Marine-Boats ** Geology ** Exciting Drives ** Cute Signs ** RV Subjects ** Miscellaneous Subjects
We would love to hear from you......just put "info" in the place of "FAKE" in this address: FAKE@travellogs.us
Until next time remember how good life is.