Florida: Sarasota, St Armands Circle & Lido Key
Places Visited:
Florida: Sun N Fun RV-Resort in Sarasota, St Armands Circle & Lido Key
Friday January 21: Sun N Fun RV Resort 7125 Fruitville Road Sarasota, Florida 941-371-2505-- N27° 20.477' W82° 25.612' $41.00 per-night for the cheapest sites on a weekly rate. 30-amps, water & sewer with paved interior roads.
The low temperature Thursday night was in the mid-50s with highs in the mid-70s today. Snowbirds bound forth this morning with their shorts and T's. The pool was busy by 9AM but this nice weather is not going to last. The most vicious winter storm of the year is pounding the northern tier of states leaving behind record cold and a foot or more of snow. The southern remnants of that system are scheduled to drop temperatures around here into the mid-30s tonight or tomorrow. Dropping into the mid-30s even for a few hours isn't something seen very often around here. Electric heaters will be humming tonight.
Monk Parakeet in palm tree on Lido Key at St Armands Circle near Sarasota, Florida
We headed out for Lido Key and St Armands Circle to continue what we were enjoying the other day. Today we spent more time enjoying the parks. We were spotting those monk parakeets everywhere today. They are the noisiest little critters imaginable so they are hard not to hear. Even though we can hear them when they are chattering in the bright green fronds of a palm tree they remain extremely well camouflaged since their bright green clothing blends so well.
Monk Parakeet in palm tree on Lido Key at St Armands Circle near Sarasota, Florida
Osprey nest on Lido Key near Sarasota, Florida
Any time you are around water in south Florida you see the ubiquitous nesting platforms erected for ospreys. Ospreys take to the provided platforms like purple martins to a martin house. These ospreys were busily performing nesting chores completely oblivious to the earthbound humans enjoying their activities.
Columbia Restaurant on Lido Key at St Armands Circle near Sarasota, Florida
We lunched in Columbia on St Armands Circle today. Columbia's is located next door to Cocoanut's the restaurant we dined in the other day. Today we were seated inside, the wait was too long to get outside seating. Columbia is an American success story dating to 1905 when Cuban immigrants settled in Tampa's Ybor City. They began small, serving Cuban coffee and bowls of Spanish bean soup with a few family recipes. What began as a small corner café expanded to its current 11 dining rooms seating 1,600 in a complex encompassing an entire city block. Now, there are six Columbia Restaurants located throughout Florida. We have dined at Columbia's in the model town of Celebration near Disney World and now at the one on beautiful St. Armands Circle. One day we may visit the original in Tampa.
Columbia afforded me the opportunity to indulge in some new dishes. Today I chose their La Completa Cubana which sounded to me like a "complete Cuban meal". It probably wasn't complete but it did include a variety of Cuban dishes like roast pork and boliche (roasted eye round of beef stuffed with chorizo sausage and roasted in a spicy gravy), empanada de picadillo (a highly spiced ground beef filled pastry turnover), yucca, black beans and yellow rice garnished with corn and onions plus a side of platanos. The platanos turned out to be caramelized plantains. Joyce had a grouper sandwich with plantain chips but did try my empanada de picadillo which met with her approval. We would both the order the empanada again.
Monk Parakeets in downtown Sarasota near the City Marina
We stopped by the City Marina in Sarasota on our way home. As we pulled into the parking lot we could hear parakeets making a raucous racket. As we parked I spotted them on the structure holding traffic information high above US-41. These parakeets are everywhere.
Charter boat catch at the City Marina near downtown Sarasota, Florida
The docks were alive with activity. One boat had just arrived with their catch for the day. The six fishermen were very happy with their catch consisting of amberjack, grouper and a smattering of small mangrove snapper.
Pelicans feeding out of the carcas can near the cleaning table at City Marina downtown Sarasota, Florida
Joyce was busy taking pictures of birds that were waiting for a handout. Pelicans were not taking NO for an answer. As soon as people moved away from the garbage can containing fish carcasses the pelicans went "dumpster-diving".
Great egret ready for a meal from the cleaning table at City Marina downtown Sarasota, Florida
Several great egrets were keeping close lookout for any dropped bait.
Great egret ready for a meal from the cleaning table at City Marina downtown Sarasota, Florida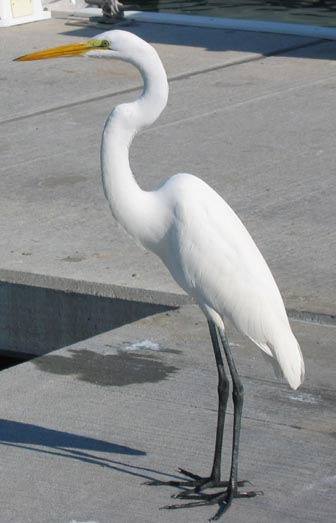 Yellow crowned night heron in bushes at City Marina in downtown Sarasota, Florida
A yellow crowned night heron was camouflaged in nearby bushes waiting for night to fall.
As always Friday night at Sun N Fun was karaoke and this was Thea's last night. Art the entertainer that spins the karaoke machine kept Thea busy to everyone's delight. She even performed one of the songs off her new album. By the way, Thea presented Joyce with a signed copy of her just released CD. When we get back to Pensacola we will have to put it on one night when the social group gets together at our house.
Saturday & Sunday January 22 & 23: Sun N Fun RV Resort 7125 Fruitville Road Sarasota, Florida 941-371-2505-- N27° 20.477' W82° 25.612' $41.00 per-night for the cheapest sites on a weekly rate. 30-amps, water & sewer with paved interior roads.
Saturday: As it turns out it did not get as cold as predicted and Saturday turned out to be a nice day. Snowbirds in Florida flocked to the pools and outdoor activities. Joyce and I busied ourselves with a variety of insignificant activities. We decided to dine at The Old Packinghouse Restaurant/dive since they advertised music. The place was packed out and the food was acceptable especially my jerk chicken. I am beginning to tire of the Latin/Caribbean dish of Spanish rice covered with black beans and white onion. Rice & black beans are as ubiquitous to the Latin community as French fries are to Americana.
Sunday: After church Sunday morning Joyce and I scrambled to Millie's. Millie's is the place we found last Sunday when we were looking for Sweet Tomatoes. Last wee the parking lot was packed and when Joyce checked Millie's had a 45-minute wait to be seated. Our goal was to be there before 11:30AM this week so we could see what was so special. We were there by 11AM this morning and the wait was just 25-minutes. We knew there had to be something special. Twenty five minutes later we were seated and perusing a breakfast menu that looked very much like fare available at I-Hop; eggs, omelet's, muffins, French toast and pancakes. OK they also had Belgian waffles, Nova Scotia lox, corned beef hash & biscuits and gravy and they served breakfast in fancy china dishes. It was a good breakfast but I do not see what the fuss was all about. Possibly the attraction was just appealing to those preferring to dine with a more "refined" crowd.
Sunday afternoon at Sun N Fun features entertainment around the pool unless it is too cold and the entertainment moves into the restaurant area. The entertainment today was in the restaurant where two musicians performed 60's & 70's music to the delight of a sparse audience. Some of the regulars stayed home to watch the NFL playoffs. They missed a good performance.
We stayed in the motorhome tonight while the cold weather descended upon south Florida with a vengeance.
Monday January 24: Sun N Fun RV Resort 7125 Fruitville Road Sarasota, Florida 941-371-2505-- N27° 20.477' W82° 25.612' $41.00 per-night for the cheapest sites on a weekly rate. 30-amps, water & sewer with paved interior roads.
It didn't get as cold as was expected last night. Late yesterday predictions for overnight temperatures were as low as an unheard of 28 degrees. That didn't happen. I am not sure that it even got to 32 degrees. Whatever, it is colder than folks in this area like.
We spent the day exploring rural areas east of I-75. Sarasota is expanding in this direction at a break neck pace. What is now a quilt of cattle pastures and 5-acre ranchetts will soon become subdivisions. Sandhill cranes are common in yards in this area as are red tail hawks keeping watch over the pastures from their perches on high. Robbins that saturated Sarasota a few days have moved on.
This is our last day in Sarasota and our last chance to enjoy the Sun N Fun karaoke. Things started with some mediocre talent but that shortly changed. We enjoyed another wonderful night with good entertainment, good friends and good memories.
Tuesday January 25: Boondocking in G&C parking area Shannon Street Melbourne, Florida. Free.
We packed up and left Sarasota and Sun N Fun this morning. We have enjoyed ourselves immensely but we have got to finish up our time in south Florida and return to Pensacola. We need to get back to spend time with Jeff, Kathryn & Stephen before we head out west early this summer. Our destination today was Melbourne on the east coast of Florida where Joyce's father is in a nursing home. We are going to spend some time with him before returning to Pensacola.
The majority of our journey was on US-70 as it traverses south Florida from west to east or said another way from Sarasota to Ft. Pierce. Across this part of the state the interior remains relatively flat. The extreme western piece of US-70 is partially wooded with oak and pine but by the time we get inland about 30-miles most of the trees have given way to a wide open prairie now occupied by one cattle operation after the other. Cattle operations dominate the geography except for a small area in and around Arcadia where RV-Resorts catering to snowbirds appear like mushrooms on a rotted log. Just before we get to Arcadia we see vivid evidence of where hurricane Charlie crossed US-70 on that hurricane's jaunt through Florida this past summer. Trees and structures unfortunate to be in what appears to be a 10-mile wide swath were destroyed or heavily damaged. Charlie was obviously a very powerful storm but thankfully extremely small by hurricane standards. We only counted 3 blue-roofs as we passed through Arcadia. For those of you not versed in hurricane cleanup you can gauge the severity of a hurricane by the percentage of homes/buildings with the ubiquitous blue-tarp roofs colloquially known as "blue-roofs" that are supplied by the Army Corps of Engineers or FEMA.
Just west of Okeechobee we passed through the northern reaches of the Brighton Seminole Indian Reservation. Like the past 75-miles the reservation was very much involved with the beef cattle industry. A number of palm tree nurseries are flourishing in and around the city of Okeechobee. Okeechobee is also home to one of the largest cattle auction houses east of the Mississippi. It is easy to see why this huge auction house is located here. Out west we see vast areas dedicated to cattle ranches where conditions dictate one cow per 4 or more acres of land. Around here multiple bovines are allocated to each acre in these lush green pastures. Situated around the northern part of Lake Okeechobee are numerous giant dairy operations. These dairies are not graze and milk operations but ultra modern barn to milking stall operations with cows milked two times a day then returned to their barn to eat and sleep. All food is delivered to huge troughs stretching the entire length of these barns. These dairies are divided into operations with roughly 2,000 cows at each. One can only imagine the tractor trailer loads of food that must be delivered to these operations on a daily basis. Equally unimaginable is how that much cow poop is disposed of. It is totally unimaginable, with my small mind.
It is only 36 or so miles from Okeechobee to Ft Pierce on the east coast. Cattle country quickly gives way to giant citrus operations that blanket a 15-mile wide swath of this part of the state. There must be a micro-clime in this area since the strip starts about 30 or so miles north of Ft Pierce and continues south to parts unknown.
Once in Ft Pierce we turned north on US-1 and headed to Melbourne on the last leg of our journey today.

Until next week just remember how good life is.
Until next time remember how good life is.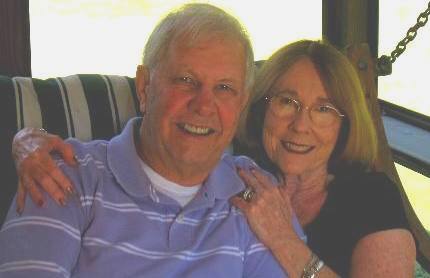 Mike & Joyce Hendrix who we are
We hope you liked this page. If you do you might be interested in some of our other Travel Adventures:
Mike & Joyce Hendrix's home page
Travel Adventures by Year ** Travel Adventures by State ** Plants ** Marine-Boats ** Geology ** Exciting Drives ** Cute Signs ** RV Subjects ** Miscellaneous Subjects
We would love to hear from you......just put "info" in the place of "FAKE" in this address: FAKE@travellogs.us
Until next time remember how good life is.