South Dakota: Pierre, Badlands National Park, National Grasslands, Wall Drug (Wall, South Dakota), Rapid City
Places Visited:
South Dakota: Pierre, Badlands National Park, National Grasslands, Wall Drug (Wall, South Dakota), Rapid City
Tuesday August, 24: Griffin City Park - Pierre, South Dakota: N44° 21.481': W100° 20.602' $10.00 gravel pad paved interior roads 30/50-amps central water & dump.
When the State Capitol building was constructed in 1910 there were NO trees on the grounds. It was prairie like most of the state. One of the early Governors purchased elm trees with his own money and landscaped the Capitol grounds. However, those elms fell victim to Dutch elm disease and have since been replaced. When these diseased elm trees were replaced it was decided to plant a variety of trees. The resulting collection of trees and shrubs could be described as an arboretum except that a true arboretum is planted for scientific or educational purposes. Possibly these trees could qualify as an arboretum to educate South Dakota politicians, just joking. Anyway we walked the Capital grounds this morning. We have learned to identify the Ohio buckeye both by the fruit and unique leaf pattern. The Ohio State football team is known as the "Buckeyes". I had never thought about what a "buckeye" was but it appears that the Ohio mascot is a tree.
We have been seeing a tree with deep purple leaves that has similar leaf color to a Japanese maple tree that we see planted as an ornamental in the southeast. The purple leaf trees we are seeing out here are Canadian red cherry. Now we know what these purple leaf trees are.
While on the Capitol grounds taking their tree tour we spotted two swans in the big lake next to the Capitol. I guess they were mute swans but did not get close enough to determine if they were mute, trumpeter or whooper. They were both BIG and white.
We wanted to visit the "Triple U Buffalo Ranch" located 30-miles northwest of Fort Pierre on highway 1806. This 60,000 acre working ranch is home to more than 3,000 buffalo. This ranch is the location for "Dances With Wolves" the Kevin Costner movie of great acclaim. Fort Sedgewick is now a gift shop with buffalo souvenirs. We decided against driving out there because several people said that after you drove all the way out there all they did was herd you into the gift shop. While there are buffalo on the ranch that doesn't mean you are going to get to see any and they don't let you drive around looking for them. OK, we struck that off the list.
We took a boat ride on the Missouri River where a docent plied us with several hours of area history and landmarks. Either he did a good job or Joyce and I had done our homework. We knew most everything that he had in his two hour spiel.
South Dakota Capitol Building in Pierre, South Dakota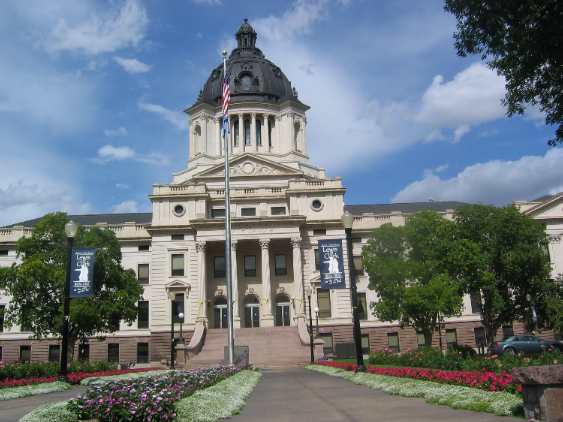 He did call attention to the Capitol Buildings black dome and commented that it was copper clad. He asked if we knew why it was black. No one raised their hands to offer an explanation. Every copper clad structure I have ever seen had weathered to a shade of green. The docent explained that it was air pollution that caused the copper to turn green and that they don't have air pollution in South Dakota and that is why their Capitol Dome is black. I couldn't argue with him and his explanation sounded plausible. If he is correct, and I assume he is, I wonder what component of air pollution causes exposed copper to turn green. Do you suppose it is sulfur dioxide from coal burning electric generating plants? Do any of you Chemical Engineers or other educated professionals want to shed light on this phenomena?
The captain on the boat and docent discussed how low the reservoir above Oahe Dam was. At this time they are 50-feet below normal they both said it would take several massive flood years for it to refill. Indeed, the Oahe reservoir stretching 234-miles to Bismarck, North Dakota will hold a LOT of water in that missing 50'.
Wednesday August, 25: Sleepy Hollow Campground: Wall, South Dakota: N43° 59.721': W102° 14.609' $22.12 gravel pad & interior roads 30-amps & water. Full hookups were available for more $$.
We are leaving the Lewis & Clark Trail for a few days to visit Badlands National Park and the Black Hills of South Dakota located about 100-miles west of Pierre. Badlands National Park is about 50-miles west of here and that will be our first stop today. How long we are entertained there will determine how far beyond Badlands we get before finding a place to spend the night. Our plan is to get a campsite in Custer State Park and use it as a "base" to visit attractions in the southern part of the Black Hills.
We headed west out of Pierre on US-14, heading to Badlands National Park and Wall Drug Store in Wall, South Dakota. We chose US 14 so that we wouldn't be traveling on I-90. The vast majority of traffic flowing across South Dakota does so on I-90; and if you're in a hurry that would be the route to take. We obviously aren't in a hurry and find the roads less traveled have so much more scenery, today was no exception.
From the time we left the Missouri River Valley we were gaining altitude. It was a steady grind up. Each rolling hill seemed to have a higher hill on the other side and so it was all the way to Badlands National Park. Where we passed a lot of rangeland coming into Pierre we traveled through mostly cropland today. Corn and soybeans that predominated in Missouri, Iowa and eastern Nebraska are nonexistent now. Hay, sorghum, sunflower, winter wheat and alfalfa made up 90% of the land visible from US-14. Sorghum was the predominant crop along the section of US-14 we traveled. We were surprised at the acreage planted in sunflowers. Some of these fields were over 1,000 acres as were the wheat and sorghum fields.
We have read how this drive was desolate and boring. We understood the desolate part but not the boring. Activity abounded all along our route. Farmers were mowing hay, plowing, bailing and performing other farm activities. We stopped several times to watch huge tractors plowing near the highway. I was mesmerized by the huge tractors. These monsters had 4-drive wheels/tires and looked more like those huge earthmoving machines you see on highway projects. The plows they were pulling looked like they were 50' X 50'. It is hard to determine just how big something is when it is out in the field but the things were monsters.
We have been on the lookout for antelope and finally saw our first ones of this trip today while driving through Badlands National Park. The antelope were on what is considered National Grasslands rather than Badlands NP proper.
Badlands National Park in South Dakota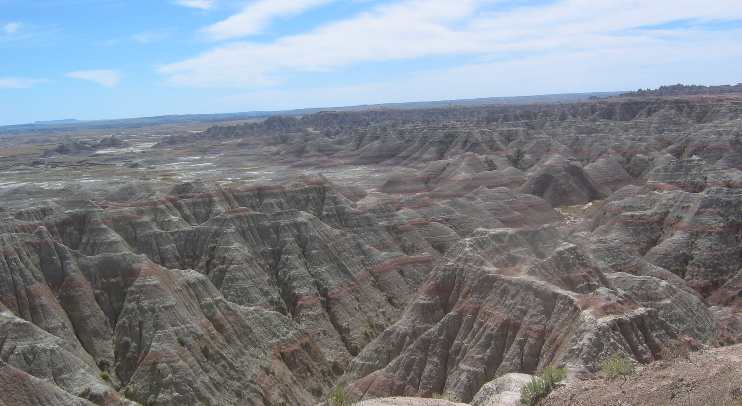 Badlands National Park is accessed from I-90 exits 131 or 110. The main part of Badlands National Park can be viewed from the loop road (State Road 240) that connects exit 131 with exit 110 at Wall, South Dakota. We did the entire loop in the motorhome dragging our Saturn as almost all motorhomes were doing. There was plenty of room in the overlooks and at the Visitor Center. The Visitor Center located about 5-miles south of exit 131 is a must stop when visiting Badlands. They have good exhibits and explain the topography and geography that created these "badlands". The movie was also helpful in understanding how all this came to be.
Prairie Homestead is a typical "Sodbuster" home typical of the early 1900's in South Dakota
Between exit 131 on I-90 and the entrance to Badlands National Park is the "Prairie Homestead". The Prairie Homestead is the original home of Mr. and Mrs. Ed Brown who homesteaded 160 acres in 1909. It was later occupied by Mr. George Carr until 1949. All the buildings except the cave are the same as they were except for the maintenance and minor restoration. The cave collapsed and had to be dug out and rebuilt back in 1966. The original homestead is preserved as though a homestead family was living there today. Some of the furnishings are original the rest is typical of Sodbusters in this area.
Joyce discovering a "Kitchen", in the Prairie Homestead (Sodhouse) in South Dakota
It is difficult for us to believe that someone was living in this place as late as 1949 but that is what they say. The Prairie Homestead is a Sod House with dirt floors and dirt walls partially dug into the side of a hill. Prairie buffalo grass sprouted from densely tangled roots giving the top three inches of soil a tight consistency. The sodbuster shaved off a belt of roots and grass 12 to 18 inches wide and three inches deep. This ribbon of sod was cut into 18 inch strips. He started the building by laying each block, with the grass side down, staggering the layers like brickwork. Two rows were usually arranged paralleled making the finished walls about 24 inches thick. Intersecting layers were lapped together at the corners with a pole used to hold the beams. As the sod house grew spaces were left for windows.
How these folks survived is beyond me. It had to be tough. The Badlands and surrounding areas only receive an average annual rainfall of about 15 inches. There was almost no surface water until the government built stock dams in the 1930's and '40's to help supply water for cattle. Today, a constant supply of water can be found at the water table which is about 2,800 feet below the surface. With so little water trees were and still are scarce and crop farming was almost impossible. Even today there is almost no crop irrigation in Western South Dakota. This is why many residents choose to raise cattle. It takes approximately 20 acres of land to sustain 1 cow per year. Today, the average cattle ranch size is around 5,000 acres.
To say these sodbusters had a tough go is an understatement. The Homestead Act of May 20, 1862 provided that the head of a family or person who had reached the age of 21 could file on 160 acres of land. A fee of $18 was charged. The Homesteader had to be on the land & start improvement within 6-months from filing date. He had to plow 10-acres into crops and establish a residence for 5-years. A common remark by Homesteaders back them was "The Government bet you 160-acres of land against $18 that you will starve to death before you live on the land for 5-years".
Remember that it takes 20-acres of land to sustain one cow for a year. This 160 acre homestead could support a maximum of 8-cows before you take out 10-acres that had to be plowed into crops. Remember that the homesteader needed about 4-horses to do the plowing so that left only enough pasture for say 3-cows. I have no idea what kind of crop they were growing that required less than 15 inches of rain per-year. I don't see how any survived for 5-years, but this homesteader and his family did.
The Prairie Homestead is a place you need to visit when you are in the Badlands area. If you want to know more about the Prairie Homestead look them up at: www.prairiehomestead.com
After doing Badlands National Park we just had to make the obligatory stop at Wall Drug Store. After all how could we tell anyone we had been to South Dakota and not stopped at Wall Drugs?
For those of you that have not stopped at the "world-famous" Wall Drugs it is located in the small community of Wall, South Dakota at exit 110 on I-90 about 50-miles east of the Black Hills and at the west entrance to Badlands National Park. Wall Drug now claims to be the "World's largest Drug Store" and it may be but it is certainly more than a "drug store" in my opinion. I understand that it started out as a drug store back in 1931 in the community of Wall, South Dakota. During the Depression years they survived by offering free ice water to thirsty travelers but those days are long gone. Today Wall Drug is as much a visitor attraction as a store. A unique shopping emporium is probably a good description since it sells about anything they can peddle to tourist. In addition to a shopping experience Wall Drug has many unique exhibits like photographs taken in the late 1800's and early 1900's in this area of South Dakota. Branding cattle and riding bucking horses was a favorite but the two I liked best were early cowboys that had roped a wolf. No kidding there were two different pictures of cowboys with real live wolves on the end of their lariats. Another photo showed a black bear that a group of cowboys had roped. Something tells me that their horses wondered what on earth their riders were thinking.
Today a host of tourist related businesses have grown up around Wall Drug feeding off them like the businesses that sprang up around Disney World.
We counted 6-motorhomes overnighting in the Wall Drug parking lot even though a small sign at the entrance says "no overnight camping". We paid $22 to stay in Sleepy Hollow Campground because I wanted electricity and access to a modem. I would have been better off dry camping in the Wall Drug Parking Lot. The Sleepy Hollow modem was shared with their credit card machine and the office closed at 8PM. If I had known that we would not have stayed there. Besides the owner was a grouch. We won't stay there again.
The Minuteman Missile National Historic Site established by the United States Congress in 1999 is located along here also. It preserves Delta-09, a launch facility (missile silo), a launch control facility. When fully operational this "new" National Park Service facility will illustrate the history and significance of the arms race, intercontinental ballistic missile development, and the Cold War. The site also exists to explain the historical role of the Minuteman II missile defense system. When fully operational next year (2005) visitors will be allowed access to a site that was seldom seen by civilians from the time construction was completed in 1963.
The Minuteman II missile was part of the triad of air, land, and sea based nuclear weapons developed for defense of the United States. Due to innovative solid-fuel technology, the Minuteman II could be deployed in remote unstaffed underground silos and launched by crews stationed at launch control facilities miles away. Designed to travel over the North Pole and arrive at its target thirty minutes after the launch command was given, its 1.2 megaton warhead carried the explosive equivalent of over one million tons of dynamite.
Although there are no longer any active ICBM silos in South Dakota, 500 nuclear missiles are still deployed in the upper Great Plains, a reminder that the end of the Cold War era did not bring hoped for peace and security to the United States.
The missile facilities are easily seen from I-90 and were not disguised in any way. The existence of the sites and their capabilities were not unknown. In fact, the sites were filmed for nationally televised broadcasts and the USAG gave tours during "Community Days." Three elements of the system were top secret-the specific targeting of each missile, whether or not individual missiles had nuclear warheads, and the procedures necessary to execute a launch.
Under the terms of the Strategic Arms Reduction Treaty signed in 1991 the United States and the USSR began to reduce their stockpiles of nuclear arms. As deactivation of Minuteman II missile sites progressed, employees of the USAF and the National Park Service worked toward preservation of a representative site to illustrate the history and significance of the Cold War, the arms race, and the dedication of USAF personnel. After years of effort, this process culminated with the signing of the Minuteman Missile National Historic Site creating the nation's 379th National Park Service unit. The site is the first to be dedicated exclusively to the events of the Cold War. Delta-01 Launch Control Facility and Delta-09 Launch Facility were selected for preservation from the 450 Minuteman II missile sites nationwide.
I have shared all the above with you so that you can plan to visit that site when you visit this area after 2005. Also the South Dakota Air & Space Museum at Ellsworth Air Force Base has many displays and artifacts from the Cold War era, including aircraft, missiles, a transporter-erector vehicle, and a missile procedures trainer. It also maintains the former missile wing's training launch facility where visitors can tour an underground missile silo. You can contact them at 605-385-5188. More information on the Minuteman Missile National Historic Site can be found at:
www.nps.gov/mimi or mimi_information@nps.gov or 605-433-5552.
Their project office is located at exit 131 off I-90 near the east entrance to Badlands National Park.
The Minuteman display is one I would like to do and if it was up and operational we would surely be touring it. Since it is a year away my tour will have to be next year or later.
Thursday August, 26: Berry Patch Campground: Rapid City, South Dakota: N44° 5.824': W103° 10.969' $31.06 gravel pad & interior roads 30-amps & water.
Before heading to Rapid City we took one last spin through the shops of Wall. Then we took in the National grasslands Visitor Center in Wall just two blocks south of Wall Drug and all the Wall action. This is a Forest Service Visitor Center and focuses on interpreting and providing information on the National Grasslands. The Visitor Center features exhibits about prairie plants and animals and the history of our grasslands. In addition they have a number of videos on grasslands in general, then on Badlands Grasslands and several other related subjects.
Buffalo Gap National Grassland surrounds Badlands National Park and is one of 20 National Grasslands. Grasslands are unique in that you can view the sweeping sea of grass stretching from horizon to horizon. There is a wide variety of plant life as well as animal life.
We drove I-90 into Rapid City because there was no readily available state road. We noticed that range land made up 90% of the landscape until we got to within 18-miles of Rapid City. Then cultivated fields mostly sunflower began to dominate the landscape.
The fair is in town this week so Joyce and I moseyed on over to view the livestock exhibits. It never ceases to amaze me the things that can keep us entertained.
This was Military night at the fair and it was the first day of the annual rodeo. To mark this day and event at the fair/rodeo Ellsworth Air Force Base sent a B1-bomber zooming over the fair/rodeo grounds at 7 PM on a low level "Oh my Gosh" mission. It achieved its intended effect with Joyce and I ---who were not expecting it. That BIG bomber is designed to fly supersonic at 200' above the ground on auto pilot. Well he wasn't at 200' and he wasn't supersonic but he was close enough for Government work if you get my drift. Big, fast and LOUD! Totally awesome is the best description.
Until next time remember how good life is.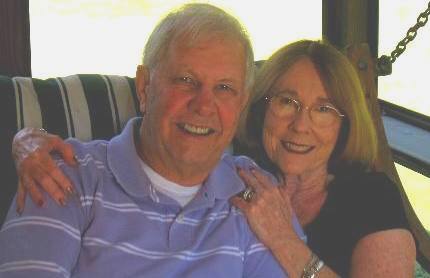 Mike & Joyce Hendrix who we are
We hope you liked this page. If you do you might be interested in some of our other Travel Adventures:
Mike & Joyce Hendrix's home page
Travel Adventures by Year ** Travel Adventures by State ** Plants ** Marine-Boats ** Geology ** Exciting Drives ** Cute Signs ** RV Subjects ** Miscellaneous Subjects
We would love to hear from you......just put "info" in the place of "FAKE" in this address: FAKE@travellogs.us
Until next time remember how good life is.