South Dakota: Yankton & Cottonwood COE Campground then Pickston and Randall Creek Rec Area & Campground
Nebraska: Niobrara State Park, and Nebraska State Road 12
Places Visited:
South Dakota: Yankton & Cottonwood COE Campground then Pickston and Randall Creek Rec Area & Campground
Nebraska: Niobrara State Park, and Nebraska State Road 12
Thursday August 19, Cottonwood COE Campground Yankton, South Dakota: N42° 51.450': W97° 28.827' $14.00 paved pad & interior roads 30-amps electric (central water & sewage)
Missouri River and the Cottonwood COE Campground Yankton, South Dakota
Joyce had a full day planned for us so we got an early start. The first order of business was to drive through the other COE Campgrounds and State Park Campgrounds located near Cottonwood COE Campground. They are all very nice each has paved streets and paved pads with 30-amps. None have water or sewage at individual sites. Central potable water and sewage seems to be the norm or standard in Iowa, South Dakota and Nebraska. That is fine with us. All of the campgrounds are located near the water in cottonwood groves. The places are really beautiful. Lewis and Clark camped from August 28 to September1, 1804 on the bottomlands below Calumet Bluff on the Nebraska side and held a council with the Yankton Sioux. The council was held where the visitor center is located on Calumet Bluff overlooking the Gavin Point Dam and Power Station. Where they were camping on that "bottomland" is where we are camping in Cottonwood COE Campground. It is easy to sit back and visualize what it was like back then.
It is also painful to remember that young…………….was lost and searching for the group. He thought they had gone up river from him and he was trying to catch up when actually they were behind him and spending a few days (August 28 to September 1 in a council with the Sioux). Almost starved Shannon rejoined the expedition on September 11 after the expedition started moving again. Keep in mind that Private Shannon did not know the group had set up camp and stayed in the Calumet Bluff area for 4-days while having a "council" with the Yankton Sioux Indians. Shannon kept pushing upriver trying to catch up. I can see where it would be an easy thing to do.
Then it was time to visit the National Park Visitor Center at the Gavin Point Dam. This visitor center divided attention between Army Corps of Engineers history, the building of the Gavin Point Dam, flood control projects along the entire Missouri River and Lewis and Clark. We watched several films that helped us understand the inherent problems of taming the Missouri River. Six dams with attendant power generating stations now harness and control flooding that used to ravage the area. The reservoirs also help mitigate the effects during years of drought.
We stopped in the parking lot at the power station to inspect the trees laden with small red fruit. The red fruit was the size of a large plum but looked like it might be a cherry or miniature apple. These trees were obviously planted for show since no one was plundering the fruit. I picked a nice bright red fruit. It was hard as a rock and looked exactly like a tiny apple. Undaunted, I bit into it. It was unmistakably apple but TART beyond description. They were sour enough to make apple aid……a take off on lemon aid. We have now noticed a number of these trees and should be able to recognize them in the future. Sometimes we see these trees with both big and small fruits. When we see this there will be several hundred small apples and two or three normal size apples. What gives? Is this normal?
Our next stop was the National Fish Hatchery and Aquarium. There was no one to talk with just a sign guiding us to take a look around at the indoor hatchery then inviting us to stroll around the ponds out back. One tank in the hatchery had 50,000 or so very small trout. The other tanks were empty.
Outside we walked around the ponds but did not see any large breeder size fish like we normally see at National Fish Hatcheries. One large pond was full of bullfrogs and bullfrog tadpoles. None of the hatcheries literature said anything about raising bullfrogs so I gathered the bullfrogs took over a pond that did not have any predatory fish in it.
The Aquarium building housed a number of tanks showcasing most of the native fishes and marine life. They had a mounted blue catfish that weighed 94-pounds 8-ounces. That fish was caught on rod and reel in May of 1949. We had just seen the mounted Iowa State Record Blue Catfish the other day and it weighed 62 pounds. Both came out of the same Missouri River.
Our next stop was downtown Yankton where we surveyed the City Park along the river where they were setting up for this weekends "River Days".
Back at the motorhome we spent the afternoon with Bruce and Dyanne before retiring to our motorhome to make plans for tomorrow and the next few days. We decided to stay in Nebraska and head west to experience several places that don't have anything to do with Lewis & Clark.
Friday August, 20; Randall Creek Rec Area (State Park Campground) Pickston, South Dakota: N43° 3.006': W98° 32.781' $14.00 paved pad & interior roads 30-amps electric (central water & sewage)
We were greeted by a mayfly hatch when we stepped out of the motorhome this morning. Everything was covered with these critters. It was a cool night down in the 40s, perfect for sleeping. I don't know how the weather can be any better. Mayflies can be a nuisance but are much preferable to mosquitoes for obvious reasons. I have to shoo each one off the top and bottoms of the awnings before storing them. Squishing all those on the canvas awning covers would make a terrible mess.
We are traveling on the Nebraska side of the Missouri River again today. Nebraska had things we wanted to see along the way. As we drove west it was apparent that we were passing through a transition zone. The countryside that had been predominately corn and soybean fields was giving away to hay fields. Actually, we had been seeing alfalfa fields mixed with the corn and soybeans since we entered Nebraska. Today the percentage of corn and soybean fields dropped drastically with alfalfa fields and regular hay fields and pasture becoming the predominant feature.
We were transitioning from the high grass prairie to the short grass prairie. The high grass prairie in extreme eastern Nebraska is giving away to the short grass prairie 100-miles or so west of the Nebraska Iowa border. High grass prairie generally receives in excess of 25" of annual rain compared to the 15" or less for the low grass prairie.
We stopped by Niobrara State Park just west of the town of Niobrara, Nebraska. This State park is located in the southwest corner of the confluence of the Niobrara River with the Missouri River.
Niobrara State Park, on the Missouri River, west of Niobrara, Nebraska
We took a 3-hour narrated boat ride on the Missouri River with one of the rangers from the State Park. Joyce and I really enjoyed this boat ride. The guide took us up river showing us banks where cave swallows had their nest caves. I had never seen the small caves bank swallows dig and nest in. Along the section of river were thousands of these little caves. Our guide said that until two weeks ago the area was a mad house with adults feeding over the river then darting into the caves to feed their young. Then one day the young fledged. From that day they are no longer tied to this stretch of river. Today there are only a few bank swallows to be seen. They may be feeding somewhere else on the river or they may have begun their grueling migration to South America. Cliff swallow nests were evident further on along the higher bluffs of the Nebraska side of the Missouri River. Cliff swallows construct nests high on the chalk cliffs anywhere there is an overhang. A good overhang can have 500 to 1,000 of the mud nests while smaller overhangs only have room for 10 to 20 nests. Like the bank swallows the cliff swallow young have fledged and moved on. We are able to see a few but multi-thousands must have been here a few weeks ago.
We really enjoyed the State Park Ranger that was our guide on this river boat ride. So many times the guide really doesn't know what he is talking about. It is discouraging to pay good money for a guide then find that they don't know as much about the subject as we do. That is such a bummer. This guide knew his stuff from history, to soil composition, the animal life and bird life he was the real deal and we appreciated it.
On the boat ride we passed a camp site once used by the Lewis & Clark expedition. Archaeologists have actually surveyed the place and carbon dated camp fire wood. The location is known by land formations and Lewis recorded latitude and longitude readings at the camp. Also on the boat ride we passed several places where National Geographic filmed the Lewis & Clark movie you can purchase, the same one we have seen on IMAX with surround sound. If you have seen the movie you will remember the scene where a sudden squall with very high wind came up and almost turned one of their craft over along with their supplies. It was an exciting piece of movie footage that you will remember.
While our guide was showing us the spot where the sudden squall sequence was filmed two mink came out and scampered up and down the bank for us. This was the first time we have viewed mink in the wild and were sure of what they were.
We viewed a number of bald eagles while we were on the river. Then the highlight of our eagle action was an aerial fight between a mature golden eagle and a mature bald eagle. Both being equal in size it should have been a good match but the golden eagle was clearly getting the better end and was most definitely the aggressor. Not too far away a pair of bald eagles watched the action from their perch in an old cottonwood snag.
The topography along the 6-mile stretch of river we covered was interesting. Close to the confluence of the Missouri & Niobrara Rivers there is a huge wetland created by the tremendous amount of soil dumped by the small but swift flowing Niobrara River.
As the once narrow Niobrara River reaches the delta it spreads out and the sediment carried down stream is deposited. As we move up river the bank on the Nebraska (south) side is a cliff about 6 feet tall that has been created by the Missouri River. It is in this soft soil that the bank swallows have been able to dig their nest holes.
Mike & Joyce on boat ride on the Missouri River from Niobrara State Park, west of Niobrara, Nebraska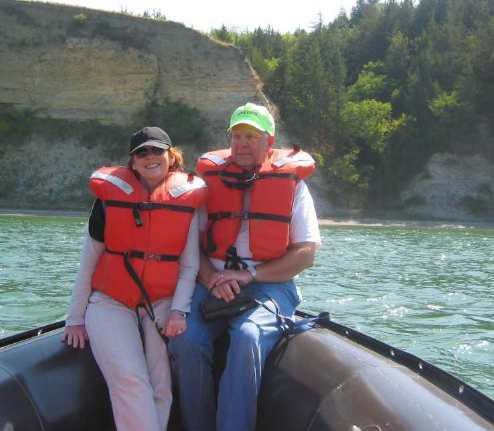 As we motored upstream we transitioned out of the delta and into more traditional northern Nebraska landscape. The banks along here consist of sharp cut cliffs rising over 100' above the river. The top 100' or so is buff colored chalk while the bottom portion consists of shale. Chalk is a soft form of limestone created by the decomposition of corals and sea shells. Chalk occurs in a variety of colors from tan to white. White chalk was used by old-timers to write on chalk boards. Some of you young whippersnappers can spot chalk boards in old school houses and they are beginning to show up in some museums.
Chalk cliff exposed in Niobrara State Park, on the Missouri River, west of Niobrara, Nebraska
White chalk is common in Europe and is exposed to the world in places like the white cliffs in the straits of Dover, England. It has been determined that the white chalk associated with England and Europe is composed chiefly of unicellular lime-secreting algae, and hence primarily of plant origin unlike the coral and sea shell based chalk beds of Kansas and Nebraska. European chalk beds were formed from deposits of deep-sea sediments.
Shale, the bedrock under the exposed chalk on these cliffs, is a sedimentary rock consisting of a variety of silts and clays that have been compressed. The cliff swallows were building their mud nests under overhangs in the relatively hard chalk in the upper half of these cliffs. I didn't see any cliff swallow colonies in the shale.
Turtle Backs exposed in Niobrara State Park, on the Missouri River, west of Niobrara, Nebraska
American Indians called this stretch of the Missouri River the "turtle backs". Once you see it you will understand why. On the Nebraska side of the river erosion has cut into the 200' high cliffs every 600'or so making hills and valleys. In the relatively soft chalk and shale the erosion cuts are rounded so that when you look at them from the river it looks like a long line of giant turtle shells lined up for as far as the eye can see on the Missouri River upstream from the confluence of the Niobrara River.

For those interested; Niobrara State Park also has horse trails with horses for rent. There is also a Campground for those so inclined.
Monowi, Nebraska population 2
We passed the small "community" of Monowi along Nebraska SR-12 and had to stop and take a picture. In this part of the world each community has a small green "official" sign at the city limits proclaiming the name of the town and the population. We have seen some small communities and commented to each other that the town is about the size of our high school graduating class 450 or that town is the size of our Sunday School Class 25. But Monowi takes the prize. It is officially the smallest incorporated town in Nebraska with a population of 3, plus one dog and numerous cats. But even the "3" has changed. The "official" sign now says 2. I will put a picture of that sign on my website when I post with this travelogue.
Nebraska, truck ornament
Status symbols change as we move around this country. If you notice the trucks driven by the younger generation they can tell you a lot about where they are from. In the Deep South trucks of the younger generation will be adorned with Rebel Flags. In Florida you will see trucks with spinning propellers on the trailer hitch. In Nebraska they have large plastic bull testicles hanging from trailer hitches. When I spotted the first one of these I busted out laughing and Joyce never did spot what was making me laugh. She finally spotted them on another vehicle but didn't think they were funny. I guess it just goes to show that it doesn't take much to amuse me.
Out in this neck of the woods locals are always trying to coax you into eating "mountain oysters". I am adventuresome but haven't yet become THAT adventuresome. Joyce won't even entertain the thought. Last night a group of locals were trying to get us to order some of their "mountain oysters". When they sensed that it might be the price that was holding us back one commented that "they had "deer oysters" that were under a buck". That was a Nebraska JOKE. Think about it--(deer oysters under a buck)
Prairie Dogs were first spotted by Lewis & Clark on Old Baldy near Lynch, Nebraska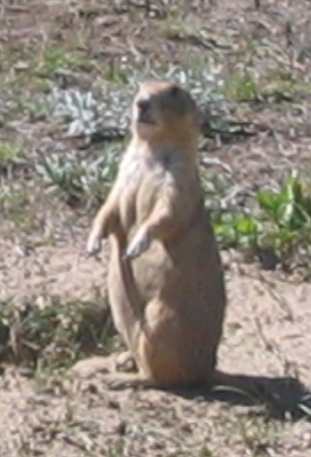 We have now overtaken and passed the original expedition in terms of date in passing this area. Even so we had to stop by and see the unique land feature that Lewis & Clark wrote about referred to as "Old Baldy" these days. Clark wrote about events at Old Baldy on September 7, 1804. He and Lewis walked up "to the top which forms a Cone and is about 70 feet higher than the high lands around it,…..discovered a Village of Small animals that burrow in the ground." John Ordway wrote that "they attempted to drown several out of their holes, but they caught but one, which they brought in alive….Shields killed a prairie dog, which was cooked for the Capts dinner…They are a curious animal." The French on the expedition with them called the animals Petit Chien, (petit is French for small so chien must be dog). Expedition members also referred to the newly found animals as "barking squirrels" we know them today as prairie dogs. The one that they captured alive by pouring buckets of water down its hole was put into a cage and sent back to President Jefferson. Really, the critter was kept alive all winter and sent back east in the spring when a party of men were sent back to St Louis with specimens of animal, plant and geography that the expedition had been collecting. That particular prairie dog survived in his wooden cage all the way back to Washington where President Jefferson actually got to see it alive. When that prairie dog died it was stuffed and is on display in the Smithsonian to this day. Clark referred to the place where they had their first encounter with "barking squirrels" as "the steeple"; since then it has been called "the Tower" and "Old Baldy".
Randall Creek Recreation Area (State Park Campground) Pickston, South Dakota was a COE campground until a few years ago. It is now operated by the state of South Dakota. I wish the COE still operated the park but I obviously didn't have any say in the matter. If you are planning on staying at the Randall Creek Campground you will enjoy it. It is spread out and very nice. It is situated in a Cottonwood grove on the floodplain directly below the Ft Randall Dam and Power Station. Don't despair if you do not see any "campground" signs leading you into the park…..there aren't any. The only signage anywhere is for the Randall Creek Recreation Area. Just follow the signs for the Randall Creek Recreation Area until you stumble into the campground.
Employees working the gate said the only decent place in the area to eat was the buffet at Ft Randall Casino. It was Friday night and the buffet was featuring prime rib. Prime Rib suited the Princess just fine. We had intended to grab a quick bite then head to the overlook near the dam to watch the sun set around 8PM. That was the PLAN. While we were eating a band started playing "oldies" in the casino…… you know the rest of the story. We didn't see the sunset and I am exhausted, beat, spent, whipped or whatever term best applies.

Until next time remember how good life is.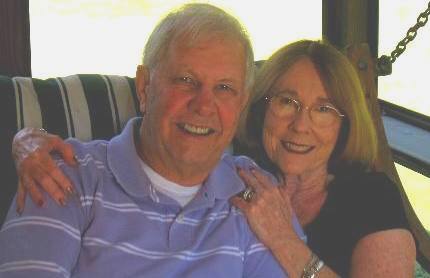 Mike & Joyce Hendrix who we are
We hope you liked this page. If you do you might be interested in some of our other Travel Adventures:
Mike & Joyce Hendrix's home page
Travel Adventures by Year ** Travel Adventures by State ** Plants ** Marine-Boats ** Geology ** Exciting Drives ** Cute Signs ** RV Subjects ** Miscellaneous Subjects
We would love to hear from you......just put "info" in the place of "FAKE" in this address: FAKE@travellogs.us
Until next time remember how good life is.