Iowa: Onawa & Sioux City
Nebraska, Pender
Places Visited:
Iowa: Onawa & Sioux City
Nebraska, Pender
Sunday August 15, Lewis & Clark State Park; Onawa, Iowa: N42° 2.734': W96° 9.649' $16 for 30amps------(central dump & water) $19 for full hookup
We met Det & Judy for breakfast hugged said good by then broke camp and headed north. It is always fun spending time with friends and Det & Judy have become friends we look forward to spending time with any time we get close.
We headed up I-29 paralleling the Missouri River on the Iowa side stopping at Desoto National Wildlife Refuge. This refuge in an out of the way spot on the Missouri River has some interesting history.
Louis & Clark noted this area in their journal entry, dated August 3, 1804. Historians think they camped in the big bend the night after the big council with the Indians at Council Bluff. Clark's journal notes an abundance of wildlife in the area, including the expedition's first observation of a badger and "great numbers of wild geese." The seven-mile long lake that's the heart of DeSoto Refuge was once a hazardous bend in the Missouri River. The federal government made a shorter route through the bend in 1959, to improve navigation. The DeSoto Bend got its name from the nearby town of DeSoto.
Today 7,823 acres form the DeSoto National Wildlife Refuge. Nearly 2,000 of those acres are farmed by neighboring farmers in a cooperative endeavor. The refuge consists of the wide flood plain formed by the shifting Missouri River. Each spring and fall spectacular flights of ducks and geese mark the changing seasons along this waterfowl flyway. During typical years, 550,000 snow geese utilize the refuge as a resting and feeding area during their fall migration between their Arctic nesting grounds and Gulf Coast wintering areas. A ranger told us that the geese range out to 60-miles or so each day to scavenge in the areas corn fields before returning here for the night.
Peak populations of 50,000 or more ducks, mostly mallards, are common on the refuge during the fall migration. October and November are the months of peak waterfowl use, with smaller concentrations of ducks and geese returning in March and early April.
Bald eagles follow the geese into the area, with many wintering here until March. Peak numbers of bald eagles usually occur in late November and December, and again in early March. As many as 145 eagles can be seen here at one time. They perch in the large cottonwood trees along DeSoto Lake and can be observed from the DeSoto Visitor Center.
This Visitor Center had a beautiful glass gallery for several hundred feet along the bank of DeSoto Lake. The extra large picture windows allow rows of visitors to observe the geese, ducks and eagles up close yet in the confines of this wonderful climate controlled Visitor Center.
Steamboat Bertrand displayed at DeSoto National Wildlife Refuge Visitor Center Missouri Valley, Iowa
The Visitors Center also houses the contents of the recovered Civil War era Steamboat Bertrand. The 178-foot Steamboat Bertrand sank, in April 1865 while carrying a cargo of 200 tons of tools and supplies destined for the new Montana Territory gold mines, logging camps, farms and households. Like the Steamboat Arabia the Bertrand sank quickly as in 5-minutes. Also like the Arabia the Bertrand quickly sank into the mud creating a time-capsule of Civil War era material. Adventurers located the old sternwheeler in 1968 in the Refuge. Wooden pieces of the boat were not sturdy enough for salvagers to remove and display. But they did remove the cargo. After removing the cargo they removed the huge pumps and let water fill the lake created by the excavation. Someday technology and funds may enable the hull to be dug up and preserved. Until that time it is resting where it sank and covered with many feet of Iowa mud and water.
We would have really been impressed with the goods and artifacts found on this old sternwheeler if we had not already visited the display from the Steamship Arabia. The cargo of the Bertram contained more tools, and farm implements. We did not see any of the fine china on display like we had seen on the Arabia. If you remember the Arabia was carrying some impressive collections of fine china.
We did enjoy seeing the jars of food especially fruits and vegetables that were being shipped to the frontier.
The items I have mentioned plus hundreds even thousands more are on exhibit in the Visitor Center. And if you want to you can also drive out to the excavation site where the Bertrand's hull still lies buried at the bottom of the lake created when the Bertrand's cargo was salvaged.
We jumped back into the motorhome and headed north on I-29 again. This time we exited in Onawa, Iowa home to the "widest main street in the USA" plus it boasts being the original home of the Eskimo Pie. There is no extra charge for this little bit of trivia.
Joyce standing by a massive cottonwood tree in Lewis & Clark State Park Onawa, Iowa
Onawa, Iowa wasn't our destination, we were just exiting there on our way to Lewis & Clark State Park located on Blue Lake an old oxbow formed by the meandering, picturesque Missouri River. The Corps of Discovery visited this site on August 9 and 10, 1804. They spent time exploring the region making observations on the geology, plants and animals of the area. The State Park has a campground located in a grove of ancient cottonwood trees many that were mature trees 200-years ago when Lewis & Clark passed through here on their way to the Pacific Ocean.
Joyce standing by a massive cottonwood tree in Lewis & Clark State Park Onawa, Iowa
Both of these cottonwoods are purported to be in excess of 300 years old. In any event they are much larger than Joyce.
Joyce admiring a full-sized replica of Lewis & Clark's Keel Boat in Lewis & Clark State Park Onawa, Iowa
The State Park is featuring a full-sized replica of Lewis & Clark's keel boat. It is neat to actually get to walk on this 55-foot boat and imagine the manpower required to pull and pole this 55-foot monster up the swift running Missouri River. The boat itself weighs 12,000 pounds and carried 13,000 pounds of provisions and trade items. In addition to the keelboat the park had replicas of both pirogues. It seems we get a totally different exposure to the Lewis & Clark Expedition each time we stop. Being able to walk around on these replicas really helps to put things in perspective.
Full-sized replica of Lewis & Clark's Keel Boat in Lewis & Clark State Park Onawa, Iowa
It is hard to say what we are more impressed with at Lewis & Clark State Park the beautiful setting for the Campground in the grove of stately cottonwoods on the bank of Blue Lake, getting to walk around and view up close and personal the Keelboat and Pirogue replicas or just standing next to some of those magnificent giant cottonwood trees that are in excess of 300-years old.
Monday August 16, Stone State Park Sioux City, Iowa: N42° 33.554': W96° 27.987' $14 for 30amps------No Dump No water.
We took the opportunity to do something different today. It just so happens that Pender, Nebraska is 34-miles from the Lewis & Clark State Park where we spent the night. Now Pender, Nebraska may be a place you have never heard of but it is home to Blue Ox---and Blue Ox just happens to be the brand of tow-bar and tow-brake that we utilize. Since our equipment is almost 5-years old I thought that we would drop by the Blue Ox factory and give them a chance to show us some "World Class" customer service.
We showed up at the factory and they reacted like I had hoped they would act. A customer service man took my Auto Stop Tow-Brake and Blue Ox Tow-Bar for an overhaul & repair while Joyce and I headed to town for a bite to eat. Three hours later my completely rebuilt units were returned to me. I was hoping that the "World Class" customer service would be free but it wasn't my lucky day. They did not charge for any parts but they did charge $65 for one hour of labor. Since it took 3-hours of labor I guess the $65 was a good deal. I would give them an A-plus for customer service. For all practical purposes I have a new Auto Stop and Tow Bar.
For those of you that have Blue Ox Tow-Bars and or the Auto Stop Tow-Brake it would probably be better if you called in advance of stopping by. They have a FREE RV-Park next door to the factory (if you are one of their customers). You can locate Blue Ox at One Mill Road, Industrial Park; Pender, Nebraska--Phone 402-385-3360. GPS Coordinates are N42° 6.172': W96° 43.047'. For the 5th wheelers and travel trailer folks you will have to pay something to stay in the RV-Park or you can locate the City Park on west Main Street (Main Street is only 8 or 9 blocks long so it is not likely you can miss the City Park) the city of Pender offers $5 camping. Camping signs lead you to the City Park but we did not see any water or electric connections. We suspect that you just park on the pavement beside the park. I guess you would contact a city policeman and ask them where to pay the $5.
From Pender, Nebraska we headed north to Sioux City, Iowa (actually Sioux City straddles three states Iowa, Nebraska and South Dakota).
While we were only in Nebraska for about 50-miles we do know why the University of Nebraska football team is known as "Cornhuskers". If by any chance "Cornhuskers" becomes "politically-incorrect" and they have to change the mascot's name the obvious replacement choice would be "Soybeans". No one in the state could argue about that. It would also be the obvious pick to anyone who has driven any distance in the state.
We are staying in Stone State Park in west Sioux City, Iowa. Stone State Park is not a campground that we would recommend. It only has about 5 sites with 30-amps and several more with 20-amps. None of those sites are remotely level. A travel trailer or popup may be able to level but it is very difficult for a motorhome. There is no dump and the one water faucet in the campground would be difficult to access for a motorhome. They seem to be catering to tents and or travel trailers with single axles. There is no place for garbage. A sign says to "pack it out". Iowa must be having a real budget crunch.
Stone State Park sits atop bluffs overlooking the Missouri River and Big Sioux River Valleys. The Park has a number of spectacular overlooks where visitors can enjoy the view. The bluffs Stone State Park preserves are part of the Loess Hills (pronounced "luss"). Loess is an unstratified buff to yellowish brown loamy deposit found in North America, Europe, and Asia and believed to be chiefly deposited by the wind. It is generally believed that the loess hills scattered along the Missouri River in extreme Iowa resulted from the silty debris left behind after ice sheets from the last ice age receded. It is generally believed that wind piled the loess into dune like drifts---some as tall as 200-feet. "The Most Scenic Drives in America", a Readers Digest book, lists the Loess Hills Scenic Byway as one of their choices for most scenic drives in America. Joyce and I have been enjoying our drives in the Loess Hills and can now recognize loess when we see it. It makes good farmland.
As darkness grew near we got in the Saturn and took a drive through the farming country adjoining the state park. With a drive of less than 3-miles we were able to spot upwards of 20 deer and many geese feeding in fields next to the highway.
Tuesday August 17, KOA north Sioux City, South Dakota: N42° 37.134': W96° 30.117' $33.00 for Full hookup 50amps.
This was a good day for us. We decided to move to another campground so that we could get a modem connection. The State Park didn't have a phone connection and the cell phone reception was analog-(I have to have digital to download e-mail with the cell-phone). Before moving the motorhome we got in the Saturn and drove a few miles down State Road 12 to the Nature Center. As it turned out the Nature Center was a great stop. The exhibits were good and we learned more about how the Loess Hills were formed. We also learned how to identify high-bush cranberry. We have been seeing high-bush cranberry in the area but not now what they were. The State Park had huge stands of them with their bright red berries or bright orange berries. The Center also had a mount of the state record blue catfish a 60 pound monster.
From the Nature Center we returned to the motorhome, connected the Saturn and headed down the road about 6-miles to the KOA north in Sioux City, South Dakota. After checking in we were off to see what Sioux City, Iowa had to offer. We stopped at their combination visitor center and river boat complex in an old Coast Guard boat. The visitor center complex had a wonderful exhibit detailing the history of Missouri River transportation. Just when we think we have seen it all we stumble into a place like this that really does a good job of explaining the various vessels used to transport goods up and down the Missouri.
Bronze statue of Lewis & Clark at the Lewis & Clark Center Souix City, Iowa
From there we were able to walk across the parking lot to the Lewis & Clark Center with its life size bronze statue of Lewis & Clark and seaman (Lewis's Newfoundland dog that accompanied them on the expedition). Inside the L&C Center a series of exhibits led us through the Corps of Discovery expedition from beginning to end.
A National Park Service Traveling Lewis & Clark Exhibit on display in Souix City, Iowa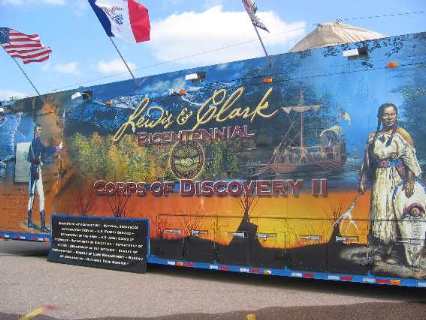 We just learned that a National Park Service Traveling Lewis & Clark Exhibit was in town. The traveling exhibit is following the route the Corps of Discovery took and moving to different locations to coincide with the dates that L&C were in the area. It just so happens that L&C was passing through Sioux City 200-years ago. Sergeant Floyd the only member of the expedition to die on the journey is buried in Sioux City, Iowa and there is going to be a reenactment of his military burial this weekend. The Traveling National Park Service Crew is going to take part in that reenactment. But for now they are set up at the local football stadium. We stopped by to see what they had to offer and found it to be first rate. The traveling exhibit consisted of a huge tent where they hung huge murals on frames depicting different phases of the expedition. We were issued headsets so that we could listen to a narration that went along with each mural. An hour or so later we popped out the other end full to overflowing with information. The NPS really has done a good job with this traveling exhibit.
Grave site of Sergeant Floyd marked by this magnificent obelisk
After leaving the "traveling road show" we drove back toward town stopping at the grave site of Sergeant Floyd. Originally the site was marked by a cedar headstone. Now it is marked by a magnificent obelisk every bit as grand as the one marking Meriwether Lewis's grave site. The site itself is on a high bluff overlooking the Missouri River and the flood plain created by the river. From that bluff Floyd's grave can keep watch over northeast Nebraska. It is a wonderful sight.
The death of Sergeant Floyd left the party one Sergeant short. Someone needed to be promoted. The two Captains decided to let the enlisted men vote on who would be Floyd's replacement. In the first non-Indian democratic election held west of the Mississippi, near today's Ponco, Nebraska, the men vote and elect Patrick Gass as their new Sergeant. While not one of the striking personalities of the expedition he was undoubtedly solid, dependable and trustworthy. He was the corps's carpenter, and in that capacity he supervised the construction of canoes and the quarters at the various camps where they spent winters. I think it was Patrick Gass that published the first account of the expedition. Anyway, the point is that within two days of Sergeant Floyd's death a historic "VOTE" had been taken and Patrick Gass was promoted to Sergeant.
We gave up. Enough was enough. It was now time to return to the motorhome to take care of e-mail and laundry.
Wednesday August 18, Cottonwood COA Campground Yankton, South Dakota: N42° 51.450': W97° 28.827' $14.00 paved pad & interior roads 30-amps electric (central water & sewage)
The easiest & quickest way to travel between Sioux City and Yankton, where we are going today, is on I-29. However, we aren't out here to travel the interstate system. We are not in a hurry and we want to see the country. We decided to travel across the Missouri River back into Nebraska and follow what Nebraska bills as the "outlaw-trail" up to Yankton. This route was once a favorite haunt of ne'er-do-wells like Jesse James. Towns along this scenic route include Ponca, Newcastle, Crofton, Niobrara and Lynch.
The soil along the Nebraska side of the river is the same fine yellowish loess found in the loess hills of Iowa.
We passed Ponca State Park where on 22 August 1804 Captain Lewis nearly poisoned himself after taste testing soils for mineral content. In Clark's notes he writes that Lewis had determined that the soil contained aluminum, copper, cobalt, pyrites and sand stone. Another journal entry says "Captain Lewis in proving the contents of substances in the cliff was considerably injured by the fumes and taste of cobalt and took strong medicine to relieve him of the effects." What Lewis did was treat himself with purgative pills Dr. Benjamin Rush had concocted back in Philadelphia-the standard medical practice of the time.
We passed several markers along the way that pointed out where they camped or made observations. As you know, one of the charges given the Corps of Discovery was to record what they saw and observed in the way of plant life, animal life, geological features, water resources and the native peoples. On their journey the men of the expedition saw many natural curiosities. On August 24, 1804 (note that date is almost to the day 200-years ago) Captain Clark described in his journal "a blue clay bluff of 180 to 190 feet high…Those bluffs appear to be literally on fire, and at this time is too hot for a man to bear his hand in the earth at any depth." The bluff became known as Ionia Volcano. Not until about 1900 did scientists learn that the heat was generated by the oxidation of shale, or put another way the simple decomposition of iron pyrite beds as they came into contact with water. The bluff has since eroded into the Missouri River so we were not able to see it or put our hand in the hot soil.
On August 27th 1804, eighteen year-old Private George Shannon got lost while searching for stray horses on the Nebraska side of the Missouri River. He survived for 16-days alone in the wilderness before he reencountered the Expedition near present-day Lynch. Shannon thought he had fallen behind the main party, but in fact he was traveling ahead. Private Shannon was the youngest member of the Expedition and the best educated of the enlisted men. Shannon may have been young, but he was an expert woodsman. Although he ran out of ammunition, he was able to survive on berries, grapes, and a rabbit he shot with a bullet made from a stick.
After the expedition returned to civilization in 1806 Shannon was sent by Clark to Philadelphia to assist in preparing the first edition of the Lewis and Clark journals. He later became a lawyer and congressman for Kentucky, and still later served as a senator from Missouri before returning to the practice of law. Can you imagine being 18-years old and lost for 16-days out here?
As we traveled west on State Roads 12 we enjoyed the rolling hills forming the southern border of the Missouri River flood plain. The farms along here seem to be growing more alfalfa and the corn and soybean fields are giving way to pastures filled with cattle.
Gavin's Point Dam, Crofton, Nebraska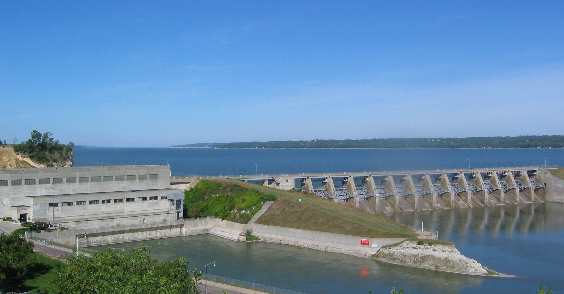 We are Camping with the Corps of Engineers below the Gavin's Point Dam, Crofton, Nebraska. There must be 8 or more COE and or State Park Campgrounds in the immediate area. We are staying in Cottonwood COE Campground located in a beautiful cottonwood grove next to an oxbow lake off the river. It is a beautiful site. Several ground squirrels have dens around our motorhome. They are cute little things that are very hard to see when they are still. Several times I tried to point one out to Joyce who has not spotted one yet. I am going to try again tomorrow.
Bishop Marty Chapel in Yankton, Iowa
We met virtual friends Bruce and Dyanne Haug who have dropped down from Minnesota to meet us here. They are going to spend a week in the area while we are just spending a day or so. Bruce drove us into Yankton where we stopped by Bishop Marty Chapel. When I saw the building I knew it was something special but did not know what. I suggested that Bruce drive us by for a closer look. When we got close Dyanne ordered Bruce to park and we got out hoping to get a peak inside. As we opened the door and peaked in we could see people inside. At that time a "sister" came by on her way to the prayer-meeting or whatever was going on inside. Anyway, we told here what we were here for and she took us on a tour. Joyce and I are Baptist while Bruce and Dyanne are Catholic. Dyanne could talk the "sister's" talk while the "sister" thought the two Baptist from Florida with those funny accents were something to be studied. The sweet sister took us on a personal tour of this distinctive Yankton landmark. Bishop Marty Chapel is considered one of the country's best examples of western architecture. Actually, I think it is Gothic architecture but who am I to question them. It is constructed with sandstone blocks and Indiana marble. Saints depicted over the portal of the front door include Saints Gertrude the Great, Lioba, Scholastica, Benedict, Gregory, Anslem and Bede. At the back of the Upper Chapel a plaque commemorates the loving memory of the deceased Sisters of the Benedictine Covent of the Sacred Heart. The "sister" told us several times they were of the Benedictine order. Dyanne shook her head as if she understood but Joyce and I didn't have a clue. I didn't speak that language. What we could tell was that the church was simply magnificent. The stained glass windows, the hand carved woodwork, the sandstone columns everything was simply magnificent.
Thanks to Dyanne and her curiosity and persistence we experienced a bit of lagniappe this afternoon.
After dinner Bruce took us for a ride past South Dakota's largest livestock auction then across the Missouri River from downtown Yankton to Nebraska on a unique OLD bridge. The original bridge was so narrow that engineers constructed a second deck on top of the first bridge. Now the original bridge is one lane into Nebraska and the upper deck is one lane into South Dakota.

Until next time remember how good life is.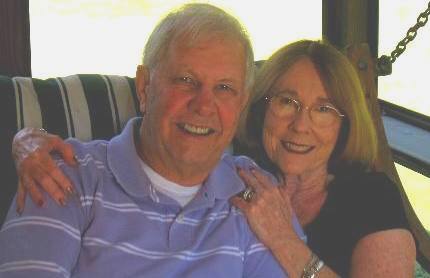 Mike & Joyce Hendrix who we are
We hope you liked this page. If you do you might be interested in some of our other Travel Adventures:
Mike & Joyce Hendrix's home page
Travel Adventures by Year ** Travel Adventures by State ** Plants ** Marine-Boats ** Geology ** Exciting Drives ** Cute Signs ** RV Subjects ** Miscellaneous Subjects
We would love to hear from you......just put "info" in the place of "FAKE" in this address: FAKE@travellogs.us
Until next time remember how good life is.