Places Visited: Florida: Ocala, Melbourne
Sunday, December, 28 2003
Boondocking in the Publix parking lot on US 27 at I-75 Ocala, Florida
N29° 12.908' W82° 12.080'
This is Sunday after Christmas. We left Pensacola this morning heading to south Florida. We have my Mother with us.
It was a beautiful day traveling east on I-10. Although, we live in Pensacola we have never traveled east on I-10 in our motorhome. Until now we have always meandered east on US 98 following the coast.
I was interested in experiencing the ride east on I-10 because RV'ers have been known to grouse about "terrible stretches of I-10 with bad or unreasonably bumpy pavement" through the Panhandle. Those complaints used to be fairly frequent but I can't remember any of those complaints recently. We found I-10 through the Panhandle to be asphalt and relatively smooth. I suspect that the complaints were justified back in the days when I-10 was a concrete slab.
We traveled east on I-10 for 230 miles before we turned south on US 19 about 25 miles east of Tallahassee. Most people, especially those in a super hurry would continue east to I-75 then take I-75 south. We wanted to avoid the horrific traffic we knew would be on I-75 heading to south Florida after Christmas.
We travel around 60-mph in our motorhome and the traffic on I-75 would not only be heavy but running around 75 to 80 mph. That would make us a traffic hazard. US 19 is a divided 4-lane highway that accommodates our 60-mph traveling speed and has little traffic.
Our plan was to stay in Manatee Springs State Park in Chiefland. That plan changed when Joyce phoned them as we neared Chiefland only to find out they had no spaces remaining that would accommodate our 33' motorhome. We quickly decided to continue on until it got dark and either stay at a private RV-Park or look for a Wal-Mart to boondock in. In Chiefland we turned east on US 27 (another 4-lane divided highway) heading toward Ocala and I-75. As we approached Ocala more and more horse and cattle ranches appeared. These are magnificent spreads with freshly painted fences. There must be a law against having anything but an immaculate fence. I don't know how they keep those fences so spotlessly beautiful.
Joyce thought she had remembered a Wal-Mart Super Center on US 27 before the I-75 exchange. We were looking for it when she spotted a Publix Super Market with a large oak filled parking lot. We wheeled in for the night.
Monday, December 29 2003
Land Yacht Harbor: Melbourne, Florida -- N28° 06.550' W80° 41.650' $25 Full hookup
We traveled east across the peninsula of Central Florida from Ocala to Melbourne about 150-miles this morning. It was a rather uneventful trip since we did it on toll roads. The toll roads cost us a total of $13.75. That may sound steep but it is a bargain to transverse Central Florida (read that Orlando) on a limited access highway. We have crossed using public highways and roads and believe me it is a maddening maze of traffic signals.
The weather is perfect. The temperature was in the low 80s by noon. We were able to change into shorts and T shirts, now that is what we were looking for. Things don't get much better.
We are staying in Land Yacht Harbor a member-owned Airstream Park in Melbourne. There are a number of these member-owned RV-Parks in Melbourne that allow "non-owners or SOBs Some Other Brands" to rent vacant lots when owners are away. The money the park receives is used to reduce the Parks (thus owners) expenses. The arrangement works to the benefit of both the Park and those of us who are allowed to stay in their absence.
We picked up Joyce's Father, who lives in a nursing home here in Melbourne, and we all went for a sightseeing drive over to Indialantic. From Indialantic we took US A1A down to Sebastian Inlet. Near Sebastian Inlet we stopped in to tour Long Point County Park (321-952-4532) located on A1A just north of Sebastian Inlet State Park. For RV'ers planning to spend time in this area, both of these places (Sebastian Inlet State Park & Long Point County Park) are highly-recommended. They are not located near a shopping mecca, quiet the opposite, both are fairly remote (10-miles from groceries) located on the Indian River. Indian River is not a real river but actually a lagoon with brackish water. Why do these people call a lagoon a river?
Tuesday, December 30, 2003
Land Yacht Harbor: Melbourne, Florida -- N28° 06.550' W80° 41.650' $25 Full hookup

When staying in Melbourne, where we visit with Joyce's Dad, we prefer to stay in Wickham Park a park operated by the city of Melbourne. It is only $13 per-night when you pay by the week. That is much preferable to the $25 per-night we are paying at Land Yacht Harbor. We are not staying at Wickham Park this time because it was FULL. As you know, we normally do not make reservations but knowing that we were going to be in Melbourne this week, celebrating Joyce's Dad's 90th birthday, Joyce called Wickham Park several months ago to make reservations for this week. They just laughed at her. It seems that Wickham Park was booked solid with snowbirds months and months in advance. I suspect that snowbirds reserve spots for next year before they head north for the summer. With that said Wickham Park would be our first choice because of the price, however, there is absolutely nothing wrong with Land Yacht Harbor. In fact Land Yacht Harbor is an extremely nice and clean park.
We spent the day on an extended scenic drive with my Mom & Joyce's Dad. Can it get any better? We are spending quality time with both of our parents enjoying this time together to the fullest. We took a leisurely drive from Melbourne over to Indian Harbor Beach. From there we went north on Banana River Boulevard (state highway 3). Banana River Boulevard runs north from Indian Harbor Beach on a narrow strip of land situated between the Banana River and the Indian River. That narrow strip has attracted an awesome collection of mega buck estates that have the Indian River for their front yard and the Banana River for their back yard. The strip is a tropical paradise replete with papaya trees, guavas, citrus, cocoanut palms and avocado trees growing in profusion. Bougainvillea and hibiscus along with a dozen other flowering species decorate the manicured yards that could double as botanical gardens. This drive should NOT be attempted in any RV. One very narrow bridge has a 10-ton limit, but that would be the least of your worries. The road is NARROW and winds around a plethora of trees growing right next to the road. An RV would certainly clip these trees and limbs.
Next we drove north to Cape Canaveral and Jetty Park. All RV'ers visiting Florida should know about Jetty Park in Cape Canaveral. It is a County Park, beautifully landscaped, and situated as near as practical to the beach. You can walk to the beach and walk to the jetty for one of the best fishing spots around. If you happen to be there during a space shot you will have a grand stand seat to watch. What more could you want?
Wednesday, December 31, 2003
Land Yacht Harbor: Melbourne, Florida -- N28° 06.550' W80° 41.650' $25 Full hookup
Real estate professionals live by the axiom Location, Location, Location. We thought about that this morning and decided that Melbourne at this time of year has Weather, Weather and Weather. We have been here for three days. The temperatures rise to the high 70s or lower 80s during the day then drop to 60 at night. There was not a cloud in the sky today. From time to time we have been utilizing the Saturn's air conditioner. This is exactly the weather we were looking for.
We did some more sight seeing today. Mother is beginning to recognize some of the more distinctive types of plants like Australian pines, travelers palms, papaya trees, cocoanut palms, queen palms and shefflera trees. She could already identify bougainvillea and hibiscus plants by their distinctive flowers. Owners of property on or near the water have turned their estates into virtual botanical gardens. Riding around these neighborhoods is a real joy.
Joyce decided that we were going to experience a movie, of her choice, this afternoon. That movie turned out to be "Something Has Got to Give". It seems that when we are in Melbourne, we get into a routine of entertaining Joyce's Dad until he gets tired. That is generally mid-to-late afternoon and an awkward time to do anything else until we pick him up the next morning. A movie is the perfect thing to occupy a couple hours time. By the way, "Something Has Got to Give" with George Nicholson and Dianne Keaton is simply hilarious. If you are one of those, like us, that see very few movies, this is one worth seeing.
Thursday, January 1, 2004
Land Yacht Harbor: Melbourne, Florida -- N28° 06.550' W80° 41.650' $25 Full hookup
Today was another picture perfect day. We were able to spend more quality time sightseeing with our parents.
Friday, January 2, 2004
Land Yacht Harbor: Melbourne, Florida -- N28° 06.550' W80° 41.650' $25 Full hookup
The weather continues to give us reasons to rejoice, simply divine. During the day we stopped in a citrus grove where the grove owner was selling fresh picked fruit. We purchased some huge naval oranges and seedless red grapefruit. Back at the motorhome we put the citrus through a juicer. The one thing I can tell you is that it takes a LOT of citrus to produce a half-gallon of orange juice. Fresh juice is great, but it takes a lot of work. For those of you wondering about the cost of citrus down here the seedless pink grapefruit were 5 for $1.00. Eat your heart out. The big, juicy, sweat naval oranges are so cheap you do not want to know………., but in comparison the grapefruit were expensive.
Saturday, January 3, 2004
Land Yacht Harbor: Melbourne, Florida -- N28° 06.550' W80° 41.650' $25 Full hookup

We spent the day with Joyce's family as friends and relatives arrived for Pop's 90th birthday party that will take place tomorrow. Today was just a rehearsal. Tomorrow everyone that arrived today will meet back at the same place for a real party.
Sunday, January 4, 2004
Land Yacht Harbor: Melbourne, Florida -- N28° 06.550' W80° 41.650' $25 Full hookup
We spent the entire day at Joyce's Sister's home in Indialantic where 24-family and friends gathered to celebrate Pop's (Joyce's Dad) 90th Birthday. Several generations were represented. It was one of those gatherings of relatives that only happen every once and awhile. Other than the multitude of pictures taken and food consumed it was a normal "family" outing.
Now that we have gotten the family time behind us the sightseeing and fun can began in earnest. Although our plans are not set in concrete we have a general idea that we will be heading to Ft Pierce for a few days then possibly south a little further to Jonathan Dickinson SP near Jupiter then probably over to Lake Okeechobee for a few days. If you have information about places to eat, visit, stay etc., please share them with us.

Until next week, remember how great life is.

Until next time remember how good life is.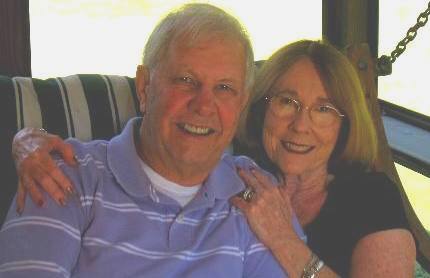 Mike & Joyce Hendrix who we are
We hope you liked this page. If you do you might be interested in some of our other Travel Adventures:
Mike & Joyce Hendrix's home page
Travel Adventures by Year ** Travel Adventures by State ** Plants ** Marine-Boats ** Geology ** Exciting Drives ** Cute Signs ** RV Subjects ** Miscellaneous Subjects
We would love to hear from you......just put "info" in the place of "FAKE" in this address: FAKE@travellogs.us
Until next time remember how good life is.