Bardstown & My Old Kentucky Home, Stephen Foster The Musical, Talbot's Tavern & Old Jail, Oscar Getz Whiskey Museum all in Bardstown, Kentucky Louisville, Louisville Slugger Museum & Factory Tour, Churchill Downs walking Tour & Kentucky Derby Museum in Louisville, Kentucky
Falls of the Ohio State Park, Clarksville, Jeffersonville in Indiana
Places Visited:
Kentucky: Bardstown & My Old Kentucky Home, Stephen Foster The Musical, Talbot's Tavern & Old Jail, Oscar Getz Whiskey Museum all in Bardstown, KY: Louisville, Louisville Slugger Museum & Factory Tour, Churchill Downs walking Tour & Kentucky Derby Museum,
Indiana: Falls of the Ohio State Park, Clarksville, Jeffersonville
Saturday July 10, 2004
My Old Kentucky Home State Park Campground: Bardstown, Kentucky. N37° 47.969': W85° 27.551' $18.00 30-amp, water central dump.
My Old Kentucky Home State Park: Bardstown, Kentucky
Our first stop today was the home that inspired Stephen Foster to write Kentucky's State Song (My Old Kentucky Home). It was a good tour with girls dressed in period attire as docents. The owner named the home Federal Hill. It was a very important place in the history of Kentucky. Three Presidents spent the night here as well as other dignitaries of the time. The home is decorated with period antiques. An outdoor kitchen --- common with homes of this period-is located in the back of the house. Kitchens were structures separate from the home to protect the homestead from fire. Cooking during this period was done over open fires. This kitchen was complete with cast iron pots filled with greens and green beans hanging by hooks over the fire in the fireplace. Other cast iron pots were scattered around the brick floor where coals were placed with cast iron pots placed on top of the coals plus lids with lips that hold hot coals. These type pots can be used to keep foods warm or to cook things like biscuits. By having hot coals both under the cast iron pot and on top of the pot it acts as an oven.
Also out back is a carriage house, complete with carriages. There is also a smoke house. The smoke house had a huge yellow popular log probably 10-feet long with a 4 to 5 foot diameter that was hollowed out much as a canoe is hollowed. This is where they would put the butchered hog to salt it down.
Not only has the home been preserved but the entire estate is now a State Park. A golf course is part of what used to be fields on the plantation.
Old Talbott Tavern in downtown Bardstown, Kentucky
After the Old Kentucky home tour we ate lunch at the "Old Talbott Tavern" restaurant in downtown Bardstown. This Tavern was once a stage coach stop for folks traveling west during America's westward expansion. The Old Talbott Tavern is the oldest stagecoach stop west of the Allegheny Mountains. One of the "historic" things in this old tavern is two bullet holes in the wall attributed to Jessie James the outlaw.
Stock & pillory on display in front of the jail in Bardstown, Kentucky
Next was a visit to the old jail preserved from that period. I was interested in the replica of the stock & pillory they had on display in front of the jail. Individuals convicted of minor offenses were placed in the stock and pillory where they were on display for everyone in town.
For those of you not familiar with a pillory it is a device formerly used for publicly punishing offenders consisting of a wooden frame with holes in which the head and hands can be locked. It was a means for exposing one to public scorn or ridicule.
A stock is likewise a device for publicly punishing offenders consisting of a wooden frame with holes in which the feet or feet and hands can be locked.
It seems that Bardstown made use of both devices. The jail was just two buildings away form the court house and the stock & pillory were located in front of the jail house. Does anyone know for how long individuals would be locked in these devices? Was it hours, days, weeks or months? Were they returned to cells during the night then placed in the pillory the next day? I would like to know.
Oscar Getz Museum of Whiskey History
Our final stop of the day was the Oscar Getz Museum of Whiskey History. This museum contains a substantial collection of artifacts and documents, which tell the story of the growth of the local whiskey industry. I enjoyed this museum. It gave me time to mull over all that I had learned about making bourbon at the Marker's Mark distillery tour yesterday. Today it dawned on me that the difference between "White-Lightning" and Bourbon was the aging process in those charred white oak barrels. White Lightning isn't aged. It is the clear alcohol that is produced by the distilling process. Bourbon is produced by the alcohol expanding in the heat of those warehouses. The expanding alcohol is absorbed in the porous white oak barrels that have been charred on the inside. Alcohol mixing with the sugars of the white oak turns the clear "white lightening" whiskey to a brownish liquid and gives it the bourbon taste.
After a few hours back at the motorhome we headed out to enjoy "Stephen Foster The Musical" presented in an outdoor amphitheatre in the Old Kentucky Home State Park. It is a professional Musical that has been being presented nightly for years. As professional as it was it was still a Musical. No matter how many times I have sat through extravagant productions like this they just don't do anything for me. I know it is me but ……. I just don't get it. I suppose in my mind musicals are like caves…….. I have seen one! No I don't need to see another one. Yes, I know they are all different. I don't care. But now I can tell you details about Stephen Foster's life that I bet you don't want to know.
Sunday July 11, 2004
Louisville Metro KOA located across the river from Louisville, Kentucky in Clarksville, Indiana: N38° 16.811': W85° 45.206' $32.00 30-amp, full hookup paved site pull thru & free wireless modem.
The short drive from Bardstown to Louisville was uneventful except for passing signs to the Jim Beam distillery. If you are thinking about doing a distillery tour the Jim Beam one would be easy to access from I-65 at exit 112. Drive east on SR-245 for a mile and one-half and follow the signs to the distillery tour.
We crossed through Louisville on I-65 without stopping. The campground we are staying in is located across the Ohio River from Louisville in Clarksville, Indiana. It only took a matter of moments for us to get the motorhome set up then we headed out. Our first stop was Falls of the Ohio State Park just a few blocks from our campground. This State Park had a super Interpretive Center. The interpretive center had really good displays of fossils but it also covered industry along the river such as fishing and the fresh water clam industry. Barge traffic on the Ohio is heavy. The interpretive center also explained how the dams, electric generating facility, and locking system work.
When the early settlers came down the Ohio River they encountered the Falls of the Ohio. They had to portage around the falls in times of low water or hazard dangerous rapids in times of high water. Over the years canals and such have been constructed around the falls to facilitate boat traffic. The hard limestone layers of the Falls presented an obstacle to navigation for early explorers and settlers. This was the only place between Pittsburgh, Pennsylvania (where the Ohio River starts) and New Orleans, Louisiana where boats had dangerous rapids or a low water barricade of rock. Now the Ohio River has been dammed just south of Louisville and the river routed around much of the old Falls of the Ohio. Huge locks move barge traffic up and down 37 feet of elevation. The river is low now. The limestone rock that used to be the falls is now exposed and people walk on it. This limestone rock is an amazing fossil bed. More than 600 species of fossils have been described at the Falls with two-thirds of those being "type specimens" or fossils described for the first time. Over 250 species of corals have been identified.
The Falls of the Ohio were nothing like Niagara Falls. There were a series of rapids caused by water flowing over an island of hard limestone composed of vast numbers of fossils. The first rapids began in front of what is now downtown Louisville and dropped 26 feet over 2 and1/2 miles. When the dam was built in the 1920's the river's flow was restricted and most of the rapids were covered with water. Today, only remnants of these rapids remain below the dam at what is now the Falls of the Ohio State Park. The exposed fossil beds are now protected by the State of Indiana in the State Park.
Millions of years ago this area was a shallow sea located below the equator. It was during this time that corals flourished and deposited the limestone that is found throughout the area. Over time the continent drifted north to where it is located today. The river has exposed this limestone complete with fossils. When the dam was constructed upstream it left the fossil beds exposed during times of low water.
Now you know why so much of the interpretive center displays fossil remains from around the country.
Fresh water clam shells buttons on display at Falls of the Ohio State Park, Indiana
I was fascinated with the industry revolving around fresh water clams. Fresh water clams produce pearls as does the salt water oyster. Fresh water clam shells were also used in the manufacture of buttons. Seeing the round holes cut through clam shells was a first for me. I knew that clam shells were used to manufacture buttons but had never seen a clam shell with the holes in it. They must use a smaller version of the tool we use to cut a hole in a door in which to put a door knob. After the plug is extracted from the clam shell small holes must be made so that the button can be sewed on to the garment. The back side of the clam shell plug must also be finished in order to produce a button. Bottom line----one of those pretty buttons took a lot of work to make.
One of the displays said that 40% of the commercial water traffic in the continental U.S. flows on the Ohio River. That is hard for me to believe but that is what the display said. I suppose the term "in the continental U.S." must exclude traffic entering the nation's sea ports.
Jumbo Tow Covering Six Acres Conquers Ohio River
I marveled at a news paper article complete with picture of a huge tug boat pushing 36-barges. The article's headlines said "Jumbo Tow Covering Six Acres Conquers Ohio River". The article from February of 1970 related how this was the largest tow seen on the river. Some long time river people remembered seeing rafts of up to 30 barges but never 36. The 47,000 tons of cargo was the equivalent of seven 100-car freight trains. Larger tows have been seen on the lower Mississippi River where there are no locks but not on the Ohio River where locks have to be negotiated.
Monday July 12, 2004
Louisville Metro KOA located across the river from Louisville, Kentucky in Clarksville, Indiana: N38° 16.811': W85° 45.206' $32.00 30-amp, full hookup paved site pull thru & free wireless modem.
Joyce had a big day planned for us. First we headed to the Louisville Slugger Museum and factory tour. Neither of us was particularly interested in the museum but we did mosey through it. We did enjoy the factory tour where they were turning blank plugs of white ash into Louisville Slugger Base Ball Bats. White ash is the wood of choice for bats.
It was an interesting process and the factory tour was a good one. Via video we went into the hardwood forest along the Pennsylvania New York border with a forester looking for prospective white ash trees. To meet the criteria a white ash tree must be a minimum 16-inches in diameter around chest high. A tree such as this is 60 to 70 years old. That tree is marked with paint. A logger then cuts the tree being careful not to damage surrounding trees in the felling process. The tree is then limbed and the trunk cut into 10' lengths. These 10' logs are then transported to a processing plant. The 10' logs are then cut into 3 equal pieces a little over 3' each. In the plant these logs are processed by two different methods. One process involves sawing the log into 3'inch planks. Then the 3-inch planks are sawed every three inches. This makes "blanks" 3" X 3" by around 38-inches long. The other process cuts the log every 38" to 40". This 38" log is then placed into a machine that utilizes a drill that cuts out a 3"-diameter plug 38" long. I watched this machine working in a video so I did not see the actual machine but it was something to behold. I have cut a similar size hole in a door when installing a door knob. I know that even in doing that relatively small job I cut from both sides of a door less than 2" thick. I can not imagine that drill/saw cutting out that 38" plug. Not only did it cut out that plug it only took a matter of seconds and the plug does not have a hole in the center to keep the drill/plugger running straight. I questioned one of our docents about this machine. He said that the plugger had a huge counter weight or fly wheel attached the other end of the blade assembly that kept the speed of the drill constant while going through that log. He also pointed out that the drill was going through fresh wood that was moist and not yet hard like it would get after being dried. No matter if the wood is "new and soft" the process that bores a plug out of that 38" log is absolutely amazing. Equally amazing is that 38" log complete with bark still intact looking like a honey comb when all the plugs are removed. These blanks whether the 3" X 3" ones or the round plugs are stacked with spacers between them so that air can flow around each piece then they are placed in a kiln and dried until they achieve a 13% moisture level.
Once these blanks reach that magic 13% moisture level they are transported from the New York & Pennsylvania plant to the Louisville Slugger facility here in Louisville. We watched as these blanks were fed into automatic lathes that chewed each blank down to its "bat" shape in thirty seconds or so. Huge vacuums suck out all chips and saw dust. That raw bat still has protrusions on each end where the lathes hold the bat. These raw bats are then fed into a sanding lathe. The result is an unpainted bat with protrusions still on each end. The next step is to "brand" the Louisville Slugger Logo into the bat along with the name of some professional base ball star. This branding is done on the weakest portion of the bat therefore batters always place the label up so that the strongest part of the bat will be what comes in contact with the ball.
This branding process actually burns the wood. The bat has to be sanded again after the branding process. Next the bats are fed into another machine that chops off the protrusions used in the lathe. All that remains is for the bat to be painted or varnished. The painting process consisted of hand dipping the bat into a vat of either paint or varnish. The dipped bat is then hung from a hook where infrared heat is applied. As you might expect some of the paint will drip off the business end of the bat. A worker with a swab on the end of a stick carefully dabs that swab on the dripping ends. Because of the heat the paint sets fast and the bat only needs to be swabbed a time or two.
This finished bat is then packed for shipment.
It was a good tour and we were given small souvenir bats at the end. These will become play things for our grandson.
Next on Joyce's schedule was a glassworks tour. At the facility several glass artists were producing products in an area where you can watch them. Both of us were excited about this "factory-tour" because we have enjoyed watching another glass artist create his magic at his Wimberley, Texas studio. We were expecting much more than we got from this "tour". The artist in Wimberley was also an entertainer. He talks to the audience explaining what he is doing and why. In our self guided tour today we watched as artisans produced items but they did not talk to us. No one explained anything. Within minutes we realized that this glass artist demonstration was not going to be as interesting and informative as the one we were accustomed to watching in Wimberley. Bottom line, the Wimberley, Texas glass blowing demonstration is an excellent tour item while the one here in Louisville is something that can be skipped without missing much.
Churchill Downs, home of the Kentucky Derby: Louisville, Kentucky
The last item Joyce had us scheduled to do was a visit to Churchill Downs, home of the Kentucky Derby. There is no way someone can visit Louisville without visiting Churchill Downs. We toured the Kentucky Derby Museum and took a guided tour of Churchill Downs. The docent guiding us through Churchill Downs told us that around 140,000 partiers showed us to watch the Kentucky Derby this year at $40 per-head. At least I think that is what she said. In any event there are only 40K seats meaning that 100,000 had to STAND somewhere but mostly in the infield. She related that the Kentucky Derby was a BIG party and that most of the 140,000 in attendance would not (or did not) see the horses run but that none of them seemed to care. It seems that an incredible amount of "mint juleps" are consumed on that day. A mint julep is shaved ice, Kentucky Bourbon, a dab of water with a hint of mint. Because the Kentucky Derby is run the 1st Saturday in May each year it had not become unbearably hot yet. If 140,000 individuals would have been in Churchill Downs today there is not enough saved ice and Kentucky Bourbon in existence to keep them from withering. It is in the 90's with no breeze and the humidity is in extremis.
Joyce in front of Churchill Downs, home of the Kentucky Derby: Louisville, Kentucky
Both the Kentucky Derby Museum and Churchill Downs Tour were good entertainment, plan to do them when in Louisville.
By 5:00 we had achieved everything Joyce had scheduled for the day except dining on the River. I dined her on the river in a seafood restaurant yesterday afternoon but that obviously wasn't enough so I did it again tonight, this time in an Italian joint. Joyce cooked the other day----remember those vegetables? Now that we are near the river she expects to dine overlooking the river every night. I suppose she is building up some inner moxie that will put her into a "cooking-mood" one day in a month or so. Anyway, tonight we dined at Rocky's Italian in Clarksville, Indiana overlooking the Ohio River and downtown Louisville.
It was a beautiful night for eating outside on the patio. Do things get any better? I don't think so.
Until next time remember how good life is.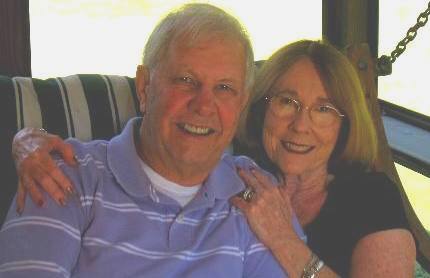 Mike & Joyce Hendrix who we are
We hope you liked this page. If you do you might be interested in some of our other Travel Adventures:
Mike & Joyce Hendrix's home page
Travel Adventures by Year ** Travel Adventures by State ** Plants ** Marine-Boats ** Geology ** Exciting Drives ** Cute Signs ** RV Subjects ** Miscellaneous Subjects
We would love to hear from you......just put "info" in the place of "FAKE" in this address: FAKE@travellogs.us
Until next time remember how good life is.