Mississippi: Vicksburg, Natchez Trace Parkway and Tupelo
Places Visited:
Mississippi: Vicksburg, Natchez Trace Parkway and Tupelo.

Friday June 25, 2004
Isle of Capri Casino & Campground Vicksburg, Mississippi: N32° 18.954' W90° 53.769' $14.55 full hookup 30-amp paved pull-thru pads & with phone connection & cable at each site.
It rained buckets yesterday afternoon and continued raining all night. It was even raining when we awoke this morning. Although still overcast it stopped raining for our 30-mile drive to Vicksburg.
Off the Natchez Trace in Mississippi
Instead of returning to the Trace we chose to go a more direct route since the Trace doesn't go by Vicksburg. A serendipitous event happened upon us with this decision. I had our mapping program SA-2004 (Street Atlas-2004) route us to Vicksburg. Not thinking a thing about the route SA-2004 had chosen for us we headed out in this very rural area. About two blocks from the Campground we turned on a narrow road. Fearlessly we kept going. A few moments later we started laughing. The road was paved but NARROW seriously narrow, there was no center line. We were not passing houses.
Mobile homes 5' off the ground supported by dexion in Mississippi
We did pass some ancient mobile homes. One of the mobile homes was about 5-feet off the ground wheels and all supported by dexion. I always thought that dexion was an extremely versatile shelving material but never imagined I would see a complete mobile home hanging in mid-air like it had been placed on a top shelf.
Thirty minutes later we were still on this seriously narrow road. We never got over 20mph. At one point we passed an older black lady on my side (driver's side) of the road. The expression on her face was priceless. Both Joyce and I smiled and waved. She didn't wave. All we got was "that-look" on her face. When I peaked in the rear view mirror she was waving like we were long lost relatives. We busted out laughing. The way we figure (southern term) it that woman had never seen anything like our big RV on that road and was completely shocked to see it. She obviously recovered from her shock after we had passed and decided to return our waves.
We were on that road over 30-minutes. Thank goodness the road kept getting wider the longer we were on it but it never got wide enough to have a center stripe. The whole time we were on the road we did not pass another vehicle. For the first 5 to 8 miles if we had met another vehicle one of us would have had to have backed up. Neither of us recalled any place we could have turned the motorhome around. What an adventure! We wouldn't need any more excitement the rest of the day.
In Vicksburg we spent the day touring the Vicksburg National Military Park. Vicksburg was one of the bloodiest battlefields in any war anytime. Vicksburg was a strategic piece of real estate since cannon on the cliffs could lay waste to boats traversing the Mississippi River. It was imperative that the Confederates hold Vicksburg. It was also vital to the Union to take it. The result was massive blood shed. We purchased a cassette tape that would narrate our 16-mile drive around the battlefield. The tape produced one fact after another in staccato fashion. I think I recall 32,000 dying on both sides. In one cemetery 17,000 Union Soldiers are interred. The Confederate Soldiers were buried in the town cemetery. Only Union Soldiers were buried in the National Cemetery because Confederate Soldiers were not US Citizens. When the Vicksburg National Cemetery was created it was stipulated that only US Citizens could be interred there. I think the tape said that the cemetery with the Union Soldiers is the largest National Cemetery in the country but another docent later said Vicksburg National Cemetery was the 2nd largest National Cemetery behind Arlington in the number of dead soldiers interred and acres. I think the tape said it was 17-acres. Whatever, a LOT of men died and are buried here.
Saturday June 26, 2004
Isle of Capri Casino & Campground Vicksburg, Mississippi: N32° 18.954' W90° 53.769' $14.55 full hookup 30-amp paved pull-thru pads & with phone connection & cable at each site.
It sure is nice to have a modem connection inside the motorhome. I like that. I know that I have mentioned that it has been raining since we have been in Mississippi and it has. This mornings Vicksburg Post ran a front page article about a 95-year rainfall record close to being beaten. In June of 1909 Vicksburg recorded 9.69 inches of rain compared to 9.57 inches for June this year. On top of that it has rained both Friday and Saturday with more predicted tomorrow. I think the 95-year rainfall record has safely been bested.
As usual Joyce had a list of things for us to do today. Our first stop was an old house noted for its architecture and stained glass windows. The current owner was a retired rocket scientist with NASA. In addition to being a rocket scientist he was an avid historian. Did I mention that he was our personal tour guide? Like all engineers he was big on details. Noted architect Frank Lloyd Wright's teacher was the architect for this house, his name escapes me. Until this house was constructed all notable homes were constructed with some form of European theme (Romanesque, Colonial, Victorian etc.,). This home was American and "Possibly the finest example of Mission style architecture in Mississippi" according to the National Register of Historic Places. Oak was the interior finishing material inside the home while the outside was blond brick from Wisconsin. Interior doors were solid oak pocket doors as was literally thousands of board-feet of rich woodwork that dazzled with every turn of your head. Bill Smollen the "rocket-scientist" owner went on and on describing the detail work in the stained glass. Tiffany lights were in every room. It seems that stained glass window masterpieces by the "master" are like art work and have to be insured. According to the National Register of Historic Places this place is "one of the most lavish residential displays of leaded and stained glass".
Later, while at lunch, I noticed the menu suggested "gumbo with fresh Gulf Crawfish". "Gulf-Crawfish," now that was an oxymoron if I have ever seen one. I asked the young waitress about their fresh "Gulf-Crawfish" and she assured me that they came fresh from the Gulf. I was about to have some fun with the waitress but Joyce wouldn't let me. Joyce quickly told her that crawfish were freshwater creatures thus did not come from the Gulf. Undaunted, the waitress assured her that their supplier guaranteed they did. Oh well, I will record that one on my list of oxymoron's right up there with military intelligence.
Our next stop was Vicksburg's Old Court House Museum. The old Court House is where the Union raised the stars and stripes after taking Vicksburg. The only reason it was not destroyed in the war was---------- the Confederates moved Union POW's into the building. That maneuver saved the building. It is now a Museum and a good one. Talk about an old building it was constructed a few years before the Civil War so that would put it being constructed in the 1850s. In addition to the court house there were many houses in town constructed in the 1800s. If I recall most of them had dates after the war. I suspect most of the towns houses were destroyed. Most houses may have been destroyed but there was one old house on the National Battlefield that was there during the actual battle. According to a kiosk it said that a woman and child were in the building situated between the two opposing armies when the battle began. They fled the house and hid in a cave nearby as cannon balls whizzed overhead. After a day or so both armies realized a woman and child were between them. Together the opposing armies arranged to allow safe passage out of the area for the woman & child.
Then to top off the day Joyce had booked us on a Mississippi River Boat Tour on the "Sweet Olive". The "Sweet Olive" tour boat took us for a one & a half hour narrated historical cruise/tour. We took the sunset cruise and it was a good choice. We rode up the Yazoo River then up and down the Mississippi River getting a good view of Vicksburg and the surrounding waterfront. What a way to top a day!
Tomorrow we are heading back to the Natchez Trace where we will pick it up in Jackson, Mississippi and see how far we get. We have studied as far up the Trace as Natchez but that is 200 miles up the Trace and that will be a LONG way to travel at no more than 50mph. We'll see.
Sunday June 27, 2004
Tombigbee State Park Tupelo, Mississippi: N34° 13.842' W88° 37.212' $14 full hookup 30-amp paved pads, situated on a large lake, plus a modem connection in the office.
From Vicksburg we took I-20 east to Jackson, Mississippi where got back on the Natchez Trace and started NE again. We stopped several times along the way at pullouts to take short hikes on the Old Trace. I am impressed that the ruts from that old path are still very evident 150-years after it was last used. Remember that when steamboats started moving passengers and freight up river people no longer had to walk back up the trace to get home. According to what we are able to read heavy traffic on the Old Trace ceased by 1850. Railroads also contributed to the demise of the Old Trace.
We stopped in Kosciusko, Mississippi at the Information Center/Museum. Kosciusko, how do you like that for a name? Try to pronounce that! Actually it is a Polish name that has been "Southernized". The town was named for Tadeusz Kosciuszko, I told you it had been "Southernized" and I don't blame them, it is hard enough without the Z that has been omitted. Kosciuszko served under General George Washington during the Revolutionary War.
Kosciuszko was in Paris in 1776 when the streets pulsed with word of a possible revolution in Great Britain's North American colonies. He was excited by the news. A military man with considerable experience, he had an unquenched thirst for military conflict and strategy.
Kosciuszko traveled to the colonies. He volunteered for military duty immediately upon arriving. He quickly earned the respect of his officers with his engineering knowledge. He was a master fort builder, a talent that was critical to the defense of the colonies. It wasn't long before Kosciuszko rose to the rank of brigadier general.
At the end of the war Kosciuszko returned to Poland and participated in an uprising against Prussia and Russia. He spent several years in a Russian prison camp. His release was contingent on him never returning to his beloved Poland.
Kosciuszko returned to America and made it his new home. He was greeted with open arms and treated like royalty. But what does all this have to do with Kosciusko, Mississippi? I am getting to it, hold on.
The area where present day Kosciusko is was called Red Bud Springs. As the town grew they wanted a more distinguished name. They asked for suggestions. Their State Representative suggested Kosciuszko because his grandfather had served with Kosciuszko and spoken so highly of him. The townspeople agreed and the State Representative introduced legislation naming the town in Kosciuszko's honor. Unwittingly, he left out the Z creating the current spelling of the town's name.
Ironically that isn't to be the last time a misspelling has occurred in Kosciusko.
This sleepy little town has another claim to fame. America's beloved daytime-television personality Oprah Winfrey was born in 1954 on a rural farm on the outskirts of town. She was actually named Orpah, after the Biblical Ruth's sister-in-law, but because of a spelling error, she became Oprah.
Spelling errors seem to be in vogue around this little town don't they?
Somewhere along the Trace today we stumbled across a flock of 8 to 10 wild turkey feeding in the Bahia grass. We are always excited when we see wildlife like that.
Back on the Trace we stopped by a place called Pigeon Roost. It seems that millions of passenger pigeons used to migrate through this area nearly 200-years ago. So many pigeons would roost in the trees that the branches would crack and break. When I read stories like that it just amazes me that passenger pigeons are now extinct. How did that happen? How could it have happened?
We are noticing an increasing number of pine trees as we head north. The southern area of the Trace is predominantly hard woods.
We stopped for the night in Tupelo, Mississippi. On our way to the campground we passed by Elvis's birthplace. It was ridiculous the number of cars around the place. It must be a State Park or National Park since there was an official brown sign providing directions. We will probably check it out before leaving Tupelo.
Blue birds are thick as flies at the state park. Tombigbee SP has mounted blue bird houses on fences and trees and the birds are utilizing the majority of them. It is hard not to be mesmerized by the activity of these beautiful blue birds as they gather insects and scurry back to the nest box to feed hungry young.
Did I mention that we saw the sun this afternoon? It has been nearly a week since we last saw it. Rain was the order of the week until this afternoon. It is good to see the sun again but with the sun comes the heat and stifling humidity. Oh well, the cool wet weather was a welcome respite from the normal end of June humidity soaked heat wave.

Monday June 28, 2004
Tombigbee State Park Tupelo, Mississippi: N34° 13.842' W88° 37.212' $14 full hookup 30-amp paved pads, situated on a large lake, plus a modem connection in the office.
It started raining again last night and continued today.
We are in Tupelo, Mississippi a town cradled in the hills of Northeast Mississippi steeped in history. It was named long ago for the Tupelo Gum Tree. In 1540 Hernando De Soto explored here. De Soto continued his exploration to the west and achieved immortality when he became the first European to see an inland portion of the Mississippi River.
Tupelo was also on the Natchez Trace making it a stopover between the late 1700's and early 1800's. During the Civil War the Battle of Tupelo claimed over 2,000 lives in July 1864. By 1887, three railroads converged on Tupelo helping develop a manufacturing base to supplement traditional agriculture.
Still the most significant landmark at least in modern Tupelo history is a modest, two-room house where the King of Rock & Roll was born on January 8, 1935. This small house draws more than 50,000 visitors each year from all over the world. Tupelo brought the house and land and it is now an official Mississippi landmark. For those of you who don't know who "The King of Rock & Roll" is well, it is none other than Elvis Presley.
Joyce had several places for us to visit today. The first was a National Fish Hatchery. Their specialty is warm water fish. They were raising and spawning alligator gar, striped bass and paddle fish to be stocked around the Southeast.
Joyce on the front porch of house where Elvis Presley was born in Mississippi
Next we headed to the small home where Elvis Presley was born. The two-room home where Elvis was born has been restored to its original condition. It is only 400 square feet with no plumbing or electricity. We are now "completely-fulfilled" ------ we have seen Elvis's birthplace, what more could we ask for?
Joyce with statue of 13-year old Elvis
Lest I forget there was a statue of 13-year old Elvis with his guitar. How could Joyce not get her picture with Elvis? Well, here it is. Did I say it was raining?
There was an Elvis museum but we did not do that. Seeing the small home was enough Elvis for us.
The remainder of our day was spent back at Tombigbee State Park.
Tuesday June 29, 2004
David Crockett State Park Lawrenceburg, TN: N35° 14.617' W87° 21.184' $17 30-amp with central dump, situated on a large lake, plus a modem connection in the office.
It was raining again this morning. We have experienced rain every day for the last 8-days. Thankfully, it is cool and we are grateful for that. Farmer's fields are flooded. I don't know when these farmers will be able to get a tractor in these fields but it won't be anytime soon.
We got an early start and headed up the Trace. We weren't far from the Tennesseee Alabama border but, before crossed into Alabama we started to see rock outcroppings in road cuts. In Alabama we saw more rock outcroppings. We were not long in Alabama. The Trace just cuts across the Northwest corner of Alabama. Then we were in Tennessee. Once in Tennessee we started spotting turkeys in the grassy areas.
Our destination today was Davie Crockett State Park in Lawrenceburg, Tennessee. After paying for a spot we quickly set up then headed out in the Saturn. We had information on an Amish restaurant a few miles away in the town of Ethridge, . As it turned out the restaurant wasn't really Amish but did serve Amish food. We enjoyed the buffet style lunch even if it wasn't a real Amish cook.
After lunch we took a horse & wagon tour of Amish Country. Joyce and I were the only ones on the tour. Our guide took us to several Amish farms. The roughly 75-acre farms we visited consisted of a "family" mother, father and 12 to 18 children. All were barefoot and dressed in simple navy blue clothing. When I say all were barefoot I mean men, women & children. We did not see any in shoes. Pants had buttons not zippers. Men and boys were all wearing wide brim straw hats. Ladies and girls all wear long navy blue dresses with bonnets. These families grow virtually everything they eat. None of the Amish farms have any electricity. They do not use tractors. All have 4 to 6 draft horses to do the plowing. They also have "trotting" horses to pull buggies. Of course they also have cows, goats, sheep, chicken and ducks. At one house we visited 5-children were heading off with pails to pick black berries. At another home a blind man was making oak baskets. Of course Joyce purchased one. At another farm they were selling fresh vegetables. Joyce got a variety of these vegetables so I suppose she is planning to cook. I will let you know when that happens. Another stop was to purchase bread but they had sold out. One place had a small flock of sheep mowing the grass around the farm-house under the watchful eye of the family's Border collie. Everything and everyone around one of these farms has a job. Even the cats have to earn their keep by keeping rodents and snakes away from the house and barn.
We really enjoyed our buggy ride to these Amish farms. After the tour was over Joyce and I got in the Saturn and drove around the back roads in the area looking at other farms. This is beautiful country.
If you are interested in visiting the area you might want to visit www.Tennesseeamish.com that should give you some information about the horse and wagon tours.
Back at David Crockett State Park we did some exploring. Davie Crockett is probably Tennessee's most famous native son. Although Davie Crockett was born near the little town of Limestone in northeast Tennessee in 1786 he moved here in 1817. While here he served as a justice of the peace, a colonel of the militia, and as a state representative. Along a creek in this park he established a diversified industry consisting of a powder mill, a gristmill and a distillery. All three operations were washed away in a flood in September 1821. Financial difficulties from this loss caused Crockett to move to West Tennessee where he was elected to Congress. While in Washington, he fought for his people's right to keep land they had settled on the new frontier of West Tennessee. As you probably remember David Crockett died at the Alamo in March 1836 while aiding the Texans in their fight for independence from Mexico.
Wild Mississippi turkey
Around 6:30 we took a drive around the park. Wildlife was prolific. We saw multiple flocks of turkey.
Pardon the quality of these turkey pics. The gobbler with that huge beard was back in the woods and it was getting dark. The hen was a long way off and a bit weary.
Deer seemed to be in pairs around every turn. At one point we watched two deer in a clearing that were paying close attention to something in the woods. We watched then saw a bobcat emerge from the woods and crouch on the edge of the clearing. The deer were doing a lot of snorting and having a stare off with the bobcat from about 30 feet. We took pictures and video until we tired of it. Down by the lake we watched a flock of over 100 Canadian Geese feeding on a grass covered levy. We were amazed at how many geese there were. They were all adults. I wonder where the little ones are. We didn't see any baby turkey with any of the flocks we saw today either.
Wednesday June 30, 2004
Two Rivers Campground; Nashville, Tennessee: N36° 13.936' W86° 42.251' $35 with Good Sam 50-amp full hook up. (Between KOA & Yogi Bear Campgrounds)
Needless to say it was raining this morning. This is beginning to be routine.
We are headed up the Trace again today on our last leg of the Natchez Trace before it's terminus on the southeast side of Nashville. In addition to the Trace itself Joyce had several things planned for today. One of the "biggies" did not work out. We were planning to take the Saturn factory tour in Spring Hill, Tennessee. However, when we called this morning they said we were welcome to come and take the plant tour but wanted us to know that the line was shut down this week for inventory. No one would be in the plant putting those little cars together. Well duh, who wants to take a factory tour of an automobile manufacturing plant when the plant is not in operation? Needless to say we passed on that. We had both looked forward to that tour.
The only stop of significance on the Trace today was the Meriwether Lewis Site. This would be the Lewis of Lewis & Clark expedition fame. At the time he and William Clark were national heroes. As a reward or whatever for that accomplishment, President Thomas Jefferson appointed Lewis governor of Louisiana. Remember at that time Louisiana was that area of land west of the Mississippi River stretching to the Rocky Mountains. His office was in St. Louis.
While in St. Louis he was having bureaucratic problems. Wouldn't you know it government bureaucrats have been around for a LONG time? A refusal by the War Department to honor several of Lewis's bank drafts from the Lewis & Clark Expedition drove him to return east and defend those expenditures.
In 1809, Lewis left St. Louis and traveled on the Mississippi River, bound for New Orleans with the disputed vouchers and documents from his expedition. His plan was to board a ship in New Orleans and travel to Washington where he would have the accounts of the Lewis & Clark expedition edited and published in addition to dealing with those bank drafts not being honored by the War Department.
On the way news of the British operating south of New Orleans changed his plans. He disembarked in Memphis and traveled from near Memphis overland to the Natchez Trace.
The overland route would take much less time, but it would also make for an extremely arduous journey. So why did Lewis change his plans? We may never know but he wrote in his journal that the heat troubled him and that he feared the higher temperatures farther south. Others say he was anxious about rumors that England and the United States were on the brink of war. Reports of British warships off the Atlantic coast may have caused Lewis to worry about the safety of his Lewis & Clark Expedition documents. The decision to continue his journey overland may have saved his expedition notes, but it cost Meriwether Lewis his life.
Grinder's Stand on the Natchez Trace
Lewis made the trek overland from near Memphis to the Natchez Trace. He arrived alone late one afternoon at Grinder's Stand on the Natchez Trace during a violent thunderstorm. Mrs. Grinder, wife of the owner, recounted that Lewis inquired about room and board for himself and the companions he was expecting later in the evening. Mrs. Grinder observed that "Lewis seemed distraught all evening, pacing back and forth, and muttering to himself. His behavior upset us so that my children and I stayed in the kitchen all night. Sometime after midnight I heard a pistol shot and then Governor Lewis screamed, Oh Lord." And then there was another shot."
Lewis was found with gunshot wounds to the head and side. He died shortly afterward, his death being attributed to suicide. However, many involved in the investigation of his death found evidence of murder. Some historians have even alluded to a conspiracy among government agents in St. Louis, who may have been jealous of Lewis's friendship with the president and his other connections in Washington. Others have since investigated the death and are convinced he had been murdered. Mr. Grinder was later arrested and charged with the crime, but he was soon released due to lack of evidence.
Monument marks the location where Meriwether Lewis died along the Natchez Trace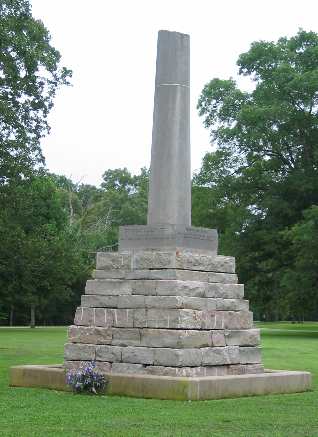 The fact remains, Meriwether Lewis is dead. Today, a monument marks the location where Meriwether Lewis died at the young age of thirty-five.
In addition to the monument a replica of Grinder's Stand and a portion of the Old Natchez Trace are located at the site.
As we prepare to end our trek up the Natchez Trace I would like to add that the trace was very important in the early development of our country. Many important people traveled up and down the trace. Meriwether Lewis was just one of them. Andrew Jackson and his army traveled down the Trace to fight the British at the Battle of New Orleans in January, 1815.
The next leg of our journey took us into Nashville where we are going to "hunker-down" for the 4th of July weekend. We had not made reservations. That is something we really do not do but probably should do on occasion. We were planning to stay at the KOA in Nashville because of its location. In some places LOCATION is important and Nashville is one of those places. Not really wanting to stay in a KOA we were on the lookout for a suitable alternative when we stumbled upon Two Rivers Campground about two blocks from the KOA, we pulled in and got their LAST spot for the weekend. The ladies at the desk chided us for not having reservations for the 4th weekend. One lady said we got the last vacant spot in the area for the weekend. Oh well, even a blind hog finds an acorn every once in a while. We found our acorn this afternoon.
Until next time remember how good life is.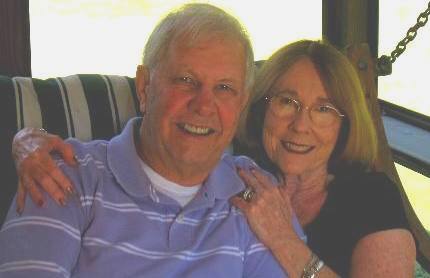 Mike & Joyce Hendrix who we are
We hope you liked this page. If you do you might be interested in some of our other Travel Adventures:
Mike & Joyce Hendrix's home page
Travel Adventures by Year ** Travel Adventures by State ** Plants ** Marine-Boats ** Geology ** Exciting Drives ** Cute Signs ** RV Subjects ** Miscellaneous Subjects
We would love to hear from you......just put "info" in the place of "FAKE" in this address: FAKE@travellogs.us
Until next time remember how good life is.