Florida: Kissimmee Lakes State Park, Mayakka River SP, Sarasota
Places Visited:
Florida: Kissimmee Lakes State Park, Mayakka River State Park, Sarasota
Sunday, February 23, 2003 We navigated a series of county roads from Kissimmee to Lake Wales then into Lake Kissimmee State Park. Lake Kissimmee State Park. Located East of Lake Wales. $15 per-night water, 30 amps with central sewage station.
We headed out of Kissimmee around 10:30 this morning. Instead of traveling main highways Joyce let Street Atlas route us over county roads. We exited Tropical Palms on US 192 heading east to Poinciana Road (the corner Camping World is on) where we turned south. Within two blocks of US 192 "the-strip" disappears and wild and rural Florida appears. Less than ½ mile down the road we spotted 5 wild turkeys feeding along the road. Joyce and I had trouble believing what we were seeing. We were barely out of sight of the Camping World store and the hustle and bustle of "the strip" yet wild turkeys are feeding on the roadside.
After arriving at Lake Kissimmee State Park we went for a ride in the Saturn to see what was happening at fish camps located within a few miles of the State Park. We didn't see many fish but did see a plethora of birds that are not at all common to us. Joyce spotted a turkey gobbler in a cow pasture. We saw loggerhead shrikes, American Kestrels, limpkins, broad wing hawk, short tail hawk, common moorhens (common gallinule), anhinga, a wood stork, Eastern peewee, great egret, Eurasian collared doves and boat tail grackles.
Monday, February 24, 2003 Lake Kissimmee State Park. Located East of Lake Wales. $15 per-night water, 30 amps with central sewage station.
This was a laidback day where we didn't do much more than take a long walk on the trails in the park. One trail was supposed to have 5 eagle's nest on it plus some great horned owls. We walked for over 6-miles and never saw the first eagle nest. Since eagles nest in the winter we would have seen the adult eagles and their fledglings. Although we did not see any eagles or great horned owls we did see a dozen or more deer and armadillo. Broad-winged hawks, turkeys and sandhill cranes made up for the lack of eagles. This is the most deer we have seen in Florida.
A feature of this park is the old "cow camp" left over from the mid-1870s. Unlike cowboys out west the "cow hunters" of Florida used trained dogs and whips to drive cattle. The loud crack of the "cow hunter's" whip is what moved the cattle. Cow camps were built along cattle drive routes. The camps consisted of a holding pen for the cows and a primitive shelter for the men.
The small, lean "scrub cows" were descendants of Andalusian cattle brought to the area by Spanish explorers as early as the 1500s. Each year there were long cattle drives to the west coast of Florida near Fort Myers, where the cows were loaded aboard ships and sent to Cuba.
It would only be fair to say that this park is located in the "boonies" (no telephone in the park for campers to use & no cell-phone service). They do have electricity and water. Orange groves, cattle ranches and fish camps are the dominant feature outside the park.
Tuesday, February 25, 2003 Myakka River State Park near Sarasota
We traveled to Myakka River State Park near Sarasota this morning. Using our Street Atlas program Joyce plotted our route over a series of county roads. Only with a mapping program like Street Atlas would we be able to see some of the sights that we are becoming accustomed to. Paper maps just do not have these small roads on them. Cattle ranches and citrus groves dotted the landscape. Wood storks were the only wildlife of note today. While passing through the community of Frostproof we passed a "Ben Hill Griffin" citrus processing facility. For those of you that do not know Ben Hill Griffin is "Mr. Florida Gator Football". He has donated copious amounts of money to the athletic program at the University. When you donate the quantity of cold hard cash to the program that Ben Hill Griffin has the university will name the stadium for you. Now you know why the SWAMP is smack in the middle of Ben Hill Griffin Stadium. You might say Ben Hill was one sick puppy during the last football season! After this years recruiting most of the Gator faithful are feeling better. Time will tell. (Only one game matters any way RIGHT? VBG)
In Myakka River State Park we met up with Joe and Lee who are volunteers at the park. We had tried to make reservations at Myakka River State Park or Oscar Scherer State Park (both close to Sarasota) weeks ago. Both parks were full. We made a call to Joe and Lee to see if they could pull some strings since they are "well-placed" park volunteers. As it turns out they got us into a volunteer site next to them for the three days we planned to be in the area. It is nice to have friends in the right place! Lee took the afternoon off to show us around the park then took us to a volunteer party around 6:30. Joe was driving a huge tractor on a controlled burn and did not get back from the burn until around 7:00. Lee says Joe is like a kid in a candy shop with all these big toys (tractors) to play with.
Over 300,000 acres of Florida's interior was once prairie covered with grasses, wildflowers and a scattering of cabbage palms. Before human intervention, the prairie thrived as lightning fires and seasonal flooding controlled the ever-invading woody plants and trees. Before man started putting out fires that nature started (lightning strikes) fire used to regularly race across the Florida peninsula. The trees that survived this regular fire threat were the ones in wet areas or that had special adaptations. Now we know that fire gives life to the prairie (without it the prairie turns into a forest). Instead of allowing wildfires to race across the peninsula like in the days of old, controlled burns are set that accomplish nearly the same thing but do not threaten buildings and such.
What nature once did naturally man is doing in a controlled way by setting fires. Within weeks of a fire green grasses and wildflowers appear. The prairie is home to caracaras, burrowing owls, sandhill cranes and many other animals that depend on the prairie for their existence.
Now you know what Joe was doing (working on a controlled burn) and why he was doing it.
Wednesday, February 26, 2003 Myakka State Park near Sarasota
P.J. Benshoff, in her book Myakka describes Myakka as "_shady hammocks of twisted oaks and aerial gardens, down the wild and scenic river, and across a variegated canvas of prairies, piney woods, and wetlands_". That pretty much sums up the landscape but completely ignores the myriad forms of wildlife.
We stayed in the park walking trails, viewing a wide variety of wading birds, alligators, turkeys, endangered wood storks and other wildlife. We took an airboat ride along the shore of North Lake hoping to see even more wading birds but it was "alligator" day. Very few wading birds were visible but large alligators were a dime a dozen. Many were 10 to 14 feet in length. Those are large alligators by any standard. You do not need to take a boat ride in order to see alligators in the park. Even the blind and terminally stupid can spot all the alligators they care to count.
We watched a pair of sand hill cranes with two chicks. This was the first time we have viewed cranes interacting with chicks. We did not spot any deer today but watching a group of hen turkeys with a lone gobbler made up for that.
Joe worked another controlled burn today but we were able to get together with them after dinner.
Thursday, February 27, 2003 Myakka River State Park near Sarasota
Today was a wonderful day for us. We slept late then went into Myakka State Park and spent a short time with an ornithologist while we viewed and identified a wide variety of birds. He was good (he could identify birds) and could explain to others the slight variances between similar birds.
After getting our bird fix we headed into Sarasota to check out a couple of RV Parks to stay in next week. The first place we checked did not have a modem connection. That was all I needed to here since I have not been able to download/upload e-mail for a week now. We left without asking what they charged. Our next stop was Sun-N-Fun RV-Resort. We decided to stay. This is what I call a "mega-park" with over 1,700 RV-sites. They have 4-levels of sites ranging from a grass spot with full hookup to a concrete pad and concrete patio area. The cheap sites are $40 per-day. Like in Kissimmee you are paying for LOCATION. They did not have any vacant "cheap" sites and only had one of the "next-cheapest" sites available at $44 per-day. We took it! We were "lucky" (can you get lucky at $44 per-night?) to get the last vacancy. When it came time for Joyce to pay the man said he would give her a "discount". Thankfully, he really did give her a discount, as the per-night fee ended up being $38.05 with tax.
As you might imagine this "resort" has it's own restaurant, bar, laundry, fitness center, computer lab with computers connected to the internet plus 10 or so telephone modem lines and Ethernet connections, fishing lakes, meeting rooms, heated Olympic-size swimming pool, lighted tennis courts, woodworking shop and the list goes on and on. >From what we could see today many children and grandchildren were visiting the snowbirds wintering in the park. Rates are considerably cheaper the longer you stay in fact those that stay in the "premium" sites for 3-months may be getting those sites for somewhere around $30 per-day. That is probably cheap considering what they are getting and the location. You can say these snowbirds are NOT wintering over on the "cheap".
By the time we completed making arrangements for our weeklong stay in Sun-N-Fun it was time to head to Oscar Scherer State Park to see our friends Det and Judy. Those of you on RV-Talk will recognize Det as a regular contributor. Det and Judy are on vacation and passing through the area. We knew their schedule and had made arrangements to meet them on their stopover at Oscar Scherer State Park located in Sarasota. By the time we arrived at their site they were ready to jump in our car and go sightseeing. Judy wanted to see alligators, specifically, big live alligators up close. To accommodate this wish we drove out to Myakka River State Park. Spotting large wild alligators at Myakka River is like visiting a zoo. They are there and on display. We also enjoyed locating a host of other unique birds.
It did not take more than an hour and we had seen and experienced enough gators and birds. Next it was time to head for the barrier islands off Sarasota and Venice to ogle the estates where nouveau riche winter in luxury. Those barrier islands host some magnificent houses with beautifully landscaped yards. The drive with four of us in the car was a constant WOW look at that one!
At Venice Inlet we stopped at a city park and walked out on the jetty to watch the activity of fishermen, diving pelicans and beach walkers collecting shells on the beach. This looks like a place worthy of a return visit. Just up the road at the foot of the bridge to Nokomis we spotted 4 motorhomes in a shady city park. The RV'ers were outside playing dominoes on a picnic table. We noticed 3 of the rigs were from Ontario. A sign in the park read "No Overnight Parking". I stopped and asked them where they were staying at night. They all responded "in a friend's driveway". I asked if their friend had room for one more. No! They replied. It was worth a try! They said that everything was fine with the authorities so long as they were out of the park by mid-night, but that they vacated the park long before that. We suspect that they connect to the friends 110-volts while in the driveway at night and recharge their batteries. The weather is so nice that they could easily stay in the area indefinitely without ever having more than the 110-volt connection at night. Talk about getting by on a shoestring those folks are wintering in a "HIGH-COST" luxury area and doing it almost for free. I am green with envy.
Dale and Cheryl our friends from Orlando had told us to eat at a restaurant and fish market called Urbanek's located at the bridge from the island to Nokomis. It was 5:00 and time for supper. Urbanek's (now called Pop's Sunset Café) is located directly across the waterway from where the RV's were staying in the park. As we pulled into the parking lot we could hear the entertainment playing Jimmy Buffet music. While we dined pleasure boats plied the waterway as the sun disappeared below the horizon. To cap off a wonderful evening at Pop's Sunset Café we all danced to an old Eagle's tune. I do not know how it could have gotten any better. Thanks to Dale and Cheryl for telling us about this place. On second thought, it may have been better if we had won the lottery.
Until next time remember how good life is.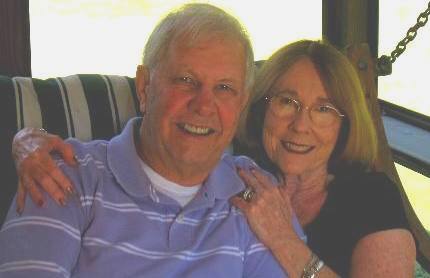 Mike & Joyce Hendrix who we are
We hope you liked this page. If you do you might be interested in some of our other Travel Adventures:
Mike & Joyce Hendrix's home page
Travel Adventures by Year ** Travel Adventures by State ** Plants ** Marine-Boats ** Geology ** Exciting Drives ** Cute Signs ** RV Subjects ** Miscellaneous Subjects
We would love to hear from you......just put "info" in the place of "FAKE" in this address: FAKE@travellogs.us
Until next time remember how good life is.