New Mexico: Magdalena
Places Visited:
New Mexico: Magdalena
July 10, 2003 Trailer Ranch RV-Park Santa Fe, New Mexico. This is a top notch RV-Park with concrete pads, 50-amps, cable, pool and a modem.
This was a "down-day". We have been going hard the last few days and have a big weekend planned. It was just what we needed to recharge our batteries.
I have been enjoying the book, True Tales of the American Southwest (Pioneer Recollections of Frontier Adventures) by Howard Bryan a former newspaper reporter for the Albuquerque Tribune. Howard published pioneer stories in a twice-weekly column back in the 1950s. To get his material in the 1950s, Howard interviewed individuals most over 85 years old with some over 100. The book is a well written account of each of these individuals and the stories told by the individuals. The result is nothing short of amazing. Virtually all of the individuals traveled all over New Mexico, Mexico and adjoining states and territories from 1865 to the 1950s. It was the late 1800s and early 1900s that were really wild. It is no wonder that New Mexico was not admitted to Statehood until 1921.
During the time New Mexico was a Territory, prior to 1921, there was a Justice of the Peace system. Each district elected a "Justice of the Peace". At the time it was not necessary to be a lawyer, or to have any knowledge of the law, to serve as a justice of the peace. Any literate American citizen who was at least twenty-one years of age, and met residency requirements, was eligible for election. As you can imagine "judicial irregularities" were common. I am going to share some of them with you.
"One New Mexico justice of the peace, presiding at the jury trial of a man charged with larceny, told the jury to retire and reach a verdict just as the prosecuting attorney rested his case. The defendant's lawyer, stunned by this irregular procedure, reminded the justice that he had not yet been given the opportunity to defend his client." "Oh, I don't think that will be necessary, the justice said. The jurors have the facts pretty well in their minds, now, and anything you might say would merely confuse them."
Amos Green was a colorful JP who ended marriage ceremonies with these words, "Those whom God and Amos Green have joined together, let no man put asunder."
"A tall, lanky cowboy and a bashful, young ranch girl appeared before Judge Green one day and asked him to marry them. When he had concluded his usual ceremony, the cowboy looked at him for a moment, and then asked, "Well, how much do I owe you?" Green, looking at the bride with a smile, replied, "well, I usually charge according to how beautiful the bride is." "The cowboy stood silently for a moment, then dug down into his pocket, pulled out a dime, looked at it, and handed it carefully to the judge. Green looked at the dime, glanced at the bride, then reached into his own pocket and handed the cowboy a nickel change."
A man stood jury trial on charges of stealing a horse. "The jury quickly returned a "not guilty" verdict, and the judge called the man before him and told him that he had been found innocent of the charge, and that he was free to go. The man stood silently for a moment, with a perplexed look on his face, and then asked, "Well, does that mean I can keep the horse?"
There is page after page of these, but enough is enough.
The Taos fire is still raging on "sacred" land. Only Indian firefighters are fighting the fire. Planes are not dropping "slurry", only water. The Indians are having a pow-wow to discuss whether non-natives can be allowed to fight the fire in the "sacred" land. If things get "real-bad" they might consider dropping slurry even on the sacred land, then if they even get worse they may allow non-natives to join the fight on the sacred land.
July 11, 2003 We drove 154 miles to Grizzly RV-Park: Magdalena, New Mexico 50-amps, full hookup, completely dirt sites and entrance road, no shade. $18 per-night.
It has really been HOT in New Mexico the past week or so and the "stationary-high" sitting on top of New Mexico is not expected to dissipate until later nest week. The result has been record high temperatures across New Mexico. We got up EARLY (for us) and were on the road by 7AM on our way to Magdalena some 154-miles south of Santa Fe. By getting on the road early it was a much cooler drive. We arrived in Magdalena by 11AM got the motorhome set up and headed to lunch.
From Socorro to Magdalena US 60 gains 2,000 feet in altitude over about 17-miles. Although it is around 25-miles from Socorro to Magdalena the CLIMB is confined to around 17-miles. When the rail road ran a line from Socorro to Magdalena it was nicknamed the "elevator" because of that grueling climb. Today, by the end of that climb, the motorhome was down to 20-mph. There was no problem holding up traffic because there isn't any. The occasional pickup that comes along breezes on by without slowing down.
After eating we again visited the wool processing plant in Magdalena. The owner of the processing plant gives informal tours while he turns raw wool into yarn. Plants like this really intrigue me and this plant tour was as interesting as any we have experienced. If you happen by Magdalena make sure you stop in and visit the wool processing plant. You can't miss it, in fact you can't miss anything in Magdalena.
There is an "Ole Timers Reunion" in Magdalena this weekend. That is why we have returned to Magdalena. All kinds of events and entertainment are planned.
At the rodeo grounds we watched as a crew of locals tended a huge fire they had built in a 4 foot deep hole in the ground. The hole was approximately 6 feet wide by 15 feet long. The fire burned until it was reduced to a bed of coals. Meanwhile the men prepared 90-gallons of "baked beans" in barrels with lids. When I say barrels I mean 55-gallon barrels that have been cut off so they hold around 30-gallons. Special lids have been constructed for these barrels. The same type barrels are also being filled with beef. The men had 800 pounds of Boston butts they were seasoning then individually wrapping in tin foil. Several inches of water was added to the bottom of each barrel then the tin foil wrapped Boston butts were added until each barrel was full of these individually wrapped roasts. The full barrels, lid on, were then lowered into the pit and onto the coals. With rows of barrels, full of beans and beef, the next step was to place metal sheets across the pit. With the sheets of metal in place they covered the metal sheets with earth to a depth of around 3-inches. One of the "cook" leaders explained to me that the huge fire had heated the earth below and around the pit. With earth placed on top of the pit, heat trapped inside cooks whatever is contained in the barrels. Tomorrow around 12 noon the men will shovel earth off the metal sheets and remove the barrels of food.
I am looking forward to watching the 2nd half of this cooking class tomorrow.
In addition to the fun stuff we worked in a few "galleries" to keep Joyce happy.
Early tonight was spent watching a local drama production put on by the London Frontier Theatre called "A LAND WITHOUT FENCES' by Donna Todd.
Magdalena was once a truly "wild-west" town. The Kelly mine located 3-miles north of town was huge for many years plus the stock yard processed cattle from as far away as Arizona. All that is in the past, Magdalena is now home to an eclectic group of individuals. The town operates on a "cash" basis. Credit cards are verboten. Receipts are unthinkable in gift shops and restaurants. The individuals who call Magdalena home now have fled here for numerous reasons. There are virtually no taxes. The city does not offer any services so there is no expense there. A retired military officer and her husband told me that their annual property taxes were $5. She was an Air Force officer who spent her career teaching propulsion at the Naval Academy. Other "well-educated" individuals fled big cities for the open range. Although this eclectic mix of individuals has fled the "big-city" they obviously still yearn for some of the "finer-things" offered there. This Drama Company is affording the outlet for that pent up need. Virtually all the actors enjoyed careers in acting, the stage-manager, prop designer, writer and director all worked in those fields earlier in life. Now they have joined forces to provide this production of "A LAND WITHOUT FENCES" to the community of Magdalena.
We enjoyed it. The actors and props were good. New Mexicans and Texans seem to have a thing for each other. New Mexicans never mention people from Colorado or Arizona or even Mexico for that matter in a negative light. But Texans are a different matter; they are open season year around. The writer of this production threw in a liberal sprinkling of these jabs. In one scene a group of New Mexico cowboys came across another cowpoke they were suspicious of. When they asked where he came from he replied Arizona. One of the New Mexicans replied "you are lying" to which the cowpoke replied "how did you know"? "Because you got flees" was the reply. Everyone in the audience from New Mexico roared with laughter.
After the drama presentation we retired to a street dance. Even though we did not stay until the end sometime in the wee hours of the morning we had fun until is was time for the "old-folks" to head back home. VBG
July 12, 2003 Grizzly RV-Park: Magdalena, NM 50-amps, full hookup, completely dirt sites and entrance road, no shade. $18 per-night.
This is the "Big-Day" in Magdalena. The parade starts at 11AM then BBQ at the fair grounds, followed by the crowning of the Old Folks Reunion queen and the Ole Timers Rodeo. The rodeo yesterday was for children. Today they feature roping events with old timers. Some roping events the contestants have to be over 40, in another over 50 and it goes up from there.
We got to town early enough to get a good spot for the parade. Watching small town parades is as much about watching people as the parade itself. This is an Old Timer's Reunion and as such the parade has a theme around the "old-times". There is a covered wagon with all the "queen" contestants dressed in period clothes (not costumes). Some of the queen contestants rode horses in their dresses. Remember all the queen contestants are in their 70s or 80s. Every sheriffs department within several hundred miles is well represented with a mounted posse. Local Indians are represented with riders as are almost every politician, business, civic organization and riding club. Horses, horses and more horses with a few floats thrown into the mix. Without a doubt everyone was having fun.
After the parade we returned to the rodeo grounds more for the BBQ than the rodeo. By the time we arrived the crew of men doing the cooking had already removed the earth and sheets of metal off the fire pit. As they were needed one of the big barrels of meat or beans would be removed from the pit and taken to another fire pit built above ground in a rock pit so that contents of the barrels could be removed easily.
Amazingly the earth on top is removed in such a manner that there is virtually no earth on the lids of the cooking pots. I am amazed by that. Actually the pit, complete with coals and barrels of food look like it did before they put the tin roof on and covered it with earth. The sides did not cave in, and the coals were still hot.
We ate the BBQ and it was good. Then we watched the rodeo ropers until it got so hot it was no longer entertaining. We rode out to the wildly famous Kelly mine just 3-miles south of Magdalena. There is not much left of the old mine but some old timers had gathered at the old church and were sharing stories. Every one of the old timers that we talked with was actually born in Kelly. They would point to where their house was but there was no sign of it now. All lived someplace else now with most out of state. They still like to come back for the reunion. One man talks about how he was delivered at home by his father. After he was all cleaned up and nursing the doctor stopped by. He says his dad was furious when he got the doctors bill for "delivering" him. His dad would shout that the doc had done nothing but drop by after the "action" was over. I could only grin and think that nothing has changed.
Tonight the dance was moved to a building built by the CCC back in 1936. It remains one of the nicer buildings in Magdalena. One of the things we have noticed about small towns west of the Mississippi is that when the small towns have dances mom and dad are there as well as children of all ages. Grade school children dance with their parents or grandparents for the most part. By the time children reach their early teens they can do all the dances that their parents do plus they can cross over and do modern stuff. Out west dances incorporate old songs plus new favorites. Parents and children, even teens obviously listen to and enjoy much of the same music. Anyway, it is refreshing to see the teenagers having a good time with their parents in the same room. Back east they have cotillions in an attempt to introduce early teens to dancing.
The openness and completeness of the entire business community in Magdalena operating strictly on a cash basis with no one providing a receipt is astonishing. I would bet that the Internal Revenue Service doesn't even know Magdalena exists.
Until next time remember how good life is.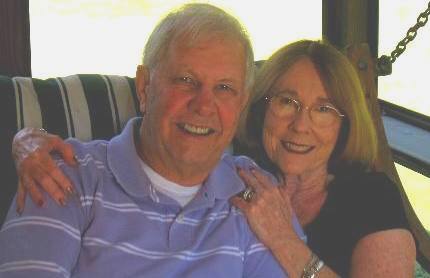 Mike & Joyce Hendrix who we are
We hope you liked this page. If you do you might be interested in some of our other Travel Adventures:
Mike & Joyce Hendrix's home page
Travel Adventures by Year ** Travel Adventures by State ** Plants ** Marine-Boats ** Geology ** Exciting Drives ** Cute Signs ** RV Subjects ** Miscellaneous Subjects
We would love to hear from you......just put "info" in the place of "FAKE" in this address: FAKE@travellogs.us
Until next time remember how good life is.