Louisiana: Lafayette, Avery Island & New Iberia
Places Visited:
Louisiana: Lafayette, Avery Island & New Iberia
Friday, April 5, 2002 Acadian RV-Park operated by the City of Lafayette. N30º 15.340' W91º 59.246': Site #73 with 50amps and water for $9.00 in a wonderful shady Park within several miles of downtown Lafayette
I know we seem to be obsessed with culinary delights but that is the essence of Cajun Country. To a native Cajun, good food is a birthright, whether it is Mama's gumbo or a sumptuous, elegant repast in a glamorous restaurant in New Orleans. That is the way things have been since the 1700's. The passage of time has cultivated a unique Cajun cuisine with distinctive flavors. It is a style of cooking that is multi-faceted. From the roux based etouffee and gumbos to the butter-rich sauces introduced by French Creoles in New Orleans their distinctive vibrant dishes produce a gastronomical delight. If you spend time in Lafayette you cannot help but become a connoisseur of Cajun culinary styles.
We did T-Coon's for lunch. T-Coon's is only open weekdays for lunch but is one of the local favorites. Where else can you get smothered rabbit, catfish court bouillon and shrimp stew for lunch? There is not enough appetite for us to sample everything. We could rave and rave about our lunch at T-Coon's but it would never do the place justice. Suffice it to say T-Coon's is heartily recommended. We will return again for the smothered rabbit.
Our afternoon was spent touring the Tabasco factory and Jungle Gardens on Avery Island a few miles out of New Iberia. We have done the Tabasco factory tour before but it was fun to do it again. Make sure you do this factory tour if you are in the area. We enjoyed the Jungle Gardens and heron rookery also on the island.
Our next adventure was the Hot Sauce Festival at the New Iberia Fair Grounds complete with live music, colorful hot air balloons and Cajun food booths. At the festival we met two delightful couples. The Jeabert's were selling Drunk Chicken cookers and their own brand of Cajun spices. Of course we did not purchase one of the cookers because everyone knows my Princess does not cook. The Jeabert's have patented a really unique chicken cooker. You can see what it looks like at www.peterpeppers.com or call 1-877-267-4468. Even though we did not purchase one of their cookers they did tell us that Lafonda's Restaurant on Johnson Street was one of the best places in Lafayette to get good rabbit. Lafonda's is located about 3-miles west of Evangeline highway on Johnson Street about 2 blocks west of the Piccadilly on the south side of the street. They also encouraged us to eat breakfast at Dwyer's in the downtown area and recommended "The Best Stop" in Scott for boudin and cracklings. Oh my! So much to sample and so little time, what shall we do?
The next couple we met was Capt. T. J. & Susan Pizani from Covington, Louisiana. They are RV'ers with a 5th wheel and one of those BIG trucks to pull it. He is a bar pilot responsible for bringing ocean going vessels from the Gulf of Mexico up the Mississippi River to Pilot Town. From Pilot Town another bar pilot boards the ship and guides it up to New Orleans. If the ship goes farther up river another pilot will board in New Orleans and guide the ship to Baton Rouge. Many people may not know about the job of bar pilots but they are Captains with special knowledge of local waters. Virtually all ships entering a port will do so with a local bar pilot aboard. Local pilots even guide naval vessels into port. They guide commercial vessels for insurance purposes. Captain Pizani rides 6-miles into the Gulf of Mexico on a pilot boat which pulls alongside the moving ocean going vessel while he grabs a hold of a rope ladder dangling over the side of the large ship and climbs aboard. Doesn't that sound like fun? If he is guiding a freighter out to sea he gets to climb down that rope ladder and jump on the pilot boat as it pulls alongside. Talk about a thrill! He didn't thing that was exciting at all. His idea of excitement was shrimp boats playing chicken with freighters transiting the Mississippi River or guiding one of these behemoths up the Mississippi in a fog bank or driving rain. I agree transiting something like the Mississippi at night or in conditions of reduced visibility would be really exciting.
We enjoy the Festival and music until around 9:00 then head back to the RV. On the way home from the Hot Sauce Festival we got a call on the cell phone from our son. He was in the hospital with his wife who is expecting twins. Things were not looking good "understatement". Either her water had broken or she was leaking whatever it is not good since she is only 23 weeks. Birth is usually eminent within 48-hours of the water event. Prospects are not good for the twins.
We will head home first thing in the morning.
Saturday, April 6, 2002 Parked in our driveway at home in Pensacola, Florida.
Kathryn, our daughter-in-law, is stabilized this morning. The leakage was minor and there is adequate fluid surrounding the twins. She is on antibiotics and there is no sign of infection. And finally they are giving her magnesium to stop the contractions that are only occurring every hour. Things are looking better. Not great mind you but better. We point the motorhome toward Pensacola 302 miles to the east on I-10.
Louisiana has done a lot to improve I-10 in the last couple of years. At one time many considered I-10 through Louisiana to be one of the worst stretches of interstate in the entire nation. They no longer deserve that moniker. I-10 / I-12 from Slidell to Lafayette was a good highway except for less than 5-miles.
Back in Pensacola we learn that Kathryn will be in the hospital connected up to IV and monitors until she delivers. That may be 24-hours or 2-months.
We are back in Pensacola for a while.
Sunday, April 7, 2002
The critical time (48-hours) has passed since Kathryn started "leaking". Things are looking better with every passing hour. With every day that passed the babies will have a much better chance. This coming Wednesday will be the 24th week. Keep them in your prayers.
We intended for this trip to be for around 3-months. Things changed. This will the last travelogue until we get on the road again.
Until next time remember how good life is.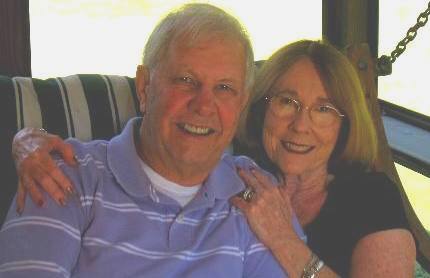 Mike & Joyce Hendrix who we are
We hope you liked this page. If you do you might be interested in some of our other Travel Adventures:
Mike & Joyce Hendrix's home page
Travel Adventures by Year ** Travel Adventures by State ** Plants ** Marine-Boats ** Geology ** Exciting Drives ** Cute Signs ** RV Subjects ** Miscellaneous Subjects
We would love to hear from you......just put "info" in the place of "FAKE" in this address: FAKE@travellogs.us
Until next time remember how good life is.