Homosassa Springs, Payne's Prairie SP, Gainesville, Miconopy, Port St Joe
in Florida
Places Visited: Florida: Homosassa Springs, Payne's Prairie SP, Gainesville, Miconopy, Port St Joe
Try and remember to NOT send us forwarded stuff or graphics when we are on the road. Since we have to bum modem connections it is extremely embarrassing to take up time downloading 50-plus jokes on the slow connection.
Saturday, February 16, 2002 Rock Crusher RV-Park, Homosassa Springs, Florida
We got up early and headed 100-miles northwest to Homosassa Springs. We passed by Disney World through orange groves then out of the rolling hills and back down on the coastal plain. Dropping 200-feet in elevation is imperceptible, however, the there is a stark change in vegetation.
We lunched at Margarita Grill on the Homosassa River not far from Homosassa Springs. It is a favorite with both local crackers and snowbirds. While dining on the river we watched airboats, pontoon boats and kayaks pass by while bald eagles, ospreys and pelicans fished for dinner. This was so relaxing. We would have returned to Kibbie's but it was sprinkling when we arrived and Kibbie's had closed down their dockside dining.
It sprinkled rain until around 2:00 when the sun burst through leaving a clear blue cloudless sky for the remainder of the day. The temperature dropped rapidly as soon as the sun went down. Around 5:30 we walked to the amphitheatre for the Coaster's and Drifter's concert dressed in sweatshirts and jackets.
The amphitheatre was situated in a long abandoned limestone quarry. Entrance to the amphitheatre is down the road trucks once used to haul limestone out. A large permanent stage has been constructed against the largest wall of the old quarry. The quarry floor has been graded to gently slope up as it gets farther from the stage area. Topsoil, sod and an irrigation system have transformed the quarry floor into a beautifully lush setting for outdoor concerts.
We may be in Central Florida but no one is running around in shorts tonight. Jeans, sweatshirts and jackets are the only way anyone was able to enjoy the outdoor concert. By 5:30 there is a sea of lawn chairs strategically placed to get a good view of the stage. Several quality entertainers performed before the main acts appeared.
It is hard for us to believe how long these groups have been around doing rock & roll. The lead singer of the Coaster's is 73 while Bill Pickney of the Drifter's is 77. Bill Pickney is the only original Drifter still alive. The Coaster's were the first group inducted into the Rock & Roll hall of fame. For those of you that have temporarily forgotten songs that these groups were famous for how about: Searching, Poison Ivy, Charlie Brown, Yakety Yak, Little Egypt, Along came long lanky Joan, Love Potion #9, Help Me Make it through the Night, Save the Last Dance for Me & Under the Boardwalk. Of course there were more but those are the ones my pea brain I can recall from their performance.
Sunday, February 17, 2002 Payne's Prairie Preserve SP: Micanopy/Gainesville, Florida
We headed 67-miles northeast to Payne's Prairie Preserve State Park just south of Gainesville. While we were registering at the Ranger Station I checked the local phone book for an old high school buddy that has a law practice in Gainesville. After a short surprise phone call Bruce and his beautiful wife Anthe dropped what they were doing and drove out to our RV-site. Just like old Navy buddies high school friends are fun to get together with every 30-years or so. They gave us some tips on places to see and things to do in the area. We also made arrangements to have dinner together on Tuesday night.
While touring Florida State Parks we have picked up on some Ranger Speak or Cracker Speak if you will. A hammock may be a rope bed stretched between two trees to some of us but to a Ranger it is an area of forested land, usually higher than its surroundings. Hammocks are always hardwood hammocks. You never have a pine hammock. Scrub is not just what you do to dirty pots and pans but a valuable, endangered, and very old Florida ecosystem. Scrub is a term applied to habitats that are nutrient-poor and soils that are sandy and do not hold moisture. Tree growth is stunted. Most of the plants have waxy-coated, hairy, or curled leaves to reduce moisture loss. So specialized are the plants and animals that live in the Florida scrub that more than 30 species are not found anywhere else in the world. To give you an idea the scrub of Central Florida closely resembles the deserts of the American Southwest. Some of the plant species are actually related to southwestern desert species.
A strand is not just some unruly lock of hair but in Ranger Speak is a type of swamp with a limestone base unique to Florida. A stand is not just a table next to your bed but rather a grove of trees. Rangers will point out a stand of cypress or slash pine. What I don't get is; they have a stand of pine yet a grove of oranges. Go figure! Most of us understand "run" but when a park ranger speaks will nonchalantly of a run he is talking about the stretch of water that flows from a spring to where it meets an adjoining river.
Then you have the ranger that says something about herps in the area. As it turns out there probably is no word "herps" the rangers are just using some license with the word herpetology, which is the branch of zoology dealing with reptiles and amphibians. So if you are around the cocky young rangers when they start this "herps" stuff just realize that they have difficulty saying reptiles and amphibians.
Some of you will instinctively know that a SWAMP is where the University of Florida Gators play football. However, in ranger speak a swamp is a wet area dominated by trees. It is easy to get swamps and marshes confused. Marshes, which may have some trees, are wet areas dominated by grasses and shrubs.
Monday, February 18, 2002 Payne's Prairie Preserve SP: Micanopy/Gainesville, FL
Payne's Prairie in addition to being a Florida State Park is a National Landmark. Currently, Payne's Prairie is a highlands marsh but in times of heavy rains, it almost becomes a lake. In 1871 the Alachua Sink, which drains Payne's Prairie, became plugged. The thousands of acres of marshland became a shallow lake so large that commercial steamboats started traveling over it delivering goods from one end to the other. Twenty years later the plug broke and drained the lake in three days. Within two years plants appeared and the present day "prairie" was formed.
In 1774, noted artist and naturalist William Bartram wrote a detailed description of Payne's Prairie. He called the prairie "the great Alachua Savannah" describing it as a "level green plain" that had "scarcely a tree or bush of any kind." Today it is much like that; full of tall grasses, rushes, and grass-like sedges that wave in the wind. Bison, scrub cattle and small Spanish horses are said to roam free in the prairie preserve. I say are said to walk free because we spent the day walking trails in a vain search for them. To give you an idea of the size of this prairie it has a 50-mile radius. It is a very large place and there are plenty of places to hide. Possibly on another day we will spot them. To make up for not seeing the large mammals we were looking for we did see literally hundreds of gators.
Tuesday, February 19, 2002 Payne's Prairie Preserve SP: Micanopy/Gainesville, FL
Our luck was better with viewing wildlife today. We visited some of the same spots, as yesterday but today wildlife was visible. Several times we saw bands of wild horses. Several more times we saw small groups of bison. Hundreds if not thousands of yellow rump warblers were feeding in a thicket of wax myrtle. The thicket was literally alive with them. Just down the trail we came upon a large tree, with no leaves but loaded with berries. Cedar waxwings and robins were devouring the berries and flying to nearby trees to digest them. The droppings, post digestion, made the surrounding woods sound like it was raining. Oh my how thankful am I that my motorhome was not parked underneath that falling poop. A bit farther down the trail a pileated woodpecker was busy excavating this seasons nest in the top of an old snag.
After the successful sightings on the nature trails we headed to the Florida Natural History Museum on the University of Florida Campus less than 10-miles from the park. Even if the museum is on the UF campus I have to say it is awesome. Imagine me admitting anything in Hog town is awesome. Anyone visiting the Gainesville area should put the Natural History Museum on their list of must see things. The dioramas were among the best we have seen anywhere.
Following the advice of our son we lunched at "The Swamp Restaurant." You "GATORS" will know about "The Swamp Restaurant" but for the edification of others the Swamp Restaurant is one of Gainesville's most popular eating and imbibing establishments. It is named for its proximity to the famed Ben Hill Griffin Stadium otherwise referred to as the "swamp." Several gator replicas inside and outside the establishment remind patrons where they are. The original building was built in 1915 as a UF professor's home. After it burned in 1993 the restaurant leased it and restored it to its historical standards. I can only imagine the madhouse it must be on game day! Today was just a prep course for the real thing. Everyone but us appeared to be students getting tanked before their next class. Our waitress thought we were zombies from outer space when we ordered water and diet coke with our lunch.
We spotted the George Smathers Library. Former Florida Senator George Smathers is a relative of mine on my mother's side of the family. Now that I know the UF library was named after him I suppose there are two good things on the UF campus. VBG (Very Big Grin)
In addition to the George Smathers Library UF has the Levin Law Center. Fred Levin is an immensely successful trial attorney from Pensacola. He was part of the team of Florida lawyers that took on the tobacco industry for the State of Florida and won a landmark settlement. Fred donated $11-million of his share of the tobacco money to the UF law center. I think an $11-million donation should be enough to get the law center named after him, don't you agree?
After lunch we headed to Devil's Millhopper state Geological Site & National Monument. Devil's Millhopper is a sinkhole. Geologists believe that this giant sinkhole was first formed between 10,000 and 14,000 years ago, and that an additional opening was formed within the last 1,000 years. The sinkhole is around 500 feet across and 120 feet deep. The Devil's Millhopper got its name from fossilized bones and teeth found at the bottom. Early-Indians thought it was created by the devil of their religion. Early Cracker's thought it resembled the shape of the funnel through which grain was sent to be ground into grist. Thus the name. Broken limestone boulders border the sides of the sink from top to bottom. The sink is a giant bowl of life. Water seeps out all around the sink and runs down the side supporting lush cinnamon and rattlesnake fern and other tropical plants that would not normally grow this far north. If the drain in the bottom is ever plugged it will turn into a large lake.
On the way back to the car we heard a barred owl making its eerie hoot. It was not far from us but it stopped hooting before we could spot it. We might have missed the owl but a tom turkey with a beard reaching the ground crossed right in front of us as if we were not there. We were surprised seeing the single turkey, usually when we spot turkeys there are upwards of 6 or 8 together.
We drove to Bruce and Anthe's house around 6:30. They have a lovely home in a wonderful neighborhood with a magnificent view out the back window overlooking a creek and greenway. What a wonderful place to raise three children. After a brief tour of the house we headed to a fancy downtown restaurant then visited Bruce's law office around the corner on Main Street. Then they drove us around the UF campus. The campus is HUGE! There is no reason that any University that large should ever lose a football game. No wonder they get so mad when they lose! When you are THAT big and have that kind of money I suppose you have a right to get mad when you lose to a school half your size!
What an end to a wonderful day. We will be sure and visit Bruce and Anthe next winter when we head south again.
Wednesday, February 20, 2002 Presnell's Marina & RV-Park: Port St. Joe, Florida: Site #4
We got up early and headed the motorhome west toward Cape San Blas in the Florida Panhandle. A little over 200-miles later we pulled into Presnell's Marina and RV-Park, a quaint mom & pop operation on St. Joe Bay. The front of our motorhome is less than 5-feet from the water overlooking beautiful St. Joe Bay. Years ago our family used to bring the boat and camp here while gathering scallops during the day. We have many fond memories of Presnell's and St. Joe Bay. Our plans were to stay in St. Joe State Park because we have friends that are going to be spending 4-days there beginning tomorrow. The SP did not have a site for a motorhome our size so we opted for Presnell's instead. In reality Presnell's may be an even better place. The sunsets are incredible over St. Joe Bay.
While this is an unbelievably beautiful place there is a price to pay. Not in the form of money but in "no-see-ums" or "sand-gnats". "No-see-ums" are minuscule insects that exact painful bites and leave itchy welts. "No-see-ums" are half the size of a normal gnat and most people do not realize what is exacting the pain on them, thus the colloquial name. They are worse at dawn and dusk close to saltwater marshes. The least bit of breeze will provide relief, but in that brief transition between day & night when things get still "no-see-ums" suddenly appear to inflict their misery. Two things will keep the critters at bay, any bug repellent with "deet" the greater the percentage of deet the better; the other is an Avon product called skin-so-soft. We usually use deet products to protect us from mosquitoes and skin-so-soft for "no-see-ums".
Thursday, February 21, 2002 Presnell's Marina & RV-Park: Port St. Joe, Florida: Site #4
We explored downtown Port St. Joe this morning then did lunch at the Dockside Café located at the Port St. Joe Marina. The food was good but the view was great. The Dockside Café could be a good place to eat lunch with a view in Port St. Joe. In the early afternoon we toured the Constitution Convention State Museum. The first of Florida's five constitutions was written in Port St. Joe. In 1838 Port St. Joe was one of the largest settlements in Florida. One of the requirements for Florida to be accepted into the United States was the establishment of a democratic constitution. Delegates from around Florida met in Port St. Joe and created the first constitution. It was used until the Civil War. The original town of Port St. Joe literally vanished in the 1844 hurricane. I think this is the same hurricane that destroyed Cedar Key also. At one time Port St. Joe was the third largest city in Florida behind Pensacola and St. Augustine.
While at the museum we got a call from Pat & Louie Preninger. They were calling us from their beach house on Cape San Blas. After finishing the museum we headed to their place. After a while all of us drove out to the State Park with Pat & Louie to look for some RV Internet friends. Our friends RV was there but they were nowhere to be found. All of us dined at the Beachcomber Restaurant. The crab bisque was excellent. You can bet Joyce and I will eat here again. We did not get home until very late. Pat & Louie kept us out late.
Friday, February 22, 2002 Presnell's Marina & RV-Park: Port St. Joe, Florida: Site #4
We had a full day today. Just as we are about to leave for Pat & Louie's I spotted a work barge moving in the canal outside our front window and jumped outside to take a picture. Lo and behold I heard a voice calling MIKE, when I looked around I saw a man & woman getting out of a blue tracker. I recognized the tracker as the automobile I had seen yesterday outside Det & Judy Abel's motorhome in St. Joe State Park. We have finally met after all these months of communicating via e-mail. What a delightful couple. They are from Iowa and spending some time on the Gulf coast before returning home. We spent some time getting to know each other better and making plans to get together on Sunday. Then they headed into Port St. Joe and we headed to Pat & Louie's place.
Not long after arriving at Pat & Louie's we head to the Raw Bar on SR-30A at the Indian Pass cut off. Pat is having an oyster craving and we are going to the Raw Bar to quince that craving. The Raw Bar is a once in a lifetime experience with ambience is steeped in the real Florida of long ago. Time has stood-still here for at least 50-years. These folks do not particularly care if you stop and eat with them or not. They are just some "good-old-boys" if you know what I mean. There are no directions on how things are done in the Raw Bar. You just have to know some things. If you want a drink you walk over to the drink cooler and get one. If you want another drink you just keep going over to the cooler and retrieving another drink. Don't even think any of the employees are going to get you a drink. Mostly beer goes with oysters especially raw oysters. Joyce and I like raw oysters but are leery of eating them for fear of the occasional serious illness sometimes associated with eating raw oysters. Joyce and I opted for gumbo, soft drinks and key lime pie. Louie, also cautious about eating raw oysters, ordered his steamed. When you are "finished" as in no more imbibing and no more oysters you sashay up to the register and they count the empty cans/containers and oyster platters remaining on your vacated table. That becomes your tab. Everything is verbal with no wasted paper bill. The best way to describe the Raw Bar is to picture an old-time country service station and country store. In this case they no longer sold gas and very little if any groceries. Customers were a mix of well-healed snowbirds and local crackers. When in the area visitors must stop by for a dozen raw or steamed oysters and an obligatory beverage of choice.
Next Louie headed to Indian Pass where he took us; in his 4-wheel drive Yukon, for a ride down the beach. Don't you try driving on the beach; Louie has a special permit that allows him to drive on the beach. Very few people have this permit. Ya gotta be a "local cracker" to obtain one of these special permits. We drove about 10-miles down the beach stopping to pick up shells every so often. Both families have tons of shells but it is always fun to stroll down the beach looking for special shells. In this case we were looking for shells that we could give to Det & Judy. Finally tiring of riding on the beach and shelling Louie gets back on the highway and heads to an area of kitchen middens. Kitchen middens are prehistoric refuse heaps. These middens are largely composed of shells but may contain fragments of animal and bird bones, pottery, and implements of stone and wood. A shell midden we visited near Cedar Key is over 30 feet high. However, generally the larger mounds are 1,000 ft long, by 200 ft wide and 10 ft deep. They are the work of (Middle Stone Age) peoples who gathered shellfish in addition to fishing and hunting. It would be difficult to tell these are middens because centuries old oak, palm and red cedar trees cover them. However, from the bay side we are able to walk along the beach and see where wave actions from storms have exposed the shells literally piles over 10' high. Red Cedar trees tend to grow over shallow limestone. In the case of these middens the "limestone" is the shells. The red cedars on the Cape are almost all located atop these prehistoric middens. One gigantic oak tree situated atop one of the middens has initials carved in it. Legend has it that pirates buried treasure X-number of paces N/S/E/W of the marked oak.
Louie had another nature trail he took us to that carried us over an ancient dune system then to a live oak & palm hammock situated on another midden. Afterwards, since we were at the entrance to the State Park we went in to look for Det & Judy. This time their bicycles were gone. We decided to leave the shells we had collected for them and explain where they came from when we finally catch up with them. Next Louie took us to the old lighthouse point on the Cape where we walked on the beach. At one point we approached a bald eagle's nest where two young eagles were still hanging around the nest while a parent was busily supplying fish dinners. It is good to see bald eagles again. DDT wiped bald eagles, ospreys and pelicans out around here in the 1960's and they are just now returning.
As if all this was not enough Pat prepared scallop chowder for dinner. It was divine! It is highly recommended to mooch off Pat & Louie every chance you get. (VBG-Very Big Grin) Again we did not get home until very late.
Until next time remember how good life is.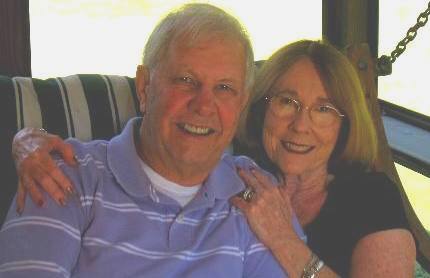 Mike & Joyce Hendrix who we are
We hope you liked this page. If you do you might be interested in some of our other Travel Adventures:
Mike & Joyce Hendrix's home page
Travel Adventures by Year ** Travel Adventures by State ** Plants ** Marine-Boats ** Geology ** Exciting Drives ** Cute Signs ** RV Subjects ** Miscellaneous Subjects
We would love to hear from you......just put "info" in the place of "FAKE" in this address: FAKE@travellogs.us
Until next time remember how good life is.