Melbourne, Cape Canaveral, Kissimmee in Florida
Places Visited:
Florida: Melbourne, Cape Canaveral, Kissimmee
Saturday, February 9, 2002 Land Yacht Harbor RV-Park: Melbourne, Florida
Our daily walk around the park is special because of the lush green grass, royal palms on every lot and the pairs of sand hill cranes feeding in the small yards. Since no pets are allowed in the park I suppose the sand hill cranes feel almost protected. These large very wild birds that stand 3 to 4 feet high are exciting to see just a few feet away as we walk down the street.
Joyce and I spent the day entertaining Pop's then danced the night away at County Line Saloon. What a blast. The dancing crowd was a bunch of 40s/50s/60s until around 10:30 when the 20 something's started arriving. At that time the band started playing slightly different music. The 20s crowd responded by filling the dance floor. All of us older folks watched from the sidelines for a while then slowly headed home.
Sunday, February 10, 2002 Land Yacht Harbor RV-Park: Melbourne, Florida
We took Pop's to lunch at his favorite place then went back to the RV-Park to enjoy a group of park residents playing country/bluegrass music in the park recreation room. It was a good old jam session with 11 very good musicians playing a variety of mostly string instruments. Thirty or more were in the audience clapping along. The musicians took turns selecting the song the group would play next. Usually, whoever's turn it was either sang the lead or their instrument was featured. The group was really good. We enjoyed listening until it was time to go to Joyce's sister's house for dinner.
Monday, February 11, 2002 Land Yacht Harbor RV-Park: Melbourne, Florida
We took Pop's to lunch at his favorite place then took a sightseeing ride. Joyce had an afternoon hair appointment. I stayed at the RV with Pops and started some repairs. We ate dinner at Joyce's sister's house with Pop's.
Land Yacht Harbor (LYH) RV-Park is drastically different from other RV-Parks we normally stay in. The majority of the parks 700-plus residents are stockholders in the corporation. Stockholder's pay $650 per-year to leave their RV on their assigned pad year round and live in it about 4-months per-year, non-stockholder's pay $1,000 per- year for the same privilege. Whenever, a pad is vacant (when someone that has reserved and paid for a spot for the year takes their RV back home for the summer) the corporation can rent out the spot. We are on a spot that someone has already paid for. Residents pay for their own electricity but the park handles water and sewage. A board of directors, elected from shareholders, makes the park rules. The rates, ($650/$1,000 per-year) are structured so that the corporation makes about $50,000 per-year. Anything above the $50K is paid as dividends to the shareholders. The place is spotless, 100% of the spots are taken for the year, they have a magnificent clubhouse, a woodworking shop, library, sewing room, you name it they have it. Residents return year after year. Everyone was having a ball. Volunteer residents do much of the work of the park. After spending around 4-months in the park most of the residents return to their homes north of here or take their RV's on the road.
Tuesday, February 12, 2002 Land Yacht Harbor RV-Park: Melbourne, Florida
Pop's has two dentist appointments today and I had to stay around the motorhome waiting for a repairman to return a major part of our entry mechanism that he had carried off with him yesterday to be welded. When the mechanism broke springs, handles, rods, cams and numerous other unnamed parts including the broken shaft settled into hollow part of the door. Between me and the mechanic and a generous portion of time we got the entire mechanism back together and the door operating again. It is wonderful for that door to be operating properly once again.
Wednesday, February 13, 2002 Land Yacht Harbor RV-Park: Melbourne, Florida
We took Pop's to lunch then went for a ride. We headed north on US-1until arriving in Coco where we took 582 east over the Banana River to Merritt Island home of Kennedy Space Center, Cape Canaveral and Port Canaveral. Since Pop's was with us actually getting out of the car and touring anything at Kennedy Space Center was out of the question. Our sight seeing was limited to viewing from the automobile. The best thing we discovered was Jetty Park Campground at Port Canaveral. Besides being a nice campground it is an awesome spot to watch rocket launches from Cape Canaveral. RV's can enter the park for $7.00 per-day, cars for $3.00 for one of the premier spots to view a rocket launch. Several hundred full hook-up RV sites are also available for $26 or less. For any RV'er not familiar with the area and wanting to view a rocket launch Jetty Park 400 East Jetty Road Cape Canaveral, Florida would be one of the best places. The best way to find Jetty Park is to head for Port Canaveral where the cruise ship terminals are. Jetty Park is located at the end of the road next to the very last Cruise Ship terminal.
Our return to Melbourne was down US-A1A. Joyce and I are learning to recognize the different varieties of palm trees and other tropical plants.
We stopped to purchase fresh fruit from a roadside stand. Temple oranges were 10 for a $1.00 while pink; seedless grapefruit was 7 for $1.00. The price sure changes from here to Pensacola, AMEN!
This was our last day in Melbourne. Tomorrow we head to the Kissimmee/Orlando area where we are going to visit with an old Navy buddy before heading back to Homosassa Springs for the Saturday night concert of the Drifters and Coasters.
Thursday, February 14, 2002 Oak Grove RV-Park: Kissimmee, Florida (this park is not recommended)
I picked Oak Grove RV-Park out of Trailer Life and made reservations yesterday. That was a bad decision. Upon looking at our spot we would have changed RV-Parks were it not for the nonrefundable reservations. They had assigned us to a spot in the park with a group of locals living out of some filthy & junky RV's. We decide to make do for two days but will remember not to return. Another part of the park several rows over was catering to snow birds and was more desirable.
Joyce and I drove to "Old-Town" near Disney World until our friend got off work and joined us. Dale showed up around 4:30 in a gold convertible. His wife Cheryl was in Ft. Lauderdale where their daughter has just presented them with a granddaughter. Dale took us to the brand new Gaylord convention center. We spent some time wandering around the premises of this gigantic hotel/convention center, gawking at the opulence, before heading for dinner. After dinner Dale drove us around Disney's Celebration community before heading back to our RV where we compared pictures.
It is so good to visit with old friends. Dale and I were both Aviation Electronics Technicians in the Navy stationed at Glynco Naval Air Station, Brunswick, Georgia back in the late 60's. Both of us got married while stationed there and the families have stayed in touch ever since.
Friday, February 15, 2002 Oak Grove RV-Park: Kissimmee, Florida (this park is not recommended)
With no plans for the day Joyce decided we would go back to the planned Disney town of Celebration with small town charm. We walked the shopping district of designer boutiques and gourmet shops before deciding to dine at "Columbia" overlooking a picturesque lake. Columbia is a super dining experience. A Cuban immigrant started the original Columbia restaurant at the turn of the century in Tampa's Ybor City. That Columbia restaurant in Ybor City is now in its fourth and fifth generation of family ownership and operation. It is the oldest restaurant in Florida and the largest Spanish restaurant in the world. In addition to the 1,600-seat restaurant in Ybor City there are five other locations throughout Florida. We are dining at the Columbia in Celebration, Florida. Spanish food is not something that Joyce and I are familiar with. As is our custom we tried some new dishes. The best new dish was plantain. Dumb me had never heard of much less eaten plantain before. As it turns out plantain is a type of banana. It may not be available in all grocery stores but should be in produce departments catering to Spanish communities. Even though our plantain was presented as a vegetable it appeared to be fried and tasted sweet enough to be a desert. Our waiter told us that sometimes plantain is cooked with onions, peppers and garlic for a totally different taste sensation. Our waiter also told us that people do not eat plantain raw like normal bananas. According to him plantain is always cooked.
Tomorrow we head back to Rock Crusher RV-Park in Homosassa Springs where we have tickets to see the Coasters and Drifters perform in a large amphitheatre.
Mike & Joyce Hendrix
Until next time remember how good life is.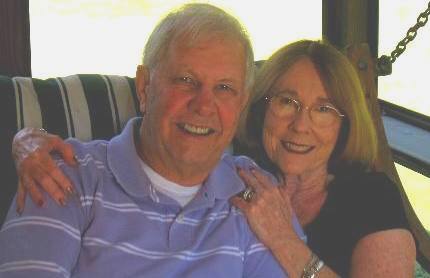 Mike & Joyce Hendrix who we are
We hope you liked this page. If you do you might be interested in some of our other Travel Adventures:
Mike & Joyce Hendrix's home page
Travel Adventures by Year ** Travel Adventures by State ** Plants ** Marine-Boats ** Geology ** Exciting Drives ** Cute Signs ** RV Subjects ** Miscellaneous Subjects
We would love to hear from you......just put "info" in the place of "FAKE" in this address: FAKE@travellogs.us
Until next time remember how good life is.