Lafayette, Breaux Bridge, Whiskey River, Henderson, Atchafalaya Swamp, New Iberia & Abbeville in Louisiana
Places Visited:
Louisiana: Lafayette, Breaux Bridge, Whiskey River, Henderson, Atchafalaya Swamp, New Iberia & Abbeville
Friday, December 6, 2002 Acadiana City Park operated by the City of Lafayette (50-amps, water and central dump station for $9.00)
We started the day with a walk in the park. The walk not only took us through the RV section but also along the coulee (small stream) located in the park. What Louisiana calls a coulee Texas would classify as a major river. The main difference that I see is in how fast the water is flowing. In Texas, indeed out west, water in rivers and streams flows fast. In Louisiana, like everything else, the water moves slowly.
Robbins started arriving yesterday and today the park is full of them. Robbins do not usually arrive this far south until late January or February. I suppose the severe weather north of here quickened their timetable.
Joyce and I had pretty much worked out our restaurant schedule for Lafayette. However, there were one or two "open" meals on our agenda. We had not decided whether to make our big meal today lunch or dinner. Around here that makes a big difference. Then Joyce mentioned Edie's. Although we have wanted to try Edie's for lunch we had never gotten around to it. We were near Edie's so we decided that today would be the day. Edie's claims to the "Lafayette's favorite lunch house" - they might be right. Edie's features daily lunch specials served with salad and a vegetable. No one leaves hungry. As we ordered I questioned the waitress about bread pudding since we did not see it on the menu. She laughed and said we would not need it. That wicked laugh portended that she knew something we did not. Shortly it was evident why we would not even consider bread pudding. Before she delivered the heaping plates of food she placed a large bowl of fresh hot biscuits on the table. Biscuits! Now I know what the big container of honey was for.
Somewhere during our meal the waitress stopped by to ask if I was still interested in bread pudding. Now I fully understood that truly wicked laugh.
Lunches cost around $6.25. Edie's is located in a strip mall (1895 Pinhook Rd.) near the intersection of Kaliste Saloom. It should be easy to find since both roads are major arteries in Lafayette. Edie's is a LUNCH only place open 11 A.M. to 2 P.M.
After lunch we stopped by to see a special exhibit at the museum located next to St. John's Cathedral. The special exhibit was nice but--if you are as culturally challenged as I am, it just did not cut the mustard. Now St. John's Cathedral is another story. It is a magnificent Dutch Gothic structure built in 1916. Now that is something special. The Oak tree next to St. John's Cathedral is also SPECIAL. I think that this oak tree is the third oldest/largest in the nation. It is purported to be 475 years old, has a girth of over 28 feet with an 8-foot diameter. The limb span exceeds 210 feet. The largest branch is said to weigh in excess of 72 tons.
When the video was giving details of this special live oak tree it seems that they said the largest/oldest was located in Mandeville, Louisiana while the 2nd largest/oldest was in, I think, Charleston, South Carolina. Does anyone have any information on either of these trees, or for that matter any other "champion" trees?
Saturday, December 7, 2002 Acadiana City Park operated by the City of Lafayette (50-amps, water and central dump station for $9.00)
The temperature in Lafayette briefly got down to freezing last night but when the sun came up temperatures got comfortable.
Joyce had our morning planned. This was Saturday and Joyce knows that Café Des Amis in nearby Breaux Bridge has a Cajun band on Saturday mornings. We absolutely love to eat at Café Des Amis but have never experienced a Saturday morning. We arrive by 9:00 A.M. to find the place packed and rocking. A black band is playing Otis Reading, Temptations and other Motown music complete with saxophone. This Zydeco band added the ubiquitous fiddle and accordion to the mix of instruments to give the original "rock and roll" music a distinctive Zydeco flair.
Breakfast food at Café Des Amis can be traditional but it can also be totally unique, your choice. Joyce chose to go traditional Southern with eggs, ham, cheese grits and biscuit. There is no way I am going for a traditional breakfast at this place. This is the first time we have seen couche-couche on a menu and I am going to try it just to say I have. Couche-couche was the name of the band back in Houma at Jolly Inn. Back in Houma the locals told us that it was pronounced (kush-kush) and that it was a breakfast item made from cornmeal. To prepare it you mix cornmeal and water with a little salt. Put this mixture in a cast iron frying pan and fry the mixture while stirring continuously. The mixture will form a light crust as you cook. Scrape the bottom of the pot clean every time you stir and fold the crust over the mixture. When it gets crumbly dump it in a cereal bowl. It is served with syrup and milk. Our friends in Houma had given us this much information. The rest of the experience was up to us. Our waitress brought the couche-couche as a breakfast appetizer. Upon arrival it looked to me like they were serving cornbread dressing in a cereal bowl. I immediately put some cane syrup on it then added some milk. After the first taste I knew that some major doctoring was in order. I added more cane syrup and took another bite. It did not help. One more bite and I knew I had experienced all the couche-couche I needed. I coaxed Joyce into trying a bite. That was her first and last bite. When our young waitress came back she laughed. She said couche-couche was a dish that older Cajuns liked possibly because they grew up with it. The waitress admitted she could not eat it either.
I ordered my special Cajun breakfast right off the menu: Eggs over a large patty of boudin over a biscuit with cheese & andouille grits. Since we did not like the couche-couche the waitress wanted me to try a side of crawfish a gratin with my breakfast. I agreed but crawfish a gratin like the boudin just did not seem to me to be breakfast foods compatible with eggs and grits. Let me say that Café Des Amis could serve their crawfish a gratin any hour of the day and pour it over anything and it would be out of this world. I poured mine over a biscuit and it was to die for even if it was breakfast. The cheese and andouille sausage grits were great. In the Panhandle of Florida, our home, cheese grits are a staple at fish fries so cheese grits were familiar but not as a breakfast food. The fried eggs over a boudin patty and biscuit were OK but I probably would not try boudin and eggs again. Boudin is wonderful for lunch but is a tad bit strong for breakfast.
For those of you that are new to these travelogues boudin is a Cajun food. It is more popular than hamburgers within a 100-mile radius of Lafayette. Outside of that area you may never see or even here of boudin. Boudin (pronounced boo-dan) is a mixture of pork, rice, and seasonings stuffed into casings, thus resembling a sausage. Each city indeed each meat market has a different recipe. You can find it in grocery stores, meat markets, or small convenience stores. Locals will throw it between a loaf of French bread and eat it for lunch or a mid-afternoon snack. For breakfast they take the boudin out of the casing and make patties that are fried. When you travel through Cajun Country stop in a small Mom & Pop grocery store and ask for some boudin. They will go to a crock-pot and retrieve a sausage looking casing full of boudin. They will wrap it in a napkin for you where you can eat it at the cash register or retreat to the parking lot where everyone else is eating theirs. After saying all that some places make crawfish boudin and probably some other fillings that we have not experienced yet. Yet other places serve fried boudin. These establishments remove the boudin from the casing and make balls the size of eggs out of it then roll it in something (flour/cornmeal/cracker crumbs) and fry it. Whatever they are serving in the place you choose to stop that is what you need to try. Twenty miles down the road it will be completely different. Our favorite boudin stop is the Boudin Shack at exit 115 (Henderson exit) on I-10 about 15 miles east of Lafayette. If you are traveling I-10 and can't take time to experience Cajun Country you could stop and get fuel at exit 115 and a "snack". On the north side of the exit is a large truck stop the Boudin Shack is across the street.
After breakfast we danced until the band headed home at noon. Where else can you experience something like this for breakfast?
Café Des Amis operates several Bed and Breakfast rooms close to the restaurant. The waitress said that guests at the Bed and Breakfast came to Café Des Amis for breakfast. Tom and Vicki, this is the place for you. By the way Vicki, if you get Tom in there on a Saturday morning let me know I want to have my video camera loaded. VBG
You would think that my resident party animal would have been satisfied with the morning's action but NO, as soon as the sun went down she started talking about Mulate's. Mulate's is a world famous Cajun dance hall and restaurant located in Breaux Bridge. It is heavily advertised and a favorite with both locals and tourist. Needless to say we closed the place down. In addition to the regulars and stray tourist like us they catered to three tour busses.
I wanted to sample Louisiana frog legs tonight but settled for alligator instead. The fried 'gator was good but not nearly as good as the "Gator" FSU had last weekend. OK, OK enough of that but I just could not help it. I was wearing my FSU sweatshirt tonight and our waitress (an LSU fan) pointed out that this was two weekends in a row that FSU was enjoying "Gator". I relished her observation and just had to share it with you.
Sunday, December 8, 2002 Acadiana City Park operated by the City of Lafayette (50-amps, water and central dump station for $9.00)
We attended worship services with East Bayou Baptist in southwest Lafayette. They were a rather new and dynamic church. Even though they had a sanctuary that would hold over 1,000 they were holding 4-worship services on Sunday mornings with the first beginning at 7:45 A.M. It was an amazing transformation with only 5 to 10 minutes between services. Even though it was a Southern Baptist church they did not have an organ. Imagine that! Do you suppose the SBC knows? The 7:45 service was listed as an acoustic service. The other three were listed as just "worship services". In the plain "worship service" we attended instrumentation consisted of 3 guitars, a keyboard and drums. The music director led the congregation in a medley of traditional Christmas songs except these had panache. Drums and guitars have a way of breathing life into normal elevator music. With the drummer setting the beat the music director did not have to wave his hands up and down keeping everyone in time. There was no choir just a praise team that was of professional caliber. This was "different" for a regular worship service at a SBC church but we loved it.
After church we stopped by Edie's for lunch. I have already told you about Edie's so I will only tell you that it is something you should not miss when in Lafayette.
Several locals that we met on Saturday told us about a super Zydeco band that was going to be playing from 4:00 to 8:00 Sunday night at Angelle's Whiskey River. Whiskey River is actually the name of a river believe it or not. Angelle's functions as a boat landing, restaurant, houseboat & yacht marina, then on Sunday afternoons from 4:00 to 8:00 they host authentic Cajun & Zydeco bands.
As Joyce and I topped the levee and gazed down toward Angelle's we knew we were in for something special. There were several hundred automobiles scattered around this large nondescript building situated half over the water on pilings and half over land also on pilings. The building was rocking. As we entered the building we realized that finding a seat would be difficult then we spotted one of the couples that had told us about the place and they invited us to sit with them. We were LUCKY because there were over 100 individuals standing. The band was what locals call a Zydeco band. Zydeco is more "high-energy" than regular Cajun music. Joyce and I have never seen this many people having this much fun. Everyone was dancing. Even though it was about 45-degrees outside Angelle's had the air conditioner running full blast inside. The band played the entire 4-hours without taking a break.
We knew we were in a special place but did not know how special until later in the evening. During a breather Joyce and I walked around looking at pictures on the walls of alligators, huge catfish and gar, duck hunters with limits of ducks, gigantic snapping turtles and a host of other memorabilia normally found in a fishing camp. Among the memorabilia was a framed award that Angelle's Whiskey River had received. It seems that the January 2002 issue of Men's Journal has named Angelle's Whiskey River as one of the 50 Best Bars in America. In fact Angelle's was the first one listed since the list was in alphabetical order.
The article in Men's Journal said something like - "Asking a man to pick the 50 Best Bars in America is like asking him to pick the 50 Best Women: It is an impossible task. Still every great bar shares a few characteristics: It is warm; it is friendly, and has no idea how to make a Jell-O shooter. The article concluded with some wit about the difference between the 50 best bars and the 50 best women is that you can actually experience the bars."
Joyce and I have now experienced one of 50 best bars in America and it is only a honky-tonk on Sunday nights. On the page that I saw there were two other "bars" that looked interesting: The "Billy Goat Saloon" in Gem Village Colorado; and the "Blind Tiger" in Charleston. The next time we are in Charleston we will have to get Joyce's sister and Brother-in-Law to take us.
If you are interested in Angelle's place you need to do it on Sunday's between 4 & 8. Otherwise it is just your basic boat landing and marina complete with swamp tours. They have a web site that may be interesting. www.angelleswhiskeyriver.com Angelle's is located on Henderson Levee Road in what I call Henderson, Louisiana. However, they say they are located in Cecilia, LA.
Monday, December 9, 2002 Acadiana City Park operated by the City of Lafayette (50-amps, water and central dump station for $9.00)
Monday is the day T Coon's serves Cajun smothered rabbit for lunch and I wanted to experience that. They also have fried rabbit but that will have to wait for another time. Today was my day for smothered rabbit and it was great. Joyce did red beans rice and sausage a traditional Monday meal in Cajun Country. With so many great places to eat it is hard to pick just one. Like I have said before if you are in Lafayette on a weekday and you do not experience T Coon's for lunch shame on you! It is located in old downtown Lafayette across the street from City Hall.
Joyce went shopping for the majority of the afternoon then we headed out to see the Christmas lights at Acadian Village. On the way home we stopped by the Blue Dog Restaurant on Pinhook for their famous bread pudding with pecan praline sauce. We went for the bread pudding but I also ordered a cup of their crab and corn bisque. We have never had anything in the Blue Dog that was not GREAT. The downside for some people may be the price ---- it is a white tablecloth place if you get my drift.
Tuesday, December 10, 2002 We moved the motorhome from Lafayette to New Iberia 25 miles away on highway-90 Chase RV-Park in New Iberia. Chase is an OK RV-Park but not a resort by any means. They have a laundry and a choice of 50/30 amps $2.00 extra for 50amp. $16 per-night for 30amps. It gets MESSY when it rains but the managers are great!
Even though we could stay in Lafayette for weeks and weeks eating in a different place every day and enjoying so many varied activities and attractions we have to leave if we are going to make it back to Pensacola.
It was lightly raining as we left Lafayette and headed south & east on highway-90 to New Iberia. We are moving to New Iberia so we can be closer to some of the places we want to visit. Today we are going to visit Abbeville. At one time (prior to the motorhome having the mechanical problem) we were planning to stay in Abbeville for a day or so. As you know those plans were changed.
We were settled into the RV-Park in New Iberia and on our way to Abbeville before noon. There is so much to see and do around New Iberia. Today we are traveling highway 14 west through the small town of Erath, then Delcambre and into Abbeville. Erath has a nice museum and Delcambre is home to the largest fleet of shrimp boats on the gulf coast. If you pass this way you really should spend some time driving around looking at the huge shrimp boats and walking through the fish houses. If you are not familiar with seafood houses you really should take time to see the variety of items they have on display. You may even want to pack some up and take it with you.
Abbeville is a historic old town. The Vermillion River flows through town. The French heritage is really strong in Abbeville. Everyone visiting Abbeville should park in downtown then lake a walking tour to St. Mary Magdlen Catholic Church, Steen's Syrup Mill, Magdalen Square, Black's Restaurant and other historically significant buildings constructed in the late 1800s. If you need to drop your motorhome to tour in your tow car do it at the Wal-Mart Super Center on hwy-14 at the east edge of town.
In addition to touring Abbeville today we also visited Kaplan 12-miles west of Abbeville on Louisiana 14. West of Abbeville sugar cane quickly gives way to rice fields. Rice fields are so much more interesting and alive than cane fields. Hundreds of wading birds and ducks are in the rice fields. Crawfish pots are in many of the fields. Quite a few rice farmers are producing dual crops of rice and crawfish.
In Kaplan we watch operations at a large rice mill then head north through town. Kaplan has a big fancy sign proclaiming itself as home to "Sammy Kershaw a wildly successful country music artist that is married to Lorrie Morgan.
In addition to its French heritage Abbeville is noted for fine eating establishments.
Black's and Dupuy's Restaurants are downtown located across from the beautiful Catholic Church. From the Catholic Church head west on highway-14 (Port Street) immediately across the river on the left is Riverfront Restaurant. Shuck's restaurant is located on highway-14 just past the traffic light at highway-167 (it is on the south side of Port Street). Between Shuck's and Riverfront turn south on Henry street. One mile down Henry Street is Richard's a local favorite for boiled seafood. Note that almost all these places are on highway-14 NOT the big 4-lane highway-14 bypass north of town but the old 2-lane that winds through town around the Courthouse and Magdalen Square. A bit of caution. Although you can navigate your RV through town on old highway-14 it is probably something you would prefer NOT to do. It is something you can do BUT-I wouldn't.
The other restaurant of note is Comeaux's. It is located on the corner of South State Street/Highway-82 and Concord Street (across the street from the Court House). If you miss it the first time circle the Court House again, it is the restaurant not Comeaux's French Market located on the diagonal corner.
Here is what we know about these restaurants: Richard's Seafood Patio specializes in boiled seafood. Richard's is only a "seasonal" place (mid-November to mid-June) and only open from 5 to 10:30 P.M. Just getting to Richard's is an adventure. After arriving you will probably have to muster up some moxie to actually go in. Richard's isn't one of your 5-star places if you get my drift. The tablecloth is plastic if you have one and the floor concrete. If you have ever enjoyed a gulf coast oyster bar filled with locals washing down succulent bivalves this will be the place for you. Don't look for any tour busses! This is the real thing! Natives only (or at least visitors pretending to be natives). Be ready to woof down some raw oysters or dive into a heaping pile of boiled crawfish, shrimp or crabs.
Black's, Dupuy's and Shuck's are all excellent! Check to see which ones are open for lunch when you are in town. Black's is located in a building constructed in the 1890s as a dry goods and horse & buggy outlet. Later is became a department store. The extremely high ceilings exude a historic feel. Local memorabilia and artwork adorn the walls. Paul Newman and Joan Woodward filmed a move in Abbeville years ago and obviously frequented Black's as they have dedicated a good section of wall space to their stay in Abbeville.
Riverfront Restaurant is a step up from the others. The food is decidedly French and seating is overlooking the Vermillion River. Eat here if you desire to dine in a more upscale atmosphere.
Comeaux's is a lunch favorite with the locals who consider it to be Cajun home cooking at its finest. Locals say the best thing to eat at Comeaux's is the daily lunch special. We have not dined here but intend to try it. So much we want to do yet so little time!
Betty's RV-Park in Abbeville seems to be the best bet for RV'ers. Betty's only has 9 campsites all with (50&30) and cable (Boondocking sites are available), $12 per day or $260 month for 30-amp or 13.50 per-day for 50-amps. Locals say Betty's place is much like a bed and breakfast with Betty being the activity director. Joyce and I dropped by to check out her place located on a lot next to her home. Betty had 9 nice rigs (Class A motorhomes and large 5th wheels) shoe horned into their places. Across the street from Betty's was another place that appeared to be taking Betty's overflow. Phone. 337-893-7057 or 337-652-7056. E-Mail bettybernard@cox-internet.com http://www.bettysrvpark.com
When we arrived in the RV-Park in New Iberia we noticed killdeer in the grass. We have also seen numerous killdeer in city parks and other places where there is a large grass field.
First time visitors to New Iberia are going to take in Avery Island (Tabasco Sauce factory tour & Jungle Gardens), Konriko Rice factory tour and Shadows-on-the-Tech Plantation Home.
Our opinion of the best place to dine in New Iberia is the Seafood Connection. It is located on the east bank of the Teche on Louis Street near the Burger King. Their specialty is fried seafood. Beware this is not a 5-star place, just great food.
Mike & Joyce Hendrix
Until next time remember how good life is.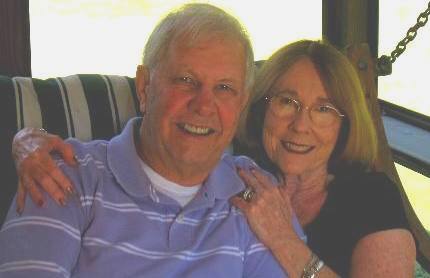 Mike & Joyce Hendrix who we are
We hope you liked this page. If you do you might be interested in some of our other Travel Adventures:
Mike & Joyce Hendrix's home page
Travel Adventures by Year ** Travel Adventures by State ** Plants ** Marine-Boats ** Geology ** Exciting Drives ** Cute Signs ** RV Subjects ** Miscellaneous Subjects
We would love to hear from you......just put "info" in the place of "FAKE" in this address: FAKE@travellogs.us
Until next time remember how good life is.