Louisiana: Morgan City & Lafayette
Places Visited: Louisiana: Morgan City & Lafayette
Monday, December 2, 2002 We moved the motorhome from Houma to Morgan City, 35 miles today. Lake End RV-Park: Morgan City. $18 with GS discount 50amps, W&S on Lake Palourde over 100 sites available some on the water and some pull-throughs.
We stopped in Morgan City to take in the "Mr. Charlie" oilrig tour. "Mr. Charlie" is the name of the first "mobile" offshore oil-drilling rig. Prior to 1952 and the arrival of "Mr. Charlie" oil drilling platforms over water were like drilling structures on land, permanent. A new drilling structure took months to construct and make ready to drill. When drilling was complete the structure had to be dismantled and moved to another drilling site. When "Mr. Charlie" arrived on the scene drilling could begin within two days. Upon completion "Mr. Charlie" would be floated and towed to another drill site and could be drilling within a matter of days. "Mr. Charlie" revolutionized offshore oil drilling but is now pulling double duty: first as a training platform for new workers heading to the offshore oil operations and secondly as a "museum". It provides the only place in the world where the general public can walk aboard an authentic offshore drilling rig. On the guided tour we learned about the functions of the oilrig all the way from the galley, to the drilling operation. Oil drilling platforms are like military ships. They have separate crews responsible for household chores like cleaning, cooking and laundry. Another crew handles "ships operation" responsible for operating the generators, engines, airconditioning, sewage system, etc., and finally the drilling crew. There are two crews for each function working rotating 12-hour shifts unless someone gets sick then they work 18-hour shifts. On the top deck of all offshore platforms is a helicopter landing deck. The view from atop the landing deck, 100' above the water is awesome.
>From the helicopter pad atop "Mr. Charlie" we could observe harbor traffic for miles around. We were located just South of the railroad drawbridge crossing the Atchafalaya River. Just south of us was the intersection of the Intracoastal Waterway and associated locking systems. The RR drawbridge is normally in an up position allowing barge traffic to pass. However, when a train is coming the barge traffic must stop. It seems the RR has right of way! At least that is what our docent told us.
The Coast Guard regulates river and Intracoastal Waterway traffic in the vicinity of Morgan City because it is reputed to be the busiest waterway in America. As the Intracoastal Waterway intersects the Atchafalaya there is a locking system on both sides of the river. A railroad drawbridge also crosses the Atchafalaya in Morgan City near the intersection of the river and the Intracoastal Waterway. All of this commercial traffic cannot be allowed to stack up in such a small area so the Coast Guard coordinates the movement of all commercial watercraft navigating through Morgan City like air traffic controllers in the Atlanta airport. I had never heard of the Coast Guard controlling traffic like this but it makes sense with the large number of barges entering and exiting locks on both sides of the Atchafalaya plus the railroad drawbridge being located near this intersection.
Morgan City is protected from flooding by a "Great Wall". The Great Wall runs along the Atchafalaya River in Morgan City and the town of Berwick. The "Great Wall" is a 21 feet tall concrete wall that runs along the river in the business district. This "Great Wall" is a part of a levee system that stretches from Morgan City north to the Mississippi River near Baton Rouge. Even though it is called the "Great Wall" in Morgan City other parts of the retaining system consist of sheet pilings (thick metal driven deep into the earth) and in other places regular levees. For those of you that are not up on your geography the Atchafalaya is a distributary of the Mississippi. Tributaries are rivers that flow into another river. Distributaries are rivers that "distribute" the flow of the main river into another outlet. One third of the flow of the Mississippi River reaches the Gulf via the Atchafalaya River distributary. The Atchafalaya is a deep river especially at its southern end. As it flows through Morgan City it is over 65 feet deep and appears to be nearly as wide as the Mississippi near New Orleans. Closer to its juncture with the Mississippi River at the southwest corner of the State of Mississippi near the Louisiana town of Simmesport the Atchafalaya Swamp is extremely wide. In this area the river channel is deep but water spills out of the main channel into the Atchafalaya basin a huge swamp where a sheet of water slowly makes its way south. The swamp water is only a few feet deep but it is very wide (while it averages 20 miles in width it is 16-miles across where I-10 crosses) so it moves a lot of water.
If it were not for the Corps of Engineers the Mississippi River would be running through the Atchafalaya today. A big flood could result in this actually happening even in our lifetime.
People who study such things say that the over 3,000 years ago the main channel of the Mississippi River flowed down the Atchafalaya, until it jumped its bank and formed the present channel that flows by New Orleans.
Joyce and I ate lunch at Rita Mae's Kitchen on Federal Street in Morgan City. It was recommended by a number of individuals and is reportedly a favorite of the oilfield workers. It is NOT a five star restaurant but the food is better than any 5-star place. I am not going to tell you a lot about this place but it is a "Must Do" when you pass through Morgan City. It is located on Federal Street a few blocks south of highway-90.
Tuesday, December 3, 2002
We only made it 6 miles down highway 90 before we had problems with the motorhome. We are boondocking at Service Chevrolet in Lafayette, Louisiana while waiting for them to repair our motorhome.
Sometimes when you are having as much fun as we are it rains. Today it rained both literally and figuratively. Six miles out of Morgan City I lost brakes and power steering on the motorhome. As luck would have it we were only a block from a super Wal-Mart. I got to the side of the divided 4-lane and slowly made my way to the Wal-Mart parking lot. I contacted my mechanic back in Pensacola and he said with both the brakes and power steering out at the same time to check the serpentine belt for tension or oil on it. Then check the power steering fluid level since it provides boost power for the power brakes. The belt was tensioned just fine but the fluid checked a bit low so I added more, but this did not bring back either the brakes or power steering. By this time I had done what I could do, so I called my ERS (Emergency Road Service). They said that if the belt was OK and there was plenty of fluid the problem must be with the power steering pump and I would need to be towed to a repair facility. He took our phone number and said he would locate a repair facility and a tow truck and get back in touch with me to let us know the plan.
Forty-five minutes later the ERS called back to say to say they were going to tow us to a Chevrolet dealer in Harvey, Louisiana. I choked when he said that. Harvey is just outside New Orleans and 76-miles away. We do not want to return to New Orleans, at least not now. I question him about Lafayette, New Iberia, Houma or Morgan City. He said that he had tried the Chevrolet dealer in Lafayette and they put him on hold for 20-minutes then did not return his call. The other Chevrolet dealers did not work on large trucks and motorhomes. I asked him to make another effort to get us into Lafayette since it would be closer (68-miles) and it would fit our plans better. He agreed to try to get us into the Lafayette Chevrolet dealer. Thirty or forty minutes later he called back to say that we were going to Lafayette and that the big tow rig coming out of Lafayette would be there in 2 to 3 hours as they were using the big truck on another job at this time.
There was no need to get into a swivet so Joyce and I sat back, read and got caught up on house cleaning. By and by this gigantic tow truck arrives, connects us up and we head to Lafayette. As we near Lafayette it starts pouring rain. That is why I said that it rained on us both literally and figuratively today.
So far Joyce and I have been extremely fortunate with maintenance on our motorhome. This is the first time we have been towed. Anytime you venture out with a 33' house on wheels you have to realize that "things" can happen. Not only can stuff happen it WILL happen. The best thing to do when the inevitable happens is to "chill-out" and let the experience be part of your daily adventure.
We arrived at the Chevrolet dealer in Lafayette just as they were closing. The service manager said that it would be fine with them if we stayed in the motorhome inside their locked compound tonight. All we would need to do is let the guard know if we wanted to go out and eat or something. It was raining cats and dogs (that's LA "Lower Alabama" for raining real hard) so we decided to stay put for the night.
Wednesday, December 4, 2002 We are staying in the motorhome at Service Chevrolet in Lafayette, Louisiana while repairs are being made to the motorhome.
The weather reports say it is going to rain all day including severe thunderstorms.
The service coordinator tells us to run along and have a good day. They MAY be able to work us in today. She will call us when she knows something. Otherwise go and have a good time.
We stopped by the Saturn dealer for some minor maintenance then headed to "T" Coons for lunch. "T" Coons is only open for breakfast and lunch. It is located across from the Courthouse and is a wildly popular place for the "courthouse" crowd as well as every telephone company/power company/cable company repair crew. "Good Old Boys" make up 95% of "T" Coons business. This is my FAVORITE restaurant in Lafayette. When you eat lunch here you do not think about food again until around noon the next day. Joyce would probably choose another place as her favorite_probably one that featured a band with dancing.
With the inclement weather Joyce decided that she was going to the mall and do some Christmas shopping. She reminded me how she had endured the "Mr. Charlie" oilrig tour the other day now it was my time to suffer. It was my time to suffer. I spent the afternoon holding down a bench in the mall while Joyce did her shopping thing.
They did not get to my motorhome today so we are boondocking in the Chevrolet dealers lot again tonight.
I received 4 responses to the question of what is a mirliton, if you will recall I ate a lunch special that consisted of mirliton & ground meat. Most wrote to say it was not in their dictionaries either. However, some actually had hands on experience with it while some went to the internet and did some Google searches. It seems that mirliton is a Southern Louisiana term for "Chayote Squash". It also seems that mirliton can be spelled merliton, and merlaton. Since it is not in the dictionary who is to say which is correct? Now that a mirliton has been identified as a chayote squash I know what it is. My family once had some growing in our back yard. Everyone who was familiar with mirlitons (chayote squash) said that if you had a vine in your yard you would have more fruit than you could give away. I remember the vines in my parent's yard climbing to the top of and covering some large pine trees. We in Wal-Mart the other day and stopped by the produce section and looked at a large display of chayote squash. The produce department sign identified them as chayote squash not mirliton.
My thanks to all of you that responded, you have cleared up that deep dark mystery. I suspect that many more readers will know what a chayote squash is.
Thursday, December 5, 2002 We only moved the motorhome 7-miles from the Chevy dealer to Acadiana City Park Acadiana City Park operated by the City of Lafayette (50-amps, water and central dump station for $9.00)
During the night the torrential rain finally stopped. Lafayette got more rain in the past two days than some western states get in a year. Cold weather replaced the rain. This area of Louisiana is semi-tropical and many workers were on the job in shorts and short sleeve shirts. Big mistake! We thought our weather was miserable until watching national news and saw what was happening in North Carolina.
We spent last night at the Chevrolet dealer but not tonight. They worked us into the schedule today and we were fixed and on our way by 3:30. Four hours of labor and a $55.00 pump and we were whole again. I let them hold my visa card for a few minutes then they returned it with a smile and we were on our way.
The shaft on my power steering pump had snapped. At that instant I lost both steering and breaks. Terrifying, is the only way to describe sitting behind the steering wheel of a 33' motorhome with no power steering or brakes. The power steering pump supplies power to a "brake boost". With no brake boost all that remains is just the small amount of manual brakes.
By 4:00 we were checking into Acadiana City Park very near downtown Lafayette. We have previously used Acadiana City Park and really like it. We especially like the location, and $9.00 per-night for a paved 50-amp site.
When the sun went down my resident party animal (Joyce) wanted to go to Randol's. Randol's is the local place where they have Cajun dance music every night. It is were tour groups dine while they enjoy the entertainment. A busload of partiers was there when we arrived. We ate and danced a little but it was too cold. The place just did not have adequate heat if any at all. We have enjoyed Randol's before and will again but tonight was a disappointment.
Until next time remember how good life is.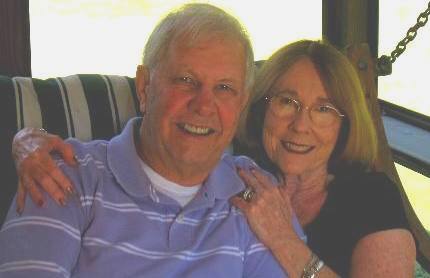 Mike & Joyce Hendrix who we are
We hope you liked this page. If you do you might be interested in some of our other Travel Adventures:
Mike & Joyce Hendrix's home page
Travel Adventures by Year ** Travel Adventures by State ** Plants ** Marine-Boats ** Geology ** Exciting Drives ** Cute Signs ** RV Subjects ** Miscellaneous Subjects
We would love to hear from you......just put "info" in the place of "FAKE" in this address: FAKE@travellogs.us
Until next time remember how good life is.