Louisiana: Houma Bourg, Montegut & Isle de Jean Charles
Places Visited: Louisiana: Houma Bourg, Montegut & Isle de Jean Charles
Friday, November 29, 2002 We moved the motorhome from Gibson to Houma only 21 miles today. Houma Civic Center $13 per-night for 50-amps, water and central sewer.
Hideaway Ponds is a RPI membership park and we are not members. We had to leave this morning because members are filling the park Friday, Saturday and Sunday. It is sad because we have made so many good friends at the park and we have several more days of exploring to do around Houma. Wednesday on the way home we stopped by the Civic Center in Houma and made arrangements to stay there Friday, Saturday and Sunday. The Houma Civic Center installed water and electrical connections in their giant parking lot during construction so they could cater to RV get-togethers. While they are not a real RV-Park they are centrally located and the price was right. We will not have access to a modem connection all weekend but we will be within a block of A' Bears Cajun Restaurant and 2 blocks from the Jolly Inn where they have the Cajun Dances. You can say we are moving closer to the action but away from friends.
Even though we are moving the RV today Joyce has a variety of exciting things planned for this extended weekend so stay tuned.
After moving the motorhome to the Civic Center in Houma we headed to Southdown Plantation house not far away. Southdown was once a 20,000-acre sugar cane plantation. At its zenith 400 slaves worked the plantation. The first floor was constructed in 1859 as a Greek revival house. In 1893 a new owner added the second floor with details of Victorian architecture. The dimensions on this home are 85' by 65'. Several of the downstairs rooms are now being used as a museum display of early Houma history including the fishing/shrimping industry and the sugar cane industry. The first owners of the plantation received the property via Spanish land grants. In 1821 Jim Bowie (famous for the Bowie knife & for fighting with Davie Crocket & Sam Houston @ the Alamo) purchased the property and established an indigo plantation.
It's beginning to look a lot like Christmas at Southdown as they were in the process of decorating for the holiday season.
We ate dinner at "Big AL's" 1226 Grand Caillou Road in Houma. We have now found the restaurant we were looking for in Houma. This place is great. This is the place we recommend for our friends visiting Houma. The place is NOT a secret. We arrived shortly after 4:00 and it was filling up. When we finished eating the waiting line was out the door. Someone told us that anyone arriving after 5:00 would spend over an hour in the line. They had excellent food and the bread pudding was great. Bread pudding was not on the menu but they had it so you need to ask. We were one of the few tables not eating boiled seafood. Every table seemed to have a pile of boiled crabs or boiled shrimp or succulent crawfish. The family next to us had twin 2-year old girls. Both parents were frantically pealing crawfish and shrimp for them. I noticed they were saving the crabs for themselves. I suppose they did not want them hooked on crabs this early in life. For those of you that do not know crabs are a bit harder to clean and many times you end up sucking the sweat meat from around pieces of cartilage.
We returned to the Jolly Inn for a night of dancing. Several of the people we met last Sunday night were there and we joined them. Betty from the Wildlife Gardens was there and having a good time as was the Betty that made the birthday cake for everyone last Sunday.
Saturday, November 03, 2002 Houma Civic Center $13 per-night for 50-amps, water and central sewer.
It rained this morning but stopped by 11:00 and the sky cleared by 4:00. Temperature wise it was a comfortable day.
The first thing on our agenda today was lunch at Dave's Cajun Kitchen 6240 main street in Houma. Dave's is a local's favorite and I can see why. The lunch special every day is $4.95. I had the daily special and it consisted of crawfish stew, lima beans, salad and French bread. My oh my it does not get any better. Joyce had chicken and sausage gumbo. We were eating light for lunch since we planned to return to Big Al's tonight. When we return to Houma the two dining places we will concentrate on are Dave's and Big Al's. They are the local's favorites and have become our favorites also.
Joyce guided us to downtown Houma where we did their historic walking tour. Many of the homes were built between 1845 and 1905. Most of these homes as well as the courthouse and things like that have massive live oak trees dating to the 1850s.
After touring the historical district we headed south of Houma down one of the bayous making its way to the Gulf. If you would like to follow the drive on a map we exited Houma going south on Louisiana 24 to the town of Bourg where we took Louisiana 55 another 8 miles south almost to the town of Montegut. Just before Montegut we turned onto Hope Farm Road SR 665. Near the end we turned onto Isle de Jean Charles Road easily the most spectacular part of our drive. It took us across 6-miles of marsh. The road was only a foot or so above the water. High tide covers this road with 4 to 6 inches of brackish water. During a hurricane the water will easily flow over the roof of automobiles. Locals drive over the road at high tide. Not me. Homes on Isle de Jean Charles are perched on telephone poles 12 to 20 feet above the yards that are under water at high tide. Until the early seventies there was no road to the island at all. It was a Houma Indian community. Now the permanent residents share the island with fishing and hunting camps. A boat ramp is at the end of the island and that is what generates most of the traffic on the island. Joyce and I marvel at how there is only one road on the island. There are no side streets. Everyone parks beside the road there are few driveways. Most places have elevated walkways from the road to the front door of the residence/camp front door that is on stilts. The island looks terrible. It does not look like a garbage truck visits the island. When the inhabitants are finished with a stove, sofa, boat, car, you name it they just leave it where it stops running or where it lands when they toss it out their front door or out the window. Two hurricanes have passed through this area within the past several months but the amount of human generated debris is just too much to blame solely on the hurricanes. The fishing camps actually look much better than the permanent residences. The only way out is to backtrack the way we came in. On the way out we noticed that the majority of power poles to the island had been broken in half by the hurricanes. It was easy to spot the new poles as they were in place next to the poles broken in half about 6-feet from the ground.
An advertisement for a "Lights Under the Oaks" Christmas Concert caught Joyce's attention. We showed up for the Concert at 6:00 pm not knowing what to expect. Was it going to be an inside or outside concert? What did "Lights Under The Oaks" have to do with a Christmas Concert? It turns out the Concert was being presented by the Harvest Cathedral. Joyce and I are Baptist and are familiar with Catholic, Methodist, Lutheran, Episcopalian and a host of other denominations but-Harvest Cathedral we are not familiar with. The Harvest Cathedral was housed in a large, beautiful, comfortable and modern sanctuary. Although they did not say so they appear to be a protestant denomination or at least lean that way. Their program says that the Harvest Cathedral is a multi-cultural church with an emphasis on building strong families. In pursuit of this goal, there are many activities for children, youth and adults which allow each person to become involved an be a part of the ministry to the degree they desire with a sound biblical teaching of the Word of God. Harvest Cathedral is a church for all people where you can develop a life of Christian character and commitment!
The program was great. The Harvest Cathedral choir like their membership is about 50/50 white & black. The pastor is white while the music director is black. The music rocked. It was evident this congregation and choir was filled with the Holy Spirit.
After the concert we headed to Big Al's to get tonight's fix. This time we had a 45-minute wait. The operation of this restaurant is something to behold. They are serving an incredible amount of boiled crabs, crawfish and shrimp. It seemed to me that everyone but us was starting off with a dozen raw oysters before moving on to the crabs and crawfish. We just had fried catfish and fried shrimp appetizers along with a small order of onion rings and of course bread pudding with rum sauce. Their fried seafood is as good as anywhere. One more time, if you visit Houma you have got to stop by Big Al's no matter what else you do.
I have a LOT to be thankful for. Not the least of these is my thanks to the Florida State Seminoles for giving me another year of peace. The Florida State Seminoles beat the Florida Gators 31 to 14 tonight in the most important game FSU will play this year. Usually the National Championship game is the most important for us but that seems to be history. All we had to look forward to this year was whipping the only SEC team that will play us (Florida Legislature mandated it). With that win I will have 365-days of peace. How sweet it is!
The brightest point of the night was how our freshman 3'rd string running back performed. Just think Florida has 3 more years to watch that Washington fellow wearing #33 on his jersey!
While I am savoring this win I am anxiously awaiting the usual controversy. Every time we teach them some of the finer points of college football their previous coach would come out with some accusation___..usually something about "FSU" was playing too rough, hitting too hard. Now that they have a classier coach we may return to just wins and loses.
Sunday, December 1, 2002 Houma Civic Center $13 per-night for 50-amps, water and central sewer.
We worshiped with the Mulberry Baptist Church in Houma this morning. There was nothing special just a normal Southern Baptist service in a small town church.
The band started playing at 4:00 in the Jolly Inn. Joyce made sure we were there. This is the third time we have visited the Jolly Inn since arriving in town a week ago. We have made friends both at the Jolly Inn and other places. Many of these "new-friends" are at the Jolly Inn tonight. Everyone around here is so friendly. There was Betty the lady that made the birthday cake for everyone last Sunday. There was Betty Provost the lady that owns and operates Wildlife Gardens out on Bayou Black Road. Lynn and Arthur one of the couples we met and shared a table with last Sunday. Bob and Tina Galloway from hideaway ponds RV-Resort (they also attended Stanley's Thanksgiving feast with us) sat with us tonight. And I can't leave out Cleve and Vern. It is hard to be a stranger in Cajun Country. Tonight we carried our video camera with us and recorded some of the fun.
We are leaving Houma in the morning but we will return. Wasn't it McArthur that coined the term "I will return"? Now Mike and Joyce, like McArthur, vow to return and have fun with these new friends.
Did I mention that FSU played football last night? ___. I have some friends that are going to love going to work Monday morning if you get my drift. I also have many good friends that are going to dread Monday at the office. This is the one time I wouldn't mind heading into work for the day.
Until next time remember how good life is.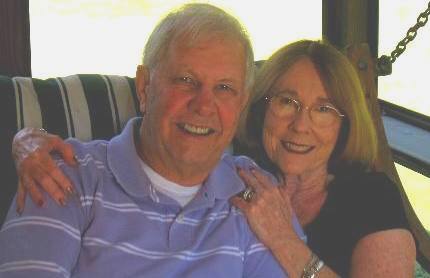 Mike & Joyce Hendrix who we are
We hope you liked this page. If you do you might be interested in some of our other Travel Adventures:
Mike & Joyce Hendrix's home page
Travel Adventures by Year ** Travel Adventures by State ** Plants ** Marine-Boats ** Geology ** Exciting Drives ** Cute Signs ** RV Subjects ** Miscellaneous Subjects
We would love to hear from you......just put "info" in the place of "FAKE" in this address: FAKE@travellogs.us
Until next time remember how good life is.