Louisiana: Houma, Thibodaus, Bayou Du Large, Theriot, Falgout Canal, Cocodrie, Bayou Black, Chackbay
Places Visited:
Louisiana: Houma, Thibodaus, Bayou Du Large, Theriot, Falgout Canal, Cocodrie, Bayou Black, Chackbay
Tuesday, November 26, 2002 Hideaway Ponds Recreational Resort (50-amps, water, sewage and cable) $20.25.
As always Joyce had a full day planned for us. The first stop on her agenda was at the "Wildlife Gardens" in Gibson, Louisiana. We had a wonderful time and met Betty Provost, the owner and her mother Cora. By chance we had seen Betty the other night when we went dancing at the Jolly Inn. Betty is in her late 50s. She lost her husband to a massive heart attack 7-years ago. The wildlife gardens was his hobby for about 20-years. Now it is Betty's income. She has an enclosed duck pond with a large variety of exotic ducks. Betty's late husband used to carve and paint ducks. He used the ducks in the enclosure as models. Peacocks, guineas, geese, goats, chickens and a variety of other critters freely roam the premises. Inside the fenced "swamp tour" Betty has a variety of animals including; wild pigs, raccoons, a huge snapping turtle, deer, bob cat, bunches and bunches of alligators and even a 9' and 13' momma and papa 'gator. The Wildlife Gardens complex also has 4-cute cabins nestled in a natural swamp with raised walking paths to reach them. From the porch of the cabins you can sit and watch 5' alligators, fish and turtles. The porches on these cabins have chicken wire fencing around them to keep the small alligators and turtles off. I suppose it would be a good place to have your morning coffee with the 'gators. These cabins are the lodging part of Betty's Bed & Breakfast. In the B&B's breakfast area and gift shop they display a variety of stuffed animals, carved ducks, rattlesnake skins, and a host of other native items that will interest everyone. You can get more information on the "wildlife Gardens" at www.wildlifegardens.com or 504-575-3676. Tell Betty how much we enjoyed the place.
After the wildlife gardens experience it was time for lunch. We headed to Politz's Restaurant in Thibodaux. Politz's had been recommended by a number of individuals as "the" place to do lunch. We found Politz's to be charming, a decent place to eat, but nothing either of us would rave about. On their lunch menu they had a choice of entrees one of which was "Marlinton with ground meat". I had to ask for an explanation of marlinton since this was not in my memory bank. The sweet waitress explained that it was a vegetable that grew on a vine much like a cucumber. Both a male and female plant is required to produce marlinton fruit/vegetable. The waitress told us the fruit looked like a pear with knots/warts. I had to experience it. Marlinton is certainly something I have never tasted before (never heard of it either). After consuming my marlinton with ground meat I can say that it was OK but not something that I would order again. There was nothing wrong with it but it wasn't spectacular either. Back at the motorhome with access to my computer and 5-different encyclopedias on disk and 3-dictionaries on disk I cannot locate the word marlinton. However, on a disk of 1-million recipes there is a recipe for marlinton casserole that calls for 3 to 5 medium sized marlinton pealed. That leads me to believe that there is actually such a thing but Webster, Grolier, Hutchinson's, World Book, Encarta - you get the idea, have never heard of marlinton either. Ok readers feel free to share what you know about marlinton with me.
After our dining experience we headed to the Jean Lafitte National Historical Park in Thibodaux. The Jean Lafitte National Historical Park and Preserve is a system of six sites in six different Louisiana cities. In Eunice they have the Prairie Acadian Cultural Center, Lafayette has the Acadian Cultural Center, Thibodaux has the Wetlands Acadian Cultural Center, The French Quarter has "the French Quarter Center", Barataria Preserve is located south of New Orleans and finally Chalmette Battlefield and National Cemetery is located in Chalmette 6-miles southeast of New Orleans. We were experiencing the Wetlands Acadian Cultural Center in Thibodaux. What better place to have the Wetlands Acadian Cultural Center than in Thibodaux near the Confluence of Bayou Lafourche and Bayou Terrebonne two of the important bayous in Cajun Country. In addition to the first class exhibits we watched several videos. One was a 20-minute video of Cajuns participating in the ancient sport of fishing with your hands. Just when I thought I had seen it all there is this video of wild and crazy Cajuns wading around in these bayous up to their armpits in muddy water. When they feel a tree stump or log with their feet they submerge and feel around the stump or log with their hands. These crazy guys caught everything from 20-pound catfish to large snapping turtles. I kept waiting for them to reach under a log and come out with a huge alligator hanging off their arm. I have never seen anything like it. They have to be absolutely out of their minds even get in the water much less walk around in it poking their hands around stumps.
What a day, I can't get those guys out of my mind. They were hand fishing for fun and there is no way I would even get in that water much less-well, you get the idea.
My neighbor Jon back in Pensacola wrote to tell me that his memory is better than mine. Remember last week when I wrote about the Song "Battle of New Orleans"? Well he remembered more of the lyrics than I did and was kind enough to share them. Thanks Jon, you win the prize. Here is what Jon remembers. Possibly some of you will be able to remember the song now:
"In 1813 we took a little trip... along with Colonel Jackson down the Mighty Mississipp... We took a little bacon and we took a little beans.... And we fought the Bloody British at the town of New Orleans"
Chorus:
"Oh- they ran through the briars and they ran through the bushes... They ran through some places where a rabbit couldn't go... They ran so fast that the hounds couldn't catch 'em.... Ran down the Mississippi to the Gulf of Mexico". ---------------- Isn't a memory a great thing to have???
Thanks again to Jon for pulling that little ditty out of the memory bank.
Wednesday, November 27, 2002 Hideaway Ponds Recreational Resort (50-amps, water, sewage and cable) $20.25.
Our travel agenda today took us along the bayous south of Houma. Houma is really the southernmost "city" in this area. South of Houma populations live along the ribbons of roads that follow the natural levies lining both sides of most bayous heading toward the Gulf. Historically water from the Mississippi river flowed down these bayous to the Gulf. Annually during the spring flood season the bayous would overflow their banks and deposit a fresh deposit of soil thus building up the natural levies along the banks of these bayous. As populations started residing along the bayous they wanted relief from the annual flood and the damage it inflicted. The corps of engineers constructed levies along the Mississippi River to cut off flow from the Mississippi. Now water just sits in these historic bayous. Now they look like wide deep ditches. Around Houma if you are not on a levee you are more than likely in a swamp. Note that a swamp is a wetland dominated by trees. South of Houma if you are not located within one city block of a levee you will be in a marsh, a marsh is a wetland dominated by grasses. As the bayous approach the Gulf Dredging has deepened them to facilitate oil industry equipment easy access to the Gulf in large ships and boats.
>From Houma we head south on state road 315 following Bayou Du Large through the communities of Theriot and du Large. Around Theriot we turn east on the Falgout Canal Road and head across the marsh to the community of Dulac. As we navigate this 5-mile swath of eerie wetlands we are witnessing an environmental nightmare. On both sides of Falgout Canal Road as far as we can see are the bleached trunks of dead cypress trees. A once great swamp is no more. When the navigation channel was dredged to accommodate commercial traffic saltwater invaded this freshwater swamp. The saltwater has destroyed the freshwater animal and plant life leaving behind this ghostly landscape.
As we neared Dulac a large flock of white pelicans were feeding. Joyce and I are accustomed to seeing brown pelicans. The white pelicans were a treat. White pelicans are about twice the size of the common brown pelican. The marsh around Dulac consists of rozo cane (tall marsh cane). The variety of marsh grass changes with the different salinity levels and depth of water/soil. Some of the grasses are tall while others hug the ground.
The next community of significance is the fishing community of Cocodrie. A community of second homes all constructed on pilings and marinas catering to the sports fishing industry sums up Cocodrie. There is even a decent motel. The charter fishing industry out of Cocodrie is based on 25 to 30 foot center console boats powered by twin 225hp outboard motors.
We ate lunch at A Bears's in Houma. A Bear's is one of the recommended places to eat in Houma. We found it to be OK but nothing to rave about.
On the way back home we stopped at a roadside vendors stand to purchase some kumquats and satsumas. The 76-year old vendor was selling his own product. He had a few acres citrus trees located on a piece of high ground behind his house. I questioned him about what a satsuma was. He stammered around and finally settled on a cross between an orange and a tangerine. When I got home the encyclopedia said satsumas were "Small, hardy, loose - skinned oranges of the tangerine family, originally from Japan. It withstands cold conditions well." Webster's dictionary adds, "--the fruit is largely seedless". He told us to eat the kumquats peel and all.
Just down the road from our current RV-Park -- Hideaway Ponds Recreational Resort-is Bob's Bayou Black Marina. They have a swamp tour operating out of the marina as well as 8 full hook-up RV sites for just $15 per-night. When we stopped by to check out the RV-sites we watched duck hunters returning to the marina with limits of duck. One group of several young boys and two men said they had been at their camp 25-miles out in the swamp/marsh for the last few days. They had a cooler full of ducks. One of the men said they would have had more but hawks flew off with several of their downed ducks before they could retrieve them and several more were devoured by alligators before they got to them. That sounds like a fun trip. Inside the marina building they had pictures of boats returning from the September Alligator hunt. Boats were loaded with 5 or so large alligators each. They do not clean the alligators at the marina. It seems that the hunters take them up the road to an alligator farm and sell them there.
It was cold when we left out this morning and continues to get colder as the day progresses.
I just realized that I have not covered one of the most important/interesting attractions of the area. A number of quality swamp tours are located between our RV-Park and the city of Houma. They are all located along Bayou Black northwest of Houma. Some of the ones available are; Annie Miller Swamp Tour, A Cajun Man's Swamp Tour, the Swamp Tour out of Bob's Bayou Black Marina and others. We did not do any of these swamp tours this trip but we have done them before and they are good especially if you need to get a flavor of what a swamp is like. At this time of year alligators are spending much of their time hibernating under water. Many of the flowers and plants so prolific during the spring and summer have died back. That is why we have not participated in one of these swamp tours. We will do them when we are here in either the spring or fall.
Thursday, November 28, 2002 (Thanksgiving Day) Hideaway Ponds Recreational Resort (50-amps, water, sewage and cable) $20.25.
This is Thanksgiving Day.
Some of you may feel sorry for us being on the road for Thanksgiving. Save your pity. On Sunday, when we arrived at the Hideaway Ponds Recreational Resort the Camp Host invited us to join his family and friends for Thanksgiving dinner. Joyce and I were apprehensive about joining them at first, but after they kept reminding us day after day we finally accepted when we realized that we were not the only ones from the RV-Park that were invited. As it turns out 4 couples joined us as we followed Stanley and Vergie Glenn to the feast. I am a little slow to pick up on things. The other invitees from the RV-Park are snowbirds that winter in this RPI-Park; we were the only couple not spending the winter in the park. The others had experienced this feast before and were looking forward to it. All of us followed Stanley as he led us through the swamps and cane fields to the community of Chackbay located about 6-miles north of Thibodaux. We pull into what amounts to a fairground then under a large steel pavilion with cement floor complete with stage. Next to the pavilion is a large indoor kitchen and dining complex complete with commercial cooking kettles, large preparation tables and such. We learn later this is the facility where they host the Louisiana State Gumbo Festival. As it turns out Stanley is related to the entire community of Chackbay one way or another. It is the Chackbay Volunteer fire department that puts on the Gumbo Festival and as luck would have it Stanley has several son-in-laws plus a son that are big in the Volunteer Fire Department. All of Stanley's married children have spouses with parents and brothers and sisters and their children. All of these folks are here with covered dishes. The Thanksgiving feast we partook in was a conglomeration of all these CAJUN cooks each trying to outdo the other. When they started piling all those vittles on that long table I knew I had just entered heaven and had a front row seat. Have mercy on my soul and body! Like a kid in a candy store does not even come close in comparison.
Wow! What a day!
No one in the world can pick family and friends like Stanley can. Everyone was so wonderful and generous.
While we were there the locals invited us to return on December 13, 14 & 15 for the Gumbo Festival. It seems that the Festival usually held in October was rained out this year and they rescheduled it to mid-December. Now Joyce and I are thinking about modifying our plans to stop by here. The people were so great and they are the ones that will cook the Gumbo, etouffee, piquant and other dishes for the festival. They said they would put me to work in the kitchen. That would be fun.
Now I have to talk Joyce into adjusting our schedule. So much to do and so little time.
We have passed Chester's Cypress Inn in the settlement of Donner located on state road 20 very near where we are staying in Hideaway Ponds on a number of times now. Multiple locals have told us to stop by there for the best fried chicken, fried frogs legs and mounds of crispy onion rings. A 16-year old girl said it was her favorite place for a hamburger. But it is the frog legs that we keep hearing about. A sign outside says, "If the Colonel had our recipe he'd be a general". We wanted to try it but just did not have time. If you pass this way stop in and try their chicken or frog legs.
Until next time remember how good life is.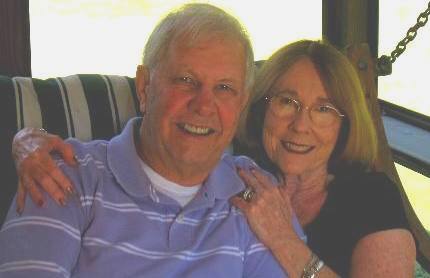 Mike & Joyce Hendrix who we are
We hope you liked this page. If you do you might be interested in some of our other Travel Adventures:
Mike & Joyce Hendrix's home page
Travel Adventures by Year ** Travel Adventures by State ** Plants ** Marine-Boats ** Geology ** Exciting Drives ** Cute Signs ** RV Subjects ** Miscellaneous Subjects
We would love to hear from you......just put "info" in the place of "FAKE" in this address: FAKE@travellogs.us
Until next time remember how good life is.