Louisiana: Bayou Signette SP, Gretna, New Orleans, Barataria, Lafitte, Gibson, Houma, Grand Isle, Bourg, Larose, Cut off, Galliano, Golden Meadow, Leeville, Bayou Laforuche & Port Fourchon
Places Visited: Louisiana: Bayou Signette SP, Gretna, New Orleans, Barataria, Lafitte, Gibson, Houma, Grand Isle, Bourg, Larose, Cut off, Galliano, Golden Meadow, Leeville, Bayou Laforuche & Port Fourchon
Thursday, November 21, 2002 Bayou Segnette State Park near New Orleans (30-amps, water with central dump) $12.00
Joyce planned for us to head south to the end of Louisiana highway 45. Most people would wonder why on earth would anyone want to leave metropolitan New Orleans to drive to the end of highway 45. Good question. If you locate highway 45 on a map you will see that it leaves metropolitan New Orleans and drops south into an unimaginably large swamp. Two communities are located at the terminus of highway 45 Barataria and Lafitte. They are a world apart from the hustle and bustle of cosmopolitan New Orleans. The towns of Barataria and Lafitte are fishing communities now. Almost everyone owns a shrimp boat. Those that don't have shrimp boats either operate crab operations or work as fishing guides. The wildlife in this area is incredible. We visited several marinas where we watched fishing guides returning with fishing parties and loads of fish. Everyone had limits of redfish. Barataria and Lafitte are fishing communities now but that is not how they have always made their living, more on that later.
At the absolute end of the road (highway 45) is a large marina with cabins and a few RV sites. They can be reached at 504-689-2013 and look like the best RV sites available. Another nearby marina is Lafitte C-Way Marina 504-689-3148, they also has a few RV-sites. Joyce and I were looking for a spot to park the motorhome when we return to this area in either May or September. May is the start of shrimping season and early September is when they harvest the annual quota of alligator. Both times promise considerable activity.
One of our guidebooks "Louisiana off the beaten path" recommended dining at either Voleo's or Boutte's local Cajun seafood restaurants. Although we checked out both restaurants Joyce selected Boutte's for lunch and it was a good selection. If you ever venture down to this area stop by and try one of these places. We can vouch for Boutte's but Voleo's looked like it would also be a good place to experience local cuisine.
We also visited the Louisiana State Marine Fisheries Museum in Lafitte. The docent running the museum was in his 80s and had spent his entire life earning a living on the water in southern Louisiana. He had been a shrimper, crabber, trapped mink, nutria and muskrat in addition to oystering. We were the only people in the museum and he gave us his full attention explaining in detail how all the equipment worked. The museum could not have a better docent.
He told us about how a sizable group of individuals, mainly Filipino and Chinese families, used to live about 30-miles south of Lafitte out in the middle of the marsh in a community built on pilings. This community was called Manila Village. The residents used to dry shrimp and fish on the raised platforms before salting them for market. Huts, stores, and docks were connected by wooden walkways above the pilings. Everything was fine until hurricane Betsy. In the aftermath of hurricane Betsy nothing remained of their stilt community. It was never rebuilt. The surviving family members resettled in coastal communities.
Yesterday I told you about visiting Chalmette and giving you a little history about Andrew Jackson and the Battle of New Orleans. As usually happens some General in this case Andrew Jackson got the bulk of the credit in this battle but there was someone else that deserved much of the credit for this incredible victory. That person was Jean Lafitte. It was probably his ignominious past that prevented the public adulation he richly deserved for his part in the decisive victory.
The many islands, shallow bays and winding bayous of this area 30-miles south of New Orleans attracted some unsavory types. French maps from circa 1729 name the area "Barataria," French for fraudulence, illegality, or "dishonesty at sea." (Remember we are visiting the communities of Barataria and Lafitte) Smugglers existed as part of business in early Louisiana. Privateers, operating under "letters of marque," roamed the Caribbean and Gulf of Mexico.
"Letters of Marque" is a License or commission formerly granted by a government to a private person to fit out an armed ship or privateer to capture an enemy's ships and merchandise in time of war, or in reprisal for damage done. Letters of marque fell into disuse following the abolition of privateering by the Declaration of Paris in 1856.
Back to the story- In 1808 Jean and Pierre Lafitte, organized the smugglers and privateers with headquarters in this area. From here and nearby Barataria Bay these "Baratarians" spent several years raiding Spanish shipping in the Gulf of Mexico. They used the Indian shell middens in this area for storehouses while Jean and Pierre sold merchandise to merchants and plantation owners.
During the War of 1812 British Generals contacted the Baratarians and offered them $30,000 for their services. Jean Lafitte stalled the negotiations in order to get word to General Andrew Jackson. (General Jackson was east of New Orleans and needed time to move his troops into position to defend New Orleans). Lafitte and his men then provided cannon, guns, ammunition and the pirates themselves to help defend New Orleans. Afterwards, the Baratarians were given pardons and many settled in the area. Their family names are still seen along the bayous and bays.
Friday, November 22, 2002 Bayou Segnette State Park near New Orleans (30-amps, water with central dump) $12.00
Joyce wanted to go to New Orleans and ride the St. Charles Street trolley from Canal Street through the Garden District past Audubon Park, Loyola and Tulane University so that is what we did. Near the end we got off and experienced lunch at Camellia Grill. Camellia Grill is a "locals" favorite and a fun place to have a hamburger or breakfast any hour of the day. It is a fun experience with all seats at a counter - no tables. The waiters and chefs put on a continuous show. The Camellia Grill is not where you want to go for the quintessential New Orleans meal. It is where you want to go to get a light lunch with entertainment. After lunch and a little window-shopping we boarded the trolley and returned to Canal Street. Those of you familiar with New Orleans will understand riding the trolley through the Garden District and out St. Charles for others it will require a little explaining.
The homes, churches, restaurants, parks and universities up and down St. Charles Street are all something to see. The St. Charles Street Trolley is reputed to be the oldest continuously operating trolley in the world. It operates over much of the run in a wide median. The slow ride gives ample opportunity to enjoy the spectator sport of rubbernecking. Tourist and locals alike enjoy gawking at all the opulence bordering St. Charles Street.
In the beginning New Orleans was settled by the French. That settlement became known as the "Vieux Carre" or "French Quarter". The plans for the "French Quarter" were drawn up in Paris and laid out on the banks of the Mississippi River. The streets were and still are "old world" narrow. As other nationalities joined the French on the banks of the Mississippi they created "subdivisions" of their own. Canal Street was an extremely broad "neutral" area that separated the "Americans" from the French. This "neutral" area is where the two gathered to trade with each other. Are you getting the idea that they didn't mingle?
Now back to the ride down St. Charles Street through the Garden District. The American's subdivision was the Garden District. The Americans were wealthy merchants and built ostentatious homes. Now many of the homes are over 100 years old and are still magnificent.
Now I hope you understand why the trolley ride out St. Charles Street is so much fun.
We arrive back at Bayou Segnette State Park long after dark. As we pass the boat ramp in the park we notice all of the vehicles with boat-trailers in the parking lot. I am not talking about one or two but well over 100 vehicles with boat-trailers attached. I was beside myself with curiosity. Where were all these people? What were they doing in the dead of night out in those boats? We have seen boats leaving the boat ramp loaded with materials to build duck blinds, are they spending the night in duck blinds? We saw another man with a washing machine loaded on his bass boat. That was puzzling but seeing as how we were in Cajun country nothing should come as a surprise so we shrugged it off. As luck would have it a ranger happened by and explained that these people had "camps" out on the lake. Some of the "camps" were houseboats while others were structures on pilings. It seems when the weekend comes they head out to those camps until Monday morning. Now I have a mission. I want to visit one of those camps. I want to see them first hand.
That about sums up the day except for the ferry rides across the Mississippi and back.
Saturday, November 23, 2002 Bayou Segnette State Park near New Orleans (30-amps, water with central dump) $12.00
We had several things on the agenda today. Everything revolved around the FSU (Florida State Seminoles) football game on TV beginning at 2:30 this afternoon. Only one team showed up for this game and it was NOT FSU. There is not much to tell you other than I watched the game with some other FSU fans from the Pensacola area in Kabby's Sports Bar and Grill located in the Riverwalk mall in New Orleans. I met Bill Eddins and his wife. Bill is a local attorney in Pensacola; in fact he is now a rather famous attorney. Bill is the attorney appointed to be the arbitrator in the nationally televised trial of the two King brothers that were recently tried for murdering their father. After the brothers were convicted the trial judge had second thoughts and ruled that the boys did not get a fair trial. At that point the judge decided to send the case to arbitration, something that is not at all normal. In arbitration rather than going through another jury trial of the boys the defense and prosecution get together with the arbitrator and decide what to do. Bill Eddins was that arbitrator. He could not talk about anything concerning what went on in the arbitration. Bill and his wife were great conversationalist as well as fellow RV'ers. If any of our friends in Pensacola spot Bill on the street please tell him that we enjoyed watching the football game with him and his wife. Thanks in advance.
After the disastrous FSU football game Joyce and I headed to Mike Anderson's (in the Riverwalk food court) for supper. As we were headed out of Riverwalk we ran into Barry Koncan who is from Pensacola. Barry and I worked together at CNET. Those of you that know Barry tell him that we enjoyed getting caught up on CNET news. Again, thanks in advance.
I got a bit ahead of myself with the football game. Actually, we had a good day going until that game.
Before heading to New Orleans and Riverwalk this morning we stopped by the Westwego Museum. Westwego is actually the name of a city across the river from New Orleans. As you might suspect the name Westwego needs some explaining.
The community was "Salaville" until the railroad was constructed from "Salaville" to El Paso, Texas. At one time individuals and freight could ride a railroad from the east coast to New Orleans but no further. Back in the early days there were no bridges across the Mississippi River. Then the Rail Road constructed a rail line from the west side of the river that transported goods and individuals west. That railroad had its genesis in "Salaville". As the train would pull away from the station everyone would shout "Westwego". When the town incorporated in the early 1900s they decided to drop Salaville and instead incorporated under-Westwego. Now you know how this town ended up with such an unlikely moniker.
Before the railroad "Salaville" was a fishing village along a canal that connected the Mississippi River's Westbank to Bayou Segnette and the Gulf of Mexico. The community received a large influx of new settlers after the 1893 hurricane that destroyed their fishing community at Cheniere Caminada near Grand Isle (approximately 50-miles south of here).
The Westwego Historical Museum is one of the best small city museums we have seen in our ramblings around the country. For a small place they have but together a remarkable pictorial history, complete with a stuffed 12' alligator, a variety of pelts plus a video conversation with elderly residents as they recalled some of the areas history. Then we went into the "old store" in the next room. The "old store" is remarkable because it is really an old store that used to service the area. We loved it! It was a general store right out of the 1930s. It just so happens that the old general store originally housed in the building was purchased by the museum lock stock and building. It is now part of the museum. Items are still on the shelf just like they were back in the 1930s. A variety of bottled soft drinks were still on the shelf waiting to be put in the cooler. Most of the soft drinks were brands of root beer that no longer exist. It was a true walk through history. This is one you really should do.
This is our last day in the New Orleans area and I thought I should pass on some information to RV'ers. Three bridges cross the Mississippi River in New Orleans they are the: I-310 bridge, the US highway-90 or Huey P. Long bridge from New Orleans to Bridge City, and the Business US highway-90 bridge from down town New Orleans to Algiers/Gretna. On you map the Huey P. Long Bridge is the middle bridge. A word of caution about the Huey P. Long Bridge is in order. It is an OLD bridge and the lanes are extremely narrow. Driving our Saturn across that bridge was exciting. Driving a motorhome across that bridge would put new meaning into the term EXCITEMENT. That is not to say it cannot be done because it can. Eighteen-wheelers, garbage trucks and other large vehicles do it. The bridge is probably 4-miles long because of the long approaches on both sides. Remember this bridge has to get high enough in the air to allow ocean going freighters and tankers to cross underneath, that is to say it is several hundred feet above the river. Go for it if you have an extra dose of MOXIE. If you are of the more timid persuasion I would suggest one of the other bridges.
Sunday, November 24, 2002 We drove 60 miles from Bayou Segnette SP near New Orleans to Gibson (15-mile NW of Houma). Hideaway Ponds Recreational Resort (50-amps, water, sewage and cable) $20.25.
We moved the motorhome 60-miles west from Westwego to Gibson. It was an uneventful drive. Hideaway Ponds Recreational Resort is an RMI park and hoards of locals were spending the weekend enjoying the park. When we arrived there was activity everywhere. Many snowbirds were already settled in for the winter. Our neighbors told us about a "fais do do" at the Jolly Inn in Houma. The "fais do do" started around 4:00 and lasted until 8:00. Those of you that follow our travels know that we do not miss anything that promises a good time.
This "fais do do" was the best we have experienced. It was great! Although Joyce and I enjoyed ourselves dancing a group of locals that we shared a table with adopted us. Many of the other locals at the dance came by to speak with us and made us feel like we were one of them. It helps when you are sharing a table with people that know everyone in town. Cajuns have more fun than anyone we know and these were no exception. A group of young men (17 to 18 years old) were dancing with girls their own age and with their grandmothers. There is absolutely nothing like watching an 18-year old boy doing a jig with his 75-year old grandmother.
We were planning to stay in this area for 3 or 4 days. Now we think we may stay longer.
Monday, November 25, 2002 Hideaway Ponds Recreational Resort (50-amps, water, sewage and cable) $20.25.
Joyce had planned for us to drive to Grand Isle, Louisiana today. Grand Isle is a 95-mile drive through Houma, Bourg, Larose, Cut Off, Galliano, Golden Meadow, Leeville, Port Fourchon and finally at the end of Louisiana highway-1 is Grand Isle. It is a drive like no other. The entire drive is along one bayou after another. The farther south we drive the more commercial activity we see. By the time we approach the town of Gold Meadow shrimp boats line both sides of Bayou Lafourche. Push boats are pushing barges up and down the bayou. Natural gas processing plants dot the entire length of highway-1. The closer we get to the Gulf more and more facilities appear that service the offshore gas and oil rigs in the Gulf just south of here. Large crew boats, supply boats, helicopters and such are busily transporting men and supplies to the off shore operations.
Louisiana highway-1 runs down the west side of Bayou Lafourche while Louisiana highway-308 runs up and down the east bank of the Bayou. The highways are constructed very close to the bayou on the natural levy. Construction down here is within a block or so of the bayou because any farther than that away from the bayou is in the marsh. Communities along the bayou tend to be a block or so wide and stretch several miles down both sides of the bayou. These communities spring up where there is enough solid ground to support buildings.
There is no doubt about how Golden Meadow got its name. Like "Brunswick and the Golden Isles" the moniker for the area surrounding Brunswick, Georgia the landscape around "Golden Meadow" is golden marsh. As far as the eye can see around Golden Meadow is a marsh that is not only golden in color this time of year but provides a "golden" bounty of sealift.
After leaving the community of Golden Meadow we still have 32-miles till we reach Grand Isle. From Golden Meadow to Port Fourchon some 15-miles distant the only ground above the water table is highway-1. It appears to me that highway-1 was built upon dredge spoil from the many navigable bayous. Golden marsh grass is visible to the horizon on both the east and west sides of the highway. To the south is Port Fourchon perched on a splinter of high ground. Everything in Port Fourchon is connected tenuously to this high ground. Between Golden Meadow and Port Fourchon are several "pullouts" where there is enough high ground to pull a vehicle off the highway. These "pullouts" are well used by individuals that are either fishing in the bayou or throwing a cast net for shrimp. Shrimp move with the tide so locals with cast nets just stand in an open place and cast their net into the bayou getting 3 to 5 nice shrimp per cast. Most were only throwing 6 to 8' nets so they were not expending the energy we associate with heaving a 10' or 12' net. We stopped to watch these cast net shrimpers for a while and decided that they were gathering dinner in short order.
Highway-1 travels south until it reaches Port Fourchon where it dog legs to the east for 15-miles to Grand Isle. Leaving Port Fourchon we are still surrounded by the golden marsh but now we can see in the distance and a thin chenier to the south of us. Chenier is a French term meaning an oak grove. Wherever you have an oak grove you have a bit of high ground of necessity high enough to support a grove of live oak trees. These oak covered "cheniers" appear as islands in the sea of surrounding marsh grass.
As we near Grand Isle the Port of Fourchon marina appears complete with an impressive looking charter fishing fleet and the ubiquitous shrimp boats. The marina complex also has an acceptable RV-park and motel. In fact if we were to return to this area (unlikely) we would probably stay in this RV Park, as it is the best we have seen down here. If you are interested the Fourchon Marina 504-396-2792 operates the RV Park.
Grand Isle is Louisiana's Beach. Now that we have seen it we know why Louisianan's like to visit the Florida Panhandle beaches. Of necessity the homes on Grand Isle are all on pilings 12 or so feet above the ground. For those of you not familiar with southern Louisiana the houses and mobile homes are on these pilings up in the air because they are in hurricane alley. Hurricanes frequent this area and push walls of water ashore. It is imperative for homes to be above the high water. Most of these homes and trailers survive hurricanes so long as they are up on those pilings and safe from the water. Grand Isle looks surprisingly good since we all know a hurricane came ashore just west of here about a month ago. There was no visible trash on the streets waiting to be picked up.
While driving through Grand Isle proper we saw the flashing lights of a police car with several other city cars gathered around. Then we spot several men with the familiar "catch poles" we recognize from TV shows like "Crocodile Hunter". We pull over and grab the video camera. A five-foot alligator is holed up in a 12' length of concrete culvert. A skinny young man around 20-years old has the catchpole with a loop of rope on one end. A burly man has another pole and is down on his hands and knees trying to poke the alligator and shove him out the end of the culvert where the skinny man is waiting. The alligator is hissing inside the culvert and not at all liking being poked. The skinny man is down on his hands and knees looking into the business end of the culvert. There was a spirited discussion concerning the IQ of the skinny fellow looking into the culvert. Several of us are staking out automobile hoods we are going to jump on when that 'gator comes flying out of the culvert. Directly all hell breaks loose as the gator comes out the end of the culvert where the skinny guy is. The skinny guy has the loop around the 'gators neck. There is a lot of fast and furious action until the big burly guy races from the other side of the culvert and helps subdue the 5'4" alligator. They talked about some good 'gator meat but in the end the alligator was loaded into a pickup truck and hauled back to the swamp and released. Now tell me where else you can just happen upon action like that?
The ride back home is just as interesting as the as the trip down. We remain amazed at the number of shrimp boats that line miles and miles of the bayou. We absolutely love the banana plants growing along the bayou, the ancient live oak trees, the antebellum mansions, sugar cane fields, the roadside vendors peddling satsumas & kumquats, and the plethora of drawbridges scattered up and down the bayous.
A friend from Pensacola sent us e-mail last night commenting about our last travelogue, as he signed off he told us to keep on "passing a good time"? I got a kick out of that because you have to be familiar with this area to understand "passing a good time". In this area of Louisiana if you ask someone how he or she are doing the answer will more than likely be "passing a good time". The moniker of the RV-Resort we are staying in is "passing a good time". "Passing a good time" is common vernacular among adults. The habit is easy to acquire. Joyce and I are even getting into the habit. Thanks to Jules for reminding us to keep "passing a good time". We will do that for all of you.
Until next time remember how good life is.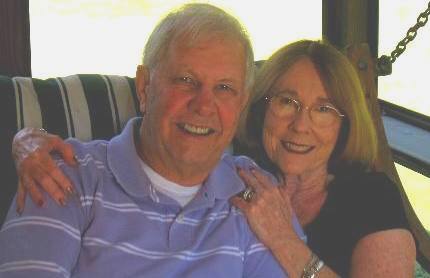 Mike & Joyce Hendrix who we are
We hope you liked this page. If you do you might be interested in some of our other Travel Adventures:
Mike & Joyce Hendrix's home page
Travel Adventures by Year ** Travel Adventures by State ** Plants ** Marine-Boats ** Geology ** Exciting Drives ** Cute Signs ** RV Subjects ** Miscellaneous Subjects
We would love to hear from you......just put "info" in the place of "FAKE" in this address: FAKE@travellogs.us
Until next time remember how good life is.