Bayou Signette SP, Westwego, Gretna, Algiers, New Orleans & Chalmette Battlefield National Park In Louisiana
Places Visited: Mississippi: Bay St Louis
Louisiana: Bayou Signette SP, Westwego, Gretna, Algiers, New Orleans & Chalmette Battlefield National Park
Friday, November 15, 2002 We drove 146-miles today. Casino Magic RV-Resort in Bay St. Louis, Mississippi (50-amps, water, sewage & cable with modem access in the office) $22.15.
Our plans for this trip revolve around spending a month or so in the Cajun Country of Louisiana. Most RV'ers would make this 250-mile drive in one day. Not us. While I-10 is the fastest route from Pensacola to "Cajun Country" we chose to travel US-90. From Pensacola to the Eastern Shore of Mobile Bay US-90 parallels I-10 through a series of rural farming communities. We saw cotton fields ready for harvest and rolls of hay ready to deliver. At the Eastern Shore of Mobile Bay US-90 merges with I-10 to cross Mobile Bay, and navigate the tunnel under Mobile's Ship Channel. A few miles West of Mobile we exited I-10 and returned to US-90. Like before US-90 parallels I-10. However, this portion of US-90 is not farmland. Where I-10 passes north of the metropolitan areas of the Alabama and Mississippi Gulf coast US-90 meanders through Theodore and Grand Bay, Alabama then Pascagoula, Gautier, Ocean Springs, Biloxi, Gulfport, Pass Christian and on into Bay St. Louis, Mississippi. The drive is much slower on US-90 than I-10 but we are not in a hurry and prefer rubber necking in the slow lanes. For about 35-miles from (Biloxi to Bay St. Louis) the drive is along the Gulf of Mexico. It is a scenic drive with the Gulf to the South and beautiful homes and yards to the North. Of course a plethora of casinos litter the landscape along the entire Mississippi coast. One has to wonder what the Mississippi coast would be sans casinos.
Our destination today was the campground in the National Seashore at Ocean Springs, Mississippi. However, it had been raining since the Eastern Shore of Mobile Bay and neither of us was in the mood to pull into the National Seashore in the rain. Just like that the decision was made to continue heading west. A few minutes past Ocean Springs the rain stopped and Joyce started talking about the RV-Resort at Casino Magic in Bay St Louis. She was reminiscing about how we had enjoyed the entertainment in the casino before and ---- well you are getting the idea. We stopped at Casino Magic RV-Resort.
Neither of us are gamblers, but the entertainment in the casinos is generally good. We also enjoy walking and driving around the old communities we encounter. While walking in downtown Bay St. Louis we spot a small commemorative park with a statute of a French explorer that explored and named the Bay (Bay St Louis) for King Louie IX of France in 1699. A plaque in this same park commemorated hurricane Camille that battered the coast in August 1969.
Speaking of hurricanes, as we tour the waterfront of Bay St. Louis we notice that every pier is demolished. As Beach Drive made its way from meandering along the bay to actually following the Gulf it was apparent that a recent storm had deposited sand and debris on both sides of the road. I questioned a local about which of the three Tropical Storms this summer was responsible. The answer was Isidore the first one! Joyce and I remember Isidore because we had to evacuate Henderson Beach state park in Destin, Florida (200-miles east of here) when the Tropical Storm headed toward the coast. In Bay St. Louis Isidore pushed a tremendous wall of water ashore. This extremely high tide rose under docks stripping them of the walking boards. Most if not all of the area docks are missing at least 50% of the decking boards. All that remains of many docks is a patchwork of pilings where expensive structures once stood.
Like the last time we stopped at Casino Magic back in April the entertainment was top notch. The same group is going to be performing tomorrow night so Joyce has decided that we are going to spend another day here. Can any of you guess what we are going to be doing Saturday night?
Saturday, November 16, 2002 Casino Magic RV-Resort in Bay St. Louis, Mississippi (50-amps, water, sewage & cable with modem access in the office) $22.15.
Temperature and weather is on everyone's mind. It was 78 degrees and raining yesterday before a cold front passed through the Gulf Coast. As the front passed temperature started dropping and continued to do so. Local weather reports are predicting 37 degrees tonight. We are on the Gulf Coast not in Wisconsin! This is November not January. What is going on?
I awoke knowing today would be dedicated to Joyce. She wanted to lunch at "Dock of the Bay" in downtown Bay St Louis overlooking the Bay. Jerry Fisher and his wife Melva own dock of the Bay. Jerry is the former vocalist with Blood, Sweat and Tears a popular rock & roll group from the early 1970s. Jerry still sings but now it is with his own group every Saturday night in Dock of the Bay. Those of us growing up in the 1970s remember the Otis Redding song Sitting on the Dock of the Bay. Do you suppose it was the inspiration for this "Dock of the Bay"?
We went back to see "Heart & Soul" the featured entertainment at Casino Magic. They were very good again tonight.
Sunday, November 17, 2002 We drove 69-miles today. Bayou Segnette State Park near New Orleans (30-amps, water) $12.00.
We headed to New Orleans down US-90 this morning. This drive was a real surprise. Between Pearlington, Mississippi and New Orleans is a series of Cajun fishing villages. Actually villages is not correct because none of the places are incorporated. In places we spot mailboxes on the road with no home in sight. On further inspection we spot trails leading away from the mailboxes to gangplanks that lead to dilapidated boats. These people obviously do not own property. They do have a mailbox on the highway along a canal. They are living on boats. Most do not even have a dock they just walk to shore on a 2X12. The closer we get to New Orleans the places start to be fish camps on stilts then nicer and nicer elevated weekend getaways. Shrimp and crab boats are a must at each place. Then all of a sudden we enter metropolitan New Orleans.
We are staying in Bayou Segnette State Park located across the river from New Orleans. From this location we can easily access New Orleans and all it has to offer plus we are close to the swamps and real Cajuns Louisiana is famous for.
Our intention was to arrive in the State Park in time to get set up so we could enjoy the fais do do (French, for having a good time) held every Sunday afternoon at the Bayou Barn in Crown Point. We have done this before and weren't disappointed. Cajuns are fun loving people and are always looking for a good time. The Bayou Barn capitalizes on this characteristic and actually sponsors a fais do do every Sunday afternoon. They have a large barn with a cement floor located on a bayou. They furnish a band and offer a variety of Cajun food. For a $10.00 entry fee you can dance and eat all you want between 2:00 and 6:00. You are sure to leave happy, and full.
The term fais do do has evolved over time to mean, "having a good time" originally it was Cajun baby-talk for "to make sleep," a fais do do is now a Cajun community party. Traditionally parents put their little ones to bed before joining the festivities, which included dining -usually a potluck affair- and dancing. Traditionally they may have put the little ones to bed but now they pack them up and bring them along. The little ones have as much fun as the adults.
Monday, November 18, 2002 Bayou Segnette State Park near New Orleans (30-amps, water with central dump) $12.00
We decided to explore Gretna, Louisiana today. Gretna is located across the river from New Orleans. It is an old German settlement. Germans, primarily from the Rhine River valley, were lured to the French colony of Louisiana during the 1720's by French officials promising fertile land to farm, a healthy climate, and an abundance of gold and silver to mine. Believing these wondrous tales of life in Louisiana, approximately 1,600 Germans boarded ships and set sail from France. Only 300 survived the journey and their first year in Louisiana. The name Gretna has a story behind it. It seems that the blacksmith in old "Mechanikham" performed quickie marriages. The town of Gretna Green, Scotland was world famous for performing "quickie marriages". When the Louisiana town incorporated in 1913 "Mechanikham" was dropped in favor of Gretna the Scottish village know for quickie marriages. Now you know the rest of the story.
Both sides of the river are predominately Catholic and the early residents built opulent churches in which to worship. St. Joseph Church circa 1926 in the historic district of Gretna is one of those lavishly beautiful churches. The ornate exterior of St. Joseph Church is something that one would expect to see in Europe not Louisiana.
While wandering around in the Gretna historic district we stumbled upon Cajun treats a specialty shop catering to mail order & Internet gifts. The owner and several helpers were putting together baskets of "Cajun Treats". They were doing a landmark business. It seems that many Louisiana Companies that do business nation wide contract with them to send lavish holiday packages to good customers. If you are interested in something like this go to www.cajuntreats.com. I could not help but plug their business since the owner gave Joyce a nice Lagniappe (a little something extra).
Several locals recommended that we lunch at Common Grounds restaurant in the historic district of old Gretna. Mondays in Louisiana have traditionally been washday. The Louisiana housewife would put on a pot of kidney beans to slow-cook all day, while she tended to the laundry. The rich, smooth gravy was flavored with ham hocks or sausage, was then served over a generous mound of steaming rice. Since this was Monday Common Grounds was featuring red beans and rice with sausage or pork chop and corn bread as their lunch special. Excellent, excellent, excellent I can't think of any other way to describe their lunch special. To top off our huge bowls of red beans and rice we split one bread pudding with rum sauce. WOW! Their bread pudding is as good as any we have experienced. This lunch turned into a gustatory debauchery. We will have to return! If you are interested Common Grounds is located in Gretna, Louisiana on the corner of Heuy P. Long Avenue and 3rd street across the street from the Visitors Center.
In addition to Gretna's historic district we decided to tour several of the local "markets" indigenous to this part of Louisiana. I do not know what the locals call these markets but they resemble farmers markets in other parts of the country. Around here the "farmers" markets are selling fresh shrimp, crabs, crawfish, oysters, fish, rabbit, alligator and turtles. What a place. I think it is safe to say it would be an anomaly to find a vegetarian around here.
When we visit Visitor's Centers, restaurants, seafood markets and such we always see pictures of locals with gigantic alligators. It seems that alligator season opens in early September for a week or so. Participants enter a lottery type affair for the allotted number of strictly controlled harvest tags. Then with harvest tags in hand macho men venture into the swamps south of New Orleans in search of the largest alligators they can capture. Virtually all of the awesome photographs are of victors with reptiles in excess of 13'. One picture in a seafood market was of an unusually large alligator and his captor. The store owner said that it was an 18' alligator weighing over 1,200 pounds that had been taken a year or so ago out of Lafitte a small community 30-miles south of Louisiana. Who am I to say if it was actually 18' long? The lady may have been exaggerating who knows? It was a BIG gator. One year we are going to have to visit the area during the 'gator hunting season.
Tuesday, November 19, 2002 Bayou Segnette State Park near New Orleans (30-amps, water with central dump) $12.00
We spent today touring the D-Day museum in New Orleans. Actually, it is more than just a D-Day museum. It covered the build up to war, the war effort on the home front, the buildup in England prior to the D-Day invasion and the actual invasion. From the invasion through individual battles all the way into Germany is covered next. Then the action shifts to the Pacific front and covers from the bombing of Pearl Harbor to the Bomb that ended the war.
The D-Day museum is one of this nations premier museums and is not to be missed when in New Orleans.
In addition to the D-Day museum we ate lunch at Mother's. Mother's is another New Orleans experience that should not be missed. The menu in a Cajun restaurant like Mother's almost requires a vocabulary lesson. You can choose between rich and thick gumbo, jambalaya, etouffee or sauce piquant. I settled on jambalaya and it was ohhhh so good. Like I said lunch at Mothers is a must do when in New Orleans.
As dark settled over New Orleans Joyce and I strolled through the French Quarter down to Jackson Square where we hoped to watch local eccentrics displaying their "talents". Something has happened. The Caricature artists, street actors, mimes, tarot card and palm readers are gone. Also gone are the young boys bet you $1.00 that they can tell you where you got your shoes. If you fall for their line they would tell you that you "got them on you feet". It seems that local merchants persuaded the city to ban these performers.
Our trip from the RV-Park to New Orleans is also worth mentioning because we took the free ferry from Algiers to the foot of Canal Street in New Orleans. For those of you that are not familiar with New Orleans parking is at a premium in and around the French Quarter, River walk, Aquarium of the America's, Jackson Square, Jax Brewery, Harrah's Casino and all the noted eateries in that area. You really do not want to be driving a car in that place and it will cost you "big city" rates to park. The solution for us especially since our RV-Park is across the river is to drive our car to the ferry landing in Algiers and park in that parking lot for the day. Then we take the free ferry across the river. We enjoy the ferry ride across the Mississippi every time we take it. There is always a tanker, cruise ship, barge or freighter transversing the river. Seeing the New Orleans skyline late at night and the big bridge all lit up are things that never seem to get old. For those of you that are in New Orleans for a few days and wondering what you can do we suggest that you walk down to the ferry terminal located in New Orleans between the Aquarium of the America's and River walk and just ride the ferry over to Algiers and back. You will see New Orleans from a whole new vantage point.
While watching the evening news we learned that the state of Louisiana has placed a $4.00 bounty on nutria effective tomorrow. Nutrias are large (20-lbs) semi aquatic rodents with webbed hind feet native to South America that have invaded the swamplands of Southern Louisiana. Although they provide valuable protein for Louisiana's alligator population they also cause considerable damage to dams and levies. I fully expect a war to be in full swing by daylight tomorrow morning as Cajuns head to the swamps to collect on that bounty.
Wednesday, November 20, 2002 Bayou Segnette State Park near New Orleans (30-amps, water with central dump) $12.00
Joyce had a full day planned for us. We are on the west bank of the Mississippi River and Joyce selected two places on the east bank for us to visit. Getting to the other side of the Mississippi means a ferry ride in our Saturn then we will have to catch another ferry back. The ferry rides will be as exciting as the two places we plan to visit.
We head out from Westwego near Gretna to catch the ferry in Belle Chase and ride it to the east bank. We are heading to the small town of St Bernard where Canary Islander's known as Islenos settled between 1778 and 1783. The town has an Islenos museum that commemorates St. Bernard's history. It seems that Spaniards from the Canary Islands (located 60 miles off of Africa's Moroccan coast) were paid by the King of Spain to move here between 1778 and 1783. At the time the Canary Islands were experiencing a drought and the residents were willing to move. They were given land and a stipend for the first years while they got established. The descendants of these immigrant farmers have maintained their linguistic and ethnic identity to this day. St Bernard is the last living vestige of Spanish Colonial Louisiana.
The next place on our list was the Chalmette Battlefield commonly called the Battle of New Orleans. This was the last battle America had with Great Britain. The Chalmette Battle was America's greatest land victory of the war of 1812 and it took place in January of 1815. The Battle of New Orleans lasted less than 2-hours, with the major fighting confined to about 30-minutes. British casualties exceeded 2,000; the Americans reported only 13. Andrew Jackson was commanding an eclectic group of "soldiers". There were soldiers from Jackson's army but sailors from several Navy Ships were involved as were some Indians, Pirates and even private citizens from the New Orleans area.
Andrew Jackson used this battle to springboard him into the Presidency.
Do any of you remember the popular 1960's song about this battle?
In 1814 took a little trip with Colonel Jackson down the mighty Mississippi
We fired our guns and the British kept a coming Fired once more and the British started running
Fired till the barrels melted down. Grabbed an alligator and fought another round.
_________ and peppered his behind
Chased them down the Mississippi to the Gulf of Mexico.
Sorry, but I do not remember as much of that song as I thought I did. I bet some of you can fill in the blanks.
After visiting the Chalmette Battlefield we took a ferry from Chalmette back to the west bank of the mighty Mississippi south of Algiers.
It was early and we needed something super special to top off the day. We decided that something special would be stopping by the Common Grounds Restaurant in Gretna for gumbo and bread pudding. Oh my, it does not get any better than this!
Louisiana is America's wetland. This wetland is extremely important to waterfowl as well as an estuary supplying life to the Gulf of Mexico. The importance of Louisiana's marshes is impressive. Fifteen percent of all ducks and geese depend on Louisiana's marshes for survival, including 90% of all redheads, 95% of all gadwalls, 40% of all teal, 40% of all scaup and 60% of all mottled ducks.
Tonight's local news covered the first day of "open season" on nutria. They interviewed a local trapper who had bagged 27 nutrias on opening day. The trapper opened his cooler containing his nutria tails for the television camera. They look like tails you would expect to see on 20-pound rats. It seems the state only wants the tail as proof that one nutria has been eliminated. The trapper also had a market for the pelts and meat. If I remember my history correctly it was nutria pelts that saved the American beaver from extinction. During the big fur hat craze of the early 1800's when beavers were being slaughtered across North America, trappers from South America introduced the nutria pelt. Nutrias were plentiful and the price of a pelt was commensurate. The proliferation of these cheap nutria pelts is what actually saved North America's beaver from sure extinction. Louisiana nutrias are accidental fur farm escapees that have multiplied inexorably.
Only in Louisiana!
Until next time remember how good life is.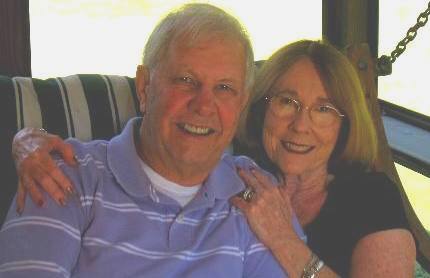 Mike & Joyce Hendrix who we are
We hope you liked this page. If you do you might be interested in some of our other Travel Adventures:
Mike & Joyce Hendrix's home page
Travel Adventures by Year ** Travel Adventures by State ** Plants ** Marine-Boats ** Geology ** Exciting Drives ** Cute Signs ** RV Subjects ** Miscellaneous Subjects
We would love to hear from you......just put "info" in the place of "FAKE" in this address: FAKE@travellogs.us
Until next time remember how good life is.